Academic underachievers make good after school
Research tells us those who do poorly at high school are not disadvantaged when it comes to getting a job later on
It's well known that poor reading skills in adulthood are associated with spells of unemployment and work in low-paid jobs. But do teenagers with low reading proficiency face diminished career prospects in adulthood?

Our research says no.
We found that a reading proficiency below the national standard is not associated with reduced chances of being in work by age 25 — defying the common belief that poor academic achievement at school makes it tougher to get a job once you leave.
We looked at case studies of more than 12,000 high schoolers in Australia, with the data showing the underachievers had the same figures of full-time and part-time work as their higher-achieving schoolmates.
The research, published as part of the Melbourne Institute Working Paper Series, is the first of its kind, employing statistics that have only just been made available in Australia.
What we did was compare the labour market outcomes at age 25 of those who participated in the OECD's 2003 Program for International Student Assessment (PISA 2003) and had low (below level 3) and medium (level 3 and 4) reading proficiency levels when aged 15 years old.
Low proficiency levels in PISA are deemed to be those at a level insufficient for students to perform the moderate reading tasks that are needed to meet real-life challenges and are below minimum Australian standards.
Australia is one of only a handful of countries with the capacity to track outcomes of PISA participants through its Longitudinal Survey of Australian Youth (LSAY).
In comparing outcomes, we also control for a range of differences between the student groups that may confound the analysis, such as family socio-economic and demographic background and grade level at age 15.
Low achievers attain similar job outcomes at 25
At age 25, we find that those whose reading proficiency at age 15 was low are employed, including full-time employed, at rates that are comparable to those from the medium proficiency group and that they work in jobs that have similar lifetime earning capacity.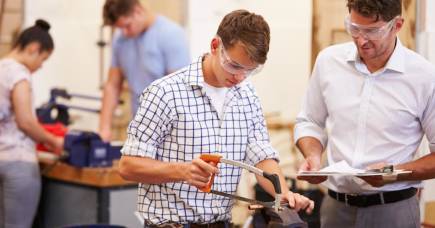 It is worth noting that the low proficiency group are employed in occupations that are less prestigious on average.
These results can be explained by high rates of participation in and good outcomes from, vocational educational education (VET) by those with low reading proficiency.
Around 58 per cent undertook VET study, 15 per cent higher education study and 14 per cent both. In contrast, those from the medium group focussed more on higher education — 42 per cent higher education, 36 per cent VET and 15 per cent both.
Those from the low proficiency group compensate for studying below bachelor-level VET qualifications by choosing courses that have good labour market prospects. Compared to the medium group who do not complete a university degree, the low group choose initial VET courses that have six per cent higher graduate earnings.
An interpretation is that those with low reading proficiency at age 15 explore VET options from an early age and/or do so more effectively.
Given the large number of VET courses available, most designed to prepare students for specific occupations, early career exploration may mean the low proficiency group is better prepared to make course choices.
Implications for schools and policy
These findings underline the role that VET plays in providing opportunities for low achieving school students to engage further in study and participate fully in a modern economy.
It also demonstrates the importance of course choice in shaping outcomes. For schools and education departments, the message is to not only ensure access to VET, but also to support young people in making good course choices. Early career counselling is a step in this direction.
We stress that these results do not mean that academic achievement is unimportant.
On the contrary, we find more marked differences in labour market outcomes at 25 between those with high reading proficiency (levels 5 and above), suggesting substantial returns to achievement among the most skilled.
Banner Image: Handwriting, Bruce Guenter/Flickr