Blasphemy, treason and democracy: Jakarta goes to the polls
With more than 7 million Indonesian voters about to cast their ballots in Jakarta's gubernatorial election, political and religious worlds are set to collide
Indonesia is a genuine democracy incorporating open society and religious and ethnic pluralism. Its national motto even translates as 'Unity in Diversity". For decades, it has advertised itself to the world as a shining example that Islam and democracy are not incompatible.
But the bitter election campaign to choose Jakarta's next Governor gives the lie to these claims, conducted as it has been in an increasingly tense atmosphere of religious and racial discrimination and rising intolerance that has seen the incumbent candidate accused of blasphemy and Islamist hard-liners charged with treason.
Indonesia's post-Soeharto democracy created space for civil society and the middle class. But it also made room for those who disagree with that position. Conservative Islamist politics has become a power in the national political landscape and there are some who would like to see an Islamic legal system established, or an Islamic state. These small but vocal hard-line groups have effectively ridden on the coat-tails of rising religious intolerance and conservative values, skilfully exploiting social media and popular politics.
The danger now is that the outcome of these elections could damage Indonesia's increasingly tattered reputation as the so-called smiling face of Islam, although it may also provide us with a more realistic assessment of the state of politics there.
This poll is the second round run-off of Jakarta's elections for Governor. The first round, held in February, was won by the incumbent governor Basuki Tjahaja Purnama, known as 'Ahok'. He did so convincingly, despite one of his rivals being the son of former President Susilo Bambang Yudhoyono, who seemed intent on mobilising Islamist groups against Ahok.
But Ahok didn't win an absolute majority, so this has meant a second round of voting. In this round, only the top two contenders from the previous ballot can take part. This pits Ahok against Indonesia's former education and culture minister, and Muslim, Anies Baswedan, who has the support of popular former General and presidential candidate, Prabowo Subianto. He is now also backed by the hardliners, despite his former reputation as supporter of pluralism
This has put Ahok up against some of the most powerful people in Indonesian politics – and the mob.
ETHNICITY AND THE BACKLASH
This election is taking place amid huge polarisation. The key to understanding these tensions is the fact that Ahok represents a double minority. He's a Christian in a city that, like the country as a whole, is close to 90 per cent Muslim. But he is also ethnic Chinese, a minority that have always been a key target for racial discrimination in Indonesia. A lot of what has been happening in the build-up to these elections - including the constant and concerted attacks on Ahok - comes back to his ethnicity.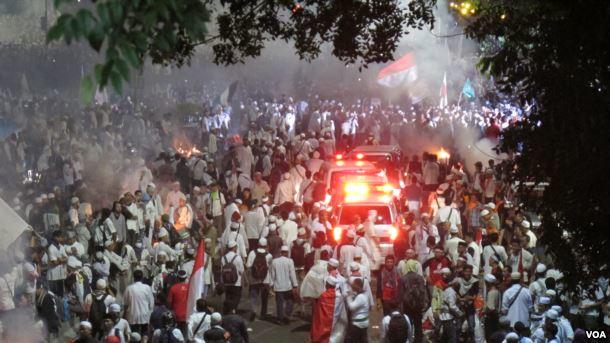 It is unheard of for an ethnic Chinese to be elected to high office in Indonesia, although some have served in appointed positions, including in cabinet. So Ahok has become a lightning rod for discrimination. Although most of the backlash against him has been framed within religious language, it is also clearly driven by his ethnicity.
There must be doubt about whether the huge protests in Jakarta would have happened if Ahok was not ethnic Chinese. After all, there was another Christian Governor of Jakarta in the past, but he is the first Chinese one. A recent survey disaggregated Ahok's religion from his ethnicity, showing that many Indonesians seem more negative about his ethnic background than his religion.
So, although Ahok has been charged with blasphemy and accused of insulting Islam, these attacks may be motivated as much by his Chinese identity as his Christian one.
PROTESTS AND FEAR
Fear also plays a part. Another Indonesian poll found that around 70 per cent of people say Ahok has been an effective Governor but only around 40 per cent say they will actually vote for him in these elections. This is in part due to his religion and ethnicity but many – even those sympathetic to him - may also be frightened of a possible backlash if he wins.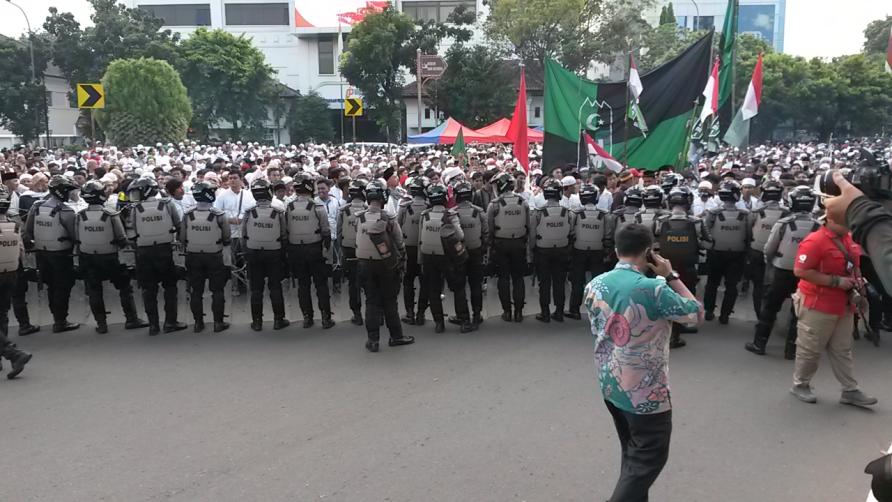 A lot of his enemies have been waiting for Ahok to make a mistake. He was elected as the Vice Governor of Jakarta in 2011 on a ticket with the current President, Joko Widodo, popularly known as 'Jokowi". It was a close and effective partnership – so much so, that Ahok was sometimes referred to as 'Jokowi's brain' by commentators.
But then, like now, there was much objection to Ahok's candidacy expressed in religious and racial terms. There were allegations made 6 years ago that rely on the same verse of the Qur'an that is at the heart of the blasphemy case against Ahok now. Despite this, Jokowi and Ahok won the election.
Three years later, Jokowi resigned to run for President. Ahok automatically stepped into his shoes and became Jakarta's acting Governor. Now he is running democratically for that same role – making it the first time he's been exposed to election as governor.
Seen in this light, its not surprising that the old problems have emerged again. It's a repetition of the same issues that arose when he ran as Vice-Governor with Jokowi, and again, when he stepped into the role of acting Governor. The problem is that the attacks on him get more vicious the higher he rises.
AHOK'S MISTAKE
The situation has been further inflamed by the involvement of Islamic hard-line groups who have opposed Ahok from the outset and have been waiting for their opportunity to move against him.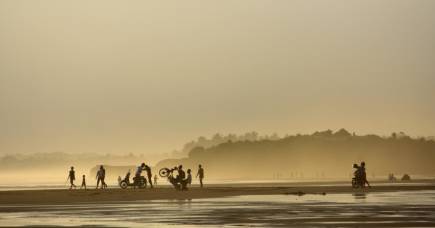 It came while Ahok was campaigning in September last year. He referred to a particular verse of the Qur'an (Al-Mai'da) that many Indonesian Muslim leaders interpret as prohibiting the rule of non-Muslims over Muslims. There are different interpretations of this particular verse elsewhere in the Muslim world but this definition has traction in Indonesia.
During a typically unguarded speech, Ahok told his audience that they were being fooled by religious leaders (ulama) who used this interpretation of the verse against him. An edited version of his comments ended up in the media, out of context, and he seemed to be saying "You are being fooled by the Qur'an".
Huge street demonstrations followed, by hardline Islamist groups. More than half a million people protested against Ahok at one point late last year, forcing Jokowi to cancel a planned visit to Australia at the last moment. Eventually, Ahok was charged with blasphemy.
The scale of these protests was frightening for many ordinary people in Jakarta who remember the riots and violence of 1998 when President Soeharto was forced from power. Politicians were also concerned see such huge mobs on the streets – a longstanding nightmare for anyone in power in this gigantic and sometimes volatile city. And so the decision was taken to let Ahok face the blasphemy charges as a way of calming the situation.
But after hardliners were able to bring hundreds of thousands of people into the streets, sometimes openly attacking the government and the President, and get what they wanted, politicians of all stripes have become uneasy with what has been unleashed.
In late March, the government responded ordering the arrest of some of the leaders of these groups, charging them with treason. But the move came very late.
Jokowi's government is a weak and insecure one and it seems confused about how to deal with these groups – does it pander to them? Or does it push back? It sometimes seems to be trying to do both at the same time. In the end, however, Ahok's former political partner, the now President, has distanced himself, seeming willing to throw Ahok 'under the bus' if necessary, in order to secure his own authority.
Now as voters head to the polls, the tension is tangible in Jakarta: if polls are correct, the outcome of the vote is uncertain; charges of treason against Muslim groups are yet to be decided; and, whatever the outcome, Ahok will be returning to court soon to face the next hearing in his trial for blasphemy.
The mobilisation of racial and religious hatred achieved by his enemies could well lead to Ahok's defeat in this election, regardless of his success as acting Governor. But it could also strike at the very heart of Indonesia's self-identity as a tolerant, pluralist society.
In the less likely event that Ahok wins, it would be a strong gain for pluralism and minorities, but it would also bring huge numbers back onto the streets of Jakarta again, with a real risk of violence. No wonder the government is nervous.
Banner image: Getty images