Buildings that look like Beyoncé
Years before Beyoncé sung about ghosts, architects have long been inspired by the female form
Architecture firm Elenberg Fraser recently caused a stir when they announced their proposed skyscraper for Melbourne's Docklands precinct was inspired by Beyoncé's curvaceous silhouette in the Ghost music video.
So we asked Dr Marcus White, award-winning architect, urban designer and lecturer at the Melbourne School of Design, if Beyoncé was the first woman to inspire constructions of the built environment.

OSCAR NIEMEYER
White's favourite modernist, innovative Brazilian architect Oscar Niemeyer, famously described the women of the beaches of Copacabana as the inspiration behind his provocative work.
Niemeyer was producing beautiful, curvaceous buildings inspired by the forms of Carioca women as early as the 1940's.
Niemeyer, the 'sculptor' behind more than five hundred beautiful buildings in a 70-plus year career, including the saucer-shaped Niteroi Contemporary Art Museum (banner image), the curved Cathedral of Brasilia and the free-flowing French Communist Party building in Paris, famously abhorred the ramrod straight, steel-box inflexibility of traditional structures.
"I take the single line of a woman, then imagine a building surrounding her," he told GQ magazine. "Right angles don't attract me. Nor straight, hard and inflexible lines", he wrote in his 1998 memoir The Curves of Time.
"What attracts me are free and sensual curves. The curves we find in mountains, in the waves of the sea, in the body of the woman we love."
MAD
Chinese firm MAD completed a pair of curvaceous twisted skyscrapers in Mississauga, Canada, which were so curvy they were dubbed the "Marilyn Monroe towers" by locals who saw sketches of their shapely form.
Boasting oval-shaped floors, every storey is incrementally rotated to give both buildings a curved and twisted outline.
MAD founder Ma Yansong was candid about the inspiration for the building's unique form, telling dezeen.com: "We just wanted to make something organic but different, more natural and more soft and not something too strong that would remind people of money or power."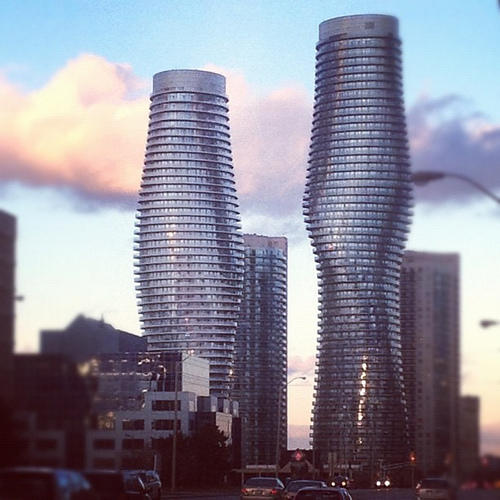 ZAHA HADID
Acclaimed Iraqi-British "starchitect" Zaha Hadid has been dubbed "the queen of the curve" in architectural circles for her projects such as this International Culture and Arts centre in Changshu, China, or these proposed $600 million dollar tapered towers on Australia's Gold Coast.
On the inspiration behind her aesthetic, she told Interview: "I took a look at the projects of very large buildings, and they seemed so massive and bulky. So it struck me that they wouldn't be so bulky if they were in the shape of a gentle hill, or something similar."
That's when I started working on visual environment and landmasses applying fluid lines, trying to make a building look as if it were liquid.
A self-stated feminist, Hadid's firm caused headlines when their design of the proposed Qatar World Cup Stadium was criticised for looking like a vagina.
The project's director, Jim Heverin, told the press that it was based on the curved form of the Dhow - a type of Arabian fishing boat.
Judge for yourself (image below).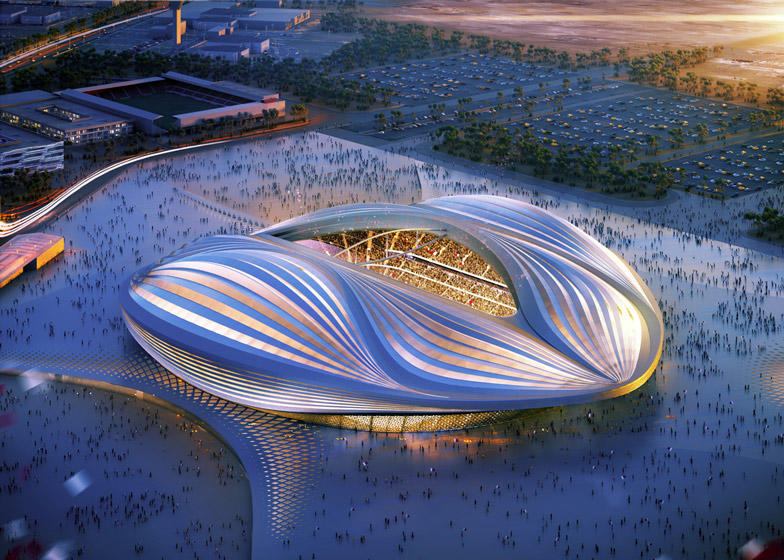 ELENBERG FRASER
And so we return to Melbourne-based firm Elenberg Fraser, who recently unveiled their designs for a 226-storey skyscraper in Melbourne's Docklands. Designed for energy efficiency, the tower's unique curves and bulges of the building's spire are also said to reference of of Beyoncé's music videos.
"Its spiralling curves recall the twists and turns of a woman dancing in black cloth," wrote Fraser on their website, citing the curves as an aesthetic response to wind, solar and massing criteria.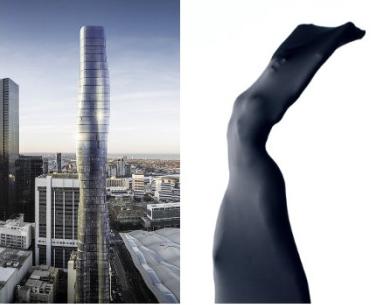 Dr White says the success of an architectural project doesn't just depend on the inspiration behind the form.
"I think if a building provides high quality living or working spaces within, hits the street level well and considers its urban context, when produced by a skilled architect, curvaceous buildings can be a great contrasting addition to a city, regardless of whether they are inspired by fishing boats, man-abs or lady-lumps," he says.
Banner image: Oscar Niemeyer's Niterói Contemporary Art Museum in Rio De Janeiro. Picture: Dr Marcus White