Crossing health borders without international travel
A Melbourne-based public health initiative is using interactive technology to reach remote Kenyan communities during the pandemic
What does an on-the-ground health program that relies on face-to-face teaching in remote Kenyan communities do when it can't travel?
Since 2008, Kenyan Village Medical Education (KVME) – our university student-led program – has aimed to improve the health education and long-term health outcomes of communities in rural Kenya.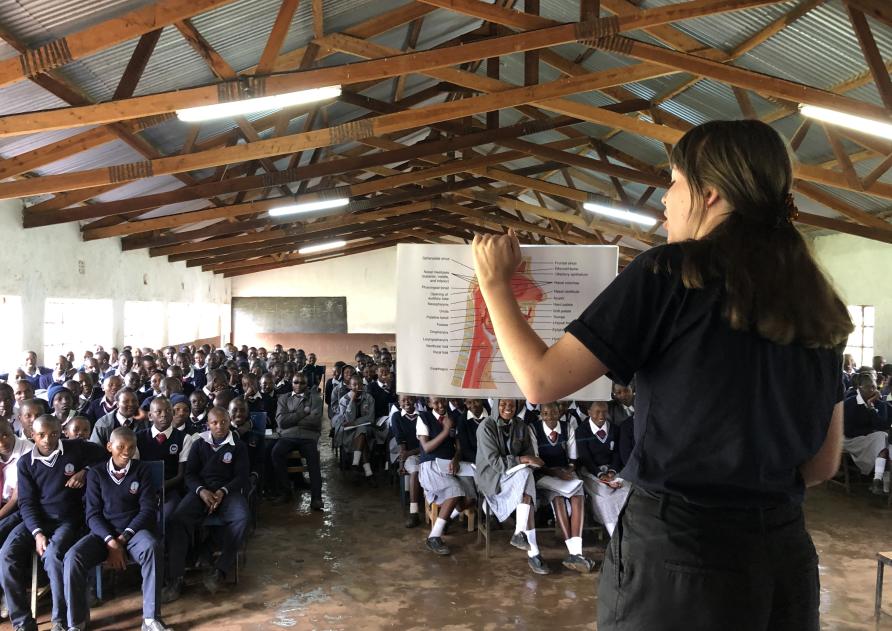 The focus is on common and often fatal diseases – like pneumonia, diarrhoea, trachoma and malaria. Although these diseases are largely preventable, there are very specific challenges faced by these communities, including a lack of resources and limited access to improved health literacy, that can have a dire impact.
Over the years, our KVME program has had a clear focus on addressing these barriers by providing information appropriate to the culture, traditions and languages of its Kenyan audience.
Crucially, KVME also works to give its student volunteers a better understanding of the socio-political, cultural and economic factors that can limit access to healthcare and medical information globally.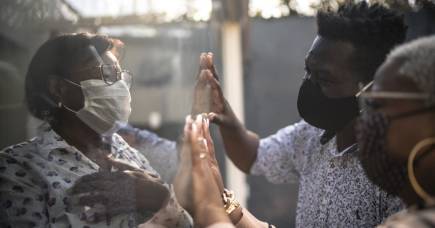 Up until the world was hit by the COVID-19 pandemic that limited international travel, KVME's core was a three-and-a-half-week in-country trip built around a series of culturally appropriate, respectful and community-specific preventive health education workshops.
These were all conducted by us – student volunteers – and translated by a community member into the local language.
These workshops were available to everyone but had a particular focus on mothers, teachers, children, elders and influential community leaders.
The workshops themselves were practical – encouraging the use of resources like water filtration systems or first aid supplies, and KVME often provided these resources as donations along with supporting and teaching community members how to use them.
While in Kenya, the volunteers would stay with the Shelter Children's Rehabilitation Centre. There, we would assist the orphanage and help out in the primary school linked with the centre, as well as working to develop self-sustainable KVME projects like the Medical Clinic and the Curio Shop.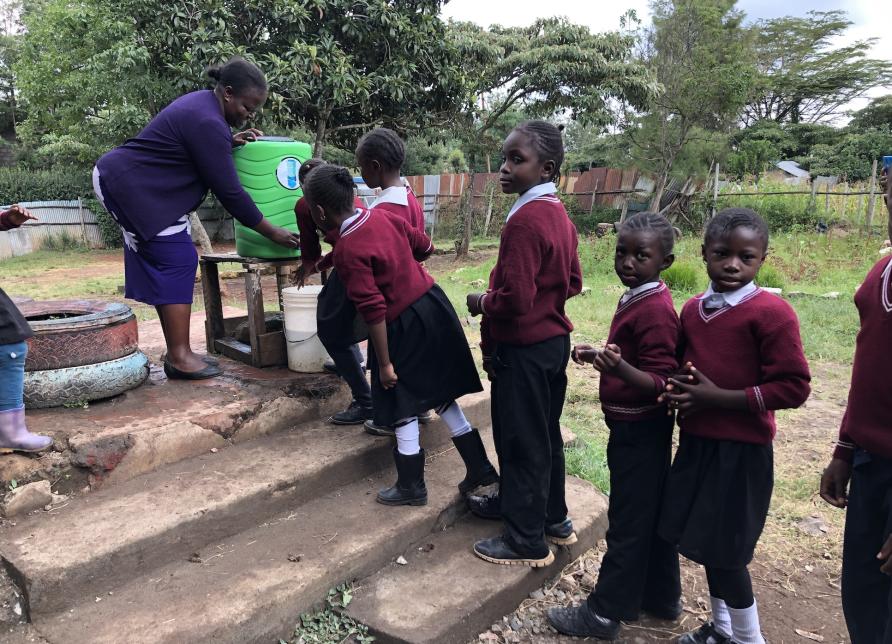 But in 2020, as a result of COVID-19, we were forced to remodel and come up with an alternative way of delivering health education. Globally, much of our education is now happening online, so our team turned to technology to continue to deliver on our disease prevention goals.
The result is the KVME Teacher – an automated chatbot that can deliver health education remotely.
WhatsApp is the number one means of telecommunication in Kenya, with many communities able to access it and most using it daily to communicate.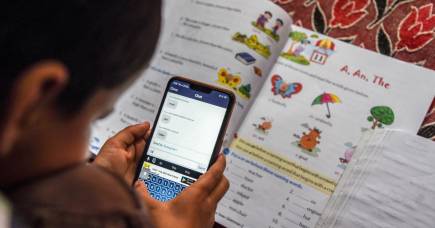 Working with our partners in Australia and Kenya, our team developed an online and automated educational platform on WhatsApp.
KVME Teacher delivers virtual health education in Swahili and English, enabling communities to still access important health information and develop their understanding of preventative healthcare.
So far, the response has been great.
Since launching the chatbot, many people have sent us positive feedback and even requests for other topics beyond what we currently offer. As our partners in Kenya continue to spread the word, we will continue to expand and plan future projects.
Modules exploring the ins and outs of heart disease and diabetes have been popular but, understandably, there's an emerging interest in COVID-19 and vaccination modules. Misinformation is rife in an online world, so we hope to play our part by standing out as a reliable resource.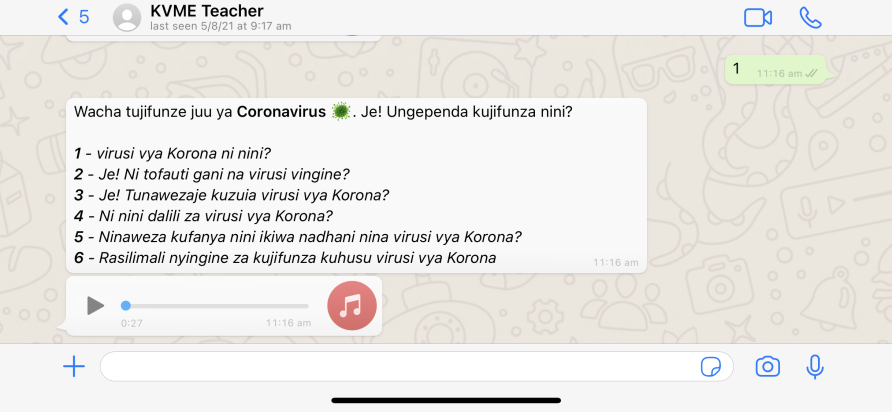 While face-to-face teaching remains the most powerful way of getting health messages out there, like everyone else, we have adapted to the pandemic. Additionally, within Kenya, COVID-19 travel and meeting restrictions have further limited the word-of-mouth communication we usually rely on from our Kenyan partners.
Our aim is to see KVME Teacher used widely throughout rural and regional Kenya as an educational tool that brings accessible health education to isolated communities.
While KVME Teacher currently only has limited availability in Kenya, there's potential for the chatbot to be used as a layperson's educational tool or as a resource for Kenyan teachers.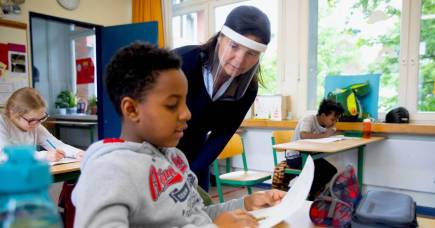 Moving forward, we are now in the process of developing more modules on important health topics, including first aid and women's health, as well as looking into the use of multimedia resources to provide enhanced, user-friendly teaching.
A group of volunteers is dedicated to assessing our program's relevancy and necessity, ensuring our goals are met. To do this, the program evaluation team uses data collected by our Kenyan partners from users of the chatbot and applies theories of behaviour change, including the Theory of Change, to ensure its effectiveness.
Through a combination of online workshops and the continued hard work of our Kenyan partners, we hope the chatbot will gain more traction and become a useful tool for rural communities .
And who knows, maybe sometime over the coming years, we can aim to get back on the ground and back to work with our partners in rural Kenya in the fight against the disproportionate burden of disease.
If you'd like to learn more about the KVME project and the team working on it, head to: https://muhi.org.au/global-programs/kvme/about-kvme/. And if you'd like to engage with our chatbot on WhatsApp, you can click: https://wa.link/xtfhd7.
Banner: Maasai locals reviewing their portraits on a smartphone after a workshop in Kajiado, Kenya/KVME Program