From Killer Whales to underworld killers, the evolution of a documentary filmmaker
Klaus Toft tells stories while chasing the Jacques Cousteau lifestyle
Deep into filming a secret Four Corners and Fairfax investigation, producer Klaus Toft and journalist Adele Ferguson were in a taxi travelling through the Gold Coast suburbs. The conversation started typically enough - the driver asked them why they were in town and they casually replied that they were doing some filming, but they couldn't tell him what about.
"Is it on 7-Eleven?" the driver asked.
Their jaws dropped. The word was out. Four Corners was in town doing a story on systemic underpayment of staff at 7-Eleven franchises. The taxi driver, an international PhD student, hadn't worked at 7-Eleven but he knew people who did. He told them the whole community was hoping the story would have an effect.
Toft, a marine science alumnus of the University of Melbourne, says this was when he realised just how important the story was.
"And it seems to have had an effect, so that's very gratifying," Toft says.

The story, The Price of Convenience, exposed not only illegal hiring practices at 7-Eleven stores, but set in motion the exposure of widespread underpayment across many Australian industries, affecting hundreds of thousands of people.

Toft, Ferguson and Sarah Danckert have been nominated for a Walkley Award for the story.
Toft credits Ferguson for breaking the story, but he was by her side during much of the investigation, and speaks of the excitement of doing "investigative journalism on the run".
"That piece of television is really how it unfolded as an investigation," he says.
One person agreed to talk to you, then other people came forward.
One of those people was a 7-Eleven whistleblower who supplied evidence that the head office was long aware of the way franchises treated their staff.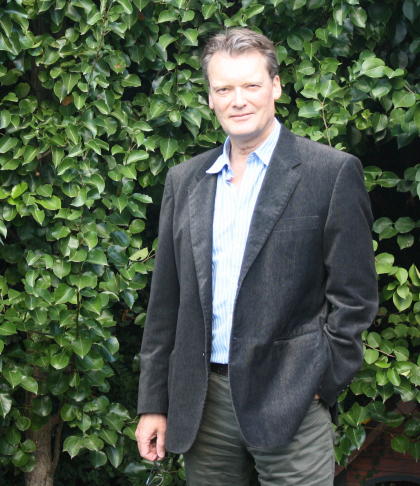 "He really makes that story," Toft says. "All those suspicions and those theories that we worked towards through the victims, he just confirms them."

Klaus Toft is a television veteran, although a relative newcomer to investigative journalism. To date his career has mainly been in natural history documentaries.

In the early 1980s Toft pursued an interest in marine zoology through a Bachelor of Science at the University of Melbourne.
He did his honours with Dr Rob Day, studying ascidians (also known as sea squirts), sponge-like animals that are often found growing on pier pilings.
"I have very fond memories of getting hypothermia underneath Portsea Pier, while I tried to trace the outlines of colonies of ascidians onto bits of plastic," Toft says.

As a young boy I loved the Jacques Cousteau films. They'd always be on a Saturday or Sunday matinee. I thought I was really interested in marine zoology, but to be honest, what I was really interested in was the lifestyle.
So, after a short stint studying shark fisheries for the Victorian Department of Fisheries and Wildlife, the lure of the Jacques Cousteau lifestyle took over, and, broke but restless, Toft travelled to the US at the invitation of a friend.

"One thing led to another and it turned into a three year trip, which took me to South America," says Klaus. "I taught English in Rio for a while, which was really only enough to pay the hotel bill."

In debt and out of favours, Klaus hitched a ride on a freighter to Stockholm. Then, during an 18-month stint in Denmark, his birthplace, he made his first two films.

"I had borrowed a camera from a friend and … I made this surreal and completely indecipherable film which meant something to me but I don't think meant much to anybody else," he laughs.

His second "indecipherable film", made with a crew of unemployed Danish teenagers, showed enough promise that he was one of just eight people admitted into the Swinburne Film and TV School.

From there he got a job as a researcher at the ABC Natural History Unit under long-time executive producer Dionne Gilmour.

And it wasn't long before he was behind the camera. Among more traditional wildlife documentaries, Toft made TV shows about the race to be the first to circumnavigate Australia, the La Nina rains in central Australia and footballer Brendan Fevola.
He spent two months on the NSW south coast filming a documentary about the mutually beneficial relationship between killer whales and whalers in the early 20th century.
Killer Whales would drive baleen whales through the heads of Twofold Bay, and the whalers would then kill the whales and leave the bodies out so the killer whales could eat the tongues. Killers of Eden charts this story, which turns into a Greek tragedy of betrayal and death, through the recollections of the last two people alive who had actually seen it.

Now freelancing, Toft says he is "up for anything".

I worked on a project called China From Above, which was great fun. It was using drones a lot to tell that story of burgeoning China, and all of the amazing things going on there, but also about the past.
"I've done my first cooking show, which again was in China, where I had the pleasure of eating things cooked in the bile from a cow's stomach, and other delicacies. And then I series produced my first kid's show last year, Wild But True, with Robert Erwin, son of Steve."

And now Toft is the go-to producer for the highly regarded Fairfax Media and Four Corners co-investigations.

In addition to the 7-Eleven story, he produced True Detectives the Four Corners episode on the death of Carl Williams, and was a co-producer on the two-part investigation into the political ties of the Calabrian Mafia, which screened mid-year on the ABC. For both of these he worked with Fairfax investigative journalist Nick McKenzie.

His most recent project was Jackson & Lawler - In the eye of the storm, a riveting and disturbing look into the personal lives of former Health Services Union President Kathy Jackson and her partner, vice-president of the Fair Work Commission Michael Lawler, that screened on Four Corners in October.

"It's new for me in terms of what I've done before but I'd like to think that the skill I bring to it is just storytelling," he says.
Most of these Four Corners shows are documentaries really but with a rigorous journalistic sensibility. But the story telling has always been my passion in TV, and it still is eminently relevant to how you tell these stories.
"There are a hundred ways to tell a TV story, so it's how to tell it in the most gripping way, I guess."