Hearing loss still a challenge for kids
Children born with hearing loss are now routinely diagnosed within weeks of birth – having hearing aids and cochlear implants fitted well before school. So why are they still lagging behind their hearing peers in language?
In the last 20 years, we've made dramatic advances in the early detection of hearing loss in newborn babies and in providing early access to hearing aids and cochlear implants.

For example, since 2012 in Victoria, the median age at which hearing loss is detected in newborns is measured in just weeks; this compared to a median 20 months of age back in 1989.
And in 2018, more than 2,800 Australian children were fitted with either a hearing aid or cochlear implant for the first time, many within the first year of life, and the majority prior to starting school.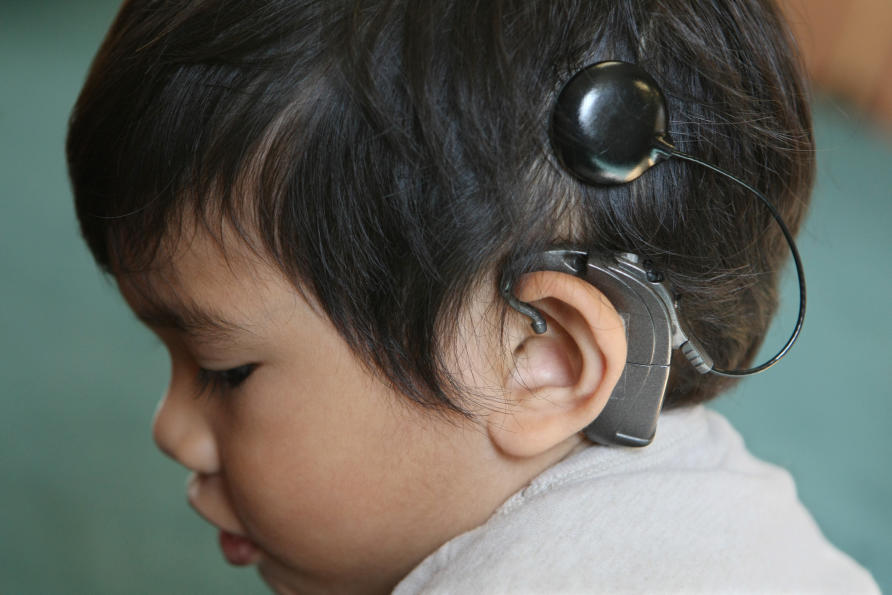 Given this massive improvement in early detection and intervention it could have been expected that hearing impaired children would have quickly come to enjoy the same language and educational outcomes as their hearing peers.
But, this hasn't happened consistently for all children and we don't know why.
The big improvements in early detection have been driven by the widespread adoption in Australia of universal newborn hearing screening (UNHS), which was first rolled out in New South Wales in 2002 and 2005 in Victoria.
This involves playing soft clicks into the baby's ear while they sleep. Small recording pads on the baby's head and neck measure the baby's electrical responses to the sound.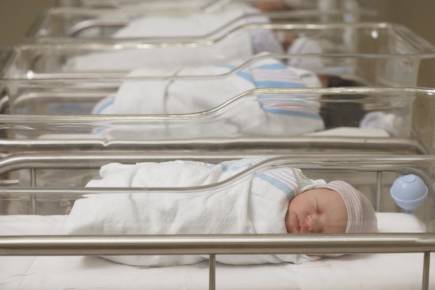 But, while we have seen some improvements in language outcomes for hearing impaired children, according to a recent study, they still have much poorer outcomes compared with their hearing peers.
What's more, the same study showed that for those children with mild hearing loss, there has been no clear improvement in language outcomes.
This is a major problem.
Globally, up to three in every 1000 babies are born with some level of hearing loss. In Australia around 350 children a year, or the equivalent of one child every day, is diagnosed with a permanent hearing loss.
Systematic reviews of published evidence suggest we have a long way to go with understanding what works best for children with hearing loss.
For example, there is no consensus on what intervention works best for developing spoken language in children with hearing loss.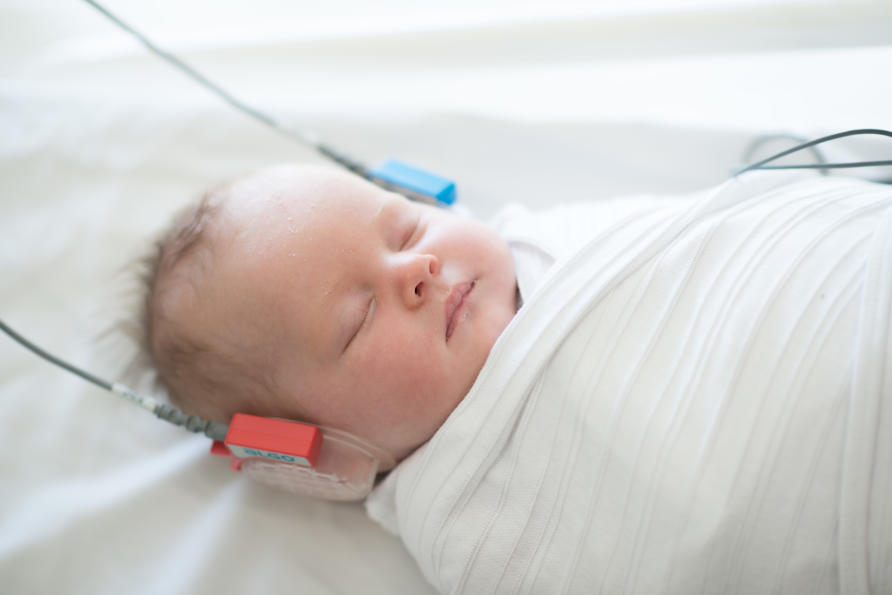 The evidence that does exist hasn't been validated by experimental controls, and is somewhat focused on the outcomes of children with cochlear implants – those children who have the greatest level of hearing loss.
Yet, the majority of hearing-impaired children have a milder degree of hearing loss.
It may be then that a 'one size fits all' approach may not be the most effective way to assist impacted children achieve language outcomes that match their cognitive potential.
Indeed, babies and young children identified with mild hearing loss have, until recently, gone undetected.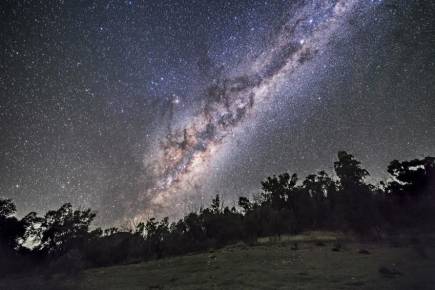 Historically, prior to the introduction of UNHS, these children didn't receive a diagnosis until much later, usually when problems arose at school. Now that we are identifying them early, we need more research to identify the best ways to help these children.
Is it possible that children with mild hearing loss don't benefit from hearing aids to the same extent as children with more severe hearing impairment?
Do we have an issue with terminology, where parents consider a 'mild' hearing loss as something not to be concerned about and, therefore, they may feel early intervention is less important?
Is the impact of hearing aids cumulative, where each and every day the child consistently wears their device it adds to a 'bank of benefit' for their language development overall – helping them to reach their potential through this cumulative auditory experience?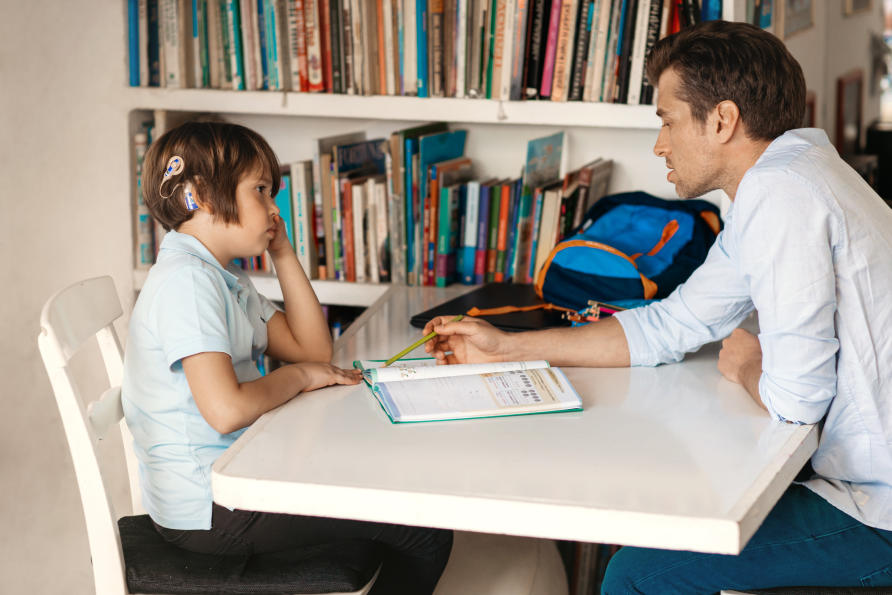 And how do we help families persist with consistent device use, if this really helps, when their child seems to respond normally even when not wearing their hearing aids?
These are just some of the many unresolved research questions around hearing loss in newborns.
To help find answers to these questions, we need large observational studies representative of children with all degrees of hearing loss followed over long periods of time to capture their outcomes, as well as rigorous population-based intervention trials.
To date, these are lacking internationally.
This is why the Victorian Childhood Hearing Impairment Longitudinal Databank (VicCHILD) is so important.
It is a unique statewide databank of hearing-impaired children designed to help researchers all over the world understand why some children with hearing loss adapt and thrive, while others struggle.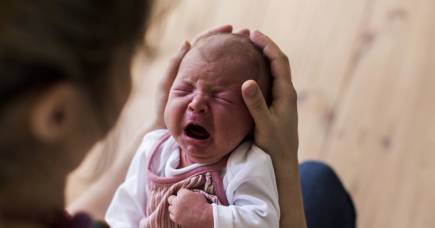 The databank has been developed over the past eight years, and has been built on a body of work going back 25 years by researchers and clinicians from The Royal Children's Hospital, the Murdoch Children's Research Institute and the University of Melbourne.
More than 800 children and their families have now provided baseline hearing, clinical, sociodemographic, health service and quality of life data along with saliva samples – with most families consenting to have other personal data linked into the database and agreeing to be re-contacted for future research projects.
The children in VicCHILD are assessed at key developmental time points – around two, five and 10 years of age – for their language (oral and/or signed communication), developmental and quality of life outcomes.
UPDATE - 9th October 2019: The recent research referred to in the above article is focused on the outcomes of children with mild and moderate hearing loss.
These children are generally less likely to use sign language, hence our focus on oral/aural communication and spoken language outcomes. We should have made this clearer in the article and apologise to anyone concerned by the omission.
The authors would like to emphasise that VicCHILD is a population-level databank that is inclusive of all children and whatever languages, including sign language, they learn.
As researchers, we explore many aspects of language development in children with congenital hearing loss, with increasing power for different languages as the databank increases in size.
To join the VicCHILD study visit www.mcri.edu.au/vicchild or email vic-child@rch.org.au
VicCHILD has been funded by The Royal Children's Hospital Foundation; The Murdoch Children's Research Institute; the Phyllis Connor Memorial Trust; the Deafness Foundation; the National Health and Medical Research Council (NHMRC); the Kyle Patrick Lamsam Convery Foundation; the Nelson Alexander Charitable Foundation, and the Royal Australasian College of Physicians Cottrell Research Establishment Fellowship.
Banner: Getty Images