The kids are alright
A review of decades of research shows children of same-sex couples are doing just as well as kids of heterosexual couples, but it's homophobic discrimination that can put them at risk of harm
The consensus of peer reviewed research going back 30 years is that kids raised in same-sex parented families do just as well emotionally, socially and educationally as children raised by heterosexual couples.
In a review of the international evidence, published in the Medical Journal of Australia, child health researchers warn that it is homophobic prejudice and discrimination that risks causing harm to children, not the sexuality of their parents.
"These findings have been replicated across independent studies in Australia and internationally," write the group of thirteen child health experts, led by Professor Frank Oberklaid of the Murdoch Children's Research Institute and the Department of Paediatrics at the University of Melbourne.
The group also includes researchers from Melbourne's Royal Children's Hospital, the Victorian Clinical Genetics Services, The Children's Hospital at Westmead in Sydney, and New Zealand's University of Auckland.
Evidence misrepresented in campaign
They write that they are concerned that "homophobic campaign messages" around Australia's public survey on whether to legalise same-sex marriage has led to a "damaging misrepresentation" of the evidence on the welfare of children of same-sex couples.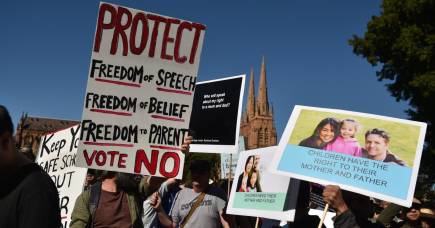 "An increased public health risk exists as a result of homophobic campaign messages for the entire lesbian, gay, bisexual, transgender, intersex and queer (LGBTIQ) community, including mental health risk for same-sex couples, their children, and young people who identify as LGBTIQ+."
They note that earlier this year The Public Policy Research Portal at Columbia Law School in New York reviewed 79 studies on the wellbeing of children raised by gay parents and found "an overwhelming scholarly consensus, based on over three decades of peer-reviewed research, that having a gay or lesbian parent does not harm children".
In 2014, the American Sociological Association reviewed more than 40 studies of children raised by same-sex couples and concluded they fared just as well as other children across a number of wellbeing measures, including academic performance, cognitive development, social development, and psychological health.
And in 2013 the Australian Institute of Family Studies reviewed Australian and international research on same-sex parented families and found that being raised by same-sex parents doesn't harm children. In fact these kids do just as well emotionally, socially and educationally as their peers.
They note that some studies have concluded that children raised by same-sex couples actually show better psychological adjustment and greater open-mindedness towards sexual, gender and family diversity.
They warn that contrasting studies that have suggested children do poorly when raised by gay or lesbian parents have been widely criticised for their methodological limitations.
For example, they note that The New Family Structures Study, also known as the Regnerus study, analyses survey data from adults aged 18-39 and concludes that those with a gay or lesbian parent fared worse on a range of outcomes when compared to adults raised by their heterosexual, married, biological parents. But the Regnerus study compares people raised by one gay or lesbian parent with those raised in two-parent, stable, heterosexual, family environments.
"When re-analysed, taking family stability and having two active parents into account, the data showed that outcomes were similar for adults regardless of their parents' sexuality."
Duty of Care
While the consensus of evidence is that children do just fine with same sex parents, the researchers warn that the evidence also shows that children and adolescents with same-sex parents are emotionally affected when they and their families are exposed to homophobia, discrimination, prejudice and social stigma.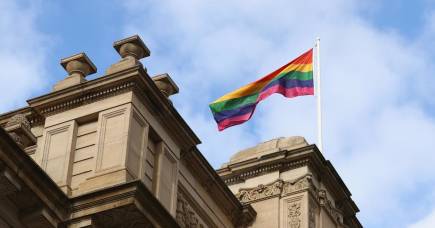 A 2008 study comparing the wellbeing of same-sex parented children raised in the USA and the Netherlands found American children were significantly more likely than Dutch children to experience homophobic bullying, and less likely to disclose their family structure.
The research concluded these differences were likely due to greater social acceptance of same-sex relationships in The Netherlands, which was legalised in 2001.
And they point out that legalising same-sex marriage has had a positive impact on the mental health and wellbeing of LGBTIQ+ young people in US where state-based marriage policies were associated with a 7% relative reduction in suicide attempts among sexual minority high school students.
"The entire LGBTIQ+ community is at risk of harm in the current debate around same-sex marriage, and the most vulnerable are children and adolescents," the researchers write.
"We have a duty of care to all groups in our society, particularly to those who are vulnerable. Our duty extends to calling for public statements based on accurate, objective interpretations of the best available evidence, the correction of inaccurate information, and efforts to reduce the destructiveness of public debate.
"This is exactly the course of action we have taken on health issues such as immunisation and children in detention."
Banner image: iStock