The science behind Victoria's "flesh-eating bacteria"
As the number of Buruli ulcer cases linked to Mycobacterium ulcerans continues to rise in Victoria's Mornington Peninsula, we look at the science behind the spread of the microbe
If the recent headlines about a bacterium that causes a non-healing ulcer reportedly spreading in Victoria's Mornington Peninsula are to be believed – we should all be terrified: "Mystery flesh-eating bug cases 'running rampant'", "Bug spreads zombie style wounds" or "Flesh-eating bacteria flourishing in Victoria".

But what exactly is this mystery microbe and where is the truth in these attention-grabbing headlines? And more importantly, should we be alarmed?
These reports are referring to Buruli ulcer (also known locally as Bairnsdale ulcer), a potentially serious infection of the skin caused by a bacterium called Mycobacterium ulcerans that establishes itself in fat layers beneath the skin, replicating slowly and destroying tissue as it grows. The disease initially presents as a painless papule on the surface of the skin, often appearing on the arms and legs.
Over a period of weeks to months the disease slowly progresses with the skin around the papule breaking down to cause an ulcer with a centre of necrotic tissue. Despite the tissue damage, the lesions are sometimes painless and patients are otherwise surprisingly well. Untreated, progressed lesions can cause extensive damage and leave victims with life-long deformity and disability.
Fortunately, the infection is rarely lethal and effective antibiotic treatment (although of long duration and with potential side-effects) is available once the correct diagnosis is made. Diagnosis is based on a very sensitive molecular test developed by the University of Melbourne and Royal Children's Hospital scientists in the 1990s.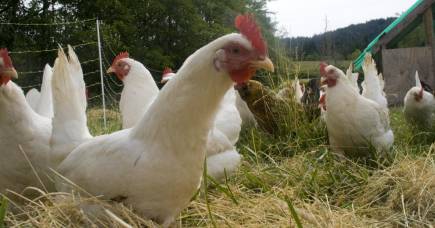 In fact, Australian scientists have a long history of scientific discovery around this disease, that goes back to the 1940s when they were the first to discover Mycobacterium ulcerans was the cause of unusual skin ulcers in people from the Bairnsdale region in east Gippsland (hence Bairnsdale ulcer).
But since then, Buruli ulcer has been confirmed in more than 30 countries worldwide (predominantly in tropical areas). Many thousands of cases are estimated to occur each year, with rural West and Central Africa shouldering the highest disease burden. The World Health Organization adopted "Buruli ulcer" as the official name for the disease in the 1960s after the Buruli county in Uganda where many cases occurred.
For reasons that are not yet clear, this neglected tropical disease is now actively spreading around Melbourne. Worryingly, the number of cases has doubled each year since 2014, with 160 cases this year already, the majority of those coming from the Mornington Peninsula.
The disease is not transmitted person-to-person and a team of Melbourne-based researchers, spearheaded by clinicians and scientists at the Doherty Institute, Austin Health and elsewhere, have been working for many years to try and understand how it is spread.
In the 1990s this team developed the gold-standard molecular diagnostic test for Buruli ulcer, with support from the Victorian Department of Health. It is now recommended by the World Health Organization and used worldwide.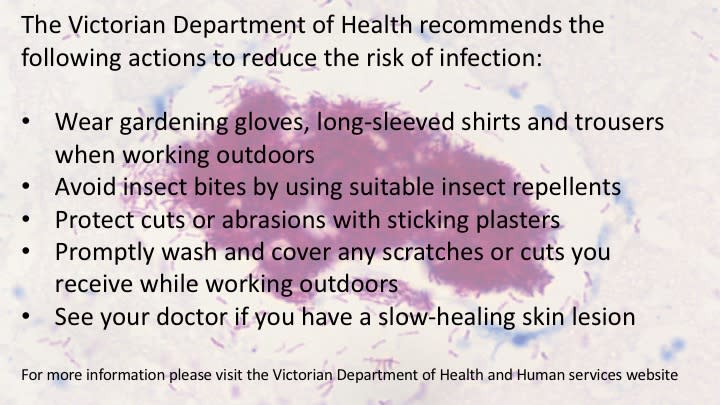 The same team established that Australian native possums are a major reservoir of M. ulcerans and that mosquitoes play a role in transmission of the disease to humans.
Most recently they've shown by careful epidemiological and laboratory investigations that the incubation period for Buruli ulcer is around four months and that very few bacteria (less than ten) are sufficient to cause an infection following a puncturing injury, including insect bites. It's noteworthy that the Doherty Institute houses one of only two worldwide WHO Collaborating Centres on Buruli ulcer.
Buruli ulcer is a serious and emerging problem around Melbourne – but it is primarily a disease affecting the rural poor of West and Central Africa, where sadly, relatively little is being done to prevent its rise.
The time is now for a coordinated, well-funded and focused research effort to understand in detail how Buruli ulcer is spreading in Melbourne, and most importantly, the actions we can take to stop it. Lessons learned here will inform global control strategies for this insidious and debilitating infection.
More information on the Buruli ulcer is available on the Victorian Government Better Health Channel.
Banner image: Image of Mycobacterium ulcerans present in a sample of patient tissue (clumps of bacterial cells stained here in pink)/ Supplied