Web-based exercise program improves knee arthritis therapy
A new online exercise program, enhanced by personalised text messages, helps people with knee osteoarthritis to reduce knee pain and improve physical function and quality of life
Olivia* has suffered from osteoarthritic knee pain for several years, with the pain impacting her life considerably.
Getting to work was difficult "I take the train, it was very hard for me to go up the steps – there's no elevator in our station here", Olivia says.
Even walking had become challenging. "One time I couldn't even walk. I was on the street and it was really so painful… I couldn't even step on my foot. My brother had to pick me up from where I was, he had to hire a wheelchair for me!"
Osteoarthritis is a highly prevalent and painful joint condition which affects over 2.2 million Australians. As our population ages, more and more people will need care to live with the condition. The good news is that specialised exercises can improve the condition, and our new research has now shown that these exercises can be effectively self-directed by patients.
Olivia was a participant in a qualitative study I led as part of a randomised clinical trial to assess the effectiveness of a novel self-directed web and mobile phone based exercise program we developed at the University of Melbourne.
The results of our trial, comprising 206 people with knee osteoarthritis living across Australia, have just been published in JAMA Internal Medicine. It found that over 70 per cent of people who used the 24-week program experienced a clinically meaningful reduction in their knee pain.
This means that most people improved with our free, self-directed exercise intervention without requiring more intensive or costly treatment.
Osteoarthritis commonly affects the knee joint. It was once thought to be the result of wear and tear, but we now know this isn't correct.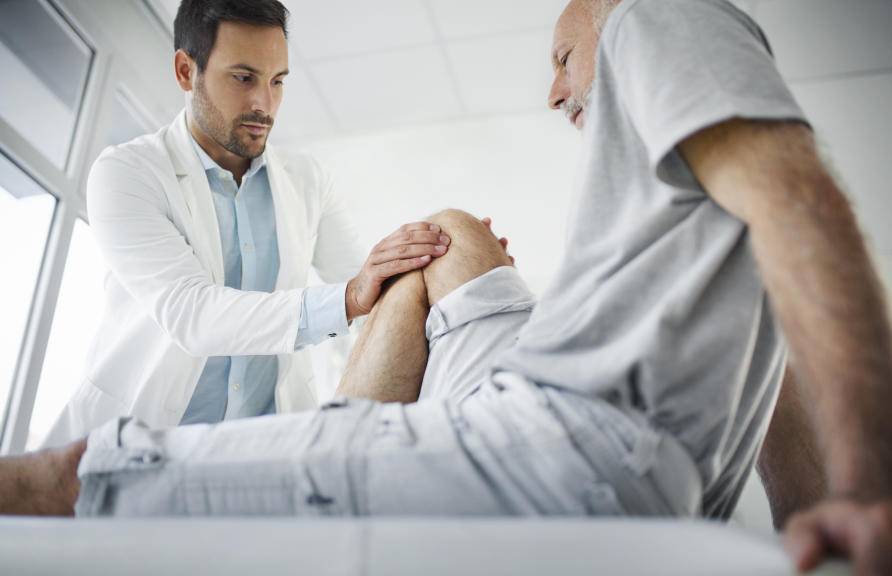 Instead, research shows that our joints are constantly changing, and that osteoarthritis occurs when there is an imbalance between changes in the joint and joint repair. A typical joint change is weakness of the muscles surrounding a joint.
People over 45 years are most likely to suffer from osteoarthritis – partly, because of accumulated exposure to risk factors as we age like past knee injuries, obesity and muscle weakness.
The characteristic symptoms are pain and physical disability. Osteoarthritis of the knee is particularly disabling as it can make it hard for sufferers to stand and sit down, climb stairs or even walk on flat surfaces.
Knee osteoarthritis also often results in a decline in psychological wellbeing and quality of life. People with knee osteoarthritis commonly report feelings of grief as they are forced to make unwanted life adjustments because of their knee. For example, it can force people to retire earlier than they had wanted.
It is recommended that all people with knee osteoarthritis do structured knee exercise to strengthening their muscles and manage their pain and reduce disability.
However, many people with knee osteoarthritis aren't exercising, meaning they won't be experiencing the benefits that exercise has to offer.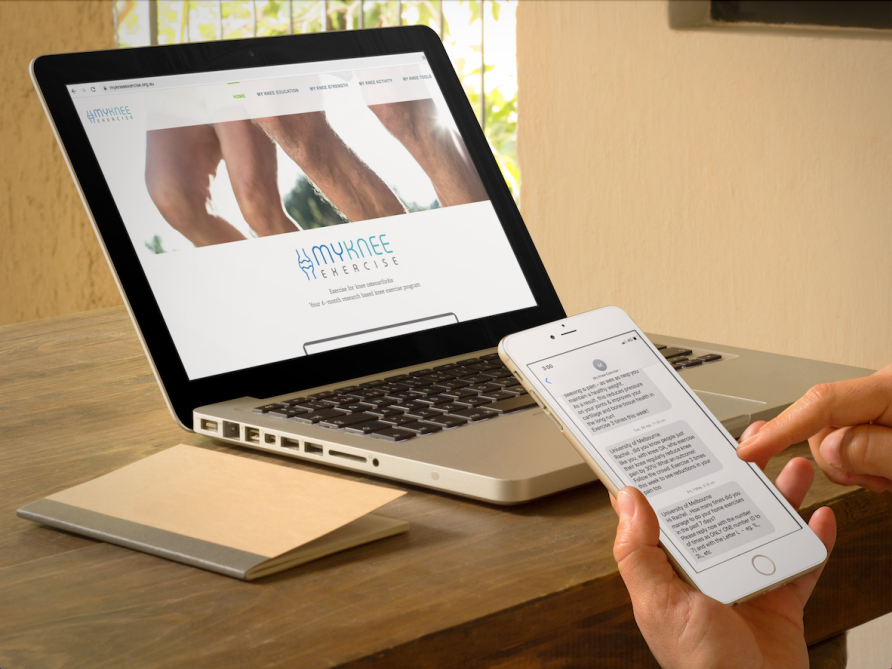 One key reason people with knee osteoarthritis don't exercise is because accessing appropriate treatment is challenging. Another reason is that finding the motivation to exercise is hard, especially when you have pain.
This is why we developed our My Knee Exercise website program. It provides people with up-to-date information about knee osteoarthritis and knee pain, guides them on how to increase overall physical activity and prescribes a 24-week progressive knee strengthening program.
The Strengthening program is divided into three eight-week programs each containing five-to-six exercises. People are given detailed instructions including photo and video demonstrations of how to do the exercises and how to make them more challenging, as they get stronger, using ankle weights and resistance bands.
The website also includes videos of osteoarthritis experts and people with osteoarthritis talking about their experiences using exercise to help their knee. There are downloadable exercise logbooks.
People also receive regular exercise support through tailored automated mobile phone text messages. The texts are designed to help people monitor their weekly exercise, provide exercise motivation and, if people need help, address common exercise challenges. The website is free to access online.
The texts are being developed into an app, 'My Exercise Messages' so they can be easily accessed for free via app stores. This will be available by the middle of 2021.
Olivia, who used the self-directed program in the clinical trial, told us in the qualitative study that; "It's actually easy to use…you have all the education there to go on with your exercise, all the information that's needed."
"The texts are a very good reminder. They [texts] give good suggestions, I really appreciate that."
When asked about her knee and using the program Olivia comments that she has been "inspired to do it because as I go along with it the pain goes away.
"I'm really scared to have the same pain that I had last time. I don't want the pain to happen to me. So, I'll really stick to the exercise to help me."
In the future, we hope the program will provide an effective, no cost, easily accessible option for many more people with knee osteoarthritis.
As a freely available, digital intervention, it is a useful and effective option which could improve access to exercise for people with knee osteoarthritis.
It is also a useful resource to support health professionals provide evidence-based exercise management to the hundreds of thousands of Australians living with knee osteoarthritis.
* Not her real name
Rachel Nelligan's research co-authors are Professor Rana Hinman, Samuel Crofts and Professor Kim Bennell, University of Melbourne, and Dr Jessica Kasza, Monash University.
Banner: Getty Images