Can cities save us all?
By 2050, almost 70 per cent of the world's population will live in cities. How can universities help urban populations thrive?
Glyn Davis
G'day, I'm Glyn Davis and this is The Policy Shop, a place where we think about policy choices.
Male 1
Cities are the infrastructures that most define us. By 2030 more than two thirds of the world's populations will live in cities. And these are not mere little dots on the map. But they are vast archipelagos stretching hundreds of kilometres.
Male 2
I believe that this American healthcare crisis that we've all heard about is a urban design crisis and that the design of our cities lies at the cure.
Female 1
Things that you and I might think about as global problems like climate change, the energy crisis of poverty are really, in many ways, city problems.
Male 3
At the same time that we're solving for climate change, we're going to be building cities for three billion people. That's a doubling of the urban environment. If we don't get that right, I'm not sure all the climate solutions in the world will save mankind.
Glyn Davis
For the first time in human history most of us live in cities, in fact by 2050 the world population is expected to grow to over nine billion, six billion of whom will live in a city.
In Australia while our love of the outback endures, two thirds of the population lives in city and over the next 30 years it's predicted that growth in Australia's biggest cities will be amongst the largest in the developed world.
As our cities become predominant, how do we develop them so that we sustain our environment, empower communities, drive economies? In essence can cities save us all?
We're fortunate that three leading voices who straddle the bridge between universities and cities have taken time to attend the inaugural engagement summit at the University of Melbourne, where over 75 delegates from eight countries are examining the engagement mission of universities.
With the London perspective Deborah Bull is assistant principal at King's College London where she provides leadership for both the university's engagement with the city and its cultural strategy. Welcome, Deborah.
Deborah Bull
Thank you very much.
Glyn Davis
Our next guest is not long away from the Oval Office. Derek Douglas from 2009 to 2011 served in the White House Domestic Policy Council as special assistant to President Barack Obama, and is currently the vice president for Civic Affairs and External Engagement at the University of Chicago. Welcome, Derek.
Derek Douglas
Thank you.
Glyn Davis
We're also delighted to be joined from our own back yard by Ben Rimmer the chief executive of the City of Melbourne. Welcome, Ben.
Ben Rimmer
Thanks, Glyn.
Glyn Davis
At America's first urban planning conference which was held in New York in 1898, a British planner asked whether he and his colleagues were striving for beautiful people or beautiful cities. Tensions in how our cities should develop have been around all through the intervening period. Derek, you moved from advising President Obama on urban policy to the south side of Chicago which has its share of challenges. What lessons can you share about how communities can unite behind a vision for a city?
Derek Douglas
Great question, Glyn. The experience I had at the White House, looking at it from a national level and now working at the University of Chicago on the south side where you're right there in the neighbourhoods, I think both inform my particular view about how to engage communities and to bring them in as partners around a vision for a city.
I think one of the things that's most important to recognise up front is that communities are not monolithic, and when you engage in communities there's not one voice. It's very unlikely, very unusual where everybody in a community agrees on a particular thing. So as you're thinking about development in cities, strategies and broad visions for cities, you first have to recognise that the process of engagement is dynamic.
It requires balancing perspectives, it requires tradeoffs, it requires really creating vehicles for different people from the community to all have input and to have their voices be heard in terms of shaping the strategy. I think what's also important is that the community is engaged as a partner in shaping the vision, a shared ownership if you will. Often times when people are working on strategies and plans you come to the community too late, it's kind of a buy-in approach. You know what you're doing, you just want to sell them on it.
What really makes community work and gets them behind visions is when they're at the table from the beginning and they're giving their thoughts on shaping, as well as you.
Glyn Davis
Can you tell us something about the communities on the south side of Chicago?
Derek Douglas:
Yes, so on the South Side of Chicago it's one of the most economically distressed areas in the city of Chicago. When you look at the city, downtown is quite thriving but the south and the west sides are struggling a bit more. A lot of this is due to a depopulation. There's two neighbourhoods right near the University of Chicago, Woodlawn and Washington Park. Fifty years ago Woodlawn was 100,000 people, now it's 20,000. Washington Park was 50,000 people now it's 10,000.
Unemployment, all those characteristics are quite high. It's also largely African American, the neighbourhoods right proximate to the university are over 95 per cent African American.
So there are a lot of needs, a lot of challenges but there are also a lot of assets. These areas are right near the lake, they're near some of the greatest parks, they're near downtown, close to public transportation. So the strategy is really how do we leverage the strengths of these communities while also addressing some of the challenges and the concerns that have been holding them back for some time.
Glyn Davis
We'll come back to these questions, but Deborah, people of course are very attracted to living in London, which has grown at twice the average rate of the United Kingdom and now stands at around nine million people. Is the growth of the city beyond the capability of institutions and communities to cope with it? How do policy makers deal with such extraordinarily large urban conglomerations?
Deborah Bull
You're right, I've lived in London since 1981 and really in that time it hasn't doubled but I think it was around six million when I started to live in London. Often when you're living in change you don't feel change but actually I really do feel the change now and I feel that change expressed in the overcrowding, and I think particularly in the housing challenge.
So for young people now, for our graduates at King's for instance, there is really no hope, unless they inherit or marry well or come into the lottery, of owning a home within the kind of areas that I would have expected to own a home.
So you're seeing the potential for a drain out of London as young people look at other cities around the UK and think 'I can have a better life there'. So yes I think policy makers really are struggling and of course we should be aware that policy makers in the UK are struggling double at the moment because they're dealing with the implications of the relationship with the European Union. So to say that people are in over-stretch would be an understatement.
Glyn Davis
So Ben, The Economist recently named Melbourne as the most liveable city in the world, for the seventh year in a row. I take it all of these problems have been solved?
Ben Rimmer
Well if only a index like that painted such a complete story. It is good that Melbourne's been recognised as the most liveable city in the world in that index. It is actually good for brand positioning, ability to attract talent and capital and knowledge into the city. But in fact Melbourne is dealing with many challenges at the moment really due to the extraordinary growth that's going on.
Melbourne is by a significant factor the fastest growing city in Australia at the moment, and in fact if you look internationally is actually probably the fastest growing city in the western world of size. That's good, that reflects on the success and enterprise and ambition and purpose of many of the fantastic institutions in the city including this university but many, many others.
But it also brings significant challenges with it. The history of course is pretty interesting and relevant, I mean Melbourne at the end of the '80s and early '90s really saw itself very much in a difficult position and with the loss of manufacturing jobs and a general economic malaise at the time saw itself really facing a bleak and challenging future.
What's happened of course since then is that there's been really 30 odd years of pretty much uninterrupted policy consistency about what makes a great city and what Melbourne needs to do to get its mojo back, and by and large that's been successful.
Glyn Davis
You're saying leadership really matters in urban policy?
Ben Rimmer
Leadership really matters in urban policy and bringing the community together, as Derek said, and we face some real challenges around that. But also bringing all of the institutions together into a consistent view about the future. Not a straightjacketed view but an aligned view about where the city is going over time.
Derek Douglas
I would agree with that and I think that there is a unique role that the city can play in bringing the various stakeholders to the table to find that kind of consistency of vision and consistency of view. It does require leadership, it does require engaging all the sectors, not just the corporate, not just the non-profit, not just the universities but all of them. Strong cities, strong mayors have a unique ability to bring people around the table to help direct.
We have a major like that in Chicago, Rahm Emanuel, who was President Obama's Chief of Staff. We have a lot of challenges in Chicago, one of the things I think all would say he's been quite effective at is galvanising and trying to galvanise all the stakeholders in the city to try to push forward to address our problems.
Glyn Davis
So let's explore for a minute if we can some of the influences on cities and how they're operating, and we've heard quite a number of them. But I'd like to go to the environmental and transport ones for a moment and Ben if I can turn to you.
In 2004 Seoul, a city of 10 million people, dismantled an eight lane elevated highway that ran right through the middle of the city and carried 170,000 cars a day. The mayor of Seoul at the time quipped that Seoul is for people not cars. How do you as the CEO of a city balance transport, an essential part of an operating city with the fact that you want the space to be there for people?
Ben Rimmer
Well I guess the first place to start is in a very pragmatic mindset. It's I think not a topic that you can be intensely ideological about. Every day there are in Melbourne some million people who come into the centre of the city for whatever reason. Some of them today choose to come by car and more and more are coming by active forms of transport, walking, cycling et cetera. Of course the significant growth has been in mass transit.
What's very apparent to us is that if the jobs, innovation, knowledge that are at the centre of the city are going to be able to be accessed by a wide range of people throughout the community, then the key to that is very accessible fast, rapid mass transit right into the heart of the city.
There's only one form of transport that can actually do that effectively and it's large scale public transportation infrastructure. So that sits behind the council's view that really the major source of focus in all of our infrastructure to build productivity in the city is about large mass transportation systems right into the heart, connecting regional centres, outer lying suburbs right into the heart of the knowledge economy, right into the heart of the city.
The other aspect of this is that space is just getting more and more contested. I talked before about the Melbourne of 30 years ago and the Melbourne of 30 years ago, if a couple of square metres of space was not used in its most optimum efficient way, that wasn't the end of the world.
But nowadays really every couple of square metres in the city has a part to play and that means you have to make choices; you have to put priorities onto how you use space. Frankly cars are just incredibly inefficient users of space and that space is much better provided for people for other forms of transport that are more efficient.
In particular it's much better dedicated to green space or open space or active spaces that bring people out of their buildings and out onto the streets and making the streets safe, making the streets vibrant, making the streets places where people connect and drive knowledge and innovation.
Derek Douglas
I would just add to the excellent points that Ben made another case for doing this, and to the point you made Glyn, it's very controversial, we actually are dealing with the live issue now. President Obama has proposed to put his library, it's in a park, but part of the plan would be to take out a six lane highway that runs through the park and connects people from the south side to the north and make that green space connecting to the lagoons and into the lake.
There's a lot of controversy because many are saying I need my transportation [unclear] - because we're trying to make the case.
But here's another reason why moving away from the car to these mass transit and other things are so important. It helps to increase the competitiveness of the city itself. So right now a couple of weeks ago Amazon, I don't know if you all heard about this, Amazon announced it's going to be building a new headquarters, a second headquarters. Chicago, like pretty much every city in the United States is trying to figure out how we can apply and put a bid, to do it. One of the things though if you look at the RFP, that they're putting a lot of stress on is access to public transportation in transit.
We've heard that that's going to be at the top or very near the top. They want people - this is 50,000 jobs by the way, they want people to be able to get to their headquarters without having to take cars, quickly, conveniently. So in addition to all the reasons you gave, if people want their cities to be competitive, to bring jobs, to drive the economy, moving in this direction is I think also an important move for the future.
Glyn Davis
So Derek, when you were advising President Obama about urban policy and national priorities, how did you frame the set of questions around what are the priorities for American cities?
Derek Douglas
Well there were two vantage points that we came at it from and these are actually directives from President Obama.
One was he wanted to create a new relationship between the Federal Government and cities and felt that that was of critical importance to helping cities thrive. In the US a lot of the relationship between the Federal Government and the Local Government is through the states, just because it's easier to deal with 50 states than it is to deal with 300 or 400 cities. But the larger cities tend to get the short end of the stick in that equation because the states take care of the other areas and the cities are left to their own devices.
So we worked on that, it was of I guess good fortunate that this issue of sustainability was a high priority for President Obama. If you look back at his policies, what he did around the environment, climate change, green technologies, all of that, that was a major focus. So we incorporated that into our urban policy agenda with the whole initiative around sustainable communities where we provided funding and helped to push a vision out for cities to think about public transportation, transit, green space, open space, where you locate your housing. All of that in kind of a comprehensive way and it was very successful.
I think the most impactful initiatives that we had was our sustainable communities partnership with our Housing Department, Environmental Protection Agency and the Department of Transportation. Where the three agencies came together to develop policies to push out this at the local level.
Not everything was successful, one thing that the President really wanted to see happen was high-speed rail, and we had a large vision for high-speed rail. Some states took it up but it was in the hands of the governors and it got a bit political. Where some of the more conservative governors rejected the funding because they didn't want to go along with the policy priority. But I would say there was a lot of good work done in this space.
Deborah Bull
I was just going to add really I think one of the key roles of universities in all of these conversations, whether they're at national or local level, and it's pretty obvious but it's worth restating, is the provision of high quality thinking based on evidence, based on fact…
Derek Douglas
Yeah, that's right.
Deborah Bull
…and based on combining disciplines to approach problems. So I think one of the responsibilities of the university is to ensure that its academics are not only facing inwards with their thinking but are connecting to the various bodies that have responsibility for developing and delivering policy around these questions.
Glyn Davis
Which gives me a chance to ask a wonderfully loaded question to Ben about how is the Melbourne City Council drawing on expertise to address these questions?
Ben Rimmer
We are working very closely with the institutions around us, including your own, Glyn, but also the other fantastic universities in the city. We're making incredibly strong and important partnerships with other leading cities around the world particularly through C40 and Bloomberg and other resilient cities and things like that that are making a big issue.
But Derek talked eloquently about some of the political challenges behind this and this is really confronting us now. There's a real danger I think in the Australian political debate that what the centre of Sydney needs and what the centre of Melbourne needs is floating off from the rest of the Australian dynamic and frankly has far more in common with what's happening in Chicago or what's happening in London or Singapore than with what's happening in Adelaide or Dubbo.
Of course the politics work against that and so we find ourselves with a national government that had a very significant focus on cities but that's turned into a focus on really a range of very much second order issues and a state government that has a focus on really making sure that regional areas are sharing in the growth and the prosperity that the centre of Melbourne is involved with.
Obviously the politics of that are sound and at one level the ethics of that are sound, but it really makes it challenging to get the right political focus on the key issues that are going to drive productivity and growth.
Derek Douglas
Just to give an example of sometimes where the pressures at the federal level can cut against the cities is if you look at how transportation in the United States has historically been funded it's been through the gas tax. So when you go to the pump there's a certain amount of money that goes into a large fund and then money gets distributed to the states. There's always been a debate because states like New York, which rely so heavily, as you pointed out Deborah, on public transportation, they pay in less to the fund, the highway trust fund, than they get back.
Now as more cities are moving to public transit, one there's less money going into the trust fund but two, it's going to create a very important debate as we think about this next bill. President Trump has talked about a $1 trillion bill as to how do you allocate the dollars? Because some of these states that don't have the public transportation systems are going to want it to go to their states and it's whoever pays the gas.
Yet these cities where a lot of the growth is happening, where a lot of the economic activity is being driven could be on the short end of the stick. So trying to figure out these policy dynamics is very, very difficult. But I think that our view when I was in the White House was to try to make the case for the critical role that cities play in so many aspects of American life.
So that people, whether you're in Montana or wherever, you can see how an investment in the city is of national benefit, of national interest.
Glyn Davis
One of the questions that arises with cities is about inequality. Deborah, we often think about in the UK, the north-south divide and inequality, but the Grenfell fire, the tragedy at Grenfell made clear inequality close to the centre of London. Again can I ask how does a university's engagement address these questions of inequality in the communities that you deal with and that Derek has spoken about? How is this part of the engagement mission?
Deborah Bull
I was just looking at Judith Rodin's book about Pennsylvania and the city and she quotes an op ed from I think David Brooks after Catriona, which described university as the great inequality producing machines. Which really gives you pause for thought because we think what we are doing is offering people a leg up, for want of a better term, expanding their horizons that these are benefits that are available to all.
But of course what we see in the UK more broadly, and you see it played out in the Brexit vote, is the absolute correlation between levels of educational attainment and a liberalism. Particularly within the Brexit vote there is a direct relationship between those factors between education and the decision to vote to leave.
What's interesting in London is you have, as you mentioned with the terrible Grenfell fire tragedy brought this all to the fore, but there is a huge lack of equality in London. But by and large the city is more liberal in its outlook and more externally - I think universities have to work out their responsibility to society more broadly and to recognise that those responsibilities do not stop at the people who pay fees to be educated. But they have an educative role in the broader sense that they need to demonstrate much more clearly the broader benefits of the work that goes on in universities, the knowledge that is generated.
I think going back to something Derek talked about early on in a different context, but that conversation that it's not we will do unto you but we will do with you, we will listen to you before we take action. I think universities are fantastic place makers; they have a permanence in the environment in which they live. Most of them are named for their city which means they're not moving anywhere; they're going to stay there. They have these fantastic international connections, they have networks of alumni.
I think what we're seeing, and I think the States are ahead of us in this respect is that in educating the students of the future, students who can graduate with the qualities, the skills, the values that will make them active and engaged citizens, you can't do that more effectively than to cite some of that learning in the communities around you. Because that kind of I think is sometimes called 'service learning', but that kind of learning through experience, testing your learning in the real world environment, ensuring that it's connected to the people that in the end are going to benefit from all this knowledge generation, feels the obvious step to take.
Glyn Davis
So Derek, have universities become too focused on rankings at the expense of what they might be achieving for their local communities?
Derek Douglas
Very few universities would acknowledge they're focused on rank. So if we asked you, you know, there's rankings out there but I'm not paying attention. But we all know behind closed doors you're focused on it because it has a big impact on where students want to go, where faculty want to be, that sort of thing.
I've actually been a quiet, not too vocal, but an advocate of trying to think about ways to incorporate this kind of work that we've been talking about today into the rankings somehow. It hasn't happened yet but it's definitely the case of the things that are in the rankings drive some of the behaviour of universities.
That being said I don't think that, at least in my experience, that trying to do the things that the rankings call on you to do is at odds or in conflict with doing things in the community and being an outwardly engaged institution. I feel that the University of Chicago, our outward impact is valued and viewed as a high priority, one of the highest priorities by our board, by our president, by many of the people there.
So I've found no shortage of support for the work we're doing and in fact get a push to try to continue to do more and think about new and creative ways to have an impact and engage. So there's ways to do both but perhaps if this was more part of the ranking system, more resource, more focus would come along with that.
Glyn Davis
Deborah, does King's ever think about ranking?
Deborah Bull
So the ranking we do think about is the student satisfaction survey, and I agree with Derek that these things are not incompatible with providing a good student experience. What we know is I think it's 92 per cent of Generation Z want to make a difference in the world, they worry about inequality and they come to King's prepared and anticipating that their education in the broadest sense will be, as it says on your banner outside, more than just a degree. That they will be educated as people and giving back, contributing is absolutely fundamental to them.
So I think there is a strong match between the engagement with local communities and the student experience.
Glyn Davis
So as we turn to home I'd like to finish around the question of the role of universities in encouraging innovation and employment and jobs in the cities where they operate. Derek, can you tell us a bit about the role the University of Chicago plays in encouraging innovation in the city but in particular in those communities for which the university is paying particular attention?
Derek Douglas
So as Deborah mentioned universities are these wonderful places where a lot of ideas, a lot of creativity, a lot of innovation is taking place. The University of Chicago in the last five or six years we've had a greater emphasis on really building out the infrastructure within the university to support innovation, commercialisation, entrepreneurship and the like.
It started with conversation with all the parts of the university; physical sciences, our engineering, our business school, getting them around a common vision. We then went to building the physical space. We're not Stanford or MIT just yet but we have a physical space in the neighbourhood, not on campus, it was intentionally built in the neighbourhood. We call it the Polsky Centre for Innovation Entrepreneurship and it is the place where all of this kind of activity comes together.
A big focus of our innovation space though was about connecting to the community. So 20 per cent of the members in our innovation centre come from the local community. We have a set of programs focusing on local and south side businesses trying to get them connected to VC and other types of capital.
It's been a huge success; it's actually been in an interesting way one of the bridges, civic engagement bridges between the university and the community. Most people think civic engagement, all you do educational programs, help with the schools, do some art stuff. But our framework and our mindset around civic engagement is you can create bridges to the university and the community through almost anything the university does, and I think our work on innovation has been an example.
We have other programs that are designed to support business, create jobs, drive the economy on the south side. The last thing I will say though is that I think it's critical that as universities and cities think about how they partner together that the case for universities getting involved has to be authentic to what a university is. You have to understand what do universities do, where are their strengths, where are their assets and how do you leverage those for impact?
But you don't try to convert a university into the City of Melbourne. You don't try to convert it into a bank; you don't try to convert it into something it isn't because once you go down that road you start to make this work marginalised. It doesn't become part of the fabric of the institution. So figuring out ways like through our research or educational programs, our economic activity we can have this impact, that I think is the best way and most productive way for this partnership to occur.
Glyn Davis
Deborah, how does King's encourage innovation and encourage employment, and particularly in the disadvantaged communities on the south side of London that you're engaged with?
Deborah Bull
I absolutely agree with Derek's last point and I'd go even further, as I'm sure you would, which is to say that actually doing those things make us even better universities. We are institutions that research and educate, and engaging and serving society make us better at doing that. King's is unusual at least in the UK in that very often you have a unit at the centre of the university that's responsible for that connecting outwards. What King's did was break that up and put units around the edge, so interfacing between sectors of London. So we have one that's focused at the policy sector, one that's focused at the cultural sector and so on.
We also have an entrepreneurship institute, so drawing out of our students that entrepreneurial appetite and supporting them. All of this is done in partnership with institutions and communities around us.
I think one thing I would talk about just to flip back to my original role at King's; we've been very imaginative in using arts and culture in driving innovation. So if you look at artists they do share the characteristics of great innovators. They unite head and hand, they take leaps of faith, they work with imagination, they imagine something and then go towards it rather than taking incremental steps based on what's been proved.
There is research actually came out of Michigan State University that finds that these kinds of arts experiences are significantly correlated with producing of patentable companies and start-ups. So there is real impact for innovation and entrepreneurship on finding the kind of creativity that's within people. I think King's has been particularly forward facing in that. So the partnerships that we have with the communities around us and the cultural communities around us, these are not just partnerships with the big institutions, these are with London's plethora of small scale and maverick companies. They are directly working with our academics to drive new thinking and produce new approaches to some of the big challenges we face.
In London I'm trying to ban the word 'engagement' because I have a theory that when something become a noun it becomes something that can be someone else's responsibility, so I make it an active verb, 'engaging', and I will go to my grave saying that 'engaging' is not an end in itself, it's a way to do what we do better.
Glyn Davis
Ben, universities obviously bring lots of international students to Melbourne but do they also bring innovation and employment?
Ben Rimmer
They sure do, I mean just look at what's happening literally within a few hundred metres of where we're sitting right now in terms of the biomedical precinct and the enormous growth that's happening and that is going to happen in that area.
We've got this really interesting dynamic going on now where Melbourne is better connected at a research level with the leading research institutions in the world than it ever has been and also that Melbourne is getting better at a hyper-local level at being a place where people want to come, want to innovate, want to make those connections between pure research, commercialisation, innovation and ultimately employment. So it's that's combination of factors that's really driving most of the work we're doing.
Glyn Davis
So my thanks to three very distinguished guests for a fascinating conversation. To you, Derek Douglas the vice president for Civic Affairs and External Engagement at the University of Chicago.
Derek Douglas
Thank you.
Glyn Davis
Of course to you Deborah Bull, the assistant principal at King's College London.
Deborah Bull
Thank you.
Glyn Davis
To Ben Rimmer, the chief executive of the City of Melbourne, thank you for being a part of The Policy Shop.
Ben Rimmer:
Thanks, Glyn.
Glyn Davis
And thank you for listening.
The Policy Shop is produced by Eoin Hahessy with audio engineering by Gavin Nebauer. Copyright, the University of Melbourne 2017.
For the first time in human history, most of us live in cities. By 2050 the world's population is expected to grow to over 9 billion, and 6 billion of those people will live in cities.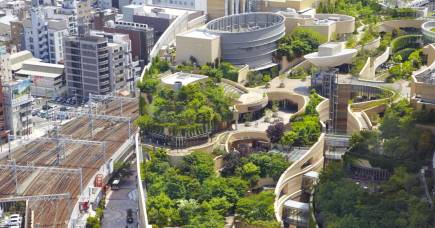 As our cities become our predominant societies, how do we develop them so that they sustain our environment, empower our communities and drive our economies? In essence, can cities save us all?
In this episode of The Policy Shop, Deborah Bull, Assistant Principal at King's College London, Derek Douglas, Vice-President for Civic Engagement and External Affairs at the University of Chicago and Chief Executive Officer of the City of Melbourne, Ben Rimmer join Professor Glyn Davis, Vice-Chancellor of the University of Melbourne to discuss the role of cities and universities in the face of rapid urbanisation.
Episode recorded: 21 September 2017
Series Producer: Eoin Hahessy
Audio engineer: Gavin Nebauer
Banner image: Pixabay