From the margins to the mainstream
A conversation with Australia's leading Indigenous thinker, Marcia Langton
Glyn Davis
G'day, I'm Glyn Davis and this is The Policy Shop, a place where we think about policy choices.
Professor Marcia Langton is one of the most important voices in contemporary Australian Indigenous policy. For long time foundation chair of Australian Indigenous studies, and now also the Associate Provost at the University of Melbourne, Professor Langton is a well-known commentator on economic and social rights for Aboriginal Australians.

The recently delivered the 2017 Dungala Kaiela Oration at Shepparton in Victoria, where she squarely addressed the major economic hopes and challenges facing Indigenous Australians. From the margins to the mainstream, Indigenous recovery in rural Australia was her theme.
I'm delighted that Professor Marcia Langton has agreed to join me in the studio today to explore some of the issues that she raises in this oration, Marcia, welcome to The Policy Shop.
Marcia Langton
Thank you. Thank you, Glyn.
Glyn Davis
Your oration makes the point that government policy in Australia for many generations was effectively genocidal, that was the logic of assimilation, of treating Aboriginal people as outcasts in multiple ways, and here I'm quoting from your oration. But you also point out there was a national change with the official end of these policies in 1972, which came five years after the granting of citizenship to Aboriginal Australians in the 1967 referendum.
This is a difficult question to answer, but how much does that pre-1970s Australian history shape the current policy conversation about Aboriginal Australia?
Marcia Langton
Well, I think of those assimilation policies and that Australian culture of assimilating Aborigines as in the DNA of policy, and it's very, very difficult to eradicate that from current day policy making. I was an activist during the time that these new developments were proceeding under Prime Minister Gough Whitlam.
When I was an undergraduate student in the late '70s at the Australian National University, I met the members of the Council of Aboriginal Affairs that was appointed by the pre-Whitlam government, and I forget exactly which one, I can't remember which prime minister it was, to investigate what should happen in Aboriginal affairs. So I met and became good friends with "Nugget" Coombs, I knew W.E.H. Stanner, and I talked to him often, and also Charles Rowley.
So of course, their writings were very influential in the changes that were occurring at that time. But they came to several conclusions as a result of their time on that council. First of all, that there should be a department of Aboriginal affairs, but that - I think it was Rowley, Rowley referred to the Aboriginal reserves and missions and fringe camps across Australia as a Gulag Archipelago.
Glyn Davis
Using the Solzhenitsyn term.
Marcia Langton
Using the Solzhenitsyn term, exactly. So they could see very clearly that Aboriginal people were still trapped in the administrative regimes set up by the state jurisdictions and the Northern Territory from the 19th century onwards, and they saw the task as eradicating those administrative regimes that kept Aboriginal people outcasts.
They didn't actually use the term marginalised, the title of one of Rowley's books in his trilogy was Outcasts in White Australia. That was very strong language. So it's that kind of thinking, the extreme marginalisation and incarceration of Aboriginal people in a crazy assimilation experiment that locked Aboriginal people out of the economy, the workforce, asset accrual, people were not allowed to have savings accounts, they had no control over their own wages, they were lucky if they were able to keep their children in the family.
This is what the members of that council were responding to, and so their view was that this version of assimilation should end. So they made all sorts of recommendations, they established various kinds of institutions to make the spirit of the referendum, that is the idea of full Aboriginal citizenship in Australia a reality.
Glyn Davis
You talk about this agenda in a way that suggests it was very influential in your own thinking as you worked out how to approach these questions.
Marcia Langton
I was one of those outcasts in my childhood and I think I was still in high school in 1967 when the referendum occurred, but you know, in 1969 I was at the University of Queensland where I encountered in an extreme way the kind of racism, the eugenicist racism, that underpinned those assimilation policies.
Glyn Davis
In fact, you spent a lot of time in the road west of Cunnamulla where your grandmother was born, in those communities. Can you tell us a bit about that as a formative experience?
Marcia Langton
I didn't know it at the time, but my living in a native camp, in a series of shacks, in my childhood and walking a long way into school every day, I didn't know anything else. I thought that was normal. But when the American civil rights movement and the Vietnam war started to be reported on television when I was in high school, I started to realise that what had happened in the United States of America against which Martin Luther King and others were working, particularly in order to dismantle a very similar regime. I realised that I had been caught up in that kind of regime, essentially an apartheid regime. In Queensland it was a formal apartheid, although perhaps not in other jurisdictions.
So in high school it really hit me that there was a very formal, systematic, racist machine operating and that the justice that my elders wanted was a long way off, and would require some very good strategies. So it was clear to me even in high school that the referendum was only one small step towards justice.
Glyn Davis
Tell us about your honours thesis at ANU.
Marcia Langton
I noticed at the time, in fact I had firsthand experience of it, that the police in New South Wales were charging Aboriginal people with using foul language and resisting arrest to such an extent that we started to appear in the UN reports on incarceration. The police were pretty good at using foul language themselves, as so were most other Australians I have to say, so it really stood out that there were places in Australia where the incarceration rates of Aboriginal people were starting to climb up there with the highest reported in the world.
In New South Wales, it seemed to me, and certainly that's what the evidence showed after I'd done the research, that the charging of Aboriginal people for using foul language was contributing to that very high imprisonment rate. I wanted to get to the bottom of it and I wrote my thesis about Aboriginal swearing and fighting and how that brought them into contact with the criminal justice system.
I did a lot of research on traditional forms of swearing, there are very interesting traditional forms of swearing, much more interesting than swearing in English. Some of it as an accompaniment to sorcery or declaring a dispute, to of course, insult other people, but also joking, brother-in-law joking. The sort of customary relationships between particular kinds of affinal relations who are allowed to say outrageous things to each other, none of which I can repeat here, as kind of required as part of the kinship relationship.
Traditional Aboriginal swearing, and indeed - I mean, I had heard plenty of it myself but some of it was actually reported in the literature, but in addition to that there is a very traditional form of Aboriginal dispute processing that involves a form of duelling. I'd encountered it in various places and so I titled my thesis Medicine Square, which I thought was the best name.
It came from a friend of mine, a Yamatji friend of mine in Western Australia with whom I was studying because I was telling her about my work, and she said, oh, we call that Medicine Square. So it was a joke on Madison Square, but you know you have to turn up in the square and slug it out with your enemy and take your medicine.
Glyn Davis
With weapons or with bare hands?
Marcia Langton
Both. Traditionally there were weapons, but once you had policing systems and you know, carrying weapons was illegal unless your weapons were registered, and the likelihood of Aboriginal people getting their weapons registered was not very likely, was it?
Glyn Davis
So this interest in justice and justice systems continued, and in the 1989 Royal Commission on Aboriginal Deaths in Custody, you wrote a submission called Too Much Sorry Business. You highlighted the enormous high death rates of Aboriginal males in custody, and you highlighted also the role of alcohol, both in detention and in increased incidents of death occurring. Was it your studies that prompted you to get involved in this important argument?
Marcia Langton
Yes, from memory there were 12 deaths in the Northern Territory that came under the Terms of Reference of the Royal Commission into Aboriginal Deaths in Custody. Each one of them took place in a town along the Stuart Highway, that is none of them took place on Aboriginal land on either side of the Stuart Highway which bisects the Northern Territory.
I think in all but one of the cases alcohol was involved, and like my studies back in the early '80s at the ANU about Aboriginal swearing and fighting as a way of explaining the disastrous contact with the criminal justice system, but more particularly police, it was clear to me that here was this encounter being repeated, but now here in the Northern Territory, with the additional factor of excessive - and I did of course mention it in my thesis - discuss it in my thesis, the additional factor of excessive use of alcohol, high risk drinking. Now, associated with Aboriginal encounters with the criminal justice system at a very high rate.
Glyn Davis
Was this also a part of your PhD at Macquarie University?
Marcia Langton
No, I changed topics considerable, because, you know, it was traumatising working for the Royal Commission.
Glyn Davis
I imagine.
Marcia Langton
I went into prisons, police lock-ups, I interviewed families. I had a small team, we did field work in 30 communities and compiled the evidence. The report was not just my submission, it was the submission of the entire team. Well, I did in fact start a PhD in the Northern Territory but my principal informant was murdered, so it was pretty upsetting.
So I moved to Queensland I decided to look at Aboriginal land tenure system. This was in 1991, prior to the high court decision in Mabo number two, but there was - you'll remember the types of discussions there were in Queensland about the potential for the native title case to cause rack and ruin to the Australian way of life. Having worked for the Central Land Council for six or seven years, and worked on land claims in the Northern Territory, I thought, well, I must start to explain Aboriginal land tenure systems.
So I changed my topic, I was enrolled at Macquarie University and after the Mabo decision, ended up at the Cape York Land Council and did my fieldwork in Eastern Cape York and described the land tenure system in Eastern Cape York.
Glyn Davis
Let's pursue Mabo, because it was a very important turning point, not just in Australian policy, but in your own thinking about opportunities and ways out of the traps that you were describing. The native title decisions, and particularly the Mabo decision allowed the possibility of Indigenous communities sharing in the wealth that was being generated from lands that had traditionally been theirs. By 2011, 2012, after you've been doing work on this for the Boyers, the total value of native title repayments by the mining industry was some three billion dollars.
The Minerals Council of Australia said this, and I quote, had produced unprecedented wealth creation opportunities for Indigenous peoples in regional and remote Australia. A too optimistic reading or a fair call?
Marcia Langton
No, it's actually a very conservative estimate of the assets that native title groups have accumulated as a result of settlement of native title issues, with not just state and territory governments, but also corporations of various kinds.
Glyn Davis
So what's been the implications for remote communities that have access to this sort of flow?
Marcia Langton
There are many different kinds of Aboriginal titles. Let's just divide them into two broad categories. There are fungible titles, that is titles that can be used in the market place to leverage capital. Say for instance in the case of a person using a property to obtain a second mortgage, or mortgaging their house to fund a business, usually freehold or long term lease holds.
Then there are non-fungible titles. Most Aboriginal titles are non-fungible, they can't be used in the market place, and that's the problem with native title, it's a non-fungible title, because native title is a recognition of a customary title. Reading down from common law decisions, the view is that customary titles cannot be traded, until the Akuba case Aboriginal people did not engage in economic activity, which is of course nonsense. There again you see the eugenicist DNA in Australian culture. You know, it's only very recently that even the common law has recognised the economic nature of Aboriginal society.
Glyn Davis
What changes would you like to see to native title to address this?
Marcia Langton
I don't think you really have to change the native title act. I think you can do it under Indigenous land use agreements or by agreement with states and territories, and there are a couple of very interesting cases in the Northern Territory where people have established by agreement with the Commonwealth, which is the relevant government in this case, that the underlying Aboriginal title, be it native title or an Aboriginal freehold title, remains untouched and unaffected. But layering over the top of the underlying Aboriginal title, a long-term lease which can be used as a fungible title for housing allotments and other kinds of long term leases for businesses and so on.
That's happened in the case of Gunyangara or Ski Beach in northeast Arnhem Land and also at Mutitjulu. There are two examples of how it can be done, but there are other ways of doing it as well.
Glyn Davis
I'd like to pursue this, because your 2012 Boyer lectures, the Quiet Revolution, Indigenous People and the Resources Boom, painted an optimistic picture of the way Indigenous communities have been able to build enterprise off the back of the mining industries, and of their native title rights. It painted, I think for many Australians, a surprisingly optimistic picture of how this might transform the opportunities for people in those communities.
It was criticised in some quarters for being too optimistic, but you, very much in the last five years, or since those lectures, have continued to argue this case and indeed to expand it. So underlying you see that native title really did change opportunities, at least for some Indigenous Australians.
Marcia Langton
I know at the moment, this for instance, where there are quite a few native title determinations and quite a few, I'd say roughly 20 to 30 major Indigenous land use agreements between native title groups and mining companies, that as a result of the opportunities provided by that scenario, there are over 300 Aboriginal business in the Pilbara.
Now when I first started going to the Pilbara, say 15 years ago, there were 16, 16 Aboriginal businesses. Now there are over 300, something like 312, tendering for one particular company which gives you an idea that there must be more. That's happened across the country.
Okay, let me just go back a step. Why does native title give Aboriginal people these opportunities? It's very interesting. What the native title act does, is protect native title by ensuring that anybody with a proposal that would affect an area where there are native title interests, must notify the public of this and negotiate a future acts settlement, either through a section 31 agreement or an Indigenous land use agreement, or by some other settlement means.
So as a result, you get Indigenous land use agreement, section 31 agreements, consent determinations and these agreements often lead to the developer of a project - it could be a golf course, it doesn't have to be a mining company. There are golf course agreements. Provide some benefits to the native title holders or the native title community, in exchange for security of access to the land.
When you have very large projects with very large turnover, long-term impacts, the agreements which are always negotiated by lawyers, provide both the financial and non-financial benefits. That's how the native title acts results in Aboriginal people getting a stake in the local economy.
Glyn Davis
You're suggesting, aren't you, a potential time when Indigenous businesses become a core part of the rural economy of this country?
Marcia Langton
It's happened in some places, in areas where the majority of the population is Aboriginal, and the non-Aboriginal population is very small in comparison. It's possible for Aboriginal people now through native title rights and other rights, other pre-existing rights such as state land rights legislation, and the Commonwealth Indigenous Procurement Policy, to end up being a key part of the economy.
Glyn Davis
What would you like to see follow? What are the implications of having for the first time a stratum of Indigenous Australians who are sharing in the wealth of their region.
Marcia Langton
Well, people who have to run their own businesses have to be pretty disciplined, and they want to make money, they don't want to lose money, so they want a reliable work force and if Aboriginal people are going to work in these businesses they have to turn up at work. If they turn up at work every day, they have to send their kids to school every day.
So you can see what happens. Very quickly the gap is closed, people are earning money, their kids are going to school. A typical universal measure of social parity, let's say socio-economic parity, is one's ability to raise $2000 within a week for an emergency. People who are earning money and can save their money can do that. So suddenly you see the emergence of Aboriginal people in regions where previous everybody had been dirt poor, now able to demonstrate socio-economic parity by being able to come up with $2000 in their savings account.
For the first time, Aboriginal people are able to pay for and have holidays. It doesn't sound like much, but actually it's a measure of socio-economic parity, if you can actually have a holiday, and suddenly Aboriginal people are having holidays, they can afford to have a holiday. It never happened before.
Glyn Davis
And travel, which is extraordinary. In your 2017 Dungala Kaiela Oration, there are two themes running through it. One is the one we've just been discussing, the enterprise one. The second is education, which you clearly see as central to closing the gap and to the future. Speaking then in Shepparton you said, and I quote, "there is no valid reason why there should be any disparity in education that comes between Indigenous and non-Indigenous people in this town." So you make that very specific around Shepparton, yet there is a disparity in Shepparton, as anywhere else. How should we understand this, and what are the messages that come through that disparity?
Marcia Langton
Well, there are a number of forces at work, but the two big ones that I see are on the one hand people who were for so long locked out of the economy and in their heart of hearts believe that their children will never get a job because they never got a job, think, well why should I send my kids to school? Everybody says I should send my kids to school because they'll get a job, whereas I know in fact that they won't.
You can see that, you know, we're starting to break down those - we are really breaking down those economic barriers in Shepparton, not you and I in particular, but the community in general is doing that. There are Aboriginal people in the region now joining various workforces, academic, industrial, agricultural, administrative. But also on the other hand we see improvements now, and I think I gave the figures on the night, improvements in school attendance and completion of critical years but particularly Year 12, and then going on to post-secondary education.
The question is, will those improvements overcome the soft bigotry of low expectations amongst the teaching workforce, the educational workforce, who think, well what's the point of educating Aborigines, they won't even turn up? So on the other hand, as against the failure to attend school, failure to achieve educationally, you have the educational workforce mired in an almost invisible form of racism that's based on low expectations and in many cases almost a refusal to educate Aborigines.
When I first visited Shepparton about 16 years ago, I ended up in some classrooms and I wasn't at all surprised to see Aboriginal kids in the library, in a special Aboriginal class, sticking cotton wool on cardboard. I asked what was going on and I was told that it was the special Koori class. So you know, you could see the apartheid at work there in what was otherwise a good school. You know, that's how it works.
Glyn Davis
There are a couple of other topics I would like to take you to, and I'll start with a surprising one. In 1989, you had an audience with the Queen.
Marcia Langton
Yes.
Glyn Davis
Why, and what did you learn from the experience?
Marcia Langton
You'll remember the republican debate and the convention leading to a referendum, and that debate coincided with the rise of Pauline Hanson and what some of us saw as a very dangerous trend in Australian life to become more and more white nationalist and isolationist.
Okay, so Patrick Dodson, Peter Yu, the late Mr Jack, Lois O'Donaghue and myself formed a team to make an intervention that would put a stop to the white nationalist undercurrent in the republican debate. I was afraid because of the types of questions that were being proposed, that if Australia had an elected president for instance, we'd end up with Pauline Hanson. It was entirely possible. She obtained 40 per cent of the vote in Queensland, so it was entirely possible that we'd have Pauline Hanson as a president of a republican Australia.
So we started to panic because you know, for many years we'd driven the human rights argument in Australia in relation to Indigenous people, and what if Australia ended up becoming a white nationalist republic and cut itself off from the civilised world, the human rights community? So actually we thought going to see the Queen might smooth out the debate, level out the debate, and it did.
When we went to see the Queen, the media was hysterical. She did see us, she was gracious, she was wonderful and beautiful. We had a very long discussion with her and when we came out we couldn't speak about what we had discussed with the Queen, because that's against protocol. But not long after we left the Palace, the Palace put out a statement saying that the Queen had met with the Aboriginal people of her realm as she would with any other community of people in her realm.
Now that had two impacts, put pay to the Hansonite monarchist kind of racism, and also, to the Republicans who were not prepared to deal with our issues seriously.
Glyn Davis
So a very strategic intervention by the monarch?
Marcia Langton
I didn't expect that but as soon as I read that statement I knew that she perfectly well understood why we were there. She's an extraordinarily intelligent person, and clearly with her history of establishing the Commonwealth of Nations and the role that the Commonwealth of Nations played in bringing down apartheid. She was very knowledgeable of world affairs and I think she had a good understanding of our history.
The next visit to Australia involved going to central Australia and having a very special meeting with the elders and key leaders of central Australia. You will have noted that after that whenever she came to Australia, very special engagements between the Queen and her entourage and Aboriginal Australians took place.
Glyn Davis
Fascinating. Of course, the referendum was lost, the republic referendum was lost, so that takes us prospectively to the next referendum, and you've expressed doubt about the likelihood of a successful vote for recognition of Indigenous people in a future referendum, of the kind that was envisaged in the Uluru statement. Why are you nervous?
Marcia Langton
Well, why did we lose the republican referendum?
Glyn Davis
Because the vote split between two groups.
Marcia Langton
Yeah, and it was split, and we can see it playing out in this same-sex marriage plebiscite, or marriage equality plebiscite, that we're about to vote in soon. It's the same kind of strategy. You're damned if you do and you're damned if you don't. I'm just trying to remember what the strategy was in the republic. Yeah, the question was awful. The question was terrible.
Glyn Davis
It didn't give you enough information and it allowed people to argue that they didn't know enough about what they were voting for and therefore they could vote no. But we also had the issue of the real republicans who decided rather than having a republic and then having the argument about the sort of republic, they were only going to except their sort of republic and they brought it down.
I remember arguing at the time and people saying, no, no, we'll have another vote in just a little while once this one is defeated and then we can really have a proper vote and of course we've never come back to it.
Marcia Langton
That's right. So this is what is happening exactly now you can see how this is happening with the marriage equality plebiscite and proposals for a referendum on constitutional reform in relation to Indigenous Australians. I can see it going the same way as the republican referendum, and it would be just disastrous.
Like the republican referendum failure, we will never return to it. Australians will never go back to that issue, not in our lifetimes anyway. Likewise, if we lost, well let's say a constitutional reform referendum on Indigenous Australians, we'll never see the matter raised again. It would be fatal to the problem, and I would like to avoid that.
Glyn Davis
So you've cautioned against going to a poll until you feel there's a really solid basis of understanding and agreement.
Marcia Langton
The people need to understand - we need to have a majority understanding of a very clear question and we cannot agree to a referendum proposal that, shall we say, is deliberately designed to confuse the public, in the same way that the republican question was.
Glyn Davis
So a word of caution there. Can I ask, as you look back on a lifetime of activism and a lifetime of engagement with these issues, do you end an optimist or do you end somewhat despairing?
Marcia Langton
A bit of both. Roughly 50 per cent of the Aboriginal population have a good chance of closing the gap, or already have closed the gap. Like myself, I can say that I have, I think. You know, I'm not rich, but I'm not poor. I have a happy life.
But on the other hand, the other 50 per cent of the Indigenous population has no choice of closing the gap. So yes, I've seen progress but still half of our population have a long way to go before they can say, like I can, my circumstances are such that you could say that I've closed the gap on most disadvantage.
Glyn Davis
Here we are having a controversy at the moment about Australia Day, and councils declining to recognise Australia Day or to do citizenship ceremonies on Australia Day. Is this a first order issue and how much should we worry about this sort of symbolism?
Marcia Langton
Well, the present Australia day is divisive and many Aboriginal people rightly feel that it looks and feels like a celebration of genocide. In any case, the date doesn't have much validity.
Glyn Davis
But this goes to the question we were just discussing around referendum, the risk that the major priorities for Indigenous people get pushed aside in debate by side debates like this.
Marcia Langton
I know that many think that this argument about Australia day is a trivial issue, as compared with the much larger issue of say, overcoming disadvantage. You know, the symbolic versus the practical division of these problems. But there really is no division between getting the symbols right and getting the practical right.
Aboriginal people will be able to, and will become more capable of, solving their own problems when they do not feel excluded, and it is the symbols that make Aboriginal people feel excluded. It is the way that many Australians celebrate the present Australia day that makes Aboriginal people feel excluded. It is a celebration of a British occupation of Australia, and that makes many Aboriginal people very angry, and the way that it's celebrated makes Aboriginal people feel very much excluded and derided.
So the symbolic import of Australia Day does have an impact on the practical, because if I felt that Australians were respectful towards me and other Indigenous Australians, and had Australia Day and didn't actually have a big party to make me feel like garbage, I would feel so much better about participating in this society.
Now for me personally, you know, occasionally I feel like shooting the television, but mostly I'm inured to racism. You know, I recognise it for what it is. It's petty and it's ugly and it is possible with strength of will to overcome it, to ignore it, to dismiss it. Not always, but most of the time. But for many Aboriginal people, they don't have the capability to do that. They don't have the, well, let's call them high-end social skills, that I've learnt. I'm not afraid of white people, many Aboriginal people are. I am not afraid of white people. But many white people want to make me feel afraid of them. They do. They try to bully me in all kinds of subtle and not so subtle ways, and you know, it takes a lifetime to recognise these patterns of bullying and micro-aggressions.
I actually think it's very important that we start teaching people how to deal with these problems. You know, there's lots of education about sexual harassment and bullying in the workplace, there's not so much education or not nearly enough about racist harassment and the racist micro-aggressions and the racist exclusions. People don't even know when they're doing it.
Glyn Davis
It's well put, and it's hard to argue with. Thank you, it's been a great pleasure, Professor Marcia Langton, to talk today.
Marcia Langton
Likewise, Glyn, very nice to talk to you. Thank you very much.
Glyn Davis
Thank you for listening to The Policy Shop.
Voiceover
The series producer of The Policy Shop is Eoin Hahessy. This episode is produced by Paul Gray and Ruby Schwartz, with audio engineering by Gavin Nebauer. Copyright, the University of Melbourne, 2017.
Professor Marcia Langton is one of the most important voices in Australian Indigenous policy. In this episode she discusses the positive economic impacts of land rights legislation, why meeting the Queen was an important step for Aboriginal activism and her thoughts on whether the Australia Day debate is a distraction.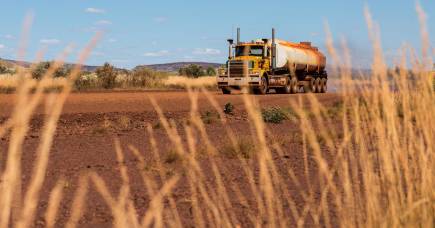 The longtime holder of the Foundation Chair of Australian Indigenous Studies and Associate Provost at the University of Melbourne, she is a well-known commentator on economic and social rights for Aboriginal Australians. She recently delivered the 2017 Dungala Kaiela Oration in Shepparton, Victoria, where she squarely addressed the major economic hopes and challenges facing Indigenous Australians.
'From the margins to the mainstream: Indigenous recovery in rural Australia' was her theme, and on this episode of The Policy Shop she joins the Vice-Chancellor of the University of Melbourne, Professor Glyn Davis to explore some of the issues it raises, and to discuss her personal journey in the Indigenous rights movement.
Episode recorded: 23 August 2017
This episode produced by: Paul Gray and Ruby Schwartz
Series Producer: Eoin Hahessy
Audio engineer: Gavin Nebauer
Banner image: Pixabay