Getting results with a people-first management style
Beyond the caring boss: Robert C. Liden on how Servant Leadership benefits stakeholders across the corporate spectrum
VOICEOVER

Welcome to Up Close, the research, opinion and analysis podcast from the University of Melbourne, Australia.


ELISABETH LOPEZ

This is Up Close, the research talk show from the University of Melbourne, Australia. Welcome to Up Close. I'm Elisabeth Lopez. For some time now command and control leadership, the mainstay of 20th century scientific management, has been going out of style. No longer does the world assume that a leader must be a great man who calls the shots while a compliant workforce jumps to attention.

As competitive advantage becomes more difficult to establish and even more difficult to maintain, organisations are recognising that innovation requires workers to be more than just witless drones, but to exercise judgement and creativity. So what sort of leadership is necessary to foster this environment? Should leaders just get out of the way, or do we need a different type of leader?

Our guest on Up Close is Robert C. Liden, professor of management at the University of Illinois at Chicago. His research focus is servant leadership, a leadership style that prioritises the needs of its followers or employees and he's a guest of the Centre for Workplace Leadership at the University of Melbourne. Welcome to Up Close, Bob.


ROBERT C. LIDEN

Thank you. It's a pleasure to be here.


ELISABETH LOPEZ

What is servant leadership?


ROBERT C. LIDEN

Servant leadership is a form of leadership in which the leader is truly a servant to the followers. What I mean by that is that the leader prioritises the needs of his or her followers and makes that the number one focus of leadership and in doing so the followers begin to trust the leader, because they realise that this person is genuinely interested in them realising their full potential, not only in the job but in their careers as well.

It's a very difficult form of leadership and you mentioned command and control as being the traditional approach. That's much easier. It's much easier to bark orders and have people snap to attention. But if the leader goes on a business meeting, those people are probably not going to continue engaging in the right kind of behaviour as when they're gone. Whereas if they really trust the leader and they feel that they're growing as a result of this leadership, they will perform well because they want to.


ELISABETH LOPEZ

We're talking about a concept that I suppose is allied to the idea of the psychological contract that a workplace is more than just tasks that need to be done. How old is the idea of servant leadership and what has brought about the emergence of research on it?


ROBERT C. LIDEN

Well the contemporary perspective on servant leadership grew out of an essay by Robert Greenleaf which was published in 1970, although he was influenced by many other people, including Douglas McGregor with Theory X Theory Y and Theory Y is a focus on intrinsic motivation that people strive for having meaning in their jobs.


ELISABETH LOPEZ

Theory X is the whole command and control phenomenon.


ROBERT C. LIDEN

Right. The whole idea that people are just pieces of capital or machines really doesn't motivate most individuals.


ELISABETH LOPEZ

So we had Max Weber many decades ago talking about three types of leadership: transactional; transformational; charismatic. Where does this depart from the way we normally talk about it?


ROBERT C. LIDEN

There are some overlaps. In our empirical research there's certainly a positive correlation between measures of transformational, transactional and servant leadership. The servant leader does show enthusiasm which is overlapping with charisma. Although this charisma can be displayed from introverts, so a servant leader doesn't need to be a dynamic speaker, just needs to show that he or she is genuinely concerned for the employee and does have a vision or a goal for the future.


ELISABETH LOPEZ

So a lot of leadership theories stress personality traits and you're saying that really you can be a servant leader and it's not so dependent on your inherent personality.


ROBERT C. LIDEN

There's still a lot of research that needs to be done on links between personality and servant leadership. There're certainly personality characteristics that limit the probability that someone will find it easy to engage in servant leadership. For example, there's been research showing that people who are narcissistic are less likely to engage in servant leader behaviours.


ELISABETH LOPEZ

This raises an interesting contradiction. So Manfred Kets de Vries from INSEAD says, a degree of narcissism is essential for any leader to have some success. So is that irreconcilable that tension?


ROBERT C. LIDEN

Well I think that there's a difference between being totally self-focused on the one hand and on the other hand being aware of one's emotions. One individual characteristic that is directly linked to servant leadership is emotional intelligence and one key aspect of emotional intelligence is to really understand and be able to regulate one's emotions, which does require a focus on one's self. It's just the way that that orientation is utilised.


ELISABETH LOPEZ

When you're researching workplaces or employees and employers, how easy is it to identify or measure the degree to which servant leadership is being exercised?


ROBERT C. LIDEN

Well in most of our studies we've measured servant leadership from the perspective of the followers. There have been a few cases in which people at other levels of the organisation have evaluated leaders and their servant leader behaviours, but generally it's the followers who are asked.


ELISABETH LOPEZ

What sort of correlations have you found?


ROBERT C. LIDEN

The correlations tend to be quite high with respect to individual employee behaviours. So like job performance, creativity, orientation towards customers, they're negatively related to turnover and turnover intentions.


ELISABETH LOPEZ

Okay, so the higher the degree of servant leadership exercised the lower turnover you're likely to get in an organisation because people feel safe?


ROBERT C. LIDEN

Right. Psychological safety is one of the variables that we've identified as explaining why servant leadership relates to these outcomes. I should mention also that it's not only individual outcomes, but also team level and even organisation level outcomes.

There was another study conducted by Suzanne Peterson that showed that servant leadership - and this was among, I believe it was 126 small to moderate size companies - there was a correlation between the CEO's servant leadership and a return on assets. So it's completely financial outcome.

We've just recently completed a study in the Paris/France area with building supply home improvement type stores where we found that the more the manager of each store engaged in servant leadership the higher their revenue growth and their earnings growth - completely financial outcomes.


ELISABETH LOPEZ

So you've got an engaged workforce that is just willing to go that extra mile because they're being treated decently.


ROBERT C. LIDEN

Right.


ELISABETH LOPEZ

What is the role of altruism in servant leadership?


ROBERT C. LIDEN

Well - and this is kind of a sensitive issue given that I'm from a business school - many of us in the field, I think, are rather idealistic in our thinking and we really feel that leaders should be engaging in this type of leadership regardless of whether or not it has any effect on financial outcomes. We just think it's the right way to treat people and so we feel that for altruistic reasons alone there should be an interest.

This is kind of a depressing thought to some of us, but most people spend the majority of their life on this planet, if you exclude sleeping, they spend it at work. So I think we have a real obligation to try to make that a meaningful experience, because it's been shown over and over again that job satisfaction is related to life satisfaction.

Fortunately we don't have to worry about a dilemma, because the financial outcomes are there. The performance outcomes are there. So it's not a hard sell, or it shouldn't be a hard sell to business, because it accomplishes both.


ELISABETH LOPEZ

Is a more fertile environment for servant leadership the small to medium size business rather than the large corporation?


ROBERT C. LIDEN

It can be more of a challenge in a larger organisation, but I think the most challenging situation is when it's introduced to an organisation that has historically been command and control. In the research so far it seems to work best when the founding CEO is an advocate of this form of leadership.

So in the United States, for example, Southwest Airlines is known for their servant leadership practices. The founder was an advocate of servant leadership though and I think that it's a little bit easier to build that kind of a culture from the ground up as opposed to transforming an organisation that's established.

That's the next step. In fact I have some research planned with Dirk van Dierendonck at Erasmus in the Netherlands oriented toward interventions to try to transform organisations from being more command and control to a servant leadership focused organisation.


ELISABETH LOPEZ

You're on Up Close and we're exploring the idea of servant leadership with ROBERT C. LIDEN, professor of management at the University of Illinois at Chicago. I'm Elisabeth Lopez.

Bob, how does it square with the demands of shareholders and the tyranny of quarterly, half yearly, annual results?


ROBERT C. LIDEN

They don't really like this idea of servant leadership. It's not popular. It makes them uncomfortable.
I won't mention the CEO's name, but it's a major company that does practice servant leadership and in its entire history has never had a losing year, they've always been in the black. I had a chance to have lunch with the CEO and the CEO mentioned to me, first of all said, don't tell anyone this, but I don't really care what our stock price is today or tomorrow or next week or two months from now. What I care about is that we really treat our employees well. If we treat our employees well they will trust us and they will honour reciprocate and they will reciprocate by serving our customers and when our customers are served our business is going to do well and our stock price is going to follow. We don't have to worry about our stock price directly and we're certainly not going to be doing things like selling off small pieces of the company and buying others right and left just to try to generate quick profits. We're in this for the long term and we feel that we have an obligation to our employees.


ELISABETH LOPEZ

It is a really interesting example of what Robert Greenleaf in that original essay on servant leadership - well he described servant leadership as quite dangerous really and very difficult often to implement. What sorts of insights have been shared with you about the dangers and the difficulties?


ROBERT C. LIDEN

Well I don't know if they're really dangers. I think it's more just that it's extremely difficult. Anyone who's a parent knows how difficult it is to be a serving parent. There are times when I've been teaching servant leadership in my class and I come home and I catch myself yelling at my kids and I say, what did I just say in class?

It's not solving the problem. What you should be doing, rather than getting angry, is approaching the problem in an intelligent way by trying to find out why was there a problem, why did this employee or child do something that's not appropriate and then get at the base of the cause and then try to do what you can to help the child or the employee to improve.


ELISABETH LOPEZ

Teaching teachable moments out of crisis or conflict.


ROBERT C. LIDEN

Yes. Having been in management business education for a few decades now, I can never really understand why it is that people readily understand how a professional athlete or a professional musician needs to practise and practise and practise to get good at what they do and yet for managers they just go to a training session and watch a video and they should immediately be able to engage in servant leadership and it's in many respects just as difficult as being a star athlete. I mean, you really have to practise and it's counter-intuitive.

If you look at the work of Charles Darwin who said that for survival reasons we need to focus on our self interest and that's what really is built into us. So we're trying to counteract what's instinctual when we engage in servant leadership.


ELISABETH LOPEZ

You come against that, don't you, when you teach MBA students from time to time and in the beginning often it's a hard sell convincing them of the merits of servant leadership. How do you go about doing that?


ROBERT C. LIDEN

I go about doing that by first of all stressing how difficult it is, because many of them have already been managing people and they're thinking of difficult cases and then how there's no way they could use servant leadership with them. You just have to be patient. Patience is one of the aspects of using servant leadership.


ELISABETH LOPEZ

There's an exercise that you set them in class that really shifts a lot of their thinking.


ROBERT C. LIDEN

Yes. The exercise is that they first of all need to collect data on themselves; have them work through a whole battery of psychological tests and I help them to understand what their scores mean. Then perhaps more importantly than those tests, I have them conduct interviews with bosses, with subordinates if they have had subordinates, co-workers, family members, even their significant others and ask them to gather information on their strengths and weaknesses so they have a good idea what their strengths and weaknesses are. Then I ask them to do something that startles them a bit at first and I say, this may sound kind of morbid, but I want you to write your eulogy. I want you to think years ahead. What is it that you would like people to think of when they think of you? What would be in this eulogy?

So they write their eulogy and more often than not students write about how they want to be thought fondly
of by their family and by others. They want to be known as someone who was honest and made a contribution toward helping others and making this a better place to live. Those are the kinds of things that come up in the eulogy and for MBA students it's an awakening.


ELISABETH LOPEZ

Because MBA students often come in, well, I guess with intentions to being Masters of the Universe, there's a touch of arrogance there. Do you still get people after this exercise writing a eulogy that is still quite in that vein?


ROBERT C. LIDEN

Yes, but definitely a minority. Fewer than 10 per cent of the students will write one like that. Then the next part of the exercise is to develop a plan to try to capitalise on the strengths that were identified and to try to compensate for or improve upon the weak areas so that they can in fact eventually reach the goals that they expressed in the eulogy.


ELISABETH LOPEZ

What sort of things might be in some of those action plans?


ROBERT C. LIDEN

Some of these involve essentially practising empathy. One thing that works very well is to have them write a diary. One thing they might do is, once a week for example, they will explain how they tried to put themselves in the shoes of someone else and express empathy to that person. That's one of the key aspects of servant leadership.

The first step in helping someone is to really understand what their difficulties are, what are their needs, what are their interests. There are other things though, like some of them volunteered for non-profit organisations, some of them volunteered for leader positions on campus. They wanted to have a more other-person focus than they had previously had, because they realise from their eulogy...


ELISABETH LOPEZ

It was all about them. Yeah.


ROBERT C. LIDEN

Yeah. It's how I want to be remembered and that's what's really important in life. They come to me after grading is finished and they'll say, you know, I really didn't want to take this class. I thought it was a waste of time to take a behavioural class. All I wanted to do was take finance and accounting and learn how to maximise my position after I graduated and I realise that all that really isn't that important in the end. Then they thank me for the class and how it changed them so much.


ELISABETH LOPEZ

So it's the antithesis really of the advice we're often given in careers to just focus on your strengths. This is really urging people to look at their weaknesses, not in a self-punitive way, but with a view to just becoming more of a rounded person.


ROBERT C. LIDEN

Yes.


ELISABETH LOPEZ

Is it possible to engage in servant leadership without a genuinely, profoundly ethical outlook on life? Can you fake it for the greater good of the company?


ROBERT C. LIDEN

That's a great question and that's one that we're trying to develop a research program to address. It's very difficult, because we typically have to rely on the perceptions of others. But what we feel is that it's not something you can really fake for a very long time.

That, you know, servant leader is something that Greenleaf describes as something that becomes part of the person. So they're not just helping support a person at work who goes home and kicks the dog and yells at the spouse. It should be someone who is helpful to the family and supportive of the community and engaged in the larger community in which the organisation is embedded. I think over time it would become clear if someone is in fact trying to fake it.


ELISABETH LOPEZ

I'm Elisabeth Lopez and you're listening to Up Close. We're talking with ROBERT C. LIDEN, professor of management at the University of Illinois at Chicago about servant leadership.

I'd like to ask you about culture, Bob. Geert Hofstede has done a lot of cross cultural research on phenomena like uncertainty avoidance, collectivism and power distance the agree to which you accept inequalities in society and how they compare across cultures. What do we know about servant leadership across cultures, how applicable it is, whether certain cultures are more disposed to that sort of ethos?


ROBERT C. LIDEN

Well from our own research and we've now conducted studies in not only the US, but also as I mentioned, France, Mainland, China, Singapore, Belgium, the Netherlands. In all those countries we're finding the same kinds of relationships between servant leadership and outcomes. There are some differences in terms of the average level of servant leadership reported, but the relationships which are critical, especially those with outcomes, have so far been quite consistent across cultures.


ELISABETH LOPEZ

What are the implications for gender? A lot of popular writing has said that women bring a different leadership style. It sounds like women are probably, through our socialisation, more primed to engage in this sort of thing. What have you found?


ROBERT C. LIDEN

We haven't studied sex differences specifically and haven't noticed, in our data, differences. However, in terms of individual characteristics women do have a tendency to be more supportive and nurturing.
There was a meta-analysis by Alice Eagly from Northwestern [University]. A meta-analysis is a study that summarises the results of many studies. She found that women have more transformational approaches. They show more consideration for followers and things of that nature that are, as she argues, of most importance today.
So I think that there are characteristics of females that are well suited for servant leadership. I think that there is a special challenge for women though, because they're competing typically in a male-dominated world and so to be nurturing and supportive is maybe more difficult for them because it falls into all the stereotypes and so they need to be able to demonstrate that they are also capable of being tough when they need to be.

There's a term among servant leadership led organisations that's called tough love and that's something that's really important. People have to realise that servant leadership is not just hand-holding and sunshine and lollypops.


ELISABETH LOPEZ

Singing Kumbaya.


ROBERT C. LIDEN

Yeah. It doesn't mean that there's no discipline. It doesn't mean that there's no negative feedback. It just means that it's presented in a constructive way and that people are aware of the leader really wanting to truly help them improve.

It also doesn't mean that people are not fired. Servant leaders certainly will give people perhaps more chances to improve or work harder on trying to get to the root cause of the problem. But if there just isn't any improvement over many attempts to do this, people are terminated.


ELISABETH LOPEZ

Bob, when someone aspiring to be a servant leader goes about their job, how explicitly do they need to articulate those aims to their employees?


ROBERT C. LIDEN

It does need to be articulated and it varies tremendously between followers. Some will gravitate to it immediately. In fact some, like at Southwest Airlines that I mentioned before, they have a huge applicant pool. There are so many people who want to work there because they've heard about the kind of leadership. So they're self-selecting into this.

In our research we find that there is a fair amount of variance in terms of how people rate the same leaders even. It's not as though every person in a leader's work group is going to have the same response. They do vary.


ELISABETH LOPEZ

How important is it for the leader to sign post where they're going, because presumably they're often starting this in an organisation that is largely command and control?


ROBERT C. LIDEN

Again, it takes time to build the trust and what's really critical though is - and this is one of the main reasons why this is much more difficult than command and control - they have to listen, they have to empathise, they have to really understand each of their followers' unique interests and motivations, because they have to adjust their approach.

So for some followers, for example, it's probably not a good idea to be engaged in what we call personal healing where you enquire about problems at home and offer to help. For some people that's great, they really want that, but then there are others who feel very uncomfortable.

In fact we interviewed some of the people who were lower in their desire for servant leadership. They said that they like a separation between their home life and work life and they're uncomfortable when a leader is enquiring about their home situation. Even though they're doing so to offer help, they just don't want that. So the leader has to be perceptive enough to adjust the servant leader behaviours.

Just about every follower wants a trustworthy, honest leader, for example. So that's one dimension of servant leadership that can be pretty much constant across all the followers. But other aspects of it are a highly individual kind of a thing that the servant leader needs to be aware of.


ELISABETH LOPEZ

A fraught one; so, demanding quite a bit of maturity and the ability to just distinguish between different needs. Is it possible to create an island of servant leadership where the rest of the organisation is stuck in the old ways?


ROBERT C. LIDEN

Well it's very difficult to try to pull this off in just one small area of the organisation. It certainly happens. But for this to really work you need to develop this culture and it takes quite a bit of time.


ELISABETH LOPEZ

Bob Liden, thanks very much.


ROBERT C. LIDEN

Thank you. It was a pleasure to talk with you.


ELISABETH LOPEZ

We've been talking about servant leadership with ROBERT C. LIDEN, professor of management at the University of Illinois at Chicago. You'll find details of some of his publications on the Up Close website together with a full transcript of this and all our other episodes.

Up Close is a production of the University of Melbourne, Australia, created by Kelvin Param and Eric van Bemmel. This episode was recorded on 29 February 2016 and was produced by Eric van Bemmel with audio engineering by Gavin Nebauer.

Thanks for listening. I hope you can join us again soon.


VOICEOVER

You've been listening to Up Close. For more information visit upclose.unimelb.ed.au. You can also find us on Twitter and Facebook. Copyright 2016, the University of Melbourne.
We speak with management researcher Professor Robert C. Liden about the Servant Leadership approach, in which managers commit to exemplary treatment of employees, who in turn respond with excellent treatment of customers – thus boosting customer loyalty, and raising corporate culture and performance.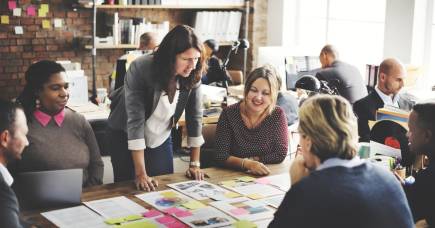 Professor Liden argues that the empirical studies he and others are doing into this long-term, people-first management style clearly demonstrate its power to benefit and inspire stakeholders across the spectrum.
"No longer does the world assume that a leader must be a great man who calls the shots while a compliant workforce jumps to attention," says Professor Liden.

Subscribe to Up Close through iTunes, SoundCloud or RSS.