Is Europe heading for divorce?
The European experiment has been both revolutionary and successful, but having lurched from one crisis to the next in recent years, does the future look as bright?
Chris Hatzis
Eavesdrop on Experts, a podcast about stories of inspiration and insights. It's where expert types obsess, confess and profess. I'm Chris Hatzis. Let's eavesdrop on experts changing the world - one lecture, one experiment, one interview at a time.
Europe, as anyone in this beautiful Parisian street cafe would tell you, has been in a bit of trouble recently. Let's run down the list: the Euro crisis, the refugee crisis, the messy Brexit divorce and, more recently, the 'T' word, a new US President who openly sides with those that would like to see Europe, as a concept, fail.
What has gone wrong with the European experiment? What are the main challenges facing the EU and what if anything can be done to relaunch the project? What would be the consequences of failure?
Loukas Tsoukalis is the Professor of European Integration at the University of Athens, also President of the Hellenic Foundation for European and Foreign Policy and Visiting Professor at King's College London and the College of Europe in Bruges.
He is the author of many books in his field and his latest, In Defense of Europe: Can the European Project Be Saved? was published in 2016. Professor Tsoukalis recently visited Melbourne University and our reporter, Steve Grimade, caught up with him, sadly not in a beautiful Parisian street cafe, but in the studio, to talk all things Europe and whether the beautiful experiment that is the EU has a future.
Steve Grimwade
Europe is the birthplace of western culture, the key site for both world wars and the home of the European Song Contest. We use the word Europe to describe a number of different constructs - geographical, cultural and political, to name but a few - but why does it exist as an idea and beyond geography? 


Loukas Tsoukalis
Well, Europe is of course the old continent. It has a very rich history and a very bloody history, with a long history of wars, shifting borders between countries. So what has changed since the end of the Second World War is a very clear, conscious attempt to create the conditions for peace and reconciliation between countries, to open borders, and to jointly manage our ever-increasing interdependence, which means shared sovereignty.
This is what European integration, what we call European integration, is all about. It began in the 1950s, so it has a history of more than 60 years. It began as a very modest attempt dealing with simply two sectors of the economy and with six countries. We ended up now with 28 countries and with just about everything. So every cabinet minister in each national government in Europe has to go to Brussels. Those who are members of what we call the European Union has to go to Brussels to coordinate with his counterparts in other countries. So this is what European integration is all about.
I believe that it is not only a revolutionary political experiment, a sharing of sovereignty between countries that have invented sovereignty in the first place, but perhaps the most revolutionary and the most successful political experiment in the second half of the 20th century and the beginning of the 21st. What happens in that experiment concerns not only Europeans but the rest of the world. Not only because of the size of Europe, but also because if the European management of interdependence fails, that will have consequences for globalisation for the world as a whole.
Steve Grimwade
Do you believe that Europe began as a political idea, a more formed political idea, after the Second World War and as a necessity? Without it you would have continued to battle each other?
Loukas Tsoukalis
Oh yes, I mean it was, at that time, an extremely daring attempt if you think about it. I mean 1950, and this is the first time you had a French minister who addresses himself to German ministers and also to other countries on the continent, whoever is interested, to start cooperating in two strategic sectors of the economy which were coal and steel. Now imagine this is five years after the end of the Second World War. So the idea of addressing yourself to a country with which you've been fighting, and you've done this repeatedly, and ask them to cooperate and integrate sectors is not the most obvious of things. So it was daring and it has worked.
Steve Grimwade
Well, maybe we can argue that point as we go on. You referred, I expect, really to Robert Schuman who, in May 1950, declared "Europe will not be made all at once or according to a single plan; it will be built through concrete achievements which first create a de-facto solidarity". Do you, as a Greek man, think of yourself as European? Is there solidarity amongst Europeans?
Loukas Tsoukalis
I certainly consider myself as an Athenian, a Greek and a European and a citizen of this globe, all in that order. So I have a local identity, I have a national identity, I have a European identity. Of course, as you go upwards, the strength of the identity becomes weaker. I, of course, also know that I'm not totally representative of all my fellow citizens, not only in Greece but in the rest of Europe. Because I belong to that, I would call, really privileged group of people for whom borders don't count, who travel all the time, who can move from one country to the next. Who, therefore, risk taking the elimination of borders as a natural thing and forget that the large majority of our citizens back home are not part of that privileged group. For them Europe or globalisation doesn't mean very much. If anything, for some of them, it may mean threat. So this is something that we should never forget.
So people like me who are in this mobile class - and, of course, the number is increasing by the day, especially on the European continent because of the size of the European continent. I mean some of us cross borders constantly and take it for granted that we may be spending a few days working in Berlin and then a few days in Brussels or Athens. But this is not the normal thing, most people are still pretty localised in their life. So this is the distinction which I think was made by a British intellectual recently, the fight between somewheres and nowheres. There are people who are somewhere, and there are people who are either nowhere or anywhere. This is I think becoming a very serious distinction in today's world, especially in Europe.
Steve Grimwade

So we might be talking about how to win certain parts of the population over with the idea of Europe. Before we get to that, the Eurozone has been described as being divided between a wealthy core and an economically disadvantaged periphery. What have the impacts of globalisation been on the EU?
Loukas Tsoukalis
Well, let me take one at a time. The Euro is certainly the most daring act of integration ever. The idea that you are going to replace your national currencies by common currency and, therefore, transfer all powers to a common central bank from the national level is the most daring act of integration.
It was taken back in the early 1990s largely for political reasons. It was a French initiative to create a stronger Europe, within which a united Germany could more easily be integrated. That was the idea. So you are using the currency as a means to a political end. The trouble is that we Europeans, when we decided to go ahead with a common currency, we were not at the time ready to endow the monetary union with the necessary institutions and policies to make it viable.
So it was like a fair-weather construction. Fair weather lasted for about 10 years and then comes a bursting of the big financial bubble in 2007-08 which originated in the United States. But which, when it reached Europe, became an existential crisis of the Euro because Europeans didn't have the instruments to deal with that crisis, hence the problem. So we were, in a sense, trying to have a currency without not only a state, but anything resembling a state. Now we are in the process of trying to bridge the gap between the two. It is not easy, because we are really talking about a new stage of the sharing of sovereignty that has never been experienced by any country in the past anywhere. Because, remember, this is peaceful transfer of sovereignty. It's not empire by diktat imposed by force.
Steve Grimwade
It's interesting though. If you want to share economic prosperity, you have to give away sovereign rules and sovereign approaches to economics. That might be you can't devalue your currency any more.
Loukas Tsoukalis
Absolutely, and this is something that some of our politicians and a lot of people at home in any country have not realised. In fact, if you look at the debate in the UK, for example, that has decided to leave the European Union, many of British politicians seems to how to imply that you can have globalisation, interdependence without common rules and management. So when they are against the EU, are they against the EU or are they against the constraints that come from interdependence? Because you can vote against the former, but are they prepared to vote against the latter?
Steve Grimwade

You called it a daring act of integration, and I'm still potentially worried for Europe because I see fear being one of the dominating factors in politics in this age. Fear being used to divide populations and to focus on the hyperlocal; my job, my farms, my culture, versus the wellbeing of all. Do you believe that such a daring act and that policy in general, do you think it can sometimes forget the individual?
LOUKAS TSOUKALIS
Well, that daring act went through the most difficult test in recent years. Because Europe went through a succession of very big crises that created an existential crisis for the whole project. We had the Euro crisis, then we had the refugee crisis and then we had Brexit. So that led some people to believe - very often well-known American economists like Krugman, Steiglitz and others - who thought that this was the end of European integration.
Apparently, from a different perspective, that's what President Trump also thought when he came to power. The first question apparently he asked when he spoke to the President of the European Council was, who's next after Brexit? Well the answer is nobody. The interesting thing to find out is, why nobody? I mean why - I mean Europe goes through such very deep crisis and survives.
I think the reason that it did survive, against the odds if you wish, is that the majority of European citizens, the majority of European political leaders realise, when it comes to the crunch, that the cost of divorce and the risk of being left on your own is so big that you can't do it. So when it came to the crunch, they always took measures to salvage the project.
Now, having said that, this is the positive aspect. The negative aspect is that one of the problems that we've been experiencing in recent years is not directly related to European integration, to the Euro crisis or refugees and so on. It is that our societies are becoming more and more divided. They are becoming more divided for economic as well as for political reasons. Economic reasons because all western societies - the United States more, Europe less - are experiencing growing inequalities within countries. Now, what has happened in Europe is that those who are left behind from globalisation or from technological change, from whatever, react against the so-called system. The EU is perceived by them as being part of that system. So they revolt against systemic, against the establishment at home - that's usually the term that is used - and against the EU as a representative of this process of economic change and globalisation.
The key question for Europeans - and not only Europeans, Americans, and I think also for Australians if there is a deceleration of growth - is how you deal with what I call losers within our societies. The number of those people is likely to increase because of technological change. I mean all projections suggest that technological change will increase inequalities within our societies. So how we handle that. How we can reassure people that change is not going to create winners of one or five per cent and many losers. Otherwise I mean the whole thing will explode and it will not happen.
Steve Grimwade

So do you think the EU has the current tools to lessen that inequality and/or do you think they will get the tools?
Loukas Tsoukalis
Well, first of all, the message is getting across more and more. I think I was - forgive the lack of modesty, but I was one of the first people who more than 10 years ago started talking about losers, started saying that European integration is becoming increasingly divisive within our societies. So I used to write that the key thing for Europeans is how we're going to handle this challenge. Now this challenge has caught up with us. I mean it's there, it's no longer a projection, it's reality. So it's understood everywhere now that there is a problem.
Remember that this development has already - counts victims. I mean Brexit is, to a large extent, the result of that. Brexit is a peculiar thing. Because it was a very strange alliance between the losers from economic change, whom you will find in the old industrial heartlands of England, with old-age English nationalists who are in the English countryside. It's a very strange alliance because they expect very different things after they're out.
So this is already one accident. Mr Trump is a result of the change in the United States. We have the rise of anti-systemic and populist parties across Europe. So the realisation of the problem is there; admittedly, the solution is not so easy. It's one thing to say - and very often my argument is it's not enough to denounce populists. We have to understand what are the causes of populism and deal with the causes, because simply denouncing populists doesn't take you anywhere. So this is a very serious problem. I'm not suggesting that it is easy to solve. If really the economic system and technological change have inherent in them tendencies for - inequalising tendencies, if this is correct - and there are more and more signs that this is the case - then this is something we have to deal with politically.
Steve Grimwade
When we think about what success looks like for Europe - well, in 2012 the EU was awarded the Nobel Peace Prize for advancing the causes of peace, reconciliation and democracy and human rights in Europe - what will success look like in five years from now in 2022?
LOUKAS TSOUKALIS

Success would take the form, first of all, of a European economy that has more inclusive growth. So not only growth, but dealing with the inequality problem. Success will take the form of a more democratic Europe. Because it is a problem, EU politics is not sufficiently democratic.
Steve Grimwade
What does that mean, a democratic…?
Loukas Tsoukalis
It means that we have an increasing discrepancy between an economic reality and policy reality that is more and more European and global, and politics that remains national and local. So there is dissonance between those two things. Our citizens in Europe vote nationally and local, and many of the decisions are taken in Brussels. Then they complain that those decisions do not have a sufficient democratic back-up. We have created a European Parliament, so we have elections to the European Parliament. But the trouble is half of our population doesn't even bother to vote because they don't think it's important. So how you strengthen democracy in a multinational semi-federal setting, with countries that have very long history and huge diversity, is not obvious. But this is precisely what we are trying. If we fail completely then the EU does not have a future.
STEVE GRIMWADE

Maybe let's look at the rise of populism and nationalism across Europe. Potentially, what does failure look like?
LOUKAS TSOUKALIS
Well, failure, I mean we reached that precipice some years back. Failure would, first of all, take the form of a demise of the Euro. Now a demise of the Euro would have very serious negative economic consequences over individual countries. It would be a setback for European integration I think it would be very difficult to recover from. This is precisely because it was understood that countries paid a huge price to stay in. I can give you an example from my own country. Greece is the country that has suffered most from the Eurozone crisis. Largely, I should add, because of its own fault. Because Greece, when the financial crisis hit, was the country with the worst deficits. So we started - I mean the starting point was the one you should have never had in the first place.
But having done that, then we had programs of adjustments imposed by creditor countries that were totally unrealistic, that made the pain much greater. So people thought that, you know, the Greeks - I mean Greece lost 25 per cent of its GDP in the last seven years. Which is unbelievable, no country has experienced that in the post-war period anywhere. So you would expect that the Greeks would get absolutely desperate and say, the hell with Europe, the hell with the rest, we're going to go our own way, create a new currency, devalue our currency and so on. It hasn't happened.
Steve Grimwade
It was close though.
Loukas Tsoukalis
It was very close, yeah. But the interesting thing is that it was close but it didn't happen. You know why it didn't happen? Because all opinion polls consistently showed more than 65 per cent of Greeks who wanted to retain the Euro. Why? Because the Greek citizen realised that, despite the suffering, the alternative was worse. But you might argue fear is not good enough to keep a monetary union, so I hope that in the foreseeable future we'll have more than fear.
Steve Grimwade
So I'm really hearing from you there is no fear that Brexit is a starting point for more disillusion with the European project. I mean you don't expect anyone else to follow. Let's talk about the English. I mean, firstly, do you expect a very hard Brexit, and the consequences for England?
Loukas Tsoukalis
Well, I hope we don't have a hard Brexit because I think, for sure, the departure of the UK is a big loss for Europe. I have no doubt it's going to be a much bigger loss for the UK. I hope that common sense prevails on both sides and we find a way to have an amicable divorce and then look for a new kind of relationship between us. But I'm not sure that common sense will prevail because I think British politics is in a mess.
Brexit is, I believe, the worst act of political suicide that has happened in the country for decades. It's self-inflicted suicide. It's tearing apart the conservative party. So I am not entirely sure that common sense will prevail. So you may have a car crash before common sense comes back.
Steve Grimwade
Your policy pronouncements, if you were to name three major policy developments to keep the idea of Europe alive, what would they be? Are they around economics, voting rights?
Loukas Tsoukalis
I think, at this stage, the major challenges we are faced with are, number one, how to make the Euro more sustainable. So we need reforms in the Euro area, that's crucial. Because that's the most important area of integration, that's number one.
Steve Grimwade
More sustainable in what regard?
Loukas Tsoukalis
Well, we need reforms internally to make the currency union sustainable because it's still highly imbalanced.
Number two, we have to try to make the European Union more democratic. That's going to be a very difficult challenge.
Number three, Europe will have to take more responsibilities in the area of foreign policy and defence. Not only because the United States under President Trump seems to doubt very much about collective security, but also because Europe's neighbourhood is in a complete mess and you have to do something. Then you have Mr Putin who is not the easiest person to negotiate with, but you have to find a modus operandi because he's a neighbour.
The fourth challenge I would say is refugees. Again, very difficult, it's linked to the neighbourhood. I mean Europe's neighbourhood is exporting to Europe an increasing number of refugees, immigrants and occasionally terrorists. I think that if you get economists around the table - and economists are not known for agreeing with each other, it's all constantly on the one hand, on the other hand they tend to disagree, even each person with himself or herself. But I think that if you put economists together around the table, there is a pretty strong chance at some stage that they will agree on what is needed to make the Eurozone viable.
Refugees, it's not obvious at all. How exactly do you deal with the problem? The potential number of people from Europe's neighbourhood and further away that want to come to Europe is huge, absolutely huge. There is no way, politically or socially, that Europe can handle that.
Steve Grimwade

Who do you think profits from the failure of the project?
Loukas Tsoukalis
Nationalists. Yeah, those who somehow look for enemies next door or further than next door. It's people who are under the illusion that you erect barriers and you operate within your closed borders. People, in a sense, who have no tolerance for the other, for whom the other is dangerous. There – and there are lots. It is true that the more vulnerable you are in a society, the more likely you are to adopt that attitude because you feel threatened. So one way of dealing is not only logic, but try to make the more vulnerable people less vulnerable. That is I think a key challenge for all our advanced economics and societies.
Steve Grimwade
Can you see the EU growing? Is Turkey fast approaching membership?
Loukas Tsoukalis

Well, given the crisis of recent years, new members are unlikely to be seen in the foreseeable future I think. There is a waiting room and there are several countries that want to join, but I don't think the EU will be ready for them.
Turkey is certainly not one of them, despite the fact it is officially a candidate and it's been engaged in accession negotiations. Because, unfortunately, Turkey is moving the authoritarian way and political developments inside Turkey are totally incompatible with membership of the European Union. So Turkey is not going to be one of the candidates in the years to come.
Steve Grimwade

I think we forget that; that human rights is one of the core tenets of the European Union.
Loukas Tsoukalis
Absolutely. I mean human rights and democracy. Yeah, if you don't have that you are not eligible for anything.
Steve Grimwade

How does it then sit with the idea of Catalonia and new nation states?
Loukas Tsoukalis

Well, that is - I mean Europe is full of contradictions and that is one of them. Although it was never intended, the existence of the European Union encouraged secessionism. Because an independent Catalonia, an independent Scotland, an independent Flanders makes political and economic sense only if there is a European Union within which you can operate, have access to big market, share policies and so on. I mean an independent Scotland in the middle of nowhere is for lunatics, but inside the EU it makes sense.
So the EU certainly never wanted to encourage that, but indirectly it did. Now, what is happening in Catalonia today seems to be moving in the opposite direction. Because under the pressure of Madrid and the Spanish Government, the EU is now saying that if there are secessions, those countries will be taken out of the European Union. If they become - if their declared independence is accepted by everybody, they will have to join the long queue to become members. That is really putting anybody off from independence. So if this is the line and the EU sticks to that line, then it will discourage nowhere - I mean, very largely, any secessionist tendencies in any part of Europe.
Steve Grimwade
Are there any major aspects of Europe that you believe an Australian does not understand?
Loukas Tsoukalis

I mean of course Europe is far away from Australia and Britain used to be the main link to Europe. So we are entering a new era where Australia will have to deal with the EU - because the EU is important politically, economically, trade-wise and so on - without the UK. So suddenly there is interest more in Brussels rather than London.
Unexpectedly so, at least for many people, there are more chances now of signing a free-trade agreement between the EU and Australia than before Brexit and before Trump. These are the two factors that have increased the possibility of a free-trade agreement between the two sides. Because Brussels wants to get the message across that the EU remains a strong defender of the liberal economic order and, therefore, also is prepared to have open trade relations with other advanced economies despite Brexit and because of Trump.
Steve Grimwade
Finally, what would you like people to think about when they look at a map of Europe?
Loukas Tsoukalis
That this is the old continent that has a glorious history, but also a very bloody history - so we are responsible for many of the best and the worst things that have happened to humanity - and which has decided to turn a page and try to construct something that could serve as a model for others.
Steve Grimwade
Professor Tsoukalis, thank you very much.
Loukas Tsoukalis
Thank you, too.
Chris Hatzis
Thanks to Loukas Tsoukalis, Professor of European Integration at the University of Athens. And thanks to our reporter Steve Grimwade.
Eavesdrop on Experts - stories of inspiration and insights - was made possible by the University of Melbourne. This episode was recorded on October 23, 2017. You'll find a full transcript on the Pursuit website.
Audio engineering by Gavin Nebauer, co-production by Dr Andi Horvath and Claudia Hooper.
Eavesdrop on Experts is licensed under Creative Commons, Copyright 2018, the University of Melbourne.
I'm Chris Hatzis, producer and editor. Join us again next time for another Eavesdrop on Experts.
Shaken by financial crises, Brexit and growing numbers of refugees, many - including US President Donald Trump - have questioned whether the European experiment is doomed to fail.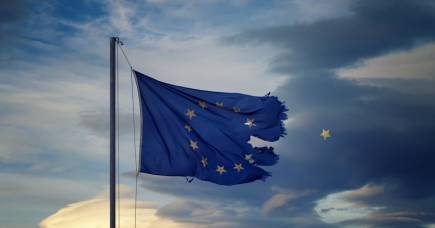 In this episode Professor Loukas Tsoukalis from the University of Athens explains why he believes the EU will survive the current crisis, and what policies will help.
Episode recorded: 23 October 2017
Producers: Dr Andi Horvath and Chris Hatzis
Audio engineer: Gavin Nebauer
Editor: Chris Hatzis
Production assistant: Claudia Hooper
Banner image: Elfelda/Flickr
Subscribe to Eavesdrop on Experts through iTunes, SoundCloud or RSS.