Renewing Democracy in a time of environmental crisis
Social researcher Dr Rebecca Huntley says renewing democracy is critical to dealing with climate change because there's little trust in our current politics to do anything about it
CHRIS HATZIS
Eavesdrop on Experts, a podcast about stories of inspiration and insights. It's where expert types obsess, confess and profess. I'm Chris Hatzis, let's eavesdrop on experts changing the world - one lecture, one experiment, one interview at a time.
There is now widespread public acceptance of the reality of climate change and the need for governments to respond. Climate change is increasingly being framed as a 'crisis' or an 'emergency'. Yet the recent Australian federal election showed up growing divisions amongst key voting groups about our social and environmental futures.
Dr Rebecca Huntley is one of Australia's foremost researchers and authors on social trends. For nearly 9 years Rebecca was the Director of The Mind & Mood Report, Australia's longest running social trends report and now heads Vox Populi Research. In late 2019, Rebecca visited the Melbourne Sustainable Society Institute, University of Melbourne, where she gave the oration titled "Renewing democracy in a time of environmental crisis." Rebecca painted a nuanced picture of public sentiment about the environment and explored how different people respond to climate change in non-rational and emotion-driven ways. Her goal was to improve the efficacy of the public discussion around climate change.
Dr Rebecca Huntley sat down for a chat with Dr Andi Horvath.
ANDI HORVATH
Rebecca, Eavesdrop on Experts guests get to obsess, confess and profess, so Rebecca, I want you to stand on the soapbox and profess.
REBECCA HUNTLEY
The important truth that I want to profess on this soapbox is that climate change isn't just a partisan political issue, it isn't just a scientific fact, it's something that we all need to confront, personally, psychologically, in our lives and really understand - not just as a - not just as something that is going to affect us in the future, but is affecting us right now.
ANDI HORVATH
So it's more than a social issue or political issue, or even economic issue, if we like, it's a personal issue?
REBECCA HUNTLEY
I think it's all of those things. It's been seen in the past as personally remote, so all of the research that gets done in Australia and globally has shown one of the barriers to people acting on climate change is they don't think it's going to affect them personally, or if it's - it's going to affect maybe their grandchildren, or, even if it is affecting the world now, it's not getting to the things that they would normally say are really important to them - things like cost of living or safety and security, happiness of their children, economic security, so there's been a disconnect from climate change in our daily lives.
Now, that's breaking down a bit, but perhaps not fast enough [laughs] for us to necessarily mean that we're all sending the same kind of message to our political leaders, through the ballot box, that they need to take it both personally and seriously, today.
ANDI HORVATH
Tell us about some misconceptions that the public have, or things that you encounter that are just perhaps misguided in their framings.
REBECCA HUNTLEY
Well, it's interesting. I mean, I suppose the first thing that I would say, the first important misconception, is that people overestimate the numbers of people in the community who don't believe in climate change. The CSIRO did a really fascinating study, and it's borne out by other research, as well, where they asked large groups of people whether they believed in climate change, whether it was real, human caused, and they got the usual statistics that we get, anywhere between 60 per cent and 70 per cent of people agreeing.
Then they said, how many people in the community do you think deny that climate change is happening, and they overestimated by about three times. Again, it depends on the survey, but most surveys show that really, the hardcore people who deny that climate change is happening, or we have to do anything, or believe that the future of our energy source should be coal is less than 10 per cent, but everybody was putting it at 20 per cent or 30 per cent. so we overestimate who doesn't believe in climate change and who thinks that the future of Australia's energy supply should be coal.
That's because those voices are amplified in the media, in certain parts of corporate Australia and in some parts of the government, so that's a really important misconception. If you worry about climate change, then you are not alone. In fact, you are in the majority and a growing majority.
ANDI HORVATH
That sort of misconception silences the discussions that we need to have, because we think we're on our own, on our - as Australians say, Pat Malone - standing out there, thinking about climate change, going, oh, I'd better not talk about it in this public space, or even at this dinner party - or even at the water cooler, because they may not be believers.
REBECCA HUNTLEY
Oh, you're absolutely right. There was a really fantastic TED Talk, if anybody wants to go out and look at it, by a woman called Katharine Hayhoe. She's a very interesting - she's a climate scientist. She's also an evangelical Christian. She's amazing. She's a great, great communicator, originally from Canada, but lives in the US. She's done this TED Talk which says the most radical thing you can do about climate change is talk about it, because our perception, the perception of most people, is that - and this is mediated by social media. The people talking about climate change on social media are yelling at each other at the fringes, in many ways. Or that's our perception.
One of the questions I always ask in my research of Australian citizens on climate is I ask them, do you ever talk about it? Can you think about a time where you have talked about climate change with friends or colleagues? They go, oh no. No. Part of it is because it might not be front of mind - they don't necessarily connect climate change to the things that they would normally talk about. Part of it is it's become - I mean, we're more comfortable talking about sex and religion [laughs] at the dinner table than we are talking about climate change.
One of the things I think about it is, for me, the symbol, really, is of the Christmas dinner that you have, with the all the extended relatives, and you've got the teenager's really fired up by the school climate strike, and wants to yell over the table at Grandpa, who just listens, just to right wing Talkback Radio, and thinks it's all a conspiracy, and everybody else just wants to drink their alcohol and eat [laughs] their baked ham and just wants peace and quiet. Because it's seen as such a divisive issue.
Of course, the other thing that enters here is that a lot of the time, people feel like they need to have a really - an absolute certain grasp of the science, in order to feel like they can talk about it, and really, the climate science is very, very complex, but also, fundamentally, quite simple, as well [laughs]. As somebody who's never done science, I get what it's about. That - not understanding the science perfectly, not being absolutely certain, shouldn't be a barrier to talking about it.
ANDI HORVATH
What is the science that you understand, from the non-scientist perspective. Share that with us.
REBECCA HUNTLEY
In the last 18 months, when almost all of my research interest has been on the social response to climate change, I had to read a lot of climate science to get my head around it. What's been extraordinary to me is that the fundamentals of the climate science have been there for about a hundred years and there's been no fundamental breakthrough in the science around climate change since the late '70s, early '80s.
What has been happening is lots and lots of different natural scientists - let's not talk about the social scientists for a moment - but the natural scientists are - they're not rethinking the fundamentals - they're just watching an accelerated rate of change. That is why they're so alarmed. All those projections that they were making 30 years ago have been superseded incredibly quickly.
ANDI HORVATH
Dr Rebecca Huntley, Renewing Democracy in a Time of Environmental Crisis. Is the answer political democracy? Is that the keystone for our turning point?
REBECCA HUNTLEY
Look, renewing democracy is really critical to dealing with climate change, and that's because trust in the ability of our social and political institutions to bring about any kind of massive transition is very low - so there's low trust in politicians, low trust in our corporate leaders. There's even been trust in our religious leaders and civil society leaders has diminished. So, renewing people's belief that our leaders will bring about the kinds of change, particularly the kinds of hard decisions that will bring about long-term change, is critical to their levels of optimism, all right. There are high levels of concern in the community, regardless of how you measure them, about climate change, but people have very low levels of expectation that our leaders not only can, but will do anything about it.
I'll give you a very small example. In research, when I'm doing stuff around climate change, I'll ask people about their level of concern, what do they want to see happen? Then you'll say, what's the likelihood that it will happen? They say, well, both political parties take so much money from coal that there's absolutely no way that they're going to make any kind of change that means the people that fund their campaigns are going to be out of pocket.
ANDI HORVATH
We do feel as though the economic drivers of this are really the dollar bill.
REBECCA HUNTLEY
Yeah, I mean the thing that is so [laughs] frustrating is actually, there is a strong, strong economic case for getting away from coal. The pace of it is different - the - how quickly we do it and where we do it, but there's a massively strong economic case for getting away from coal and going into renewables, and large groups of investors recognise that. Large companies recognise that, right - outside the coal and gas industry. So, it's actually not about that. It's actually about this sense that the community have that the core group of leaders who run the country and are able to create the kind of fundamental policy frameworks for this transition are being bought by a group that don't want to see that transition happening.
This is why things like reform of the political donation system, which, in Australia, is just extraordinarily bad [laughs] and has been for a long time, certainly at the Federal level, is an important part of restoring people's faith that a transition away from old energy sources to these new renewable energy sources, as part of dealing with climate change, is something that will actually happen, rather than something that will not happen.
ANDI HORVATH
Tell me about that sort of pervasive helplessness of the population, because that's what I feel like, when I'm not sure where to recycle, not sure whether or not that's the right approach, or indecision about keep cups [laughs].
REBECCA HUNTLEY
Yes [laughs].
ANDI HORVATH
I mean, I'm talking the minutiae.
REBECCA HUNTLEY
Yeah.
ANDI HORVATH
Because it is also the minutiae, it's the other end of the spectrum of the coal companies - it's me, doing what I can.
REBECCA HUNTLEY
Yeah, absolutely. I think one of the things that we've seen, particularly this week, with fires sweeping across New South Wales and Queensland, and we've seen in the past, with things like floods, is the ability of communities to come together at times of crisis, and help each other, come up with new solutions, and do things. We can see that even in times of non-crisis - communities that have decided, okay, we're really going to focus on this one issue.
When you travel around Australia, as I do, for love, and for work, you see lots and lots of examples, locally, of communities deciding to come together to protect an area of bush, or to eradicate invasive species in order for native species to come back. So, we can see that extraordinary collaboration happen, but at the same time, we're overwhelmed in our lives, in so many ways, raising kids and working and commuting and all the rest of it, and the constant barrage of information that we sometimes second guess ourselves about whether what we're doing is effective.
I mean, you talk about keeper cups - let's take it back into the area of renewable energy. I've witnessed, over the last 15 years a really big discussion in the community, this kind of recognition that renewable energy is the future, but, well, should I put solar panels on my roof, or is the investment - or is that going to happen, or where should that go? It's really difficult. One of the problems of the environmental movement more broadly, is that we haven't necessarily made it about personal decisions and system change. The moment that environmental come about are that the fate of the world is about whether I remember my keeper cup - [laughs] that is not a good thing, because we're suddenly back to individual responsibility and guilt, and, oh my God, I've got so much else to worry about.
So, it has to be a community level. It has to stay fixed at the community, collaborative level, to make those individual decisions easier and to bring about those kinds of significant systems change that everybody wants.
ANDI HORVATH
That's beautiful. You're really doing a call to action for all the organised tribes out there to get organised.
REBECCA HUNTLEY
[Laughs]. Exactly. Exactly.
ANDI HORVATH
Those natural tribes that exist at community level, or at an institution level…
REBECCA HUNTLEY
Absolutely.
ANDI HORVATH
…wherever those tribes, so to speak, exist.
Tell me about how you got into this area? What enticed you? Why did Rebecca go down this path?
REBECCA HUNTLEY
The path of social research, or the path of interest in climate change?
ANDI HORVATH
Well, I think the social research here is what we'd like to explore…
REBECCA HUNTLEY
Yeah.
ANDI HORVATH
…because you've become a voice for planet Earth.
REBECCA HUNTLEY
The social research came out of - a bit of a chance meeting with Hugh Mackay about 16 years ago, at a time in which I was beginning to think about - kind of questioning whether an academic career was going to suit me, and like so many Gen X academics - baby academics, there wasn't a very easy path from a PhD into secure employment, so I was thinking, the other things I might want to do. So I met him and got involved - at that stage I got employed by IPSOS to do something called the Mind and Mood Report, and discovered a world of research and analysis and working on ideas with the team that isn't necessarily - certainly nowhere near academic rigour, but still ticked all those boxes for me. I miss teaching, but in a sense, some of my clients will say that I teach them about things [laughs].
I really, really enjoyed it, and have continued to enjoy it, and in a sense, I feel with this interest in climate change, it was always coming, because in the end, I've always followed the issues that the Australian community are concerned about. Fifteen years ago one of the biggest issues they were concerned about was immigration. That remains an issue. It remains enmeshed in the discussion around climate change, so I've written a lot about that.
In a sense, for me, the arrival at the concern around climate change has been academic and professional for a while, but for me, I have three girls and when I saw the kids striking for climate, the first strike in Australia, there was a profound emotional shift for me, because I thought, these young women and men are only a couple of years older than my oldest child, and they're asking an older generation to take this seriously. So, it was a really - I get quite emotional when I think about it. It was an immediate emotional reaction to their activism.
I decided that the extent to which any of my skills [laughs] are useful - and my husband often laughs. He says, when people ask him what I do, he says, I'm an expert on the views of people who don't know what they're talking about [laughs], which is not true, but he's an engineer, so he deals in physics and absolutes. The extent to which at the moment one of the most important things for the climate movement is to understand how people, who are not natural scientists, feel about this issue, which has been highly politicised and it is pressing. The extent to which I can help a movement understand how we understand where people are and how we take them on a journey towards recognising how serious climate change is, well, then that's an important contribution.
ANDI HORVATH
Does grouping together pollution, energy, all the other issues that are counter to our planet's wellbeing, useful?
REBECCA HUNTLEY
Yeah, it's a really good question and I've thought about this for a while. One of the things that's triggered this for me is that we've got at the moment a really terrific and important focus on plastic recycling in Australia. That's been a consequence of a number of things, including the ABC War on Waste show.
One of the things I see happening in groups that I do, research groups that I conduct, is that people see the environmental challenge as massive - and climate change sits above it all, so we're all trying to think about how we can deal with it, so people often think, well, I recycle and I'm not using single-use plastic bags - that's my contribution to climate change - and there's a problem with that [laughs], first of all, that that they're not necessarily connected, but also, I think it's an example of what I talked about before, which is that if we don't think about climate change seriously as a system and community level issue. We do fall back on these little things.
The muddying of the waters between plastics recycling and climate is a problem, because it makes people think, I'm doing my bit and so I don't have to think about this much scarier thing. As much as a world drowning in plastic is scarier, a world with three degree warming is much, much scarier.
What I do think is that the extent to which people value the natural environment - not just value it as a resource to be exploited, but as an inheritance - as something that we inherit and we give to our children. As something of enormous social, cultural, emotional, psychological value and whether that be a parkland in an urban area, or a place where you can see a koala in the wild - doesn't matter where it is, that kind of connection to the natural environment and that recognition that the natural environment and our social world are connected - that is such an important gateway into making people understand that protecting that in any way is reliant upon action to climate change.
One of the questions we always ask when we're doing research and recruiting people is, we ask people - it seems like a really simple question, but it's really powerful - how often do you spend time in the natural environment, and what do you do in it? So getting people's - an understanding of people's relationship with the natural environment is actually really critical to getting them to understand - understanding their world view about a range of things. While collapsing all of these complex issues about the environment into one bucket can mean it's easier for people to avoid the very difficult issue of climate change, valuing the natural environment is an essential part to getting people on the pathway towards action around climate change.
ANDI HORVATH
That's a beautiful call to action. You're asking us to actually almost be in the ecology, to understand that we are the ecology. It might even be as simple as taking your shoes off and feeling your lawn.
REBECCA HUNTLEY
Absolutely [laughs]. That's absolutely right.
ANDI HORVATH
I want to ask you about changes you've seen. Now, you would have seen changes since you started this research.
REBECCA HUNTLEY
One of the more upsetting changes [laughs] - and I remember the moment. One of the great things about doing qualitative research rather than quantitative research - I do quantitative research, but I'm mainly a quali, as we call it in the industry - was the excitement and then disappointment around the election of Kevin Rudd - was a turning point, really. I mean, Australians have never really loved their politicians. They've always been a bit cynical about them, and there's good and bad things about being sceptical about our leaders, right, but there was something about that enthusiasm for his Government, which was probably akin to the enthusiasm of the Hawke Government when it was first elected, and, for some people, even the Whitlam Government.
It dissipated so quickly, and there was a moment - I remember it - when you remember how people in research can crystallise what's happening more broadly. I was in a Wollongong bowling club, with a whole lot of men, in their early 60s, conducting a focus group. These are men that had voted Labor most of their life - perhaps except for one particularly dysfunctional Labor Government, and one man said, I've voted Labor my whole life, and then I was excited about Kevin Rudd, and then he was deposed, and for the first time in my entire life, I put a line through the ballot paper. I couldn't vote for the Conservatives, but I couldn't vote for the Labor party.
For a man who'd been voting - you know, he's in his early 60s, voting Labour his whole life, this wasn't an informal vote. He knew how to vote. He was basically saying, what is wrong with the political system that this could happen? Obviously, that triggered a range of other things in both political parties about the idea that you can just pull leaders inside and out of leadership positions, that you can undermine them and get rid of them, because you're incapable, as a political party, to deal with some fundamental issues, and of course, climate change has been at the centre of so many - so much of this political turmoil.
That's not an accident, right, because action on climate change requires a political party to really decide what matters? What is our legacy? Are we prepared to deal with the short term pain from industry or from parts of the media, in order to set up something we know is absolutely critical for the future wellbeing of this nation? It becomes an example of the inability of modern leadership to govern.
There was that moment, when I walked away and I thought, God, if he can do that - if he can - an assiduous, thoughtful man, had been a voter his whole life, actively throw his vote away. This was not a man - this was actually in the election of Julia Gillard and Tony Abbott. This is a man who really disliked Tony Abbott. He was not agnostic about whether [laughs] Tony Abbott should be Prime Minister - but it really indicated to me, okay, we're in a new kind of world. So that's been the most disheartening change I've seen over that period.
ANDI HORVATH
Do you have a positive outlook for the future?
REBECCA HUNTLEY
I have to [laughs]. I have to, because to not have a positive outlook would be a dereliction of duty to my children [laughs] because I have to wake up every day and make a decision to do certain things to make sure that the world is as safe as possible for them, and I do that by cutting up their grapes and [laughs] making sure they have sunscreen on and part of it is about being optimistic. One of the sources of optimism for me, is actually just seeing - travelling the country and seeing the ability of - particularly communities - to rally together and do interesting and important things. Sometimes with the help of government and businesses, and sometimes not, so that's a source of endless optimism for me.
ANDI HORVATH
That's a welcome change you've observed. Next time we're outside, and pondering the bigger picture that's bigger than us, what would you like us to think about?
REBECCA HUNTLEY
I'd like people to look up from their mobile phones for [laughs] a moment, look around at the people around them, and think about the kinds of conversations they can have with them that are both respectful, but challenging - so one thing I want people to think about is, how can you start a conversation about climate change that isn't about arguing with somebody, but about really understanding why their views about climate change are the way they are.
I'd like them to look around at our extraordinary and unique natural environment, which is one of the things which sets us apart. I mean, Australians like to think we're - that we have a kind of relentless - I suppose - patriotism, that we're the best at everything, but - oh, we're a unique country, but we share a lot of - in common with other countries, but our natural environment and the culture of our First Nations people is really what sets us apart, and so to look at that, see that, understand that, learn about that, and value that - find a way to value that in our - in everyday life would be good.
ANDI HORVATH
Dr Rebecca Huntley, thank you.
REBECCA HUNTLEY
Thank you.
CHRIS HATZIS
Thank you to Dr Rebecca Huntley, social researcher and author. And thanks to our reporter Dr Andi Horvath.
Eavesdrop on Experts - stories of inspiration and insights - was made possible by the University of Melbourne. This episode was recorded on November 18, 2019. You'll find a full transcript on the Pursuit website. Audio engineering by me, Chris Hatzis. Co-production - Silvi Vann-Wall and Dr Andi Horvath. Eavesdrop on Experts is licensed under Creative Commons, Copyright 2020, The University of Melbourne. If you enjoyed this episode, review us on Apple Podcasts and check out the rest of the Eavesdrop episodes in our archive. I'm Chris Hatzis, producer and editor. Join us again next time for another Eavesdrop on Experts.
"I've always followed the issues that the Australian community are concerned about," says social researcher Dr Rebecca Huntley.
"There are high levels of concern in the community about climate change, regardless of how you measure them, but people have very low levels of expectation that our leaders not only can, but will, do anything about it," she says.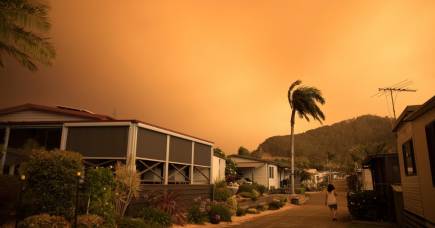 Dr Huntley says studies have revealed a common misconception in which people believe there are greater numbers of climate change deniers and coal supporters in the community than there actually are.

"That's because those voices are amplified in the media, in certain parts of corporate Australia and in some parts of the government, so that's a really important misconception," she says.
"This is why things like reform of the political donation system, certainly at the Federal level, is an important part of restoring people's faith that a transition away from old energy sources to these new renewable energy sources, is something that will actually happen."
Episode recorded: November 18, 2019.
Interviewer: Dr Andi Horvath.
Producer, editor and audio engineer: Chris Hatzis.
Co-production: Silvi Van-Wall and Dr Andi Horvath.
Banner image: Shutterstock
Subscribe to Eavesdrop on Experts through iTunes, SoundCloud or RSS.