Solving our climate history puzzle
Joelle Gergis has pieced together Australia's climate history for the first time, confirming our continent is already experiencing weather extremes far beyond natural variability
Chris Hatzis
Eavesdrop on Experts, a podcast about stories of inspiration and insights. It's where expert types obsess, confess and profess. I'm Chris Hatzis, let's eavesdrop on experts changing the world - one lecture, one experiment, one interview at a time.
We're all aware of the very real problem of climate change in the present day, but what was Australia's climate like before official weather records began? How do scientists use tree-rings, ice cores and tropical corals to retrace the past? What do Indigenous seasonal calendars reveal? And what do colonists' diary entries about rainfall, droughts, bushfires and snowfalls tell us about natural climate cycles?
Dr Joelle Gergis is a climate scientist and paleo-climatologist at the University of Melbourne. She's a writer and stitcher of climate time, bringing together these bureau recordings, colonists' diaries, Aboriginal dreaming stories and tree rings. Her book "Sunburnt Country" pieces together Australia's climate history for the first time, and uncovers a continent long vulnerable to climate extremes and variability. Dr Joelle Gergis sat down to chat with our reporter Steve Grimwade about her book, her work in deciphering Australia's climate story, and what climate change looks like in our own backyard.
Steve Grimwade
Joelle, thanks for joining us.

Joelle Gergis
My pleasure.
Steve Grimwade
Let's go back to when it all started. What was your first memory of science?
Joelle Gergis
Well I guess my first memory more of, I guess, climate extremes would be in 1994 as a high school student. I was living in Sydney and there was really major bushfires in my local area and there was just ash falling all over our neighbourhood and it was really quite terrifying. It made me start to think a little bit about climate extremes. Then later on when I started university I learnt about El Nino which is one of the main drivers of Australia's climate variability. I learnt that these things were quite related.
So I started to want to be able to join the dots between the sorts of things that we experience as humans, things like bush fires or droughts or floods or various other extremes and try and join the dots of what causes them and are they changing.
Steve Grimwade
2009 or thereabouts you started a project that seems to have consumed much of your life since then. What was it and what was the objective?
Joelle Gergis
Okay, so it was called the South Eastern Australian Recent Climate History Project or the SEARCH Project. It's a little bit of a mouthful.
Steve Grimwade
Great acronym though.
Joelle Gergis
Yeah, so effectively what it was trying to do was reconstruct our climate history back all the way to 1788, where we had first European settlement in the first instance. So we wanted to really get a sense of what records we could use from the colonial era. So things like early settler accounts, early newspapers, government correspondence, even farm diaries and things like that. So there was a whole range of different historical sources that had been really overlooked when it came to weather and climate variability. So we teamed up with the National Library, the State Library of Victoria, the State Library of New South Wales and also historians here at the University of Melbourne. We tried to piece together what the historical record had to say about past climate extremes and just general variability which was really interesting and exciting as a scientist to be able to delve into these really rich resources that we as scientists don't often get to do.
Steve Grimwade
It's an interesting idea too because I'm interested in how well has human memory served us with regards to the variability of climate and actually recording these changes. How much can you trust a colonist, and there's one in particular I think in 1788 that says from the boat "I can see snow". How can you trust that?
Joelle Gergis
Well, that's a really good question. So that's why we'd never really look at one sort of data source in isolation. So we looked at these diaries and anecdotal accounts from historical record but we're also really interested in recovering early weather records. So there are actually instrumental weather observations of temperature and air pressure and sometimes even rainfall that were actually contained in a range of different scientific sources. So not only would we look at the diaries and what people were saying that were actually experiencing these weather and climate extremes in the landscape, we also looked to cross check to see whether or not they were just being, you know, exaggerating a little or something like that.
So always in the type of work that I've been involved in in the past decade we always try and use multiple lines of evidence. So aside from looking at those early historical records, we looked at early weather records which are quantitative numbers if you like, and then we also used records from the natural world. So we looked at things like tree rings and corals and ice cores from the broader Australian region to be able to take our understanding of climate variations back centuries into the past.
So we kind of used a bit of a three-pronged approach to the exercise which I think was pretty useful. Another source we looked at was climate models as well, because in some of the work that we looked at we wanted to understand well is it just natural variability or are we actually looking at a climate change signal which has got to do with a human fingerprint on the Earth's climate?
Steve Grimwade
You've recently released a book "Sunburnt Country", released by Melbourne Uni Publishing and I'm going to return to this later on on how you approached the writing. But an interesting aspect of this are the paintings and the pictures and the art that is another resource for actually finding out what happened. Can you tell us about that?

Joelle Gergis
Yeah, that was one of the most enjoyable aspects I think of writing this book and also doing the research is that we were really lucky to have partners like the National Library and the State Libraries and often they would send us images.
So they knew we were looking at things like droughts and floods and bushfires and it was amazing to see that actually in the historical record in the pictures collections that there were very often just like I guess today when there's a significant weather event, people like take photos of them or they record them. But in the early era they did watercolour paintings and other types of artworks. Then in the 19th century when photography was available there's also a range of really early historical images. So once we had an image we could also have a look to think about what was the story behind that particular event and that was really interesting because I think it is a nice way of just engaging in this topic in a really different way. I really like art and I think it was just a nice way to bring it to life because it's not just always about the numbers.
Steve Grimwade
So when we try and work our way backwards and we do try and work our way from the current bureau recordings and then we go further back and we go to the diaries and we go to those first instrumental recordings. Then you go back through - well, you go through dreaming stories as well. Maybe can you tell me about how Indigenous stories, have they informed this research? Can they?
Joelle Gergis
So, a lot of people are really interested in Indigenous stories and for good reason, they are really fascinating. I guess it's not exactly the kind of information that we can directly use in the type of work that we do, because oftentimes we are looking at quantitative measures of say temperature or rainfall and these sorts of climate variables. So that's not to say it's not useful information but it's a little bit yeah, not quite direct.
But what it does do is it provides us with a lot of really interesting information about how Indigenous people were perceiving the landscape and the climate over long periods of time. Even right now, so for instance the Bureau of Meteorology have actually done some work with Indigenous communities in various places that have found that there are up to six different seasons recorded in different parts of Australia. So that really is a little bit different to the European sort of four season calendar and so that gives us a really different appreciation and this sort of nuance about the landscape.
So Indigenous people were looking at things like the timing of flowering plants or the arrival of particular water birds and changes in wind direction and rain clouds and things like that. So they're really interesting stories and I do talk about them in "Sunburnt Country". But in terms of the research it wasn't actually incorporated in the main part of the project. But I did want to look at it so that's why I put it in the book.
Steve Grimwade
Let's go back beyond the dreaming stories to tree rings, core samples. I mean this really is where your work begins to sort of capture us and really it seems to be the foundation of your work is stitching together different ways of understanding geological time or climate time.
Joelle Gergis
So our understanding of climate variations is really confined to about 150 years where we've got instrumental weather observations around the planet. While that is really interesting and important and it's definitely the highest quality record that we have, to be able to go further back in time to look at these longer-term cycles that are present in the Earth's climate we have to look at other records. So we look to the natural world.
So when we've got things like trees, they put on an annual band and that annual ring is related to things like temperature and rainfall variations during its growing season. So when it's a poor year it might put on a very thin ring and when it's a really good year it might put on a wide ring. Then you can actually determine a statistical relationship between the instrumental weather observations that you have from say the Bureau of Meteorology. You can look at the period of overlap with the tree ring record and then you can develop that statistical relationship and take that back in time. So effectively you end up extending the climate record by hundreds and even thousands of years in some instances. So we use that idea and that field of science is known as paleoclimatology and paleo just means ancient and climatology is all of accumulated weather. So what we're able to do is provide us with that long lens view, that long-term perspective on what the climate was doing before we actually had people recording weather observations and the landscape.
Steve Grimwade
So we have Huon pines in Tasmania we say they get us back maybe 700 or 800 years perhaps do they or…
Joelle Gergis
Even longer. Some of those - the longest tree I think - the oldest tree in Tasmania I think is around about 2000 years at least. That record from the Huon Pine is about 4000 years old.
Steve Grimwade
Terrific. Because you can also - you can probably dredge up old Huon pines that have been long dead.
Joelle Gergis
That's right exactly. So once a big old tree dies and gets covered up in a swamp or something like that, you can actually recover that material and then people look at that and they're able to piece together the tree ring record from using modern trees which are still alive and in the landscape and also dead trees that are buried. So you have these buried forests that people look at and then you can actually stitch all of that together and get a really long-term climate record.
So I think the Huon Pine record these days is around 4000 years old, 4000 years in length which is quite remarkable. It's one of the longest in the Southern Hemisphere for sure. So we did use that record when we were looking at this work and we also used material from New Zealand. In Northern New Zealand there's a species called Cowrie which is part of the Agathis group which is a really ancient conifer. It's also related to the Wollemi Pine group that's in the Blue Mountains that some people might have heard of. So these are really ancient trees from a time when the Earth was really young and so they're really rare and there's not too many of them left. Luckily, we were able to access some of those forests in Northern New Zealand and use that type of work for climate reconstruction.
Steve Grimwade
My view of you as a researcher, and researchers more general, is this idea of dry science. But really when you write the story about going close to Tane Mahuta which is in - is it the Northlands of New Zealand or…

Joelle Gergis
Yeah, Northland, yeah.
Steve Grimwade
Yeah, yeah. But you get the opportunity to go sort of to other trees that are deeper in the forest that punters like myself can't see and you also describe a really beautiful experience with the local Indigenous people and their relationship with the tree. Maybe you could talk about that.
Joelle Gergis
It really was a privilege working in that part of the world. I was part of a research team that had been working on Cowrie tree ring science for about 20 years and we obtained special permission to go and sample these trees. We explained why it was important and it actually took me about six months of community consultation where I went and spoke to community elders and I spoke to a range of different groups and I explained what we were doing and why it was important.
Once they understood that they were really behind it and we actually had some local guys come and help us out. We had an elder come as well and bless our work in the forest which was really quite extraordinary. Really, to be walking through these really ancient forests and these forests giants it's one of the most special experiences I think I've had in my life and I doubt I'll ever get to do something like that again.
Steve Grimwade
Have to convince you though that Mountain Ash is as beautiful a tree and we'll send you up to the Dandenongs. Not as long lived unfortunately.
Joelle Gergis
Yeah.
Steve Grimwade
Look and this is - I've got a love of trees so I've got to ask a little bit further. You write of polishing that sample because you core into the tree and you bring out a sample which is quite thin. Is it one distinct piece and can you polish the whole piece? Is it a foot long, is it two feet long?

Joelle Gergis
Okay, good question. So basically what we do is we use a handheld increment borer which is effectively like a large corkscrew and we hand-drill it into the tree. It doesn't damage the tree in any major way otherwise you wouldn't be able to do it. Then we extract a wooden core which is effectively the size of a drinking straw, it's really tiny. Then what we do is we mount it on a wooden block and then we sand it down using sandpaper. What that does is actually reveal all these nice rings. You can either do - we had permits to look at 30cm cores but also metre cores from some of the older trees. So we were looking at a metre of just a really thin rod, if you like, of wood and usually we would take three different samples from each tree to make sure we haven't skipped a ring because sometimes if there's wedging it doesn't put down a ring in an even way. You might miss it, so you have to do three different samples to be able to get an indication of the correct dating which is - it has to be as precise as possible. It's the most precise method we have in paleoclimatology and it basically forms the backbone of what we understand about long-term climate variations in the most precise part of the geologic record.
Because you can use other things like ice cores and marine sediments which give us really long-term records. But in terms of the year by year tree rings are the best records that we have. So I hope that makes sense. So effectively what we do is we just have these samples which we sand down and then we look at them under a microscope and then count those different ring widths. So we were looking at that alternation between wide and narrow to get a sense of are there patterns. Then we pull all of that information from an individual tree into all the different trees we've got from a stand of forest and then a whole bunch of study sites that we have. So in the end you can have hundreds of trees, 500 trees at times because like I said this project was part of a longer term study that's been going for about 20 years at the University of Auckland. I was a PhD student working there.
Steve Grimwade
So I guess we've now got to come to not the end of the story, it might be the start of the story actually. What has the data shown you?
Joelle Gergis
It's a good question. I'll talk about what we've found in terms of once we were able to collate all these different types of records, so we collected the Cowrie Tree rings from New Zealand and we also looked at Great Barrier Reef corals and ice cores from Antarctica. I was involved in a global effort to consolidate all of these natural archives for our region. Then what we wanted to do is figure out well what's the temperature been like in our region because obviously the globe is warming and we wanted to understand whether or not the temperature we've been experiencing in our region is it unusual or is it just part of these long-term natural fluctuations?
So what my team did is we developed a 1000-year temperature reconstruction using all of these natural records. Year by year, we went back year by year in time. What we found is that the warmest 30 years of the last 1000 years actually occurs in the most recent period, from 1985 to 2014 which was the last data point we had for the particular study. Effectively what that shows is that we are now starting to move out of the realm of natural variability that we've just seen in the recent geologic past. Another part of that study was that we also looked at climate model simulations where we were able to determine well is this just a natural fluctuation or is this something that has a human fingerprint? So we looked at that and we found that we couldn't reproduce the rate and the magnitude of the warming that we experience in our region without having the presence of greenhouse gases in the models, which effectively showed us that the Australasian region is warming and our fingerprints are all over that signal.
Steve Grimwade
So you write that Australia has one of the most spectacularly erratic climates in the world. Is there anything normal about our weather ever and what can we expect?
Joelle Gergis
So Australia sits in the one of the great subtropical desert belts of the world. So just below the tropics we have effectively an arid zone and that just has to do with the way that the atmosphere circulates. So places like Australia and Chile and South Africa there are desert belts. So that inherently gives us a dry climate. So we're actually a continent where two-thirds of Australia is either arid or semi-arid. So we receive less than 50 cm of rainfall a year, which is not very much at all. So it's a very, very dry continent.
Effectively we just have these wet coastal fringes where most of our - 85 percent of our population lives on the coast. So that gives us sort of the background in terms of the sort of set up that we're dealing with when it comes to climate variability in Australia. So the other issue or the other factor that drives Australian climate variability is that we're a large island surrounded by ocean. So our climate is influenced by a range of different sources from the Indian Ocean, Southern Ocean and the Pacific Ocean. What that does is bring in a whole range of factors which makes it quite complex actually compared to some other different regions of the world where they might just have continental area where they might be far from the sea and it's a pretty moderate climate. But with Australia because of our positioning on the planet in that sub-tropical region of the world and also because we're surrounded by a lot of ocean, it means that we are in for an interesting ride sometimes.
Steve Grimwade
If we have high variability is it hard to make that charge that it is actually not all natural variability?
Joelle Gergis
Well this is where I think there's been a lot of public confusion because it seems that because we have this high variability that can sometimes mask the climate change signal. So people think well we've all been through it all before but that's not quite the case. So we know that Australia is the land of drought and flooding rains. This we know, no one disputes that.
But in recent years, really since 1850, around the world we've actually changed the chemistry of the atmosphere and the ocean to such a point where we've actually changed the fundamental operation of the climate system. That's been through the burning of fossil fuels to support human activity and also the clearing of land surfaces which also alters the carbon cycle. So forests soak up CO2 and moderates the warming that we experience around the world.
So since 1850 we've actually accelerated the rates of change that we've experienced and what that does is it means that all of our weather and climate is now occurring on the background of a warming plant. So if you can think of it it's sort of like natural variability but on steroids. It's getting a bit of a kick from this warming and when you might think well Australia is warmer by one degree. But even with one degree we're starting to see some very serious impacts and that's why scientists are really concerned.
Because if we are careering down the line to a future world where we are very likely at this stage to cross over the two degrees that is set out in the United Nations Paris Agreement in terms of trying to stabilise climate change, then we're looking at a radically altered planet.
Steve Grimwade
What were you most surprised by in your data? Was there anything in particular that stood out and made you think twice or more than that?
Joelle Gergis
Well I guess for me when I approach this question just from a scientific point of view we didn't really know what we were going to find. The warming in the region is really distinctive and you see it and it stands out. I guess it was just a surprise to see that. I mean you never know what you're going to experience when you do scientific research but it was a very clear result and I thought it's something significant when we had it and when we sort of ran the numbers and looked at it, we realised that we had a significant piece of work on our hands. Because people had already looked at the instrumental record and looked at those climate modelling studies and determined that there was a human signal in the Australian climate record. But it was the first time we were able to use those records from the natural world and also it was just another line of evidence if you like.
I guess what did surprise me not even from the scientific perspective, it was more from the broader perspective or community or political perspective if you like, was the backlash that our team received as a result of that. That was probably the most surprising element, not the actual scientific results.
Steve Grimwade
Yeah I guess scientists from the renaissance have often found themselves on the right end of history or science but the wrong end of the stick. How were you prepared for the controversy that came out of your research?
Joelle Gergis
To be quite honest I don't think I really was prepared. As a scientist we just do our work and then I guess naively put it out into the community in the hope that it helps somehow.
Steve Grimwade
Maybe we can actually explain what that controversy was?
Joelle Gergis
Okay the controversy just had to do with that temperature reconstruction paper that we looked at. I mean there's a chapter in my book which details some of the details around what actually happened, but effectively people were trying to undermine the results and sort of discredit me and also my team and cast doubt on the results that we'd come up with in that study which was, yeah, it was unfortunate.
Steve Grimwade
How do you keep certain of your work when it's under sustained attack? What becomes important to you in your life as a worker, as a researcher, as a human?
Joelle Gergis
Yeah there's two parts to that question. The first is - how do we remain confident? Well we ran our results 1000 times each using four different methods. Sorry, 3000 times each using four different methods. So in the end we had 12,000 different reconstructions using the same data set.
Then we used a separate climate model just to make sure that we had also not - you know that that result was also reproducible because in science things need to be reproducible. So if we reproduce the results using four different independent statistical methods and also different climate models then we can probably say we're fairly confident in our results and we were. That's why we persisted with this, because it was important. Even though we were under a lot of pressure, an immense amount of pressure, we felt that it was an important result for the region and weren't going to back down.
Steve Grimwade
Was there a piece of advice or support that you received in this period that probably helped more than any other? Or even during your life more generally?
Joelle Gergis
I mean I was really lucky to have a terrific mentor, Professor David Karoly. He's a bit of a stalwart of climate change debates in Australia and I was really lucky to have his wisdom to draw on. He had a lot of great personal advice but also legal advice because we were coming under legal attack through the Freedom of Information request avenue where we had to release a lot of emails and people were poring over our correspondence and things like that.
Look, I think it probably hit me hard. I don't think I was prepared for it. I mean thankfully I've got terrific support networks around me now. So I think if anything like that happened now it'd be quite different.
Steve Grimwade
If we can learn from you, I mean obviously you do science for an outcome and in the hope that people will learn. That's, I mean, both big picture policy but that's also individuals. I mean you wrote that research shows that between 1988 and 1997 one farmer committed suicide every four days, and I think this was a result of the drought at the time. So how is climate science and modelling beginning to help farmers prepare for their world?
Joelle Gergis
Well it's interesting. I've just literally this week been at a conference on climate change adaptation and I saw a really interesting presentation by a senior economist actually at the University of Adelaide. She was looking at what actually causes a farmer to walk off their land. She looked at a whole range of different variables but the number one factor was maximum temperatures. So when conditions became too hot they had to walk off the land. It just became unviable to actually farm under those conditions, because if you think about it I mean temperature also influences the amount of available moisture that's in the system. Whether it be through dams with evaporation and that kind of thing, but effectively it's becoming too hot to farm in parts of the Murray Darling Basin. So people are walking off the land.
She was also saying that that's having really big impacts because if you're thinking about somebody say in their mid-60s walking off the land and maybe they're multiple generations of people that have worked that land, they have an identity crisis and they don't know what to do with themselves. Many times that leads to a lot of mental health issues and people become really despairing and despondent and it can end in personal tragedy.
Steve Grimwade
It's pretty crazy. I mean humans are particularly interested in the weather but less concerned by the climate. I mean we have very short time frames that we work within. Even I mean I've got this in my mind that farmers during wet periods maybe, is it La Nina periods, would potentially even migrate north and find what was more arid land in the past but it's now actually able to be used. Then they can find it tough to get off that land.
Joelle Gergis
Yeah, so I actually talk about that in the context of South Australia during the 1880s and 90s and there was the Goyder Line that you might have heard of where they had in the northern part of the state it's obviously really arid and you can't really farm that area. Then south of that line is where you are able to develop agriculture. During a really wet period in the late 19th century there were more storm fronts coming through the south which meant that there was more rainfall protruding further inland. So people actually moved their farms further inland. Then when the first major drought hit after that period - it was just a wet period - but then when it actually switched back farms had to be abandoned and it was the beginning of a longer-term trend in decline in rainfall that we're starting to see in that region.
Steve Grimwade
What do you think we're doing well with regards to approaching climate change? Is there anything? Sorry.
Joelle Gergis
At this conference I just attended I did hear about a state climate change adaptation plan from South Australia. So it looks like the states are really taking the lead when it comes to climate change. I also heard about a water report coming out from Victoria which is looking at maintaining water supply in Victoria under climate change. I think that this is really the start of what we're starting to see in Australia. But it's not really coming from the federal level, it's coming from the state level and also the local level as well where there are many local councils that are becoming carbon neutral and doing all sorts of things on those local levels which is really, really important.
It's the same sort of trend that we've seen in the United States as well where there isn't any sort of federal leadership. But there is a lot of leadership in those sort of middle tiers where people are really passionate about trying to safeguard their future and their livelihoods and their businesses and all that sort of thing. I think that we're seeing that here in Australia.
But I really, really hope that people start to realise just how urgent this is. Like really I've been talking as I've been travelling around talking about this book, been all sorts of things happening as I've been travelling around which has been pretty interesting. But one of the major things that's happened in the last couple of years has been the bleaching of the Great Barrier Reef. We've seen mass bleaching of the Great Barrier Reef which has actually caused the death of 50 per cent of all the corals. So we're talking about a major, you know not just a natural but a cultural icon. It's UNESCO World Heritage listed area. It's an area that David Attenborough, like our most famous naturalist has said that it's the most incredible natural wonder that he's ever experienced. Here we are and we're letting that just die on our watch. I think that is just extraordinary.
As a scientist I never expected to see that in my lifetime and it really, really does distress me to see these things playing out and just so quickly. That's the thing that really surprises me and when I wrote "Sunburnt Country", it allowed me this opportunity to have this overview and join the dots. Because as a researcher I'm often beavering away on a particular research project and that takes all of my attention and it's really interesting and exciting. But I never really get that perspective that you can get when you sit down to write a book where I was really interested in what are the signals in say human health or in psychology? Are psychologists writing about climate change? It turns out that they are and also just looking at all of the different events playing out and being able to try and join the dots between these things so people can make up their own mind about the evidence that I'm providing.
But I'm providing an opportunity for people to see what the scientific community agree on in terms of our climate history and also our future climate. So I had eight different colleagues review the material in the book to make sure that I wasn't coming out on a limb and saying anything outrageous because that's not my style and it's also the hallmarks of good science I think is to be as faithful as you can to what the data are showing.
Steve Grimwade
But the data is quite a - it can be dry. So I'm interested in that idea of how you translate your research into non-fiction in "Sunburnt Country" and how hard it was for you to find a new broader language to communicate your ideas?

Joelle Gergis
Well, I love reading and I love books and I guess there's always been a little bit of a - you know I'm really interested in science and I'm really interested in writing. So this was an opportunity to bring both of those worlds together for me. So while the content at times was really challenging because I was really trying to distil down lots of really complex science into easily readable little mini chapters if you like. A lot of the chapters are sort of under 2000 words each. It was a challenge but I enjoyed it because I really want people to read it and understand it and talk about it and do something about it.
Because I think we're at the point now where we can't say we didn't know. I think that's really the take home message from "Sunburnt Country" is that it does piece together our climate history for the first time. What that does is provide us with this sort of unparalleled perspective on the past, where we are right now and where we're going. I think that's really important and we've never been in a position to do that because the consolidation of the historical record was a very large task.
As I said I worked on this with a team of people for about a decade in total. So it was a really big effort, so it's nice to see it come to life. I guess for me I love stories and I like trying to bring the fascination I feel for the natural world to other people. So sometimes I guess maybe I geek out a little bit in the book when I discovered say William Dawes' weather record for the first time. But that is just to show you that a lot of people like me are just genuinely really fascinated by uncovering these hidden treasures.
Stee Grimwade
Yeah definitely. So are you at the end hopeful?


Joelle Gergis
Yeah, I am. I remember at one point having a discussion with my editor thinking 'how am I going to end this book?'. But then I started to delve into the literature which looked at all the things that are happening right now and that actually blew me away because it was a lot more hopeful than I had realised. Again, because I am a physical scientist and I work on the fundamentals of the climate system, to get the opportunity to look into all these really detailed and clever reports which were looking at how do we rapidly de-carbonise our economy and our world. I realised that it's actually feasible and a range of groups from the CSIRO to university groups and international groups have done this really careful work and it's absolutely achievable.
The problem is, is political will and that is a real issue. Unfortunately we get lost in a lot of unhelpful conversations and sometimes the framing isn't quite right. I think people see it as loss and really negative. While there certainly is an aspect of loss and grief, absolutely I feel grief when I think about the loss of the Great Barrier Reef, but there is opportunity in terms of really transforming our society into a truly sustainable force on the planet rather than a destructive one. So, and there is opportunity for instance, Australia's electricity, solar is only responsible for three per cent of Australia's electricity. Which is, if you think about it, it's outrageous and it's stupid. I mean there's no other way of putting it. I just think it's ridiculous that we aren't doing a bit better than that and we're the sunniest continent on the planet.
We could be doing a lot better than we're doing but there are real vested interests that want to maintain the status quo. But meanwhile we know the science is really clear that fossil fuels are damaging our climate in a way that is making our planet quite unsafe. What scientists are concerned about is really trying to reign that in so we can avoid the more dangerous aspects of the change. I think that we can do it and I think that comes about from embracing that change rather than thinking it's all beyond us and it's all too hard and all this sort of thing. I don't think that's helpful at all.
You also have to think about the intergenerational elements of this whole issue. Because future generations are going to be left with a planet that we either protected for them or we just allowed it to crumble really around us. I think right now I mean there are battles being fought all over the world in this space and there are real leaders I think in Europe. There's a lot of work that's being done to really transition into renewable energy and also just into cultural shifts around our consumption and just the way that we do things on a personal level.
So whether we - how we choose to use our money and how we choose to use our vote as well. I think it really is that time to stop being I guess a passive consumer or even a passive citizen and really starting to take a stand for the things that really matter. Because from where I sit, you know, this is upon us. Climate change is upon us right now. It's urgent and we are the most vulnerable nation in the developed world. We really cannot afford any more delay when it comes to this issue. I think that while it is really urgent I think we need to keep a level head and I just think we need to get on with the job of actually taking the advice of scientists and also the tech community where there's a lot of innovation happening in that space. We've just got to get on with the job.
Steve Grimwade
To go from that awful bumper sticker, "think global act local", picture me. I'm at a barbeque. I'm faced with a climate denialist. Besides breathing deeply, what do you want me to do?

Joelle Gergis

Well, I want you to actually just be honest about the concern that you feel for what you're seeing playing out in your life right now but also the concern that you might feel for the future of the planet. Realising that as Australians it's not just natural variability. It's not natural variability anymore. It used to be but it's not anymore.
So all of - like I said, all of our weather and climate is now playing out in a warmer world and that means a more extreme climate. So at your barbeque, for instance, in the future we might be looking at summer temperatures of 50 degrees. You might not be able to have that barbeque outside.

Steve Grimwade
There you go people, be warned. Joelle Gergis, thanks very much.
Joelle Gergis
Thank you.
CHRIS HATZIS
Thanks to Dr Joelle Gergis, climate scientist and paleoclimatologist at the University of Melbourne. And thanks to our reporter Steve Grimwade.
Eavesdrop on Experts - stories of inspiration and insights - was made possible by the University of Melbourne. This episode was recorded on May 11, 2018. You'll find a full transcript on the Pursuit website.
Audio engineering by me, Chris Hatzis. Co-production by Dr Andi Horvath and Silvi Vann-Wall.
Eavesdrop on Experts is licensed under Creative Commons, Copyright 2018, the University of Melbourne.
If you enjoyed this podcast, drop us a review on iTunes, and check out the rest of the episodes in our archive. I'm Chris Hatzis, producer and editor. Join us again next time for another Eavesdrop on Experts.
Climate scientist and paleoclimatologist Dr Joelle Gergis has spent over a decade painstakingly piecing together Australia's climate history, using historical records dating back to the First Fleet, natural records held in our trees, corals and ice and computer modelling.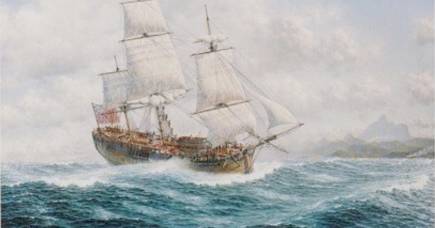 As she outlines in her book Sunburnt Country, published by Melbourne University Publishing, Australia's climate has always been "spectacularly erratic", but human activity has accelerated these rates of change.
As the developed nation most vulnerable to the impacts of climate change, she says we must act now to slow its worst impacts.
Episode recorded: 11 May 2018
Producers: Dr Andi Horvath, Chris Hatzis and Silvi Vann-Wall
Audio engineer and editor: Chris Hatzis
Banner image: Brisbane floods, 1893/State Library of Queensland
Subscribe to Eavesdrop on Experts through iTunes, SoundCloud or RSS.