Superdiversity: Policy challenges in an age of unprecedented migration
How superdiversity is forcing us to rethink housing and healthcare in our cities and beyond
VOICEOVER
This is Up Close, the research talk show from the University of Melbourne, Australia.

LYNNE HAULTAIN
Hello I'm Lynne Haultain. Thanks for joining us. Many 21st century cities attract people from literally every corner of the world, so cities are often a microcosm of the planet's challenges politically, environmentally, and socially. Consequently, the relevant tiers of government, like local councils or state governments, find themselves at the vanguard grappling with circumstances which no longer respond to the policy approaches that might've worked in the past. Superdiversity is one of these challenges. It's migration and diversity faster and bigger than we've ever seen it before and it's beginning to have a real impact on how cities and nations respond to social need. Professor Jenny Phillimore is the director of the Institute for Research into Superdiversity at the University of Birmingham where she and her colleagues look at what happens to policy and services in truly globalised cities. Professor Phillimore is here as a guest of the Melbourne School of Government discussing superdiversity: how do we respond in everyone's interests in what is a fundamentally new landscape of people, place, and expectation? Jenny, good to have you with us.

JENNY PHILLIMORE
Good to be here.

LYNNE HAULTAIN
Now, let's start with some definitions. What is superdiversity and maybe before we get to that you talk about new migration. What is that?

JENNY PHILLIMORE
New migration is the sort of change that's seen us driving superdiversity. So it begins around the 1990s when we see a shift of migration patterns. So traditionally people have tended to arrive from a few places to a few places in very large numbers. Quite often the pathways are associated with former Commonwealth or colonial relationships. So in places like the UK, you know, we see big Pakistani groups, big Indian, big African Caribbean groups, and in Germany you see large Turkish groups, and of course in Australia you have a very longstanding relationship with the UK, where I come from.

LYNNE HAULTAIN
But we also have large numbers of people from Greece and Italy, for example, who were the first wave post-war migrants.

JENNY PHILLIMORE
Yeah. So you've got these longstanding relationships and they've led to really large groups of people and having been in Melbourne for the last few weeks I've been to some of the suburbs or some of the inner city areas where there's a clear identity based around these longstanding groups. What happened around the 1990s is people started migrating pretty much from everywhere to everywhere.

LYNNE HAULTAIN
So what triggered that in the '90s, Jenny? Was there a catalyst?

JENNY PHILLIMORE
There were a couple catalysts. Firstly, there was a lot of civil war throughout the world really, throughout the developed world which drove an increase in spontaneous asylum seeking. So up until this point what you'd seen is you'd seen asylum programs or refugee programs, so like the Vietnamese boat people, for example. So people tended to be allocated in large numbers to particular places. But with the reduction in transport costs, the improved communications, people began spontaneously leaving sites of persecution and claiming asylum in lots and lots of different countries. We all, unfortunately, remember the genocides in Rwanda and Burundi. Many of the Rwandan refugees I know have family in maybe 20 different countries, because people went in every direction. They went where the opportunity arose. That was one part of it and I think are were asylum seekers from about 100 different countries, which has led to quite a lot of diversity across the world, particularly in developed nations. But also, again in developed nations, what you see is an economic boom and a desire for two different types of labour: for skilled labour - and this is something that continues to be important in many industrialised countries. Our health services tend to rely on movement of skilled labour from less developed to more developed countries - but also the need for a flexible unskilled labour market. Because as our economy has become more developed our resident populations become more educated and are less willing to pick up the sort of dirty, dangerous, and difficult jobs, so we look for labour from elsewhere.

LYNNE HAULTAIN
So that means that we've got a very much more complex input and push-and-pull factors, if you like, is what I'm picking up here. The triggers for people leaving their places of origin are varied and different and wider spread than they were. The sort of migrant class they enter into in their places of destination vary depending on whether or not they're there to work, they're seeking asylum, or they've migrated in the normal more traditional mode. So there are all sorts of complexities entering into this, which I imagine is also leading to greater complexity in how they're received and what sort of experience they have when they get there.

JENNY PHILLIMORE
Yes. Although a lot of people have seen superdiversity as an increase in the numbers of countries of origin, what it fundamentally asks people to do is to think about the diversification of diversity. The individual who introduced the term, Steven Vertovec, really stressed this as being fundamental. So it's about moving away from the lens of country of origin or ethnicity and understanding that those people who do arrive are much more complex. So you've got a lot of intragroup variation. So to places like the UK and Germany, you have people arriving who, within the same country of origin group, could be one of seven different immigration statuses. Associated with that are our different sets of rights and entitlements which reflect on the way in which we respond to those individuals and these are imposed by states in a bid somehow to control migration. But actually, what it does is ends up increasing complexity. But in addition to that which we impose, people come with different intentions, different reasons for migration, they have different faiths, different languages, different socioeconomic statuses, different classes. So even within group you cannot assume homogeneity. This goes with a sort of general move to more of a sort of kind of liquid society that's been well documented by sociologists. But I think it kind of is really magnified when we're looking at the changes associated with superdiversity.

LYNNE HAULTAIN
So, given that, is it always a drift from the developing world to the developed? Is that where we're seeing superdiversity, only in big cities in developed countries?

JENNY PHILLIMORE
Superdiversity, I think, is a trend or a change that really is appearing everywhere. So, for example, when you look at somewhere like Guangzhou in China, clearly there's been a huge economic boom in China and it's fair to say that the vast majority, not all, but the vast majority of migration is internal. But that doesn't mean to say it's not superdiverse. What's happening in Guangzhou is you've got literally people coming from 60 different ethnic groups, different religions, again all the variation that I talked about in relation to undeveloped to developed world migrations, which the authorities in Guangzhou are having to adapt to. So one of the things they're doing is putting in place a load of policy trials and policy reforms to try to take account of this new complexity, which is superdiversity, albeit from an internal perspective.

LYNNE HAULTAIN
A big interior [laughs] to work with in China. But hasn't it always been thus, Jenny? In New York city, for example, the famous quote, Ellis Island, give me your poor and your needy. People from every possible nation on the globe have made their way to New York and New York is not regarded as America. I think that's a fairly commonly accepted...

JENNY PHILLIMORE
Yeah.

LYNNE HAULTAIN
...notion that New York is something else apart because of its extraordinary diversity. Is the way in which countries and systems are responding to people, is that what makes it superdiverse?

JENNY PHILLIMORE
There's always been some degree of diversity and one of the things I've been trying to do as part of the work of my institute is to encourage our historians to actually look back over time and identify where there've been hubs of superdiversity. Places like Damascus for example, and Istanbul, the places where many many paths have crossed and to explore how people coped with superdiversity and clearly is was a huge economic advantage to those places at certain points in time. So there's always been some superdiversity and they've always been places, cities particularly, that have been diverse, but what we're seeing is the spread of superdiversity out of these major global cities into many many other cities and not just cities. The work I've been doing in Australia suggests that superdiversity is evident across Victoria. There is some evidence in rural areas. But within Europe, this is a phenomenon that's pretty much touching most places. So it's a suburban phenomenon, it's a rural phenomenon. If you take a county like Cornwall in the UK which has been traditionally very very white, people are arriving there from maybe 20, 25 different countries. There are opportunities to work in horticulture and so on that are attracting individuals that are needed as part of their economy.

LYNNE HAULTAIN
You mentioned earlier the communications, the technology changes, the unrest around the world, the freedom to move or the capacity to move if we can't call it freedom, so was this always inevitable?

JENNY PHILLIMORE
I think, to some extent, yes. If you give people the means - I mean this is almost a philosophical question actually, but my feeling is if people are experiencing difficulties, they're being persecuted, their family are at risk, they're starving, over time historically people have tried to do the best by themselves and by their families and the way they've done that is to migrate. What happens now is they can migrate further and migration isn't quite the risk it used to be. Because, once upon a time it would be a case of, well, if I leave, I leave forever. I will never be able to come back and I will never have contact with my family again. Now, thanks to social media, actually I know people - I've heard stories of situations where within someone's living room there's a computer and it's permanently on Skype in some relative's living room. So there is some kind of connection. You just go to and fro. It's not some organised thing, we will Skype at eight o'clock, or whatever. That kind of relationship continues albeit in a virtual way. One of my respondents in a recent study, she was an Indian woman and she'd come to join her husband and she had really difficult times here, because migration is hard. It's been referred to as a type of bereavement, because you leave so much behind. This woman, she said, well, because of Skype I see my mum, she's there, she's in the corner of the room, it's like she's there with me and then I know I've got the strength to carry on.

LYNNE HAULTAIN
Wow. The other thing it seems to me that all this had led to is that migration is not permanent. As you've said, in the past you left and you never went back. But now you can move and you don't necessarily see yourself as migrating once.

JENNY PHILLIMORE
Well, absolutely, there are all sorts of new patterns which have been explored in a number of ways by different researchers. The situation of Australia is a little bit different to much of Europe because of course we've got quite close proximity: Europe, Africa, even between the Middle East and Europe. So it's not that difficult to move around, so there's a lot of onward migration. People move to the next best economic opportunity or if they get an offer to go and live with family somewhere and they're able to do that, or they might go back after a certain point of time, or quite frequently they'll decide they're going to come for three months, try it out, and end up staying for longer. Never really making a fixed decision about whether they're going to stay or whether they're going to go. The kinds of distances you have between Australia and much of the rest of the world I think creates a certain dynamic in that people are probably here in a more fixed way. Although what I'm hearing is, of course, that they're moving round Australia. So they might not be moving between countries, but they're certainly moving around and we all move more than we used to. We used to be born in a place and we'd die there. We don't tend to do that as much anymore.

LYNNE HAULTAIN
Which presents all sorts of fascinating policy dilemmas which we'll talk about in just a moment, but today on Up Close I'm talking to Professor Jenny Phillimore from the University of Birmingham about superdiversity, the incredible international mix that we find in so many of our cities and what that means for the creation and the sustaining of community and society. Jenny, you look at this through all sorts of different policy dimensions and I want to pick up on a couple of them: housing and health care particularly. Let's talk about housing, because that for me, when you're talking about moving countries, literally upping sticks and moving somewhere else is such a powerful symbol and physical dimension. It's important to have shelter, but it's also about where is home? You did some really interesting research in Birmingham around how people understood home. Why did you look at that?

JENNY PHILLIMORE
Well, really we wanted to understand from a policy perspective what made people stay in an area or leave an area. Many superdiverse inner city areas have got quite a high degree of transiency and a lot of money's been invested over many many years to try and, as policy makers put it, stabilise those areas. So we wanted to explore from the perspective of individuals some of the emotional side, not just about housing need, which is the way it had been investigated previously. You know, how many rooms do you need and the assumption is that you'll go to where that house is. But what kind of emotional processes, as well as the more structural ones underpins people's decisions about where to live.

LYNNE HAULTAIN
What did you find?

JENNY PHILLIMORE
The findings are quite complex. We found a number of things that firstly a lot of people don't have a choice. They don't choose necessarily where they go. In a lot of Europe and I understand parts of Australia, if you're an asylum seeker for example, you might be dispersed to a hostel or a detention centre or state-provided accommodation and you have no choice about where you go. What tends to happen is people build networks around wherever they're sent and a lot of them end of staying there. But there's no element of choice in the first instance. Another thing that drives people to go to a particular place is the cost of housing. Furthermore, individuals who work for employment agencies often get tied housing and invariably these are in the sort of kind of cheapest kind of areas. So there's not necessarily a dimension of choice. Where there is, people choose to move to an area because it's diverse. That's an attraction, particularly if you're an individual who is unfamiliar with maybe a particular culture - western society, or you've experienced racism, which is a common, unfortunately, experience for people in Europe. They'll gravitate to areas that are highly diverse because they feel safe, invisible, they can fit in there. Then people move to where their friends and family are or to where there are facilities that can support their interests.

LYNNE HAULTAIN
So that's the incoming experience, if you like, and that all makes perfect sense in terms of where you might land first and then what options you might explore later once you're a bit more connected. What about the communities they come into?

JENNY PHILLIMORE
Well, the stereotype is that these are white communities. But of course we're already diverse. You talked about the kind of Greek communities that have been here since the 1950s, 1960s. In the UK, Germany, Netherlands, pretty much everywhere you look there are places where are long established diverse communities. So it isn't necessarily that the newcomers are arriving into a very homogeneous place and like I said it's just an increase in diversity an intensification of diversity. We've compared the long established resident's views to those of the newcomers and the long established will say to us, well, one of the things I really like about this place is that it's so diverse, so you never know who you're going to talk to next. Or that there's a faith community that's particularly diverse. So that can be attractive. Other times, too much change can be disconcerting. But what we found when we were looking within superdiverse areas is on the whole the individuals who have lived there for many years are very comfortable with diversity. The white migrants who come to those areas, either because they're sent there or because they need cheap housing, they're perhaps less familiar with diversity and feel more uncomfortable about it. So maybe they will look to moving out in the longer term. Being white they actually have more choice, because they're less visible, they can fit in more easily, and they don't have this overwhelming fear that many individuals do of being different and of racial harassment.

LYNNE HAULTAIN
It seems to me that this is a highly politicised, or it can be at least a highly charged issue in some hands and certainly there are political parties across Europe and in the UK as well that champion a certain homogeneity, if that's the word, around their communities. How important in your research and what you've seen is the civic and the political leadership to see diversity as a positive rather than a negative?

JENNY PHILLIMORE
Well, hypothetically it's extremely important. I think there are some cities that do a really really good job of celebrating diversity. That's been one of the things which have really impressed me about Melbourne. I've met loads of policy makers since I've been here. It seems there's a real drive to try and create services that meet a wide diversity of needs. But in Europe where we have austerity and this kind of shift to the right around immigration, current moral panic about the arrival of asylum seekers in the Mediterranean it's quite a different environment. There's not a lot that we can point to, certainly in terms of national leadership, where we can say, this is the way to embrace what's going on. Locally, it looks a little bit different, but without resources it can be quite tricky to follow up your ideology with some action.

LYNNE HAULTAIN
Which brings us, of course, to the people who have to make this work, the people who are developing policy and then implementing whatever service provision they're in a position to offer. So how hard is that task? Let's just think about housing for example. Is it regarded as really really challenging and difficult to resolve some of these issues and to find the right kind of housing and communities for incoming groups, or are people finding ways to manage that?

JENNY PHILLIMORE
Housing is slightly different to other social policy areas in that largely it's left to the market. There is what's been termed an ethic minority or a migrant housing market where there are particular areas, very diverse areas, where there's a long history of housing migrants. One of the problems that's encountered is that migrants frequently don't know their rights and entitlements so they're particularly vulnerable to exploitative landlords. So you have a lot of practices like something called hotbedding where individuals have a shower and a bed for maybe 12 hours a day. But gradually as they progress - if they progress, it's not a given - they'll end up having their own bed and then their own room and then their own flat. So the market's, in some ways, intervened to a large extent there. I think where it starts getting really tricky is in more complex areas like health, where you've got people from every country in the world, a variety of migration routes, they bring with them a whole set of values, beliefs, institutional understandings, which can sometimes be difficult to translate to a new environment, particularly when the systems that we have are established for a particular kind of community which was seen as being largely homogeneous and was much more homogeneous that it is now. So the kinds of welfare state systems we have in place are not very flexible at a time when we probably need more flexibility. What this does it makes is very difficult for people to access services effectively. Some of them go off and do their own thing. So, for example, in the area of health you find that migrants, particularly, but also minorities use health services quite often less than the general population, because they have other mechanisms that they're engaged with, transnational health seeking, a virtual health seeking and informal support, for example.

LYNNE HAULTAIN
So tell me a little bit more about that. Do they use Google? How do people respond?

JENNY PHILLIMORE
Well, recently, we did a research project funded by the British Academy where we looked at new migrants' health histories. So we followed the development of their health beliefs and understandings from when they remembered acquiring them in their countries of origin all the way through migration. We looked at the sort of things that shape what they do around health and what they did when they had a health problem in the UK. Of course, one of the things we find is that actually people's health, beliefs, and attitudes are quite similar to our own. So in the UK, much of Europe we have this five-a-day thing - I don't know if you've got this - where you're encouraged to eat five portions and fruit and...


LYNNE HAULTAIN
Fruit and vegetables, yeah.

JENNY PHILLIMORE
...vegetables a day, do lots of exercise and many people are brought up knowing that fried food is not very healthy. So there are a lot of assumptions actually by public health officials that some cultures have really unhealthy cuisine, which actually didn't play out in our findings. What we did find is that individuals struggled to communicate effectively with primary care. So they would go and report a problem and of course they'd had this problem for many years, but it's the first time the GP hears about it. They kind of have to start from scratch, so they have all these very painful, lengthy investigations into something that they already know what it is. So they lose patience a little with the system and what they'll do maybe is contact relatives back home. The relatives back home will go to a medical practitioner for them and they'll be sending the medication and they'll be self-medicating. So this probably works out fine a lot of the time. We really don't know what the outcomes are. But of course when things do get serious, you have people who are on one set of medication being given another set of medication and having a variety of treatments and receiving advice from many places which potentially could lead to complications. We don't know that for sure.

LYNNE HAULTAINI'm Lynne Haultain and you're listening to Up Close and today we're talking to Professor Jenny Phillimore from the Institute for Research into Superdiversity and we're talking about health, particularly the consequences for health in new migration and superdiverse communities. Jenny, let's go to the really pointy end, if you like, of health services. So complex problems, mental health issues, these are even more challenging often for migrants, asylum seekers to explain and to seek treatment for, either because they don't want to talk about it, or even if they do then giving the context and getting to the right service might be very tough. Is that something that you have identified as a real issue?

JENNY PHILLIMORE
There's quite an established body of knowledge around this area. Firstly, it's worth pointing out that in terms of migrants generally - there's something called the healthy migrant effect - most migrants that come are young, fit, and come for work.

LYNNE HAULTAIN
Because, I suppose, they self-select...

JENNY PHILLIMORE
Yeah.

LYNNE HAULTAIN
...for being fairly resilient and entrepreneurial characters.

JENNY PHILLIMORE
So actually on the whole, use of health services by migrants is lower than that of the general population. Obviously that changes over time and in fact as people adopt western habits they tend to become more unhealthy. But certainly when it comes to very complex problems and this might particularly relate to refugee communities, things like mental health, for example, which you've picked up on there, there are many different ways of expressing feeling psychologically unwell. We've done quite a bit of work around refugees and mental illness and found that fundamentally there was a disconnect in the services provided in the UK - which are just general services - between the way that some refugees communicated. I have pain all over my body, would be one way that one of our African respondents would express just feeling utterly utterly dreadful at having seen his family killed in front of him. So there's an unbelievable amount of examples of how GPs are handing out paracetamol and we have a lot of quotes of people saying I've got enough paracetamol to open my own pharmacy. Lots and lots of paracetamol and very little action taken until individuals reach a very bad place. So either attempt suicide or have some kind of breakdown. That's certainly been the case. But I understand certainly looking at places like Sweden and Norway and talking to your AMES service here yesterday...

LYNNE HAULTAIN
That's the Migrant Education Service.

JENNY PHILLIMORE
Yeah. I'm hearing about really quite nuanced care that's offered and training for GPs and other providers that says, this is how mental illness may be presented and in fact, expressing that mental illness may be a taboo issue in some cultures. One of the things we picked up on is that women who had experienced very high degrees of sexual violence and the levels of shame that they experience will not disclose this. Actually training providers on how to very gently take time to actually enable people to build the levels of trust they need to talk about what's going on in their lives. So I found that quite impressive. Clearly I've only heard about the idea of it here. It would be interesting to see how it plays out. So I imagine this is a different situation in different contexts. But certainly there are some examples of where it's not working well and the consequences of this can be utterly disastrous. It's worth saying this isn't a situation where you have professionals who don't care about these individuals. That does arise and where professionals are under pressure they sometimes begin to resent those they feel are putting them under pressure. Quite often - and this is something we picked up in looking at migrant maternity support - community midwives, for example, their caseload might be 70 per cent migrants; 70 per cent of people who don't speak English as the first language. But their caseload is not adjusted to take that into account. So they have the similar amount of work, but of course, every consultation with someone involving an interpreter takes twice as long. This isn't taken into consideration. So eventually you have very high degrees of stress and burnout in those professionals, which arguably is a result of the system not adapting to take into account there is a need to be more flexible and that some people take more time than others.

LYNNE HAULTAIN
So with all the work that you and your colleagues have done in terms of health and recognising the issues and the pressures on both service providers and broader systems, is there much take up? Are you engaged positively with, for example, the National Health Service or local council service providers to increase the adaptability, if you like, of the way they deliver for young mothers from far off lands?

JENNY PHILLIMORE
Well, over the years we've done a lot of work with various different providers and up until about 2010 there was a lot of interest in this kind of work and really, the kind of approach from national government was all about evidence-based policies. So if you've got some evidence, bring it to us and we'll have a think about what this means for policy and actually reaching out and seeking evidence in particular areas. All of this changed really with a bit of a change of ethos, the election of a new government, and austerity cuts. So if we're talking about diversity, it's seen as there's too much diversity and not enough social solidarity. We need less diversity and we really shouldn't be encouraging people to be diverse, if that makes sense to you. But the idea is that really everybody has to fit into the mainstream and we can't afford to do otherwise. To be honest, it is ridiculously expensive and impractical to suggest that we would provide some kind of specialist service for everyone from every part of the world and given this internal differentiation that I've also talked about. But we have moved to an approach where we're trying to do less for more. That's meant that the kind of issues that I've been raising here are not receiving as much attention as they might be. But at the same time we are continuing to become more diverse and there will not be a change in this. This is something that's already happened. So there is a need to wake up to it and I see some really encouraging signs. Being in Melbourne, just talking to policymakers here particularly in health, there seems to be a real reaching out to try and find practical examples of how to change things, how to make things better. I know the health authorities have engaged with a migrant-friendly hospitals program, for example, and have been trialling some really heavy and difficult indicators within some of the hospitals and that's really impressive. So there's obviously been some progress and you do see that in some parts of Europe and Canada, particularly Toronto is very forward-thinking in this respect. It's a mixed picture. But certainly where I come from in the UK and where a lot of my evidence is based, unfortunately I don't see the levels of attention that it used to have. Now, that said, we have a very large new project which is looking at developing an idea called Welfare Bricolage. It's basically trying to understand the way that people bring into account all of these different sources of knowledge and all the different resources that they can access to bear on their health problem. This is what people do when the health service actually doesn't work for them.

LYNNE HAULTAIN
So is it replicating what happens in housing, really, it goes to the market?

JENNY PHILLIMORE
Yeah, to some extent. You've always had this idea of medical pluralism, the idea that individuals who have transnational connections might bring one or two health systems together and take the best bits of both. But what we're saying, following on from our health histories project, is it's more than just about medical systems. People improvise. People are quite creative. So they'll use the internet. They'll use a complementary provider. They'll use a faith-based provider. What we want to understand is what provokes them to move into particular directions and what are the opportunities and what are the costs here? What we've tried to do at the very beginning of this project - because we feel it's going to be extremely important. We've got four different welfare regimes, four different countries involved. We feel we're going to have some findings that are going to be of interest certainly all the way across Europe. So we're engaging at a very early stage with the European Parliament and we're trying to connect up with MEPs. We're trying to directly connect into some of the discussions around migration and migration is one of the 10 priorities of Jean-Claude Juncker as he took over the presidency.

LYNNE HAULTAIN
Of the European Union?

JENNY PHILLIMORE
Yeah. So I think there might be a slightly more open door there. Then at the same time we're trying to find inroads into our regional health authority in the UK. Again, more of an open door because of the recognition of just how diverse the Midlands is. That's where my university's based, in Birmingham. So I see a little bit of light at the end of the tunnel, but I do have to say the last four, five years have been more depressing than the previous decade.

LYNNE HAULTAIN
It's fascinating and I think that often it is the very local experience which generates the green shoots that responds to the need that's very close in front of them. People need to get on and make something happen because they're living with it, rather than policymakers perhaps in the south east of the UK, or in Canberra in Australia, or in other capitals that have a greater distance. Is that your experience?

JENNY PHILLIMORE
Well, it is partly about the current ideology, the focus on austerity, and this desire to be anti-migration. Even if that comes at a huge cost and it comes at a huge human cost and it actually comes at a huge financial cost as well. I'm not sure it's about being national. I think it might be about the place we're at, at the moment. I like to believe that and I hope that we won't be here forever. That these days of austerity will pass and that eventually national governments will wake up to the reality of superdiversity that's all around us and stop trying to take us back to some mythical 1950s place that if it was ever there it's certainly not something we can return to.

LYNNE HAULTAIN
There's another whole conversation in that. I look forward to catching up with you at some other stage about that. Thank you so much for your time.

JENNY PHILLIMORE
Thank you.

LYNNE HAULTAIN
We've been talking about the challenges of superdiversity with Professor Jenny Phillimore, director of the Institute for Research into Superdiversity in the School of Social Policy at the University of Birmingham. You'll find details of some of her many publications on the Up Close website, together with a full transcript of this and all our other programs. Up Close is a production of the University of Melbourne, Australia, created by Eric van Bemmel and Kelvin Param. This episode was recorded on 5 August 2015 and was produced by Eric van Bemmel with audio engineering by Gavin Nebauer. I'm Lynne Haultain, thanks for listing and I hope you can join us again soon.

VOICEOVER
You've been listening to Up Close. For more information visit upclose.unimelb.edu.au. You can also find us on Twitter and Facebook. Copyright 2015, the University of Melbourne.
Migration researcher Professor Jenny Phillimore joins the Up Close podcast to explain how the recent global phenomenon of superdiversity is challenging policy makers and service providers to rethink housing and health care in our cities and beyond.
"We all move more than we used to. We used to be born in a place and we'd die there. We don't tend to do that as much anymore," she says.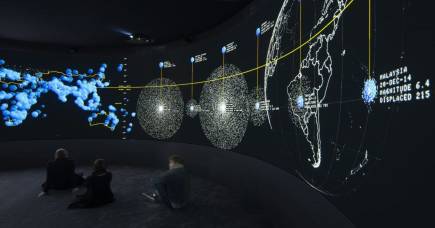 "Migration isn't quite the risk it used to be. Once upon a time it would be a case of, well, if I leave, I leave forever. Now, thanks to social media, there is some kind of connection to those left behind."
Subscribe to Up Close through iTunes, SoundCloud or RSS.