The brain benefits of music
Professor Sarah Wilson discusses music neuroscience and why no other species uses a complex musical system like we do
CHRIS HATZIS
Eavesdrop on Experts, a podcast about stories of inspiration and insights. It's where expert types obsess, confess and profess. I'm Chris Hatzis, let's eavesdrop on experts changing the world - one lecture, one experiment, one interview at a time.
How does music affect our emotions according to science? With changes in environments, moods & scenarios - how is it that music impacts us so?
Professor Sarah Wilson is Head Of School, Melbourne School of Psychological Sciences at the University of Melbourne. Sarah is an internationally recognised expert in Cognitive Neuroscience and Clinical Neuropsychology. Her research program has advanced our understanding of the neural basis of human cognition and behaviour.
Professor Sarah Wilson sat down for a Zoom chat to talk about her work with Dr Andi Horvath.
ANDI HORVATH
Tell us about your research. What are you into?
SARAH WILSON
I have two streams of research. One is in the broad area of cognitive neuroscience, and it focuses specifically on music neuroscience, so music in the brain. The other area is more clinically focused and it looks at how we can use psychological strategies, including music, to rehabilitate people after brain injury, so looking at the relationship between mind and brain and what happens when we have a brain injury.
ANDI HORVATH
Okay, connect for us the experience of listening to music and our brain.
SARAH WILSON
The experience of music is really a whole-brain activity. I think that's a really important thing to understand. When we're listening to music, what we see when we put people in the scanner is that large areas of their brain light up - both hemispheres. That's because music involves many different networks or systems in the brain.
If you think about a tune coming into your head, perhaps you're driving down the road, and you hear it on the radio and you want to identify what that tune is, of course, it comes in via our ears and it - at a very basic level - activates the auditory system, the sound processing system of the brain.
From there, a whole lot of complex additional processes happen. We might also have a visualisation of the sound, or images that go with that, so it'll activate our visual system. We might want to move along, as we're listening to the music, so it'll activate our motor system. We might actually want to call up the words that go with the song, so it'll activate our language system. We might actually want to plan on singing the next note, to make sure it's in tune with what we're hearing, and so it'll activate our frontal systems, our organisational and planning and working memory systems, holding the tune in mind. Of course, if it's one of our favourite songs, and has a lot of emotions for us, it will activate our emotional network.
In that very simple act of listening to that tune on the radio, all of those systems come to play, as we engage in the music. So, it's a very broad activating activity, and that's why it's been dubbed the food of neuroscience, because, by looking at all of those systems that are switching on at once, we can get a really good understanding of how the brain works.
ANDI HORVATH
The brain is such a complex organ. It's got neural connections, it's got hormones running around. No doubt it activates some of our emotional areas, because I know we use music to either make ourselves feel a bit up, or perhaps even ground ourselves.
SARAH WILSON
Yeah, I think this is a really important feature of music. There's all sorts of debate in the research literature as to why we are even musical. When we think about music, it is something unique to being human. When we look at other species, animals, they don't really use music in the way that we do. They might have song, or calls, but these are more simple, for mating purposes, or the like. No other species uses a complex musical system like we do.
One of the theories as to why we have it is because it is such a powerful inroad into our emotional systems. There's very nice studies now, showing that music provides this direct line into the reward system of the brain, the dopamine system, which we know makes us feel good when we activate that system.
It also is really, when you think about music, it's the language of emotion, so it often captures things that are very hard to put into words. Perhaps we're feeling nostalgic or a little bit forlorn, or under the weather - we'll put on music as a means of helping us explore and release those types of moods, as well. There's this really interesting observation in the literature. It's called the music paradox. No other activity will people seek out something sad to really focus in on, and that'll be their preferred or most liked music, is sad music.
So, it's a complex activity that we use to regulate our emotions, and, as you said, we can either use it to pick us up, when we're a bit flat, to help us explore feelings and to express those in socially acceptable ways, or to help us calm down, when we're stressed out or frustrated.
We can see that in early development, mothers will use music with their babies to help regulate their mood, and it's something, then, that we also use in social groups, to help regulate the bonding and the emotional connection of social groups. This is a very powerful core aspect of music, and it's related to its ability to directly influence hormonal release in the brain.
ANDI HORVATH
Yeah, that community vibe of music, whether it be community choirs or community ukulele groups, or whatever, really is good for the soul, but can music actually make us smarter? There was a time when my friends had babies, and I used to buy Mozart for Babies [laughs], this CD, I used to give out as presents for new families. Can it make us smarter?
SARAH WILSON
This is a very interesting period in music neuroscience, where perhaps the hype and the excitement of the reporting of music findings took over the actual science, which underpinned the basis of those findings, and these catchcries like, music makes you smarter, appeared in the media. I think in the US, in the State of Georgia, the governor deemed it mandatory that every newborn baby gets sent home with a Mozart CD, or something to that effect [laughs].
Yeah, we did a study looking at that, at the time, actually, and, whilst there was some suggestion that when you listened to music, if you then performed some kind of IQ or cognitive test afterwards, the kids who'd listened to Mozart versus the kids who'd listened to something else, or maybe had just done it in silence, they did a better job. This was the original basis on what this finding was claiming to show.
However, we did a replication study and we couldn't replicate that effect, once we took the impact of mood into account. What we found, when we repeated the experiment was that when we picked music that really enhanced the children's mood, in fact, it was that that drove their better performance on their subsequent intelligence test, rather than Mozart per se.
We interpreted that as a motivational or an emotional driver. We know that we learn and perform better when we're feeling good and confident in ourselves. It seems that the music created a great learning environment, rather than Mozart specifically altering neuronal firing or functioning in such a way to enhance performance.
Having said that though, there are some studies that do indicate that the synchronous rate, or the timing of the notes and the patterns in Mozart, has some particular affinity with the synchronous firing of groups of neurons in the brain, and that that's what allows for its benefits, but I think there's just not enough evidence at this point to substantiate that, one way or another.
The other finding that I think is more robust, though, in this area, was a group of studies done by researchers in Canada. What they did, very interestingly, was that they enrolled young children in a study which had three arms. Either they learned piano lessons - and they did this for 12 months, so it had a longitudinal component - or they just did life as usual, or they enrolled them in some other kind of art-based activity, or drama.
What they found at the end of this study, which was more compelling, was that the children who had engaged in the piano lessons, versus the children in the other two groups, they were performing better on tests of general intelligence.
The question around that is, to what extent did music practice the discipline of learning, or prime the brain for learning? This is, I think, an interesting and exciting new area in the field that is running this idea that music primes the brain for plasticity, or flexibility of learning. It is metaplastic, if you like. That's a new area that's spun out of this that I think will be very interesting.
ANDI HORVATH
Is there a critical window for music development?
SARAH WILSON
That's a really good question, Andi, and one that people often ask me, should I be starting my child in music lessons at a particular age, in order to get the maximum benefits? The answer to that is slightly complex.
The literature - and we've done a work, a large amount of work summarising. There's been over a hundred or so studies now, looking at the way music changes the brain. It changes the brain, both in terms of the size of particular areas - so more neurons will be devoted to that particular area, and so it will be larger, and you can measure that, in terms of the volume of cells on the brain scan. Or it might alter the connectivity between different areas, so more of the white matter fibres that join the different grey matter areas - it'll show greater connectivity.
We did a mapping of the musician's brain and compared it to a non-musician's brain, and those changes in volume and connectivity are, again, spread across the brain, in many of those different areas that I spoke about earlier, those networks that we talked about, but also the connectivity between those networks.
This set of findings is particularly true of people who commenced training early in life, so they've been playing, on average, for more than 10 years, sometimes maybe 15 years, and they've often commenced their training before the age of 10, sometimes even before the age of seven. We certainly know that there is this heightened plasticity of the young brain that's particularly amenable to change in response to the environment, and so early training really maximises that general feature of the brain. That's when we see these long-term effects.
However, if we take a group of adult novice individuals - let's say they've never sung or they've never played, and we did this, a group of adult novice singers and we gave them all singing training. We measured their brains before they started and then after they'd done a substantive singing training program. We cross-randomised them to either a singing or a drama group.
Again, what we showed was that there were changes in the brains of the singers and they were functional changes. They were at the level of the network starting to look more efficient and effective and organised themselves better. However, they weren't at the structural level at this point - after a briefer intervention in an adult we hadn't seen changes in the density or the number of neurons devoted to a particular function.
So, I think the answer is complex, because it depends when you began, and the type of change that you're looking at, but if you're looking at any evidence of change, well, we can see that at any point in the lifespan, so it's never too late to begin. It would be interesting, and it still hasn't been done yet, to show how novice adults might go on to look 20 years down the track. That's research that still needs to be undertaken.
ANDI HORVATH
How do you actually do your research? How do you measure the brain waves of musicians or non-musicians?
SARAH WILSON
We've used a range of different techniques that interrogate the functioning of the brain. These are all standard techniques in that broader area of cognitive neuroscience that I was talking about before, as well as in clinical neuropsychology. They're ways that we map these brain, mind, behaviour relationships.
One of the most common is using MRI. The MRI scanner can take pictures of the brain functioning in vivo and that's called functional MRI or FMRI. Another way you can do it is look at tracer uptake in different areas of the brain and we've also done that. On this particular occasion that was a study with people with absolute pitch. You can look at the uptake of a particular tracer and its distribution in the brain, and compare that across musicians or non-musicians.
You can also measure - do what we call volume measurement of particular structures. You can trace them out on the scan image and you can measure their size or the cortical thickness - how thick the neocortex is in a particular area.
Then you can do more temporally-based measurements, where you use what's called EEG, to take recordings of the brain, which is recordings of brain waves from the surface, the skull, and then make some conclusions about which types of cognitive processes may be happening. We've reviewed the literature on that and there's a lot to show the different parts of the brain's response, it has different components in those brain waves.
Then there's also testing of people who've had brain injury. I've worked with musicians, for instance, who might have had a stroke, and have subsequently lost the ability to play the piano, or they may have lost the ability to speak, but they can still sing, or vice versa. Then we look at where the damage is in the brain, and we relate that to the types of deficits versus preserved skills, and we make conclusions about the relevance of bits of the brain for different functions in music.
So, it's across all of those different types of studies that we make these broad conclusions that I'm talking about today.
ANDI HORVATH
There's no doubt that our emotional wellbeing is formulated with the soundtrack of our lives, but how is it used for other conditions?
SARAH WILSON
Really, there's a broad range of ways that music has been used therapeutically. I'm not a music therapist, but I'm happy to speak in general about that literature.
I think one of the most striking areas has been in the area of dementia. There's been great anecdotal evidence, but also scientifically more robust evidence that people who might be quite along the track in terms of the stage of their dementia, meaning that they may be quite unresponsive to the world around them, nonetheless, if you put on one of their early favourite tracks from their youth, they will literally come alive and become much more engaged and much more responsive. It seems that in this sense, music can be neuroprotective or a little bit immune to neurodegenerative processes or neurological damage.
We did another study, looking at people with epilepsy - we've just done this one recently. Basically, it looked at people who'd had epilepsy all their life and they were either musicians or non-musicians, and then it compared them to people without epilepsy, who were either musicians or non-musicians.
What we found on all of the different tests that we give to people with epilepsy - maybe we're thinking about they're going to have surgery for their epilepsy and they need to have an assessment. We might look at their memory and their language and their thinking, to measure the impact that the surgery might have. What we found was that in the musicians with epilepsy, that their performance on the memory and the language tasks was similar to the people without epilepsy, the non-musicians and the musicians without epilepsy. Whereas the non-musicians with epilepsy, their performance was much lower on those memory and language tasks.
So, here we can see that music is neuroprotective against neurological disease. The mechanism we think that's going on - although we don't know for sure, this needs more research - is that all of those systems that we talked about that are engaged in the brain when we're listening to music, well, they have transfer effects to other cognitive functions. This is the link with, music makes you smarter, as well. While you're listening to music, you're giving your brain a general workout. You're not only exercising the music-related bits, you're also exercising your memory, you're exercising the language system, you're exercising all these other networks. So, that's what, potentially, is protective. It's based on that use it or lose it principle.
ANDI HORVATH
Is there a genetic predisposition to music capability? I'm thinking of my own family. My father could dance and sing, although he had no training in either, but could hold a tune. He could even pick out a tune on the piano, even though he had no training, whereas my mother would not be able to hold a tune. She'd need to be taught how to hold a tune. So, how does that work?
SARAH WILSON
A great question, and it's one that my research lab has just moved into, more recently. We've done two big studies, so I'll tell you about that, but I'll tell you the beginning of that journey, because it is a new area in the research literature.
We did a study - we were interested in this neuroplasticity issue about changes in the networks of the brain, and how that relates to training. I mentioned we'd been doing these singing studies. Well, one of these studies took a group of singers, some of whom were highly trained opera singers, some who were what we call shower singers - so, a bit like your dad, just naturally good at it, no training, sounded great, and then some who were very clear self-professed bad singers, and they were indeed bad singers.
We put them in the scanner, and we gave them a range of singing and language tasks, because we were actually interested, in this study, in the relationship between singing and language. Are these separate functions, from an evolutionary perspective? Are they joined? What does that tell us about the organisation of the human brain and the mind?
Anyway, the result of this was that we found a very interesting result. The singers, the extremely well-trained singers, had their own independent singing network and it sat alongside the language network, in their brains. Whereas the self-professed poor singers were literally singing with their language network. They didn't have a separate network that lit up when they were doing the singing task. It was the same language network. That was probably a good reason as to why they weren't good singers, because they were singing with their language network.
Then that group in the middle, the natural group, they seemed to be a bit of a hybrid. They had their own network, but it just wasn't as developed or as strong as the opera singers.
That led us to ask, well, is this the training? Is it all about the environment and it's helped these people develop this new network, which we can see in these FMRI scans, or is it that they already had the network to begin with? So, it's the chicken and egg, right?
We then set about to do a study, looking at the genetic determinants of singing. Our first study, we wanted to actually determine, is there a hereditary component to singing - like you're alluding to with your dad, some people just seem to be able to do it. We have anecdotes of musical families - the Jackson Five, and there's a whole bunch of them. So, that's exactly what we did. We did a big twin study, with the Australian Twin Registry - this was a government-funded ARC grant - where we have recruited over a thousand twins, and they're either identical - that is they share their same genes - or they're non-identical, and they're like siblings - they only share half of their genes.
We gave them all singing tasks and we looked at the degree to which their pitch accuracy in singing - the ability to hit the note, which is one of those core aspects of singing - was concordant or not, so, how similar it was, and whether that varied according to whether they were identical or non-identical.
On the basis of that data, we've been able to show, quite compellingly, that there is a heritable component for singing. So, it appears that some people are born with this predisposition. What we also found, and this is data that we haven't yet published, so it's coming out soon and it's very exciting, is that there was a strong role in the model, looking at the statistical analysis of this data, there was a strong role for the environment, as well. So, it's the interaction of the two. I guess that brings together that previous work that we've spoken about, really nicely.
ANDI HORVATH
What would you like to activate in society? If I put you in charge of music for Australia?
SARAH WILSON
[Laughs]. Well, that would be the first step, would be to look at music in schools and ensure that every child had the chance to really learn music in a systematic way and to have a chance to play an instrument - or to develop their voice, their singing voice. To be involved in group music-making, and to take the emphasis off expert performance or perfect performance, because there's, I think, too much emphasis on that, and that just leads to create anxiety and performance anxiety in particular. To take the emphasis off that, off of that, and to focus on engagement and enjoyment. Just like we have Auskick down at the park every Saturday morning, and we know that's great for developing children's physical health, so too, we would argue that music has a similar beneficial effect for mental health.
Imagine if we had routine, family-based activities that engaged music and allowed children to feel comfortable singing and performing, without that pressure of expertise or perfection, but that it was a natural part of our everyday life. These would be things that I think would help us, as a community.
We've seen this during the COVID pandemic, right, when the community's put under stress and we can't connect to each other as easily, we see people coming out on to their balconies and singing songs together, and re-engaging that very primeval, basic, biological drive to connect through music, that we've carried with us through time. I think it's really important that we stay connected to our musical roots.
ANDI HORVATH
Professor Sarah, what would you like the public to think next time we catch someone singing in the car, or having a little mini dance move, while wearing headphones?
SARAH WILSON
Well, I think the idea is it's to be encouraged, and to join in, if you can. You don't just have to sing in the car, with the windows up. You can wind the windows down.
ANDI HORVATH
I agree. Join in [laughs].
SARAH WILSON
[Laughs].
ANDI HORVATH
That's what someone did with me in the park, the other day. I was grooving to something with my headphones on and they started dancing with me, even though they couldn't hear the music [laughs], and I thought that was wonderful. A brief encounter of music, without hearing it, but letting the body go.
SARAH WILSON
Probably how easy you would have been able to make a connection with that person, had you then sat down and had a chat to them afterwards, because you'd already engaged at very core biological system of synchronous behaviour that already made you more likely to want to help them, and them seem more likeable to you, in the process, right?
ANDI HORVATH
Exactly. Professor Sarah Wilson, thank you.
SARAH WILSON
Thank you for having me. It's been great to talk.
CHRIS HATZIS
Thank you to Professor Sarah Wilson, Head Of School, Melbourne School of Psychological Sciences at the University of Melbourne. And thanks to our reporter Dr Andi Horvath.
Eavesdrop on Experts - stories of inspiration and insights - was made possible by the University of Melbourne. This episode was recorded on September 8, 2020. You'll find a full transcript on the Pursuit website. Production, audio engineering and editing by me, Chris Hatzis. Co-production - Silvi Vann-Wall and Dr Andi Horvath. Eavesdrop on Experts is licensed under Creative Commons, Copyright 2020, The University of Melbourne. If you enjoyed this episode, review us on Apple Podcasts and check out the rest of the Eavesdrop episodes in our archive. I'm Chris Hatzis. Join us again next time for another Eavesdrop on Experts.
The experience of music is really a whole-brain activity, says Professor Sarah Wilson, Head of the Melbourne School of Psychological Sciences at the University of Melbourne.
"When we're listening to music, what we see when we put people in the scanner is that large areas of their brain light up – both hemispheres. That's because music involves many different networks or systems in the brain," Professor Wilson says.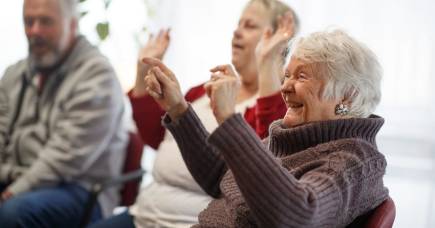 There's all sorts of debate in the research literature as to why we are even musical, she adds.
"When we think about music, it is something unique to being human. Other species, animals, they don't really use music in the way that we do. They might have song, or calls, but these are more simple, for mating purposes, or the like.
"No other species uses a complex musical system like we do."
Professor Wilson explains that while you're listening to music, you're giving your brain a general workout.
"You're not only exercising the music-related bits, you're also exercising your memory, you're exercising the language system, you're exercising all these other networks. So, that's what, potentially, is protective. It's based on that use it or lose it principle."
Episode recorded: September 8, 2020.
Interviewer: Dr Andi Horvath.
Producer, audio engineer and editor: Chris Hatzis.
Co-production: Silvi Vann-Wall and Dr Andi Horvath.
Banner: Getty Images