The legal rights of rivers
In the past couple of years, legal rights have been awarded to a number of rivers around the world. Why?
Chris Hatzis
Eavesdrop on Experts, a podcast about stories of inspiration and insights. It's where expert types obsess, confess and profess. I'm Chris Hatzis, let's eavesdrop on experts changing the world - one lecture, one experiment, one interview at a time.
We all know our rights, legal and/or otherwise. Corporations have them, too. But what about nature? What would giving legal rights to the natural world mean? Can nature sue us and could we even countersue?
Today we're meeting a researcher that was inspired by a fish that changed environmental law in Victoria. Erin O'Donnell is an environmental law researcher at the University of Melbourne whose expertise is in the area of giving legal personhood to rivers. In other words, rivers having legal rights.
Our reporter Dr Andi Horvath meets Erin at the banks of the Yarra River in Melbourne, naturally, at a place called Dights Falls...
Andi Horvath
Erin O'Donnell, how do you describe yourself as to what you do when you're around friends and new friends?

Erin O'Donnell
Well it's a tricky way to describe it. Basically, my research looks at what happens when we give legal rights to nature, what happens when we turn nature into a legal person and expect it to look after itself. Not just what might happen but what actually does happen, what does it mean for the law, for the environment and for us and our relationship with the environment.

Andi Horvath
I sort of get it that the environment can't really fight back but how does the law protect nature?

Erin O'Donnell
The law protects nature in a number of different ways. Historically, we've protected it by placing limits on the actions of humans. The environment has been like this passive object that we protect by placing limits on the actions of people. But very recently we've started to give nature legal rights of its own and that lets the environment use the law to protect itself. Most importantly, it can go to court if it has to to protect its own interests. Potentially and we haven't seen too many examples of this yet but potentially a river with legal rights could actually go to court and sue somebody who polluted it.

Andi Horvath
Okay, Erin, let's go for a little walk. We're kind of messing up our planet, messing up our soils, messing up our water. It makes sense then that things like rivers and land masses even are protected. How can law help?
Erin O'Donnell
Historically, we've used the law to protect rivers from our perspective. We've said how do we limit the way that humans cause all this damage to rivers? What we're starting to do now with these legal rights is to give rivers rights of their own so that the river can now start to enforce its own rights and protect itself.
This is a massive shift. This is what the law offers in terms of legal personhood for rivers is the chance for rivers to go to court to enforce their own rights and to protect themselves. They don't have to necessarily rely on humans to protect them.
Andi Horvath
Go to court. Who represents the river?

Erin O'Donnell
That's a really important question. When we think about rivers, obviously they literally can't go to court on their own. They can't speak for themselves. So, what we've seen around the world is that we often appoint guardians to speak on behalf of rivers. In New Zealand for instance, on the Whanganui River, the legislation creates a new guardian which is two individuals and they act together to be the voice of the river. They're supported by a whole bunch of other stakeholders. The New Zealand Government has put $30 million into making this new arrangement a reality. That's how we can actually give rivers a voice.
Right here in the Yarra, last year, the Victorian State Government passed legislation that is going to create a new council to act as the voice of the river. This council is going to have community representatives, it's going to have a number of representatives from the Wurundjeri and possibly the Bunurong, the Indigenous people of the Yarra, and it's also got experts so, subject matter experts in waterware management and environmental planning. These people are going to come together and represent the interests of the Yarra in policy making and in giving advice to the minister.
Andi Horvath

Let's go back in time. You mentioned the New Zealand case study, the Whanganui River, that already has legal rights. Were they the first on the planet to give a river legal rights and has anyone else done it since then?

Erin O'Donnell
They were the first. In March 2017, the New Zealand Government passed that legislation to give the Whanganui River legal rights. They did this as part of a long-term, year-on-year negotiation with the local Maori as part of the Treaty of Waitangi settlement. That's an ongoing treaty settlement process in New Zealand. This legislation was a way of the New Zealand Government formalising that treaty negotiation.
What's really interesting about the Whanganui is that it was actually kind of a circuit breaker. They didn't set out to create legal rights for the river but they ended up doing so as a way of bridging the gap between where the New Zealand Government wanted to be and where the Maori wanted to end up. In a way, the legislation certainly reflects the Maori view because the river is an ancestor and they see it in that way. But from the New Zealand Government's perspective, it was a way of avoiding a transfer of ownership of the river. Now the river and its catchment owns itself. That was one of the primary drivers for giving legal rights to the Whanganui River.
Andi Horvath

Has anyone else done it since?
Erin O'Donnell
Yes, we've seen it happen in a number of different countries. The next cab off the rank was India which followed suit very quickly. The High Court of the state of Uttarakhand in India granted legal rights and legal personhood to the Ganges and Yamuna River about a week after the New Zealand legislation. It was a pretty exciting month.
About a week after that, the same court granted legal rights and legal personhood to all of nature in the state of Uttarakhand. Their first decision, which was to extend legal rights to those rivers, has been appealed to the Supreme Court but their second decision has not. Now, we have a situation where part of the Himalayas, some of the glaciers, some of the small streams and small rivers and meadows, they all have legal rights in the state of Uttarakhand. What that means we're still not sure but it's certainly still the case in India.
Now, India was followed by Colombia and that came out later in the year. It was actually a decision made by the Constitutional Court of Colombia back in 2016 but they only released the decision well after all of these other decisions. I think it came out in May. In that instance, they gave legal rights to the River Atrato in Colombia. The reason for that was to protect the human rights of a number of Indigenous communities and other local communities that live along the river and depend on the river for their livelihood. In that instance, the legal rights were very much bio-cultural rights and linked very closely to the communities that live on that river.
Andi Horvath
When the law steps in like it has, has it made a difference?

Erin O'Donnell
That is a really difficult question. In terms of absolute outcomes for the environment so far, I think it's still too early to tell. But what we can say, in India there was a police report that was filed claiming that the Ganges River had been murdered. This is citizens using really innovative legal tools to say this is crazy, our rivers are so polluted and we've now got access to something new to try and stop it. Unfortunately, the decision was appealed to the Supreme Court before they could actually process that so we're still waiting to see what actually happens.
Andi Horvath
Erin, how on earth did you get into this area?

Erin O'Donnell

I've been working in water policy since 2002. Back in 2007, I started work for the Victorian State Government in water policy. At that time, we were grappling with one of the most severe droughts on record. This was the tail end of the millennium drought and the years from 2007 to 2010, which were my years in state government so it was a tough time, were the most severe drought years on record. What that meant was that using water that had been allocated to the environment became incredibly difficult. There's a couple of stories that really underpin my interest in this area.
In 2007, we were trying to use - and I say we because as the state government that's what we were doing - we were trying to use water that had already been allocated to the environment to help maintain and protect critical drought refuges and ensure that species did not go extinct during the drought.
Now this was tricky because although that water had been legally and formally allocated to the environment, irrigators were facing their worst season ever. Irrigators up along the Murray were sitting on around 15 per cent of their water allocations. They'd never seen anything like it. They were looking at orchards and vineyards that couldn't get water and that were probably going to have to be bulldozed. So, this was a really extreme time.
What that meant for the environment was that the environment was also doing it tough. There were wetlands that were dry and that had been dry for a really long time. In those wetlands lives a little tiny fish. It's called the Murray hardyhead. It's about two-inches long. It has to breed every year because each fish only lives for about 18 months. It's a highly endangered fish. In 2007, there were only three or four populations that were still considered viable. This little fish desperately needed water in its wetlands. We did a lot of different things to try and secure that population. There was a captive breeding program, we were trying to find all of the different populations of that fish but ultimately, what it came down to is we had to use that environmental water to put that in the wetlands and keep that fish alive, make sure that it was able to breed and stay alive.
If we hadn't been able to use that water that would have been the first fish species to go extinct in Australia since the 1940s. This was pretty stark but at the time, all of that environmental water was actually owned by the Minister for Environment. So, when irrigators started taking out full-page ads in newspapers saying that that water could actually save 60 farms instead of a fish species and literally, I kid you not, there were headlines in newspapers in Victoria and at the national level, it was incredibly difficult to actually get the minister to agree to use that water. It became political. It ended up going to cabinet for approval. It was a decision that should have been business as usual. The water had already been allocated to the environment. It was a really clear use of water to save a species from extinction. It's pretty hard to find a better reason to use environmental water but it was incredibly difficult because of that political overlay. So, that's the first story.
The second story that really shaped my thinking happened right here on the Yarra. What happened in 2007 and again we have to remember this was the most severe drought on record, we were really worried that Melbourne would actually run out of water. What they did was take water that they'd allocated to the environment and gave that to the city of Melbourne - when I say the city I mean the broader city, not just the CBD - to support industry, to support human drinking water. Again, it's kind of hard to argue with that. If you're going to look at keeping taps running sometimes you're going to have to take water away from rivers to do that.

Andi Horvath

I remember people's sprinklers were being put into the museum.

Erin O'Donnell
Yes. Yes.

Andi Horvath
It was a really tough time where there were signs on front yards saying 'tank water in use' because they had arranged for rainwater collection or tank water from elsewhere.

Erin O'Donnell
Yep, there was a real shame associated with using water inappropriately.

Andi Horvath

Yes.

Erin O'Donnell

Absolutely. So, what happened here in the Yarra was that again, that water was owned by the Minister for Environment, was intended to be used to protect and maintain the environment of the Yarra River but it was taken away. Now ordinarily, if that water had been owned by anybody else outside of government then that person would have been arguing really strenuously 'that's my water and you can't take it away and I was going to use it to do all these very important environmental protection activities.'
But because the minister was obviously part of government it was the Minister for Environment who came out and spoke to the newspapers and the public and said the environment has to shoulder its share of the burden during times of drought. So, you had an environmental entitlement, you had the owner and the spokesperson for that entitlement in the minister whose position was hopelessly compromised because he was also part of government. Again, it's not that the decision was wrong it's just that the spokesperson for the environment was actually the spokesperson for government and you can't fill both of those roles.
So, both of these stories led to the decision to create a new organisation, the Victorian Environmental Water Holder. We wanted to create an organisation that had legal personality so it had its own entity in law and a clear organisational distinction from government and from the department and we wanted to create this organisation to own those water rights so that you could make decisions on how to use that water that were independent from the politics of the government of the day. It's a statutory corporation, this entity, which is a bit different to what we normally think of in terms of corporations. It's not like Coca-Cola but it's more like a water authority.
It has to answer to government but really crucially government cannot tell that water holder what to do with its water in any given year. So now, when we have difficult decisions and we've had difficult decisions that the Environmental Water Holder has had to make, it's been able to do so by saying well what does the environment need and therefore that's what I'll do and I don't have to get caught up in the politics.
So, that was my job. I created that organisation and helped draft the legislation which eventually got passed in 2010. That was kind of exciting. We'd created this new transparent, independent, highly accountable organisation to stand up for the environment, to own all of that water rights. In can participate in water markets so it can start doing really interesting and innovative things. We set it up to manage water really efficiently to try and get the best bang for buck for the environment but then I started to wonder - what happens to the environment when you make it just another user of water, when you make it just another participant in the market and when you make it really no different from anybody else? I didn't even know how to begin to answer those kinds of questions. They're sort of big questions that it's hard to explain in a policy sense where that might lead because, of course, from a policy sense it's just well is it getting the outcomes we wanted? Yes, it was but I was really concerned that it was changing the way that humans interacted with our environment and changing the way that we felt about it and thought about it. So, that's what led me to do my PhD.

Andi Horvath

Do you see this evolving into a major area for the environmental movement?

Erin O'Donnell

I think it is. I think it is. There's been a long-term interest in legal rights for nature. Back in the '70s is where the idea really started to get traction but it's been on the fringes of environmental law pretty much ever since.
So, in 2008 we started to see again a bit more traction. There was some legislation that was passed in Ecuador and then in 2010 more legislation was passed in Bolivia to give nature rights but enforcing those rights has been really challenging. So, I think what my research shows is that if you're going to give nature legal rights then you have to give it an organisation, you have to give it funding and you have to give it some kind of property rights that it can actually use to protect itself. I think we're now progressing beyond the philosophical 'wouldn't this be nice' and into a 'how do we actually give this stuff force and effect, how do we translate these ideas into reality?'

Andi Horvath

Along your journey so far in this legal research policy environmental law area, what has surprised you?

Erin O'Donnell

I think the biggest surprise for me has been just how much of a difference it actually makes when the environment has legal rights of its own. Not necessarily in a good way sadly because there's a new narrative that starts to emerge. Instead of the environment being worthy of protection and relying on people to protect it we've now given the environment legal rights and so we expect it to protect itself.
That is a fundamental shift and when we do that it actually weakens our desire to protect the environment in the first place. So, we've increased legal protections but we've reduced willingness of communities to look after their environment. There's a real balance there and I'm not sure we've got it right.

Andi Horvath
What about misconceptions? When you speak to allied industry or other professionals or other researchers what misconceptions do they have about this area?
Erin O'Donnell
I think the biggest misconception is that legal personality is the same as a human being and that legal rights are the same as human rights. This is just not the case. However, you'd be completely forgiven for thinking that they are the same because very important legal thinkers like judges also have made that blurring of the distinction between human rights and legal rights.
The case in India for instance, the judges referred to the rivers as legal persons and also as living persons. They used those terms interchangeably. That just creates some real problems in terms of what those rivers actually are and what kind of rights we're actually giving them. Are we giving them the sort of human rights that we think about, civil and political rights, other kinds of human rights or are we giving them very specific legal rights that enable them to participate within a legal system? Legal rights for nature is about saying how can we reshape the law so that the law is centred on the needs of nature. One of the ways you can do that is by giving legal rights to nature but it's not about saying how can we turn nature into a person.

Andi Horvath

Should we turn nature into a person? There are some people who think we should chimpanzees and monkeys and apes and our very closely related primates, lovely orangutans and all the rest, into human right equivalents.

Erin O'Donnell

I think that's really, really difficult mainly because how do you then deal with a situation where one part of nature might be going up against another part. If you give I guess human rights to a chimpanzee do you also give human rights to a lion or to something that might prey on a monkey? What happens when a chimpanzee hunts down one of those monkeys like we've all seen in the David Attenborough documentaries? Do you end up in law with lawyers representing both the chimpanzee and the family of the monkey that they've eaten? I think this is where things get really challenging. I think this is why we need to be really clear about precisely what kind of legal rights we're actually giving to nature.

Andi Horvath
Alright. Erin, let's take another walk and let's get really up close to the Yarra. Let's actually see how cold it is today because it's quite a cool river, isn't it?

Erin O'Donnell

It is indeed.

Andi Horvath
Alright, let's make our way - on a bit of a bushwalk here. Eavesdrop on Experts goes everywhere including on bushwalks. Erin, we're here at the edges of the Yarra. I'm not going for a swim - but what advice do you have for us? Next time we're at the edge of a river and often most cities are based on a river, what would you like us to think about?

Erin O'Donnell
I think the Yarra gives us a really exciting opportunity to think about the possibilities of river protection. Last year, the State Government of Victoria passed new legislation to protect the River Yarra and to create a new organisation to give a voice to the river. But that legislation is only as strong as the community vision for the Yarra.
So, what I think we all need to do is to participate in those opportunities to make sure that government knows that we value our rivers and that they should protect them. I think the other side of that equation is what my research shows is that the way to avoid losing people's willingness to protect a river with legal rights is to build that community connection, is to make sure that that river is connected back into societal values, cultural values, even economic values. But basically, it needs to be a matter of saying yes, we're going to give the river legal rights because we think it's really important but we're doing that because we value the river and keeping that connection alive.
Chris Hatzis
Thanks to Erin O'Donnell, environmental law researcher at the University of Melbourne. And thanks to our reporter Dr Andi Horvath.
Eavesdrop on Experts - stories of inspiration and insights - was made possible by the University of Melbourne. This episode was recorded on March 23, 2018. You'll find a full transcript on the Pursuit website.
Audio engineering by Arch Cuthbertson. Co-production by Dr Andi Horvath and Silvi Vann-Wall. Eavesdrop on Experts is licensed under Creative Commons, Copyright 2018, the University of Melbourne.
If you enjoyed this podcast, drop us a review on iTunes, or Whooshkaa, and check out the rest of the episodes in our archive. I'm Chris Hatzis, producer and editor. Join us again next time for another Eavesdrop on Experts.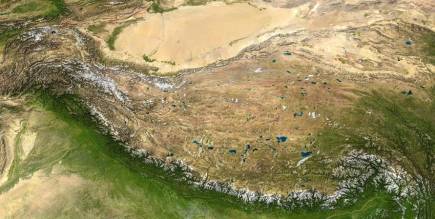 Rivers in New Zealand, Australia, India and Colombia have all been granted legal rights recently. Environmental law expert Dr Erin O'Donnell explains why granting nature legal rights is becoming more accepted.
Episode recorded: 23 March 2018
Producers: Dr Andi Horvath, Chris Hatzis and Silvi Vann-Wall
Audio engineer and editor: Chris Hatzis
Banner image: Whanganui River in New Zealand was the first in the world to be awarded legal rights. Picture: Tim Proffitt-White/Flickr
Subscribe to Eavesdrop on Experts through iTunes, SoundCloud or RSS.