The US Election is a policy-free zone
Only nine per cent of the media coverage of the US election has been on policy issues. We diagnose what's going on.
"Donald Trump is the most inexperienced, uninformed, ill-suited person to garner a major party nomination for the presidency in American history. His candidacy, I think, was possible only through the Republican Party which in recent years has become less a conservative party than a radical party, one rejecting and indeed contemptuous of the inherited policy regime and dismissive of the legitimacy of its political opposition.''
These are the thoughts of Thomas Mann, a Senior Fellow in Governance Studies at the Brookings Institution in Washington, on the latest episode of The Policy Shop podcast.

The US Presidential Election – a policy free zone, was the subject of the podcast, with a recent US study showing actual policy issues took up less than nine per cent of media coverage and the candidates' qualifications for the presidency accounted for even less.
This podcast, hosted by the Vice-Chancellor of the University of Melbourne, Professor Glyn Davis, also features Associate Professor Tim Lynch, from the School of Social and Political Sciences. He had some strident comments about President Barack Obama.
"In 2012 when Obama was running we should recall the great cosmopolitan that ran four years prior to that in 2008, the guy that would heal the breach and bring hope and change. Four years later his bumper sticker was 'Bin Laden is dead General Motors is Alive'. He killed a Muslim and he kept alive a greenhouse gas producing industry."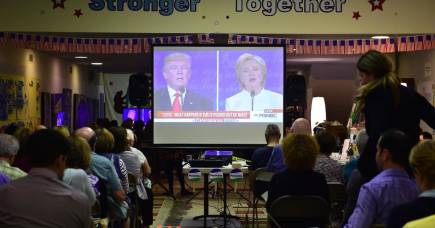 Associate Professor Barbara Keys, from the School of Historical and Philosophical Studies, is the podcast's third guest
"We can't explain Trumpism unless we understand the degradation of political discourse that has happened because of social media,'' Associate Professor Keys says.
"The problem with digital media – and this extends far beyond politics into many areas of our lives – is that contemporary technologies corrode human relationships. You take the generation that's grown up on smartphones. They've become devices that don't enable us to talk to each other. They enable us to avoid talking to each other. The result has been a reduction in empathy and a struggle to form relationships that are built on trust."
Hosted by Professor Davis, The Policy Shop is a monthly podcast about public policy and the way it affects Australia and the world. Subscribe on iTunes.
Banner Image: Pixabay