Why are we so angry?
Even though the world has never had it so good, there is still much division and uncertainty. Professor Peter Singer discusses what it means for the future.
GLYN DAVIS
G'day, I'm Glyn Davis and welcome to the Policy Shop; a place where we think about policy choices.
[Audio Excerpt]
Tonight in Chicago, a college campus suddenly erupted.
[Crowd chanting]
Police and protestors doing battle because political tensions have reached a boiling point.
We have lost control of our borders as completely as members of the European Union. If people feel that voting doesn't change anything, then violence is the next step. Now, I find it difficult to contemplate it happening here, but nothing's impossible.
You could put half of Trump supporters into what I call the basket of deplorables. Right? The racist, sexist, homophobic, xenophobic, Islamophobic, you name it.
You have a country that's so divided that maybe if you don't understand it. I've never seen anything like it.
The tension between Trump lovers and Trump haters has been building for weeks. John McGraw told Inside Edition he'd be tempted to throw more than an elbow.
The next time we see him we might have to kill him.
Let's get rid of the flag, the anthem, Brussels and all that has gone wrong. Let June the twenty-third go down in our history as our independence day.
GLYN DAVIS
Today, we ask why are we so angry. The human race has never had it so good. Life expectancy has risen by more in the last 50 years than in the previous thousand. When the Berlin Wall fell in 1989, two fifths of humanity lived in extreme poverty. Now, it's just one eighth. Global illiteracy has dropped from one half to just one sixth in the same span of time. For the first time in human history, poverty is declining. Yet, we've never felt more divided. A nation that for so long symbolised freedom and hope has placed a ban on refugees entering its country. A key member of the European Union is departing an institution established to bring Europe back together after a scarring war. Why, when we've never had it so good, are we living in an age of anger?
Joining me on the line to discuss this, Professor of Bioethics at Princeton University and Laureate Professor at the University of Melbourne, the distinguished philosopher, Professor Peter Singer. Peter, welcome to the show.
PETER SINGER
Thank you very much, Glyn.
GLYN DAVIS
Is it anger, is it insecurity; in your conversations in the United States, what's the underlying mood that produces this extraordinary political situation?
PETER SINGER
I think it's a combination. There certainly is some anger at the political elite that some Americans feel has not served them well, has not looked after their interest and this idea that politicians are just concerned about themselves. So there's that. There's also some fear about the future and the combination of terrorism and immigration is a pretty explosive mixture when you think about it because you trade on that visceral reaction; oh here are these foreigners coming, they're not like us. Not just that they don't look like us, but they have these different customs and different religious beliefs and so on, and some of them might be terrorists. So there's a kind of fear of that.
Then there's this almost sense of grief, perhaps, for the idea that America is not what they'd grown up hoping it would be, believing it would be; that it would always be strong and progressive and going forward. At least some parts of the country that's clearly not happening. The loss of manufacturing jobs has been a problem. For the blue collar, white workers, they are not getting the jobs and the good jobs with good conditions that they used to get in places like Detroit. It's not surprising that they're feeling some sense of loss.
GLYN DAVIS
So is inequality driving this anger? Are we witnessing the inevitable outcomes from the global financial crisis and from concern about the concentration of wealth in some societies?
PETER SINGER
My reading of it is slightly different because in talking to Americans, and I'm particularly thinking now about talking to American's outside the academic bubble, talking to the cab drivers and other people that you meet with. In general, they were not concerned about inequality. In fact, American's to somewhat a surprising extent to me, had an idea that well, if you've earnt it you deserve it and you ought to keep it. I think the idea that people were worse off than their parents had been, the standards of living were falling for them.
Not so much in relation to the one percent, but in relation to how it had been before and to how America could be, and the sense that we were giving too much away. We were giving too much away to the Chinese in their trade deals that they could make things that we could no longer make. We were giving too much away to the immigrants, particularly the undocumented immigrants, who were supposedly taking jobs that Americans could have done. I think it was more that sort of resentment than some kind of ideological resentment against inequality.
GLYN DAVIS
You've just given us a sense of divisions in America and they also seem to be rural versus city as well as potentially ethnic divisions. How should we analyse this? Do we think about this in traditional class terms, do we think about it in terms of political identity? How do we come to terms with the fact that there are many different groups in America who seem to hold views that aren't necessarily those you might expect their interest to lead them to?
PETER SINGER
I don't think the traditional class analysis of politics really works in America because you get people clearly voting against their class interests in the economic sense. We had this phenomena, I don't think it's quite as strong with Trump, but it's there - you certainly had it very strongly with George W Bush - that people seem to be voting basically on religious lines more than their class interests. I remember - I think the only person that I talked to at Princeton University, who was going to vote for George W Bush in 2000, was the janitor. I remember having a conversation with him as he was coming in to empty my trash bins about that. Essentially he said Bush is a good Christian and he didn't think Gore was. So that was it. Basically, the rest of it didn't count very much.
Trump is clearly not a good Christian and it's a bit surprising that some of the religious right seem to have voted for him. But now he's paying them off by appointing a conservative, anti-abortion Justice to the Supreme Court. Maybe that makes sense in some way. But I'm not sure how you do analyse American politics because it seems like there are so many shifting coalitions and there's the sort of tea party, small government, almost libertarians, some of them like Rand Paul are libertarians, and how they fit with these social conservatives and religious social conservatives is pretty difficult to see. But somehow, maybe it's a pragmatic alliance for them.
GLYN DAVIS
Peter, anger is clearly winning at a time when we've never had so many tools to drive political and social engagement. What is the importance of these new forms of media?
PETER SINGER
I think the most serious one in the context of the US election is the wave of fake news that a lot of people believed in. So what the social media are doing is that instead of having a small number of reasonably responsible media that people were getting their news from, you were starting to get all sorts of things being put out on the web. Things that were just quite bizarre. I think there is now a problem in sorting out what really is the reality and what is fake. That could be a problem not only in that election, but in other elections elsewhere.
GLYN DAVIS
As it has been in the past in 1864, a misinformation campaign nearly derailed the re-election hopes of then president Abraham Lincoln. Let's hear what recently departed President Barack Obama had to say about the role of the fourth estate, and indeed the fifth of state, in contemporary politics.
[Audio Excerpt]
In the rise of naked partisanship, and increasing economic and regional stratification, the splintering of our media into a channel for every taste; all this makes this great sorting seem natural, even inevitable. Increasingly, we become so secure in our bubbles that we start accepting only information, whether it's true or not, that fits our opinions instead of basing our opinions on the evidence that is out there.
GLYN DAVIS
We just heard Barack Obama calling out, in his final address of President of the United States, his concerns about changing ways people receive information and what they believe. In the US a recent poll suggested that 50 per cent of self-described conservatives rely on a single news source, Fox News, for the political information they're most likely to trust. Peter, is this retreat into bubbles that fit out opinions, a sort of echo chamber, debasing the idea of a political conversation?
PETER SINGER
I think it is. I'm not sure what can be done about it. Certainly, not sure what can be done about it within the normal constraints of permitting freedom of expression, which I've always been a strong supporter of. Fox News was alarming enough in itself when you watch it because it does present a different reality and some of the people on it are quite extreme. But it seems to be getting worse still. As I said, these completely fake stories are also getting a fair amount of credence in some circles.
I'm not sure where we're going to go with that. I'm not sure how we can again get back to the kind of national conversation that you can have when essentially if you go back to when I was first in the United States in the early nineteen seventies, I spend a year in New York teaching at NYU. Pretty much everybody watched one of the three major - CBS, ABC or NBC in the evening news, or they read the New York Times, or they did both. That certainly isn't happening anymore.
There was clearly something good about it, there was also something bad about it that if something didn't make it onto those media then it had no chance of being part of the national conversation. So I don't know how you can avoid the problems of effectively censorship, which we don't want, and still get that kind of national conversation going.
GLYN DAVIS
Peter, those channels from New York you described from the seventies were emblematic of a time when traditional journalism relied on I guess respected, but certainly professional news readers, as the arbiters of what seemed real and would be presented to the public as news.
That seems to have been swept aside by social media, where there's no particular value put on something that comes from the New York Times, compared to the fake news you described earlier. That seems to me a fundamental dilemma for a democracy that does rely on some agreement about the facts in order to have a discussion about policy choices.
PETER SINGER
That's true. In a way you could say what this shows is it vindicates those analysts of democracy back in the fifties and sixties I guess, or earlier. Joseph Schumpeter was the start but then there was Dahl and others who essentially said that in democracy people choose between elites. The idea was that the elites have some control over making sure that things go reasonably well. Of course, those analysts, Schumpeter in particular with an Austrian background, were looking back at the demagogues of the thirties and were favouring this system because the elites would not have permitted something like Hitler.
But now the elites have gone for technological reasons more than any other, and I don't want to make the comparison between Trump and Hitler, I think that's overblown. But still, we do clearly have more options for demagogues to gain power and to do so on the basis of what are essentially lies, as Hitler did.
GLYN DAVIS
No one's burnt down the Reichstag, but we still have a real problem about how we have a public conversation around values and policies in this setting.
PETER SINGER
No, nobody has burnt down the Reichstag or the Congress building. But we don't know what crisis might occur in the next four years, and we don't know what the Trump Administration might do to respond to that crisis and to what extent the restraints in the American system, which has had strong restraints from the separation of powers and the independence of the legislative branch and of the judicial branch, we don't know how well they would work in those circumstances.
GLYN DAVIS
Can we spend a minute thinking about what this might mean for democracy. I agree, it's not really about Donald Trump, but it is about changes to the political system that matter. Twenty-five years ago I guess political scientists Francis Fukuyama announced the end of history and the inevitable triumph of liberal democracy or liberal capitalism.
His argument was simple, that democracy would win out over all other forms of government because the natural desire for peace and wellbeing set nations on a path to progress from which they were unlikely to divert. A quarter of a century on, democracy's not looking anywhere near as strong. Is this about rejection, fundamentally, of democracy and liberal values?
PETER SINGER
It hasn't come to the rejection of democracy and liberal values as yet. I think most people that I know, and I include myself, are still hoping that what we've seen with Brexit and Trump and the rise of the political right in Europe, that that's an aberration, that that's going to go and that we'll be back where we were.
After all, you could say the election of Trump was due to a combination of unfortunate circumstances and could very easily not have happened. All sorts of things, Hilary's email problem, the timing of the FBI director's letters, a whole range of things. Possibly the Russian hacking and intervention into the democratic centre.
Possibly, Hilary turned out to be the wrong choice against Trump. A lot of people are saying that if Joe Biden had been a candidate he would have won comfortably, and perhaps Bernie Sanders would have as well. So I wouldn't give up on liberal democracy as yet, but things are not looking good; I agree with you about that.
GLYN DAVIS
In your most recent book you did touch on the question of elections and, indeed, of compulsory voting as a sort of debate. In Australia, we take that for granted. We've had it for nearly a century but it's, of course, anathema in many parts of the world.
One of the often commented implications of the Brexit vote was the failure of well-educated people under 30 to vote, to engage to be part of the debate. If the opinion polls had been matched by the vote, that is if people who'd been polled had also voted, the Brexit outcome would likely have been different in the same way perhaps as the US election. Are we seeing a significant group of people who just see no stake for themselves in the way the system is now organised?
PETER SINGER
It does seem that we are, but people keep saying there's no difference, politicians are all alike. I don't understand how they can say that when they look at Trump. For that matter, if they looked at Bush and Gore. I remember Ralph Nader who was running for the Greens was saying this in the United States when there was something of a movement because people realised the election was close and there was something of a movement to say look, Nader should withdraw; since Nader had no chance of actually winning he should withdraw from the key swinging states, including Florida which turned out to be the key.
His answer was look, really there's no difference between the Democrats and the Republicans. But obviously, there was a big difference between Bush and Gore. There would have been a big difference on climate change, there would have been a big difference, I think, on the invasion of Iraq which was a very serious mistake that we're still living with, and made possible the rise of ISIS. I can't really understand how people can keep saying that, but they do, some of them do.
Again, you would think Trump would wake them up and say well wait a minute, there is a huge difference between the politics that we had before and what we've got now. I do favour compulsory voting; I think it's worked well in Australia. But as you say, it's not likely to come in in the Unites States and in some other jurisdictions either. So I just wish people would realise that it is important that they vote and that it's not voting that allows some of these results that they then later regret to take place.
GLYN DAVIS
In the first couple of weeks of the Trump presidency we've seen a substantial level of protest, perhaps acts of civil disobedience, and we may expect to see more of those as the Trump agenda rolls out. How should we think about legitimacy and democracy and the rights of an elected leader such as President Trump to make the decisions, however unpopular with some?
PETER SINGER
I think that civil disobedience is compatible with democracy, with accepting the democratic method of decision. In fact, this takes me right back to my Oxford thesis which was on the obligation to obey the law in a democracy, and later became my first book; Democracy and Disobedience. What I argued then, and I still believe, is that non-violent civil disobedience is compatible with democracy. That it's a form of protest to show the seriousness of your convictions, to show that you think important principles are being violated. By abjuring the use of violence you are showing that you do have respect for the law.
Even as in the classic form of civil disobedience as practiced by Gandhi and Martin Luther King, even that you will accept the punishment for the offence. So that if the courts sentence you to prison, as, for example, famously Martin Luther King went to jail in Birmingham, wrote a famous letter from Birmingham Jail defending civil disobedience, then that's what you do. You're showing your respect for the law, but you're showing the seriousness of your opposition to what is happening to belief that that is deeply wrong. I think we're going to see more of that with the Trump presidency. I think what we've seen this week is probably just the beginning.
GLYN DAVIS
It does raise an interesting question, doesn't it, about what are the constraints on the powers of a democratically elected leader in the open society and its enemies. Karl Popper started asking this question about how do we avoid situations in which a bad ruler, in his term, causes too much harm. It goes again to your argument that disobedience and protest are entirely valid, violence is not. How should we look to constraint on any leader, not just this particular one?
PETER SINGER
I think the constraints come from civil society. I think you need a strong civil society which can organise protests, can mobilise public opinion, and eventually can influence the ballot box as well. One thing that I would expect to see in the United States as the Trump Administration goes on, and I'm sure it will go on upsetting people, is that the midterm congressional election in two years when the house of representatives gets completely re-elected and a third of the senate gets re-elected, I would expect that there'll be much more excitement and involvement in that election than there has been for a long time. Because usually the turnout is quite low there, and that's, again, benefited the republicans often.
But I think that might well change. I think people will be saying this time we can't let this go on, we have to have a strong congress that will be a restraint on the president. That's the best way of trying to restrain leaders, of showing them that the public is organised, the public cares about what they're doing, and eventually that will unseat them.
GLYN DAVIS
So institutional design really matters because if you're going to have balance in the system the institutions have to make that possible?
PETER SINGER
Yes, institutional design does matter. I think there are flaws in the US Constitution, in particular, the fact that Donald Trump is now there as president, and unless he dies he's there for four years and nothing really can change that. No matter what happens in the midterm congressional election, he will still be there and he will still be running the Administration and appointing Judges to the Supreme Court.
So it's not an ideal balance but I guess no system has an ideal balance either. In our system you have a Prime Minister where the strong majority in Parliament is also not vulnerable, at least for the time until the next election. So yeah, it's hard to find that balance and different systems do it in different ways.
GLYN DAVIS
It does prompt an interesting comparison, doesn't it, between parliamentary and presidential systems and the different ways they deal with controversy and, indeed, choose and dispose of leaders.
PETER SINGER
I think that it's also relevant to the kind of leader you have because as I've been saying to my American friends, you cannot imagine a leader like Donald Trump really in the Australian context because leaders are selected by their parliamentary parties after showing their skills and their virtues in parliament. I suppose you could get a completely outside party getting elected, and we could imagine One Nation sweeping the - that would be the equivalent of it - and putting Pauline Hansen up there as leader. But that seems a much more unlikely event than what's just happened in the United States.
GLYN DAVIS
If we turn from the immediate to the long term, in your more recent book, [more to quote];" I am enough of an optimist to believe that should humans survive for another century or two, we will learn from our past mistakes and bring about a world in which there is far less suffering than there is now." So the optimist in you says even in a difficult moment you can see a better future?
PETER SINGER
I am an optimist but I do think that we're in a very difficult time now. But the long term trajectory of our species, as I think you said in your introduction, has been upward and is quite strongly upward in the last 70 years, the period since the Second World War. We have had fewer people dying violent deaths than in any past era of human history as far as we can tell. That's despite the impression people have from the newspapers that things are chaotic, that terrorist attacks are happening here and there.
But if you look at it in terms of numbers, the chances of any individual dying a violent death at the hands of their fellow humans are now much smaller than they were in previous eras.
As you said, we're also beating poverty, we're beating major diseases in the ways that we haven't before. So all of that looks positive. We have to get through this period where we're grappling with climate change and not quite knowing what to do about it, and this period of uncertainty and anger; perhaps due to immigration and some of those issues, perhaps due to changes in the global economic system.
But then I do think the problem [insoluble] and that we are continuing to make technological progress, the technical progress can bring about greater prosperity. That greater prosperity can be distributed in a way that reduces extreme poverty. Again, you quoted figures showing that extreme poverty is falling to historically low levels. So yes, I'm sort of an optimist; if we can get through the next 50 or 100 years okay, then I think we can have a long, long future of prosperous and rich, fruitful lives.
GLYN DAVIS
Which is very encouraging. But I think it's important to say you're an optimist and an activist in the sense that you're not relying on others to do this. The organisation that you co-founded, The Life You Can Save, is an important personal commitment to addressing the lives of people in extreme poverty. What role for organisation outside of government, organisations that are community-based to make a difference here?
PETER SINGER
I think organisations outside government are making a huge difference in a range of areas, and The Life You Can Save is focused particularly on extreme poverty and trying to help people in extreme poverty and reduce it in the most cost-effective ways possible. Non-profit organisations can be more flexible and more experimental, more daring than governments tend to be in their foreign aid. Also, less influenced by political considerations. So there are some very good non-profit organisations working against global poverty.
The problem is that the general public doesn't really know which are the really good ones, and a lot of them have a sort of suspicious view because every now and again a big scandal breaks and it turns out that some founder or CEO of an organisation was simply taking money out of the coffers of the organisation and very little of it was doing what it was supposed to do. So people get this negative idea. But there is now really good research showing which organisations are effective.
What The Life You Can Save does, and I invite listeners to go to The Life You Can Save dot org and have a look, is it aggregates that research and it recommends those organisations of which we can be highly, highly confident that they will make the best possible use of charitable donations. So that's an important message to get out because I think a lot of people do want to be generous, they do want to help people less privileged than they are, but they don't want to waste their money, very sensibly. So they need that information.
GLYN DAVIS
So you're addressing two problems there; you're addressing the problem of extreme poverty, but also the problem we were talking earlier, how do you get facts and information in a post-truth society.
PETER SINGER
That's what we're trying to do. But I suppose there could be other people who would say they've got a different view of it and people might have to choose. At the moment the organisations like The Life You Can Save that are doing the research I think are all pretty much on board with the basic criteria for what we ought to be looking for and how we ought to do that research.
So at the moment I don't think it's too difficult to distinguish the real research from anything else as long as you're an evidence-based kind of person, as long as you are not the kind of person who says well I saw this photo of a happy child so that must be a good organisation so I'll give to them. Certainly, there's lots of that out there and it's not a very good way of choosing the organisation to donate to.
GLYN DAVIS
One of the protestors in Washington last week held up a sign - a young man held up a sign that said what do we want, evidence-based policy, and when do we want it, after peer review. But getting evidence into public policy discourse has always been difficult, it seems to be a particularly difficult moment now.
PETER SINGER
I don't know what's happening in this area. I actually - I was invited a year or so ago to Washington to give a talk to USAID, the United States International Aid Bureau. I was impressed by the people there. They were concerned about evidence, concerned about using USAID as effectively as possible. But of course they were a bit frustrated that there were political decisions about how much aid should go to some countries rather than others, and that wasn't always the best.
But within those constraints they were doing what they could. But I have no idea what's going to be happening now. I've just seen that Trump has told people in the state department, and I guess other government departments, that if they don't like the Trump program they should leave. That's a pretty frightening prospect because then you may well get people who don't care about evidence at all.
GLYN DAVIS
And on that somewhat frightening moment. Peter Singer; optimist, activist, philosopher and writer, thank you for joining us today on the Policy Shop.
PETER SINGER
Thanks very much Glyn, it's been great talking to you.
The Policy Shop was produced by Eoin Hahessy, with audio engineering by Gavin Nebauer. Research in this episode was by Ruby Schwartz and Paul Gray. Copyright, the University of Melbourne, 2017.
Life expectancy has risen by more in just the last 50 years than in the previous 1000 years. When the Berlin Wall fell, two-fifths of humanity lived in extreme poverty. Now it's one-eighth. Global illiteracy has dropped from one-half of the population to one-sixth during the same time. For the first time in history poverty is declining. Yet why are we so ANGRY?
Philosopher, author and activist Professor Peter Singer joins the Vice-Chancellor of the University of Melbourne, Professor Glyn Davis, to discuss why – at a time when the world has never had it so good – we feel increasingly divided.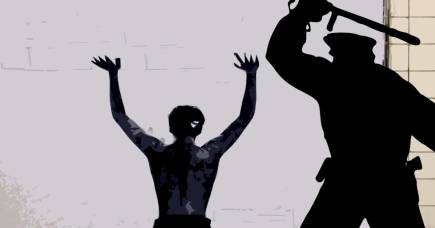 Episode recorded: 6 February

The Policy Shop producer: Eoin Hahessy
Audio engineer: Gavin Nebauer
Banner image: A Boston protest against US President Donald Trump. Picture: Shutterstock
Hosted by the Vice-Chancellor of the University of Melbourne, The Policy Shop is a podcast where public policy subjects are examined by global and Australian experts.