Why we shouldn't fear old age
As many of us look forward to living a healthy life for longer, Martha Nussbaum and Saul Levmore say it's time to think differently about ageing
Glyn Davis
G'day, I'm Glyn Davis and welcome to The Policy Shop, a place where we think about policy choices.

Female 1
There have been many revolutions over the last century but perhaps none as significant as the longevity revolution. We are living on average today 34 years long than our great grandparents did. Think about that, that's an entire second adult lifetime that's been added to our lifespan, and yet for the most part our culture has not come to terms with what this means.
Female 2
We are on the cusp of a very big shift in the world's age structure. To put it simply, the share of old people is going to rise very dramatically, there are currently about 600 million people in the world aged 65 and over, by 2035 there will be over a billion. That increase, relative to a slower growing overall population, means that the share of old people compared to workers is going to rise substantially in many parts of the world.
Male 1
You know, if you go around making jokes based on another person's gender, that's sexism, if you make jokes about another person's race, that's racism, but if you joke about somebody's age, that's called situation comedy.
Male 2
The ratio of potential workers to every older person is projected to nearly halve. Fewer workers means less income for Australia, so what plans can we make now to increase employment? There are important decisions facing our nation now.
Glyn Davis
The world's population is ageing, with virtually every country in the world experiencing growth in the number and proportion of older people in their population. In 2017 there were an estimated 962 million people aged 60 or over in the world, and this number will reach 2.1 billion by 2050. Here in Australia, our population will age dramatically over the coming years. The number of people aged 75 years and over is projected to increase by about 4,000,000 between now and 2060, that's a city the size of Sydney.
How do we as a society view ageing and does our view of ageing colour the policies developed for and implemented for the elderly in our society? Can we think differently about a community so often forgotten?
To help us answer these questions we are joined from a very wintery University of Chicago by the co-authors of a recently published and wonderful book on the subject of ageing, Ageing Thoughtfully: Conversations about Retirement, Romance, Wrinkles and Regret, is co-authored by philosopher professor Martha Nussbaum. Martha, welcome to the podcast.
Martha Nussbaum
Well thank you very much, I'm looking forward to it.
Glyn Davis
Her co-author is Professor Saul Levmore, professor of law also at Chicago. Saul, welcome to the podcast.
Saul Levmore
Thank you, it's nice to be with you.
Glyn Davis
Martha, in the book eight pairs of essays tackle various aspects of later life, from the nature of friendships and family relationships to the loss of physical and mental control. Why did you choose a book on ageing at this point?
Martha Nussbaum
Well, you know, it's sort of like what Cicero says at the beginning of his work on ageing, he was in his 60s and he said to his best friend, you know, we're not really that old yet but we should look ahead and scout the territory and we had that same feeling. But also like Cicero, we felt that it isn't just for people who are ageing themselves, but it's a conversation that families need to have, that younger people who are soon going to be caring for ageing parents need to have, so it's really a book for every generation.
Glyn Davis
Saul, Cicero when he wrote De Senectute was surprisingly old already for Roman society where most people expected to live to around 35. Has our thinking about life changed profoundly because life's span has changed?
Saul Levmore
Well I think it's mostly been a positive change, we think we have more opportunities, we're not always in fear of death tomorrow. On the other hand, planning is more important, we need to think about saving money, not everybody does, societies need to think about the fact that many people when they're old are at the peak of their profitable experiences and public service and other people will just like to take it easy.
So I think adjusting for people who have different attitudes towards time is really useful. I wasn't living back then in the old days but I have a feeling that they were general expectations about what 25 year olds or 30 year olds would do, it's a little bit different now and they're very different attitudes about what 75 year olds will do.
Glyn Davis
With life expectancy now nudging 80, that's a lot of additional years.
Martha Nussbaum
We'd also add, some of those images of what a person of a certain age can do are false constructs based on discrimination and prejudice and Cisero is already aware of that, and in fact he stormed the mountain fortress at the age of 55. So he was not a physically robust person, but just because everyone does so much daily exercise they were all in much better shape than most of us. So we have to remember that our expectations might be wrong.
Glyn Davis
Saul, does our society stigmatise the elderly?
Saul Levmore
Well, we certainly stigmatise some elderly but I think our society is really good at stigmatising everyone. So you know, I mean that half tongue in cheek, I mean I think we roll our eyes at some young people, we roll our eyes at some spoilt parents, you know, we kind of stigmatise everyone, and we also recognise that within those groups there are people who are super productive.
All of society knows that we'd be terrible shape if everyone disappeared after age 65, some of the most productive citizens, politicians, inventors, musicians, a lot of these people are in years that would have been unimaginable 100 years ago.
Glyn Davis
Martha, one of the issues you take up in the book is the housing of the elderly and the segregation that happens through retirement villages. Doesn't this just compound how we view the elderly as separate and needing different sorts of facilities but not part of a broader community?
Martha Nussbaum
Yeah, see one of my main beefs against compulsory retirement, which Saul and I have some differences about this, but is the way it enforces a separation. I think that you stay - first of all, work keeps you young and we should be able to go on working I think, but also it keeps you in touch with people who are young, who have new ideas, who challenge your own ideas and I think that some people become dogmatic as they get old, that's a real risk, but to keep in touch with people who are younger and who have new ideas is so important.
So, the physical housing set up then plays into that because if ageing people live in a way that they're not only separated from others but they can't drive a car, then in the US they can't really get anywhere, then that is a further problem that compounds their being isolated.
Glyn Davis
You touched on compulsory retirement then, and indeed the book is quite clear about the difference of views that you have, so Martha, you are very opposed to compulsory retirement.
Martha Nussbaum
Yeah, I think it's as unjust as discrimination on the basis of disability, discrimination on the basis of race and so on. Now, of course there can always be termination for cause and in universities that is very hard and it should be very hard, and there certainly can and should be incentives to take early retirement and every university has long since adopted those policies.
But you know, I've been working all my career in a world where there was no compulsory retirement and so I think it's tremendously affected one's view of oneself. Because you don't think, oh, in so and so many years I'll be on the shelf, I'll have to get out of my office, I'll have to terminate my working relationships with other people, and I think that's tremendously important. Now, I mean, Saul - and I don't differ totally on this, so I think I'll let him say what he thinks about this.
Glyn Davis
Because Saul, you make a very case for strong case for compulsory retirement in the book.
Saul Levmore
To be fair, it's not really a mandatory compulsory retirement, it's not that everyone in society must close up shop at age 65 or 70, but rather that employers should be free to institute contracts of compulsory retirement. So for example, if it's difficult for a bank to explain to people why they're now getting paid more money than they're worth and so forth, the bank might say, you know, in this bank, come take a job here when we make you an offer but you need to retire by age 71, or they can come up with an age if they want. If people don't like it, they don't have to go and work there.
So I am very much in favour of it, I don't like systems where people are always evaluating one another, and so far then I think indeed I think a way for many older people to get jobs is for employers to realise that can hire somebody at age 60 who won't be able to stay more than five or eight years or whatever the employer says. It's very hard for people in their 50s and 60s to get jobs and I think that's really a shame.
So yes, I think some compulsory retirement by contract is really healthy but it's not just that I think it's healthy for young people, I think it's healthy for many old people themselves.
Glyn Davis
It's refreshing to read a book where the co-authors disagree and are quite open about that disagreement. It's great.
Martha Nussbaum
See, I think that helps make my case because we're having so much fun arguing, you know, and if we had to go, oh, goodbye we have to go home now because we're 65 and over, you know, that would really terminate this nice arguing community that we have.
Glyn Davis
… and take away the idea of a mixed aged workforce, yeah.
Saul Levmore
Let me just go back to retirement communities for a minute because I don't know the situation in your culture that well, but in our culture, like Martha and I have wonderful jobs, as you do, and we really value our interactions with younger people, but that's not true for everybody. You know, people are different in different societies and it depends where live and what kind of work you have. I think when you go and visit some retirement communities, they may not be places that I want to live but it's really inspiring how some people who have practically never taken a day off in their lives, suddenly rediscover their inner selves at age 70.
They retire, they join painting clubs, they go to music, they do things they never would have done before, and I think it's lovely. If they do them better with people their own generation, that's not what I want to do, but if they want to do it I think that's really great for them. So just as I don't want people to think bad things about all old people, I don't want people to think bad things about all retirement communities.
Glyn Davis
One of the striking metaphors you use in the book, and Martha, you stress this in one particular passage, you say it took a revolution to raise consciousness about the effects of sexism on women's lives, when it comes to ageism, that revolution is only now gathering steam. Can you talk about the comparison between sexism and ageism and what drives each?
Martha Nussbaum
Of course they overlap, because I do make a point of how it's women that are more stigmatised than men, at least with respect to things like sex and love, where men are expected to be active, worthy of young, beautiful women and so on, and women are expected to go on the shelf and retire gracefully and so on. So yeah, I think we have to recognise how much attitudes that we think are just natural, are actually part of a social construct, and it's hard to do that.
Simone de Beauvoir whom I talk about, wrote a book on sex where she was able to see that our attitudes about women were part of a baneful social construct. But then when she comes to write about ageing somewhat later, she just says, oh, it's nature that somehow you look at yourself in the mirror one day and you suddenly say, oh, I'm horrible, I have no purpose in living and so on. You know, I think she just hadn't - she'd been the victim of just that sort of social propaganda that she herself exposed in her earlier career. So, I just think we need to see how much of our attitudes towards ageing are part of social propaganda and not based on anything real or solid and in need of seeing the light of day, so to speak.
Saul Levmore
Well, I completely agree with Martha, and I also have an observation. I mean, I think in our society, that is in societies with a modest amount of ageism compared to the past, it might be easier for both men and women to be 70 than to be 40 these days, but there's many 40 year old women as well as men are obsessed with their ageing, oh, I've lost hair, oh, my legs are not what they used to be. I mean women and men talk about this all the time about their paunches and their this and their that, and you know, I think by the age of 70 people are pretty happy if they're in decent shape, they're happy to be alive, they have more reasoned views about ageing. They may still obsess a little bit about their appearances, but they know they're not fooling anyone into thinking they're 30 anymore, and in a lot of ways it can really be very liberating. I think a lot of the things that Martha says, I worry more about the 40 year olds than I do the 70 year olds.
Glyn Davis
Going to the 40 year olds, how much, I wonder, is this a generational conflict, not just a cultural - so cultural norm sort of generation conflict. The book notes that baby boomers are refusing to lie down and die, and it talks about the tensions that are going on because the generation coming through is having trouble affording housing, finding the sort of security of jobs that their parents enjoyed. How much are we seeing, if not anger, resentment of one generation against another? I mean how much is this privilege at play?
Martha Nussbaum
Well I actually don't see the younger generation being so eager for early retirement. I guess what I think is that what the baby boomers are doing for the understanding of bodily health as one ages, the ability to work as one ages, the way they're changing social perceptions will actually help everyone when they get up that far and I would think that the people in their 40s are recognising that.
Glyn Davis
Saul?
Saul Levmore
You know, I think most really young people have trouble being friends with older people. Maybe it doesn't have to be that way, but I think in some neighbourhoods and jobs people overcome that, but I think it's really asking a lot for an 18 year old to barely be friendly with a 78 year old. I mean it happens, but it's unusual. But that's okay with me, it doesn't mean they can't live with one another and get used to one another and they can learn a lot from each other.
So I also have a very optimistic view if we let people interact with one another, they don't stereotype them all, inevitably I think most people really come to like people they know.
I think if there are fears, they are really long scale, long, large scale fears. For example, younger people now in many countries really are less well off than older people in those countries. The older people are much better at forming interest groups and saying, oh, woe is us, we don't have money, give us money, and really it's say 30 or 40 per cent of the older population who hasn't saved enough or doesn't feel satisfied with social security and the like. So I think older people are better at lobbying and saying that they're being maltreated, but really the evidence is that younger people as an age are struggling a little bit more, and maybe older people recognise that, maybe they don't, but I think if they just thought about it more and studied it more they would understand.
Most people would rather really have good public schools in the area even though it's younger people who would benefit from them. They might also like places for the elderly to get together but they understand that the society really needs to pay a lot of attention to younger people, even as it doesn't discriminate against older people.
Glyn Davis
So let's turn our attention if we may to a number of the policy issues that you take up through the book. We've talked about compulsory retirement, but there's of course a substantial discussion around the economic circumstances of the old, both the wealthy old but also importantly the elderly who are poor. That's certainly an issue in Australia, one third of Australian pensioners live in poverty and rely on social security as their only income. You raise a number of possibilities in the book, the two of you, around how we might address this question of the elderly poor. Martha, how significant an issue is this and what are the choices that we should be thinking about?
Martha Nussbaum
Well, it depends of course what country you are in and I am, despite my location, a European social democrat, I spend a lot of time working in Finland doing some UN related development work and I guess I think Finland and the Nordic countries have it pretty well right. That is a generous social safety net that includes in-home nursing care so that you don't have to put all the nursing care onto your children and you don't have to choose between some lamentable institution and being without care. Of course, those things are under strain today, even in Finland and so on, but boy, they have the right ideals and so does actually most of Europe to one degree or another.
But you know, in the US, I mean the one reason people don't want to retire is that the healthcare is so uneven and even for people who are working who have the best insurance, it's very costly because you end up getting billed for a lot of stuff anyway. But people who are poor are really, really in trouble if they're in the hospital. Suddenly, a week later they're in the poor house, you know?
That is really the way the US seems to want things to be, unfortunately there's just not the same sense of mutual identification, family compassion, that you find in smaller countries, and people just think, oh well, if they're poor let them suffer and let them just drop out off the edge of the world. I think this is terrible, but you know, that's where we are.
So what we can do is we can at least work at the state and local level where there's a little bit more hope I think of decent policy and try to get policies that diminish the isolation of the ageing people, for example good public transportation. I do think self-driving cars will help in the mobility isolation of the elderly in America. But anyway, all these kinds of things are impossible at the national level right now, so you know, we have to try to work locally.
Facilitator: The book does say, and it's a sort of provocative sentence, that it's hard to make the case to invest in the elderly poor and I quote, "there are superior moral and economic claims in a world with limited resources."
Saul Levmore
Yeah, it is a great sentence, isn't it, Martha? I think there are much better solutions, and as much as I don't usually rely on government to solve my problems, I think it's in all our interests, given the likely political power of the elderly, it's in all our interests to dramatically increase the size of social security systems, say 50 per cent or 70 per cent bigger than they are now. So that there would be very, very few elderly poor. You know, it's anybody that qualifies for social security, when he or she did stop working, would have enough money coming in that they really wouldn't be poor. In the United States, that would require probably a 50 per cent increase in social security taxes as well as income later on.
So I like this idea of forcing people to save for their own retirement because I don't want them to exercise their political power of exerting all sorts of things later on while the rest of society is mad at them for not saving money and so forth. I don't think we can afford to have so many elderly poor, but I think there's a solution, it's to make them save for their own elderly lives.
Glyn Davis
Compulsory superannuation is a common feature of many European social democratic countries, it's certainly the case in the Australia. What are the impediments in the United States that haven't seen similar policies?
Saul Levmore
Well, even in those systems I'm not sure the taxes are high enough. First of all I think in some countries that have really minimal systems, even the United States, there's a higher rate of immigration so it's not clear what would happen to people who moved into the system when they were 50 and 60 years old, people's grandparents come and live in the United States, would they qualify? Would they not qualify? I mean it's a very, very expensive sort of system.
Also in some countries again like the United States, there's a significant percentage of the population that have earned really good retirement policies as well as reasonable healthcare, so for example everybody that was in military service for 20 years or more, everybody that worked for state and federal government for 20 years or more. So it really is a concept within the class and those people might not want other people to suddenly be taxed and have more money because they would also get taxed.
So there's a lot more that needs to be worked out but I think that's probably the right way to think about it, that we want virtually everybody in society to have some guaranteed income when they do retire and then that would take away a lot of their political power in battling about what more they should get.
Glyn Davis
Martha, in your section discussing the elderly poor, you introduce the idea of what you call a capabilities approach which recognises the diversity of capabilities and experience amongst people and asks for policies that reflect this diversity. Can you expand a little on what you have in mind here?
Martha Nussbaum
Yeah, okay, well for some time I've been working along with economist Amartya Sen on an approach for measuring relative welfare. Perhaps also for thinking about constitutional entitlements, that's what I've done with it, which uses the idea of capabilities, meaning opportunities for choice, that people should be guaranteed certain opportunities for choice in certain key areas such as the ability to enjoy decent healthcare, the ability to get a decent education and so we go down the list and it corresponds really quite well to what constitutions of the European countries or of India and South Africa have actually put into their constitutions.
US doesn't recognise this constitutionally, social and economic rights, so it doesn't exist - those don't exist there, but anyway, so the ideas do. The idea is that instead of just asking how rich a country is, you should ask the question, how far does it extend these basic opportunities to all of its citizens? It's sort of like a cashing out of our declaration of independence, the idea of life, liberty and the pursuit of happiness, except that that was said by Jefferson but not really believed by most Americans today, I think.
Saul Levmore
I like the idea, I think it's different in different countries because we have different political systems that take charge of how to cover costs. You know, the United States spends plenty of money on healthcare, even for the needy elderly, but we don't get very much for it. So in many Europeans countries the healthcare system is much better at lower costs. I'm a little bit afraid that the more we just tell people, oh, you're guaranteed this healthcare, you're guaranteed other opportunities, it might be that people would care less about controlling the costs. On the other hand, it might be that the government would care more about controlling the costs because it would actually have to provide it for many more people.
So I'm a little bit uncertain about which way to go. I like systems where people think about are they really happy with how the government spends money. You could say the same things about things that the United States does require essentially politically and legally. So for example, like most countries we do think that everybody is entitled to an education up to some age, but the quality of the education is not always so good, and yet the cost of the education in the United States is very high.
So I'm not sure that telling people you're absolutely entitled to this is necessarily the way to make your society better off, it might make it easier for people to increase costs without making it better off. I would care more about the quality and the cost.
Glyn Davis
I'd like to turn briefly if I may to a topic that isn't just about ageing but is related and it's assisted dying. I ask it because the state where I am, Victoria, has become the first in Australia to legalise assisted dying for the terminally ill and of course this debate is playing out in quite a number of US states but it may well play out in the Supreme Court as well given that Neil Gorsuch, who is President Trump's pick for the court, is clearly opposed to assisted dying.
Is this a core issue as we think about ageing? Is it worth thinking about and what are the consequences of a big public debate about this, and Saul, perhaps as a legal expert you might like to touch on this.
Saul Levmore
I don't think that a solution is possible in our society or in many other societies with a large percentage of the population that strongly identify with traditional religious power structures. People will just really disagree.
I think for people who are open-minded about this, that is not bound by any religious norms, they would prefer to live in a society with choice and they've energised it on their own behalf. You know, I think that the people who love me know well that they should help me in my life in certain situations and I feel that I know that about them as well and unless we're really unlucky about the sort of accidents and injuries we have, I think we'll be able to effect it without going to jail over it.
Now that's really a strong statement, I mean it's sort of like violating laws in your society subtly, and I would rather it would be more open, but I don't think that a conversation would get us to a more open result.
Martha Nussbaum
You know, I think that Saul is absolutely right, that the public debate has been hijacked by powerful religions - this is in the US anyway, it just makes things worse and the term human dignity, which everyone wants to use in this context, like you want to die with dignity, that was in the President's Council for Bioethics in the Bush administration. It was quickly hijacked by Roman Catholic people who were on the council and other conservative religious people to such a degree that the dominant view in bioethics today is that we better just steer clear of the whole word human dignity, we just don't want to talk about that because we know that people are going to use that to mean, oh, nothing could be done to terminate a life, either pre-birth or in old age.
I think Saul is right, the medical profession has found many ways of easing death and prescribing opiates that end up being terminal, but it would be much better if that could be done openly and there's several states in the US that allow people in terminal situations to request assistance. I think that should be the norm, it's an area of choice and no one is meant to be forced to violate their religion, I do think we have to be sure that the person really, really wants it and so advanced directives are very, very important because relatives can get tired of taking care of people and they can rush the process in a way that's not fair to the ageing person. So all of those safeguards need to be built in but with those built in I think choice is the right solution.
But I should say, by the way, it's not a new thing. The Stoics had an elaborate - the ancient Greek and Roman Stoics - had an elaborate doctrine of suicide, both in terminal illness and in situations where you were in a politically awful position where some tyrannical leader was forcing you to do disgraceful things, and so quite a lot of the Stoic philosophers did themselves commit suicide.
Saul Levmore
An enormous amount of money spent here and in Europe on people in the last few months of life. Of course, we don't know when the last few months are. In the European systems for health insurance, it's been easier to really limit spending on people above the age of 80 or 85 let's say who have certain conditions, that's very, very hard to do in the United States.
Many of us would like rules that limited the amount of spending by government programs to people with illnesses above the age of 85 or something, but that's just not likely to happen politically. So it's sort of the two topics run together, the high costs of health care and the inability to draw lines, runs together with this view that nobody should ever end a life or help someone end a life.
Martha Nussbamum
I just want to add one thing, that ageing is so variable and so individual that I really think there is reason to resist a bright line age limit. I mean there are 90 year olds who are at the top of their powers, our famous political dissident Daniel Ellsberg, almost 90, just released a stinging, strong new book about the dangers of nuclear war. You know, and there are people who begin to have dementia of some sort when they're in their late 50s, so we just have to…
Saul Levmore
Nothing stops the Ellsbergs of the world from paying for insurance and raising money for their own healthcare. It's a question of whether the government as a whole spends money.
Glyn Davis
Which is fun for the rest of us because we get to see two authors having an argument about how you arrive at the sort of policy solutions, and the reason I raise assisted dying is because we're talking about a suite of changes that might address ageism and allow for more individual choice.
You've written a book because you want to influence public opinion and you want to contribute to the debate, can I ask each of you, perhaps starting with you, Martha, how confident are you that there can be a public debate around ageism and how developed do you think the policy choices are? Do we know where we want to go on this?
Martha Nussbaum
One example I use in the book is the example of the women's body manual, Our Bodies, Ourselves, and I said women wrote this because women were ashamed of looking at their bodies, they were ashamed of talking about their bodies, and what that book did was to bring the previously shameful topic into the light of day.
So I think we can do that, I really do, and I thought the reason to write a book that is not entirely about pain and death is that ageing isn't entirely about pain and death, it's about fun, about sex, about friendship, and so we wanted to write the kind of book that would de-stigmatise that conversation and I really think we can do that.
Glyn Davis
Saul?
Saul Levmore
I think I agree, people like talking about themselves, so telling them to talk about their ageing selves should be pretty easy. Now, I think the book shows that we are likely to have more success in getting people to think about their own personal decisions in old age. It may be harder to get them to talk about things where we think they have to have one rule for the whole of society like mandatory retirement or funding of aged people who haven't saved.
Glyn Davis
So there's a tone of optimism with both of you which is wonderful to hear. It's been great to speak with my guests, the co-authors of Aging Thoughtfully: Conversations about Retirement, Romance, Wrinkles and Regret. Professor Saul Levmore, thank you for being on the podcast.
Saul Levmore
Thank you very much.
Martha Nussbaum
Professor Martha Nussbaum, thank you and we hope to see you in Australia again soon.
Martha Nussbaum
Thank you and I hope to be there again soon.
Glyn Davis
Thank you both.
Voiceover
Coming soon to The Policy Shop, does history deserve a seat at the public policy table, with professor Niall Ferguson.
The Policy Shop is produced by Eoin Hahessy with audio engineering by Gavin Nebauer.
Copyright, University of Melbourne, 2018.
The world's population is ageing, with virtually every country experiencing growth in the number and proportion of older people.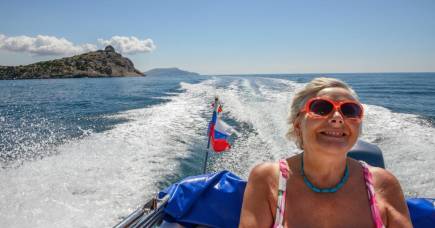 How do we as a society view ageing, and how does this colour the policies we develop for the elderly?
On this episode of The Policy Shop, Professor Martha Nussbaum and Professor Saul Levmore consider how we should support this often forgotten community, as discussed in their new book Aging Thoughtfully: Conversations about Retirement, Romance, Wrinkles and Regret.
Episode recorded: 14 February 2018
Series Producer: Eoin Hahessy
Audio engineer: Gavin Nebauer
Banner image: Pixababy

Subscribe to The Policy Shop through iTunes or RSS.