All the stage is a world if you work in theatre
Associate Professor Matthew Delbridge knows the history of theatre but has his eyes firmly fixed on the future
I have a great love and respect for actors but acting was never something that transpired for me. In the 90s I fell into working with Gilgul Theatre Company in Melbourne, after stepping in last-minute to operate the lights for one of their shows. As soon as the theatre machine was revealed I fell in love with that whole other side of things. I was the stage manager with Gilgul for six or seven years after that.
Theatre is in our DNA. I think it probably began when we were sitting in caves looking at shadows projected on the wall and listening to each other tell stories. It's part of who and what we are. The same goes for film and TV – it's more than escapism; it's about what we're attracted to and how we fundamentally connect with each other.
Motion capture fascinates me, both in research and practice. We're very good at protecting the image and voice of people, we can copyright that, but we haven't got our heads around how we protect movement. That's going to be the next thing that happens. You look at a whole bunch of videogame credits and you won't actually see all of the performers who've created the moves at the centre of the game. It's the primacy of an individual's being that's being captured; it's like capturing someone's aura. Philosophically, that's interesting.
Sadly, I'm not able to suspend my disbelief when I go to see most theatre or film. I can't even play videogames because it all just collapses into how it was made. But I can disappear quite easily into big-budget Broadway musicals or anything by Romeo Castellucci.
In 1992 I started working as the Assistant Orchestra Manager (Technical) at the State Orchestra of Victoria, which basically meant I set up all the equipment in the pit, moving harpsichords, harps and timpani around the Arts Centre. I watched the Australian Opera, State Opera of Victoria, and the Australian Ballet, eight shows a week for a few years, just setting up various orchestral configurations in the pit and offstage.
Theatre has a history of dropping, picking up, letting go, rediscovering. When we talk about theatre programs and how to prepare graduates for the sort of infrastructures they'll find, history can teach us where we have arrived based on where we began.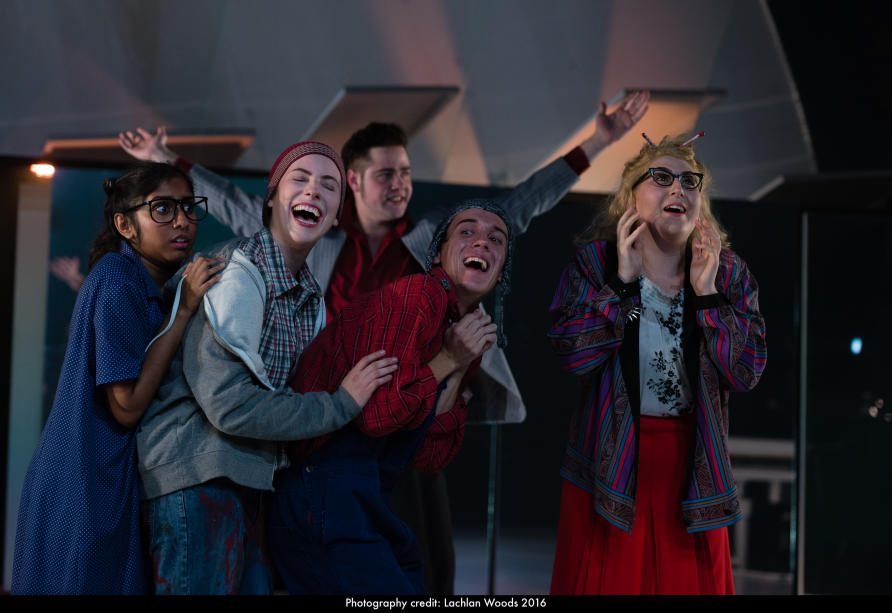 I did a double degree in drama and dance at Rusden, and initially chose the dance part, if I'm honest, for the girls. Learning about movement teaches you a lot about space and motion and your own limitations. I think every performing arts student should be doing dance classes to develop mental and physical discipline – it actually makes you really useful in a whole bunch of ways.
I live in a regional city in Victoria on purpose so that I have a place to go outside of the VCA and Melbourne's theatre scene. I disappear into family life with my two young children and my partner: meal plans and bike rides and kicking the soccer ball – that's my escape.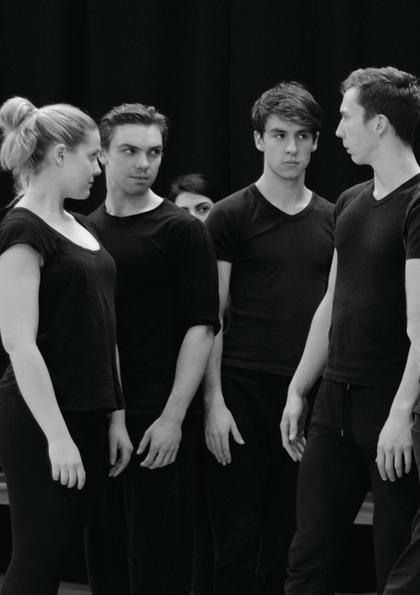 I've worked as a stage designer for many years with a company called Split Britches – Lois Weaver and Peggy Shaw. Peggy's in her mid-seventies and I think Lois is nearly 70 and they're still putting on great work. Peggy is a stroke survivor so in terms of stage design, I've had to start coming up with environments that enable them to perform. So you have this boy from Echuca who used to work on paddle steamers working with a famous feminist lesbian theatre company from New York. To me, that's still amazing.
We have an obligation to the students who study theatre but also to the profession at large. The sorts of stories that are going to be told five or ten years into the future will be stories about people for whom gender is less defined, stories about displaced populations, stories about wars in hot deserts, stories about our own history and future in Australia and Asia. We need to make sure there are the people available to tell and perform those stories.
Wagner is very well-known across the world for his music, but he was actually one of the greatest theatrical minds we've ever had. His theatre in Bayreuth had a double proscenium, introduced to magnify the human form. He didn't have his band in a pit; he had them up in the gods above the stage, so that we'd have this sort of celestial view where people were amplified on stage.
I've got a new research project called Monkey Business, which is actually about this new industry that's emerging for people who play monkeys on the screen using Motion Capture – well, they're apes really, but Ape Business doesn't have the same ring to it. Actors who play apes have a whole series of poses that they do, and their own emerging language about playing them.
The most fulfilling aspect of my job, without falling into cliché, is seeing the students succeed, seeing the staff do well, capitalising on the extraordinary opportunities that being part of the University of Melbourne and the VCA affords. I've been gifted with so many opportunities in my life and being here just feels like the latest in that list.
– As told to Paul Dalgarno
Banner image: eltpics/Flickr
Visit the Faculty of VCA & MCM Theatre page.