Being a student during COVID-19
A new online exhibition of photos explores the student experience of life and learning during the COVID-19 pandemic
COVID-19 has profoundly impacted so many aspects of our lives.
There have been mass job losses, emptied supermarket shelves, mandatory social distancing and educational institutions have closed their doors.
Many university students around the world are experiencing considerable stress as a result of the transformation in how they are taught and fear of an uncertain future. While those students with children are juggling work, finances and family responsibilities.
We hear a lot on the news about the pandemic's impact on international student numbers, university funds and the general economy, but don't hear as much from students themselves on how COVID-19 has impacted their life.
A University of Melbourne project is bringing postgraduate students together virtually to record how COVID-19 has changed how they live and learn.
Usually the Community Based Participatory Research course is taught face-to-face, with students undertaking a class research project about diversity and inclusion on campus.
The course aims to teach a collaborative approach to research that emerges from the interests or problems of a specific group or community and values the lived experience of communities, with the aim of contributing to social change.
Instead, in the middle of a pandemic, the course students conducted a class-wide visual research project based on a method called photovoice, capturing their environment and experiences during COVID-19 through photographs and descriptive text.
As a result of the project, three core themes emerged: anxiety, precarity and gratitude.
Anxiety and the 'new normal'
Many students reflected on how they are coping with feeling overwhelmed and frustrated as they adapt to the new normal.
As classes moved online causing anxiety for some, the monotonous routines and being homebound has led to struggles with self-regulation, keeping up with content and feeling isolated from fellow students or others.
Images of schedules, timetables and technology feature prominently, with many documenting difficulties in studying while dealing with other COVID-19 stresses like grim world updates, panic-buying and fear of what would happen to themselves, as well as their family and friends.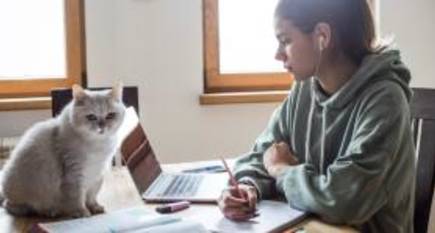 One student sent in a photo of the empty shelves in the supermarket – exemplifying the sudden disorder that everyone is experiencing from the outbreak of this novel coronavirus in our society. The routines of life that had been suddenly disrupted.
As the threat of COVID-19 spread across the world, everyone seemed to be at a loss as to how to continue about their daily life, and people were at different stages of adjusting to their new reality.
Other photos and captions highlight concerns that COVID-19 was exacerbating social and economic inequalities including homelessness, while others told the story of international students facing worries about racism and whether to return home.
Feeling precarious
Precarity is experienced differently depending on a student's living and social circumstances. Several pictures highlight the sudden disruption to normal routine through the fluctuating availability of products like toilet paper, frozen foods and medicine.
Financial precarity was explored as students discussed the loss of casual and part-time work, with its knock-on effect to housing instability, paying rent and their future housing situations.
One student sent a photo of a makeshift privacy and quarantine screen they fashioned out of an old bed frame and sheets with the caption: "A friend had to unexpectedly return to Australia and couldn't find anywhere to stay for the 14 days of self-isolation on a low budget. My two housemates and I gave him our lounge room to help both him and us with rent as we'd all lost our jobs."
Many pictures show shared workspaces at home, crowded with communication technologies. The sudden reliance on internet and mobile phone signals for productivity and social connection accompanies concerns around the stability and reliability of these online links.
Fitting four people and up to six laptops on a small lounge room table is tight, according to another student, as we "Zoom, Skype and write in the new COVID-19 reality". The sudden shift to online for a group of four post-grad students led to many conversations about what they'd lost by no longer being able to engage in face- to-face tutorials, seminars and meetings.
The feeling as a student in this new space feels in some ways inclusive, but also isolated and separate from their usual support networks and community.
These uncertainties present challenges for some students, while others created their own stability with timetables, personal workspaces and connections with loved ones.
A focus on gratitude
Despite the circumstances, gratitude is a recurring theme throughout the project.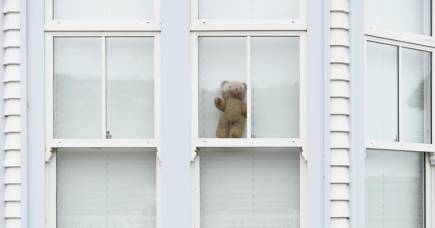 One student recorded feeling an "overwhelming gratitude at the layers upon layers of safety nets that rest invisibly below me. A relatively secure job, a partner with a secure job, stable housing, family, friends, community.
"I am, more than ever, aware of my own privilege and the ways this crisis has and will continue to exacerbate existing inequalities."
Students are grateful for technology, supportive social networks, the natural environment and appreciated the flexibility to renegotiate their time.
Technology is enabling students to maintain connections and support classes to continue.
Giving and receiving assistance to others despite physical distance has created a new sense of social inclusion and many students were newly grateful for outdoor space and nature.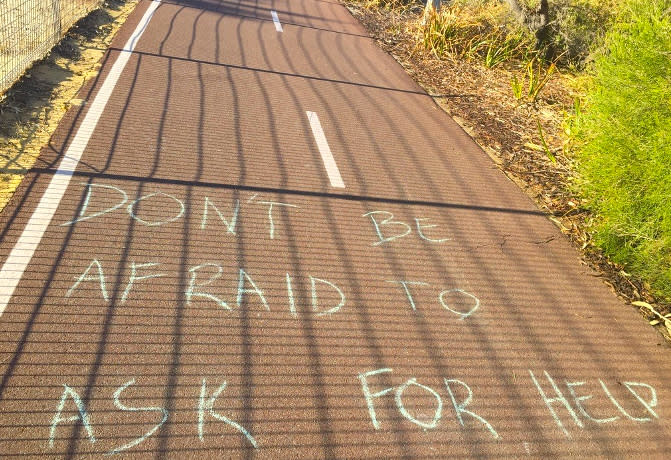 Many students communicated they are also grateful for family and friends. Time gained through job loss was spent with them as well as friends, pets and nature.
Another student was on a (socially distant) run when they came across a chalk message written on the path.
"I felt a little emotional when I saw it and despite having to warily dodge other people to avoid being within two metres of them, I felt a bit less alone in that moment.
"I've needed to reach out in the past and ask for help as a student and I feel comforted knowing that there is support if I need it."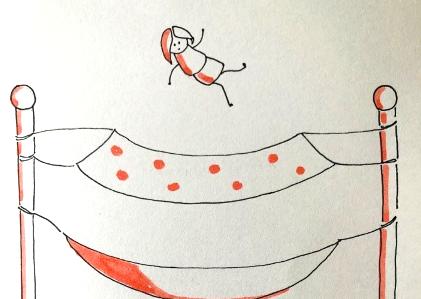 The little things usually taken for granted are now appreciated.
COVID-19 has transformed the student experience.
It has forced students to self-reflect and appreciate strengths within themselves and others, and to develop awareness of their own social frailty.
Sharing this knowledge and experience builds solidarity among students and highlights their challenges to universities and the wider community as we all work towards recovering from the COVID-19 pandemic.
For more student photos and reflections on the impact of COVID-19 on student life, you can visit the full online exhibition website.
Banner: Supplied