Bones of contention
At ­first blush they may seem a little macabre, but the exhibits in the University's Anatomy Museum provide a great teaching resource – and the odd mystery
In death, he has the kind of star presence he might have craved in life. A beggar who played the recorder on the steps of Notre Dame in Paris, he has beguiled thousands of people, young and old, since his move to Melbourne in 1862.

But it has been his medical rather than his musical story that has made him one of the big drawcards at the Harry Brookes Allen Museum of Anatomy and Pathology at the University of Melbourne. He suffered from a severe malformation of his lower limbs, a rare medical condition known as sirenomelia, or "mermaid syndrome".
It has made him a lodestar for tens of thousands of students – in medicine, biomedicine and physiotherapy – who have been fascinated by the single, symmetrical lower leg that makes him such a phenomenon. Unusually for someone with this condition, he lived to the age of at least 18.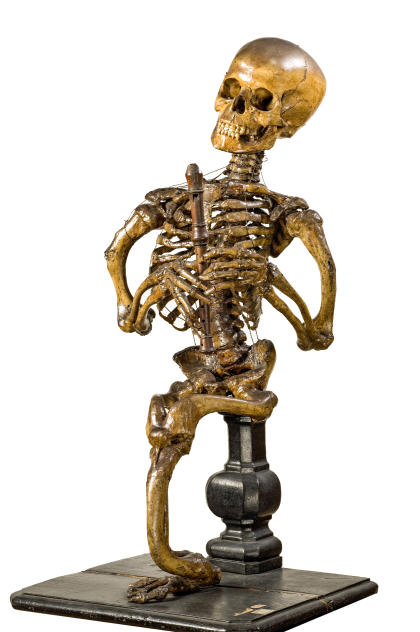 It has been more than three decades since Jenny Hayes was a medical student at the University of Melbourne, but she still recalls how captivated she was by the skeleton and the mystery surrounding the beggar of Notre Dame.
Arguments have raged over the years about whether or not it was a fake. Sirenomelia is rare, occurring at a rate of 0.98 per 100,000 births; more than half are stillborn.
Advances in technology, however, have allowed the museum to discover the truth about its popular skeleton. Using computed tomography, the Victorian Institute of Forensic Medicine was able to establish that the bones were naturally formed and that this was indeed a genuine pathology.
The result has thrilled museum staff.
"It's exciting because it shows the museum isn't a static collection but ever-changing in terms of what we know about the particular objects," says Dr Hayes, now Associate Professor of Topographic Anatomy at the University, and chair of the Museum management committee.
It has been this sort of collision of the old with the new world that makes a tour of this museum so stimulating. It houses one of the largest collections of real human tissue specimens and historical anatomical models in the country.
In all, about 1200 specimens are on display, 10 per cent of the museum's collection. The oldest material is a small collection of Egyptian mummified remains believed to be more than 2000 years old.
Using the latest technology – forensic science, computerised tomographic scanning, 3D printing, Egyptology and art – a multidisciplinary team from the Faculty of Medicine, Dentistry and Health Sciences produced a full facial reconstruction of a woman.
But Meritamun, as she has been named (it means beloved of the god Amun), is so much more than a thing of beauty. Through her, students will learn how to diagnose pathology marked on our anatomy. They will also be able to explore how the environment can affect population groups.
What is remarkable about the museum's collection is that it is also a teaching resource. More than 2000 students have swipe-card access, and classes and tutorials are held on-site regularly. Although many of the older specimens are behind glass, students do get to handle the plastinated specimens.
"It's a very vibrant environment to study in," says Dr Hayes. "Anatomy is a language."
The collection includes dissected anatomy and pathology specimens, moulages and death masks, including one of the notorious Ned Kelly. It also has a prized selection of the Steger/His gypsum-based anatomical models. Many of the European collections of these models were destroyed during the Second World War.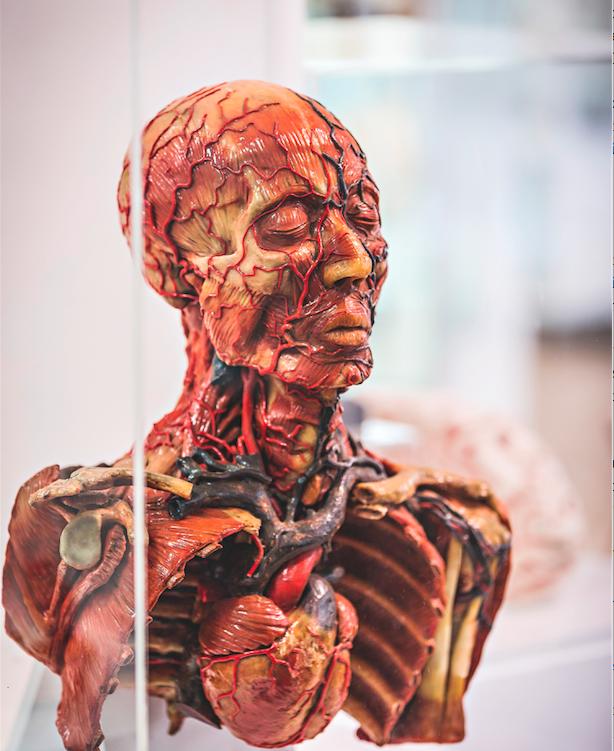 The museum is home to a small collection of perfectly preserved skeletons of babies from foetal stage to newborn. ­These are rare because under the Human Tissue Act of 1982, the museum can no longer accept material from anyone under the age of 18.
"At the time, however, it was within the moral and legal framework," explains Dr Ryan Jefferies, the museum's curator. "They're of great teaching importance to our students."
In an apparently seamless journey down the ages, the specimens of bygone eras are being given new life with today's advanced technology. A set of human lungs from the historical collection, for example, has been recreated in exquisite detail on an advanced 3D printer, allowing students to handle and study them. ­
The same technology and techniques that were used to reconstruct the head of Meritamun are being deployed to give relevance to the collection.
"­The technology means that students can use 3D virtual reality and printouts to understand tissue, bones and organs," explains Dr Jefferies.
"Surgeons can even use them to practise on representations of the actual structures in a patient they will be operating on. Everything we are doing with Meritamun has an application in modern practice."
The museum's collection, not open to the public, can be viewed at: harrybrookesallenmuseum. mdhs.unimelb.edu.au/collections
This article originally appeared in 3010 magazine.
Banner image: Four plaster models showing thoracic and abdominal dissection circa 1900. Picture: Gavan Mitchell