Captain America is a Marvel to behold
Were Disney and Marvel to go head to head with superhero rivals Warner Brothers and DC, the former would win hands-down
In 2014, directors Anthony and Joseph Russo delivered the unexpectedly good Captain America: The Winter Soldier, a film that went a long way to redefining what a superhero movie could be.
More Bourne Identity than Iron Man, the action thriller solidified Captain America – played by Chris Evans – as the true heart and soul of the Marvel cinematic universe. Now, with the international release of Captain America: Civil War (USA audiences have to wait till May 6) the Russo brothers have again delivered a superior comic-book movie, one that goes a long way to redressing the faults of last year's Avengers: Age of Ultron.
While financially successful, that film was for many a creative disappointment.
In fact Captain America: Civil War plays more convincingly as the third Avengers film than just another one of the smaller-scale, standalone hero films we might expect given that Chris Evans' character is the titular hero. Robert Downey Jr. as Tony Stark/Iron Man gets at least as much to do as Evans in a role that certainly would have deserved the title Captain America vs. Iron Man.
Which brings us to an obvious comparison: the recent release of Batman v Superman from rivals Warner Brothers and DC.
Taking control
Where Batman v Superman offered a convoluted plot with character motivations that were at best opaque, at worst non-existent, but mostly just unconvincing, Civil War takes full advantage of the years Disney and Marvel have spent building their universe.
They have established their characters to present a nuanced and utterly believable scenario in which the escalating conflict between friends and allies makes total sense.
Civil War harks back to the events of past Marvel films in which The Avengers, either as a group or individually, were key players in various catastrophic events with devastating consequences.
The United Nations now seek to take direct control over The Avengers, a group deemed by many of the world's governments to be little better than a rogue force of vigilantes. One might have expected dyed-in-the-wool patriot Captain America to be the most likely supporter of this kind of official oversight, with loose cannon Tony Stark the obvious rebel.
But both characters have evolved and matured over the course of the film series. Stark, in particular, has gone through a long dark-night-of-the soul, finally emerging with just a few remnants of his protective shell of flippant arrogance still visible. He brings with him a decades-long history of guilt and a deeply-felt awareness of his own failings.
While Batman v Superman gave us three heroes (the titular pair plus Wonder Woman) Civil War suffers an embarrassment of riches with a huge cast of favourites, plus some very welcome new additions. I counted at least a dozen heroes who all get significant screen time.
Chadwick Boseman makes his Marvel debut as Prince T'Challa (aka Black Panther) from the fictional African nation of Wakanda. He delivers a solid, muscular performance that effectively sets up the standalone Black Panther movie, due in 2018.
Enter Spider-Man
But, undoubtedly, the addition that has been most eagerly awaited by fans and has finally come to be – thanks to an underwhelming franchise reboot at Sony – is of course Spider-Man, played by a very young Tom Holland.
The webslinger finally gets to play in the Marvel sandbox alongside what once might have been considered lesser characters.
The Russo brothers have wisely eschewed showing us yet another version of Spidey's origin story – instead we meet him six months into his heroic endeavours. There was no need for us to see another spider bite and another Uncle Ben death scene, something Batman v Superman director Zack Snyder might have considered before shooting one more Batman origin scene to throw on the heap.
Instead, we get to share the excitement and enthusiasm of a young Spider-Man simultaneously meeting and battling his heroes. Holland is terrific as Peter Parker/Spiderman and Marisa Tomei pre-empts complaints of her newly glamorous version of Aunt May, pointing out in the film that aunts "come in all shapes and sizes". We'll get to see much more of them both when Spider-Man: Homecoming hits screens in 2017.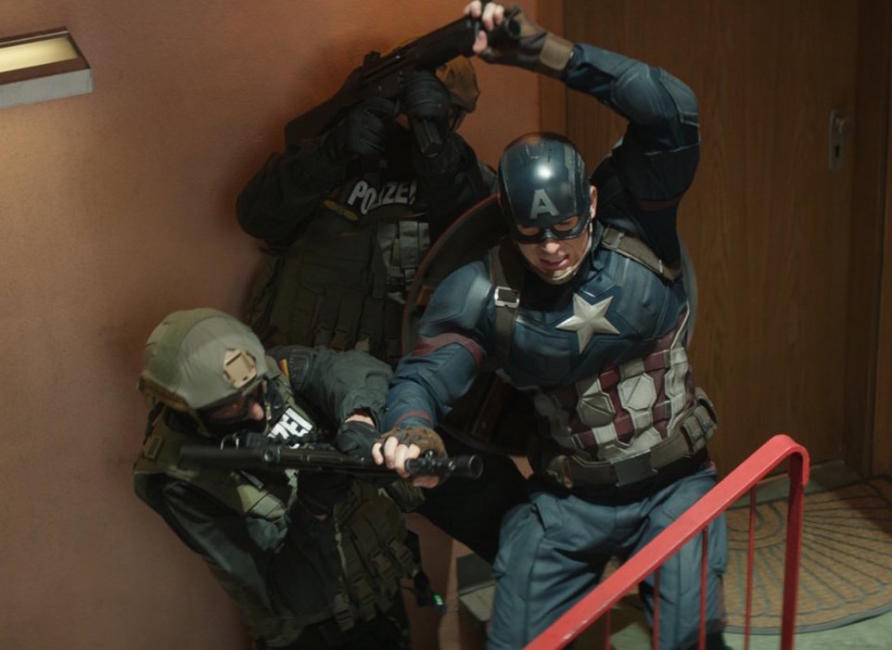 Disney and Marvel
Civil War, more than any other movie, underlines what Disney and Marvel have not so quietly been doing for most of the last decade: building a long-form, multi-episodic storytelling empire spanning cinema and television.
In fact their approach to the Marvel cinematic universe could be described as an evolution of the type of "event television" that now dominates cable and streaming platforms such as HBO and Netflix.
DC is preparing a similar onslaught, with a slate of movies planned, including a two-part Justice League story, but the studio's approach is markedly different to that of Marvel.
Marvel has constructed a single universe that spans both television and cinema, where characters and events in theatrical features have an effect, and in some cases even appear in, Marvel television titles such as Agents of S.H.I.E.L.D and Agent Carter. In those, the characters are played by the same actors, regardless of the size of the screen.
DC has taken a different route. Even though the DC television universe has been remarkably successful at spawning hit shows such as Arrow, The Flash and Supergirl, the cinematic versions of those characters do not make use of the same actors.
That's a risky strategy, with the potential to alienate viewers who have grown to love the lighter and more playful tone of the TV versions.
Expensive reshoots ordered by Warner Brothers for the upcoming Suicide Squad (2016) were done, say the rumours, to insert more humour, although director David Ayers has since claimed they were actually to add a new action sequence.
Whatever the truth, it seems Warner Brothers are still tinkering with the DC engine as they try to come up with a formula to rival the Marvel magic.
Banner image: 2016 - Marvel Studios
Captain America: Civil War is in Australian cinemas now.