Come behind the scenes of Short Black Opera
When Pecan Summer makes its debut at the Sydney Opera House, Yorta Yorta soprano and composer Deborah Cheetham will realise a calling heard at a very early age
The first time I saw an opera was a life-changing moment. I even remember the date – 19 February 1979. Being in the audience to hear our very own international icon Dame Joan Sutherland sing The Merry Widow opened up an entirely new world of heightened emotion and storytelling.
From that night on I would divide my time between home, school and nights at the Opera House. Since first discovering opera at the age of 14, I knew I wanted to serve this great art form. Now, to be the artistic director of a national company presenting my own opera is more than a dream, it's the realisation of a calling I heard at a very early age.
There are lots of firsts in presenting this performance of Pecan Summer at the Sydney Opera House. It was Australia's first Indigenous opera, created by an Indigenous composer, and presented by an Indigenous-led opera company – Short Black Opera – which is the world's first Indigenous opera company. First is great, but we're particularly proud to be able to continue developing young Indigenous artists through our school programs and providing intensive training for adults.
Presenting Pecan Summer on Gadigal land re-establishes a connection between the Yorta Yorta people and the people of the Eora nation. As Australians we alone can lay claim to the longest continuing culture in the world. But the extent to which this has real meaning is determined by how well understood and valued Indigenous culture is. Traditional songlines and trade routes have long existed between the Yorta Yorta and the Eora nation, and song would have been a well understood form of diplomacy.
It was 2007 when I first heard the story of the walk off from Cummeragunja mission. I can hardly believe that I had no notion of this important part of our shared history prior to 2007, but like many Australians there have always been gaps in my knowledge about the events and heroes who make up our Indigenous history.
Boon Wurrung elder Aunty Caroline Briggs first acquainted me with the story of the 200 men, women and children taking a defiant stand in 1939 against the oppression inflicted upon them. This exodus of the Yorta Yorta from southern NSW into Victoria (still Yorta Yorta land) is an epic tale deserving of an opera. Imagine my amazement when, during my research into the events of the walk-off, I discovered that my own Aboriginal grandparents were part of the story. Incredible, inspiring, humbling and empowering.
The journey back to the home of my ancestors was such a long one at times I thought I would never find the way. Music led me home, connecting me to country and family in the most powerful way imaginable. Pecan Summer is the fruit of my awakening as a Yorta Yorta woman.
I am so proud of our little company. I say little, but in truth Pecan Summer is an old-school opera with large forces – 47 singers on stage and 27 musicians in the pit. Lead characters soprano Shauntai Batzke (a Wiradjuri woman), Jessica Hitchcock (a Green Room Award Winner), and baritone John Wayne Parsons (a Yugerra-Ugarem-Le man) have all been through the Short Black Opera Artist Program based at the University of Melbourne's Victorian College of the Arts. And making his Short Black debut will be Marcus Corowa in the newly developed role of Jimmy.
It's fair to say that Short Black Opera can claim a long and successful existence in its relatively young life. The company has produced four seasons of Pecan Summer. The premiere took place on Yorta Yorta country in regional Victoria in 2010, with the Melbourne Chamber Orchestra, followed by a performance the following year at the Arts Centre in Melbourne, again with the Melbourne Chamber Orchestra, under the leadership of Bill Hennessy. In 2012 we headed west, performing at the Western Australia State Theatre in Perth with the Perth Symphony Orchestra and, in 2014, at Her Majesty's Theatre in Adelaide with the Adelaide Art Orchestra.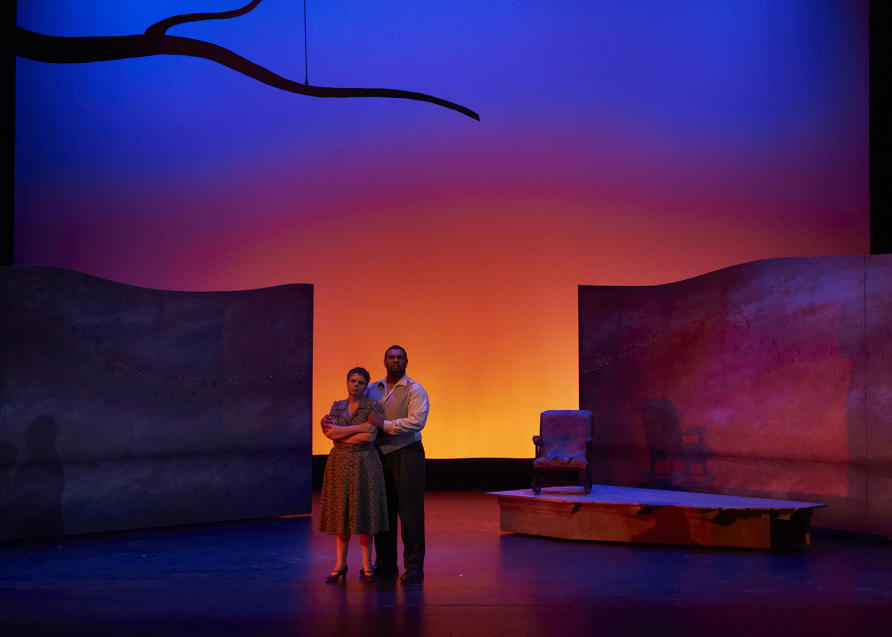 This fifth performance, under Director Cameron Menzies, and our first in the Sydney Opera House's Concert Hall, will be a great milestone. We're thrilled to be harnessing the technology of 3D mapping for this unique performance, working with the team from Ample Projects (of White Nite and Vivid Festival fame) to create a production which will be ready for international touring.
– As told to Gabrielle Murphy
Short Black Opera will be presenting Pecan Summer at the Concert Hall, Sydney Opera House on Monday, 12 September 2016.
Banner image: Alice is torn from the arms of her mother, Act 2 Pecan Summer (left to right Police Sargent Robert Hoffman, Ella Deborah Cheetham, Alice Jessica Hitchcock and Minister's wife Rosamund Illing. Picture: Jorge de Araujo