Connecting to Country through architecture
Place is important to Indigenous people and yet there are only a handful of Aboriginal architects in Australia. Jefa Greenaway is working to change that.
There are many Indigenous heroes who have paved the way, opening the door for those to follow. This has effectively enabled emancipation through education. My father Bert Groves was one of those warriors. As a Wailwan/Kamilaroi man, born on a Mission in north west New South Wales, he lobbied for the 1967 referendum for over a decade and consequently, became an important contributor in Aboriginal history.
But he too walked on the shoulders of other giants of Indigenous history, and together enabled us younger members to have a voice.

Much of what I do seeks to remain consistent with his ethos of empowering people to celebrate culture and acknowledge the importance of diversity and equality. This is something that I'm quite passionate about, particularly in mentoring and role modelling, to be able to pass the baton down to those who follow.
I was studying a Bachelor of Arts (majoring in politics) at LaTrobe University when I transferred to the University of Melbourne to study architecture. I was a bit of a glutton for punishment studying both degrees at once, but hard work has never deterred me in seeking out my aspirations.
From early on I immersed myself in the culture of architecture. I was deeply involved in the formation of SONA (the Student Organisation Network of Architecture), sitting on committees for the Australian Institute of Architects, while always working in practice. In 1998, I co-founded a design practice, the precursor of Greenaway Architects, with fellow UniMelb alumnus Catherine Drosinos – who would later become my wife.
Place is pivotal to Indigenous people, but surprisingly, I'm one of only a handful of registered Indigenous architect practitioners in the country. I wanted to find why this was the case, and see what could be done to remedy this reality. Through conversations with an Indigenous architecture graduate, Rueben Berg, we founded the not-for-profit advocacy group Indigenous Architecture and Design Victoria (IADV) to support and mentor young students and graduates into the profession.
We continue to showcase the value of Indigenous knowledge systems as a way of informing how we shape our cities, towns and places. We also seek to demonstrate to Indigenous communities the value of good design in terms of realising their aspirations. We're finding there's an acute interest and appetite to engage with Indigenous culture now, which represents a fundamental shift from even five years ago.
Architects can be hesitant if they're not familiar with a project's context, particularly where it interfaces with Indigenous culture. However, my new role within the Faculty of Architecture, Building and Planning, seeks to empower the profession by reshaping the teaching framework of design to normalise Indigenous perspectives. Through this curriculum development work there is an opportunity to demystify the complexities.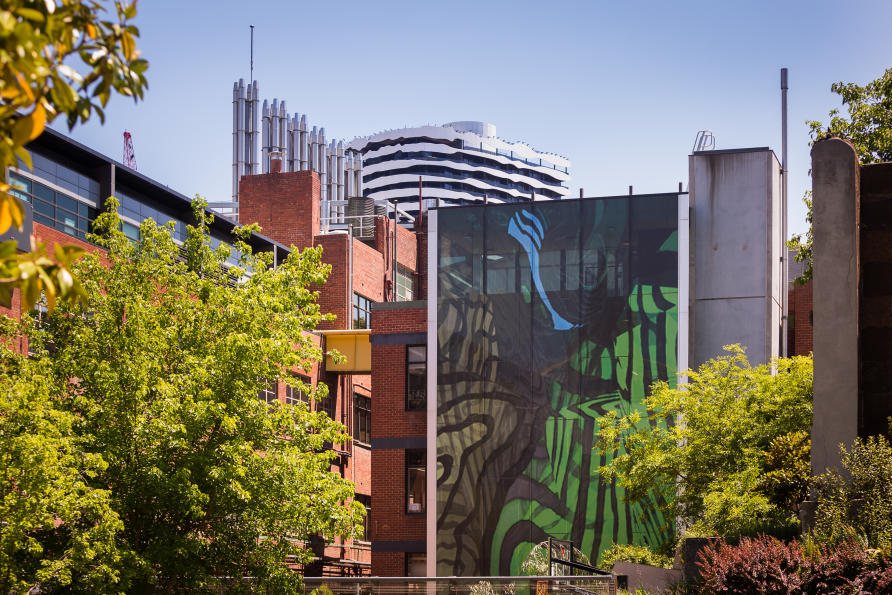 There will always be questions, but it's about finding the answers in a way that acknowledges Indigenous voices. Not shying away from the challenges, but rather, embracing them. The value lies in understanding that Indigenous input has tangible benefit.
Often non-Indigenous people, who are engaging with Indigenous culture, or talking to Indigenous people, are the least knowledgeable people in the room. Connecting to Indigenous perspectives in architecture and design isn't a case of hoovering up Indigenous knowledge and claiming it as your own. It centres on deep listening, co-design, meaningful collaboration, and acknowledgement – crediting the role and contributions made.
We have hopefully got to level of cultural maturity, to move beyond the deficit discourse around Indigenous culture. There is indeed much to celebrate through our connections to the oldest continuing culture in the world and much to admire of the breadth of skills of Indigenous people, across a range of disciplines including within the built environment professions.
We have over 250 different Indigenous language groups across Australia. This demonstrates the breadth and diversity of cultures, across this vast land. Language groups relate to geographic areas, which very much elicits this notion of connection to country – to land. Where you're from is really important, and ideally is expressed and celebrated through design inspiration.
When we connect to country we can start to reveal stories and narratives. Indigenous culture is strongly predicated on an oral tradition – it requires conversation with key stakeholders, Indigenous people and traditional owner groups to start to reveal and evoke the stories that reside in place.
It's really heart-warming to see the built environment included for the first time as one of the four key pillars in RAP3, the newest iteration of the University's Reconciliation Action Plan. It recasts and reframes how we connect to place. If we look at the campus here at Parkville we have river red gums which pre-date colonisation. This talks to an unbroken Indigenous presence and sense of cultural community and connection.
Reconciliation can manifest itself in many different ways, but a strong expression and visibility of Indigenous culture through the built environment is really powerful. What better way than to make student experiences memorable, particularly for international students, than to connect to place and amplify an understanding of that deep heritage that resides here.
You cannot aspire to that which you cannot see. By showcasing the importance of Indigenous culture, we not only enrich the experience of our current students but we also welcome prospective Indigenous students by overtly showcasing culture expressions through placemaking strategies.
People always ask me: why architecture? For me, it's quite simple. It stems from a visceral connection - the immediacy of mind to hand, the manual dexterity and creativity from the act of translating ideas through drawing. I am increasingly interested in how through design thinking we can start to reveal layers of history and meaning through connections to place.
- As told to Holly Bennett, University of Melbourne
Banner image: Ngarara Place, RMIT City Campus. Picture: Greenaway Architects