Designing Australia's largest school
Melbourne architects are transforming our schools, with a new inner city learning precinct to teach children from kindergarten to university
When populations explode, meeting the community's education needs is a challenge. As local schools reach bursting point, families may be forced to travel longer distances and the continuity of education provision can suffer.
An ambitious new project in Melbourne's booming inner west is trialling one solution: offering kindergarten through to higher education in a single learning precinct. When complete, the Footscray Learning Precinct will be Australia's largest 'integrated education hub'.

Modelled on the Danish 'hub' approach to schooling, the new precinct will link and upgrade existing education facilities at all age levels, increasing school capacity and applying innovative architectural design to support an improved curriculum and enhanced learning opportunities.
University of Melbourne researchers from the Learning Environments Applied Research Network (LEaRN) are part of the advisory team behind the new precinct, providing the Victorian State Government with a translational brief to help inform the design work of award-winning architects Hayball.
The new precinct will offer a comprehensive set of facilities, many of which will be shared between early years, primary, secondary and tertiary students, their families and the wider community. Facilities will include general learning areas, libraries, before and after school care facilities, gardens, sporting and performance facilities, 'maker spaces' and a Science, Technology, Engineering and Maths (STEM) centre.

All these facilities will also be available outside school hours.
"Schools are under-utilised as community spaces," says Dr Benjamin Cleveland, a senior lecturer in architecture at the University of Melbourne's Faculty of Architecture, Building and Planning, who in addition to being an expert in how learning spaces are designed and used, is himself a former teacher.
"They lie empty most evenings and weekends. When you consider the high architectural design standards and facilities the schools will offer, the precinct's value to Footscray residents for classes, short-courses, recreational activities, and events is undeniable."
Enhancing learning
But the benefits of locating so many education providers together extend beyond the practical. There are also benefits to how and what students learn.
"Parents and children won't have to jump from one sector of education to another and have to re-tell their story," says Dr Cleveland. "This innovative approach provides for a new kind of personalisation. Importantly, as a child transfers from Year 6 to Year 7, for example, all their data will follow them. Teachers will have access to this information in a way not commonly seen in our system."
This holistic approach is expected to be supported by an online as well as a physical precinct.
"It is anticipated the precinct's shared curriculum structure will be supported by a shared online space – enabling communication between teachers, parents and carers," says Dr Cleveland.
"Aligning physical, virtual and social learning spaces to suit today's learners requires educators and architects to work collaboratively," adds Associate Professor Clare Newton, an expert in learning environments at the Faculty of Architecture, Building and Planning who has a doctorate in education.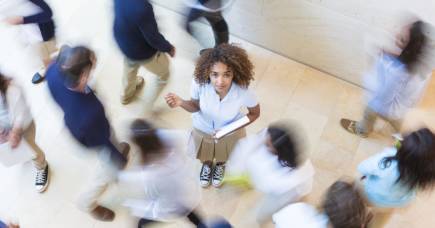 "LEaRN research with 4,000 students and 300 educators, is providing insight into how new spaces are supporting formal and informal learning. Working with the Catholic Education sector, we've found students respond positively to spaces that support a range of learning activities, from formal to informal, in contrast with more conventional classroom-based environments."

Other research associated with a four-year Australian Research Council Linkage project shows a link between classroom design and how teachers and students use the space. In other words, learning practices do change in different environments.
"A clear education vision helps architects design spaces to suit new learning possibilities. And carefully furnished indoor and outdoor learning spaces are really important. Designers need to provide more than the empty shell," says Associate Professor Newton.
Design for all ages
Designing campuses and spaces for such a wide age range presents the architects with a particular set of challenges.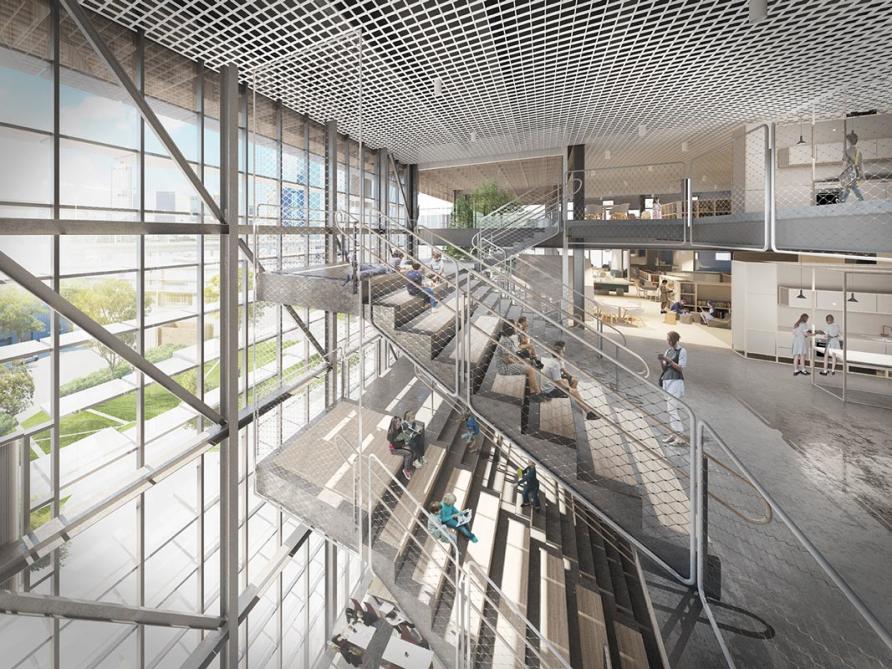 "Early years primary school children have a specific need for play-centred environments, while middle school students need diverse spaces and settings that are able to respond to their particular need for social connection. Senior secondary students may perform better in a more university-style campus," explains Dr Cleveland.
"We asked ourselves, how appropriate is it to situate students of different ages on the different sites? We had to look at the existing school infrastructure and match them to age groups. We also had to look at the capacity of the sites - how many students can you realistically fit on the sites? How might we organise them in terms of the curriculum and pastoral care?
"Taking everything into account, including plans for refurbishment of the existing schools and initial design concepts for a new school, we were able to structure the precinct into age-appropriate groupings."
The hub approach to schools is well-established in The Netherlands, where they are known as 'Window Schools', 'Open District' or 'Neighbourhood Schools'.
The Dutch model has focused on integrating early childhood, before and after school care, youth work services and primary schools. Where the new Victorian model differs is in its focus on integrating higher education and community adult education.
A master plan for the precinct is set to be released later this year, with a governance model to follow. The final designs for all sites are expected to be released in 2018.

LEaRN acknowledges the work of the Mitchell Institute at Victoria University in developing the Precinct's learning framework
Banner image: iStock