The Water Diviner: Unearthing the Gallipoli legend
A chance encounter prompts the co-writers of The Water Diviner to share a new perspective on the Gallipoli conflict
With its heady mix of classical and Islamic archaeology and history, and a renowned cultural scene across the film, television and jazz spheres, Andrew Anastasios and Meaghan Wilson-Anastasios fell instantly in love with Istanbul.

A vibrant, bustling place with an unexpectedly modern twist for such an ancient city, it would become a home away from home for the pair, who met en route to an archaeological dig back in their student days at the University of Melbourne's Faculty of Arts.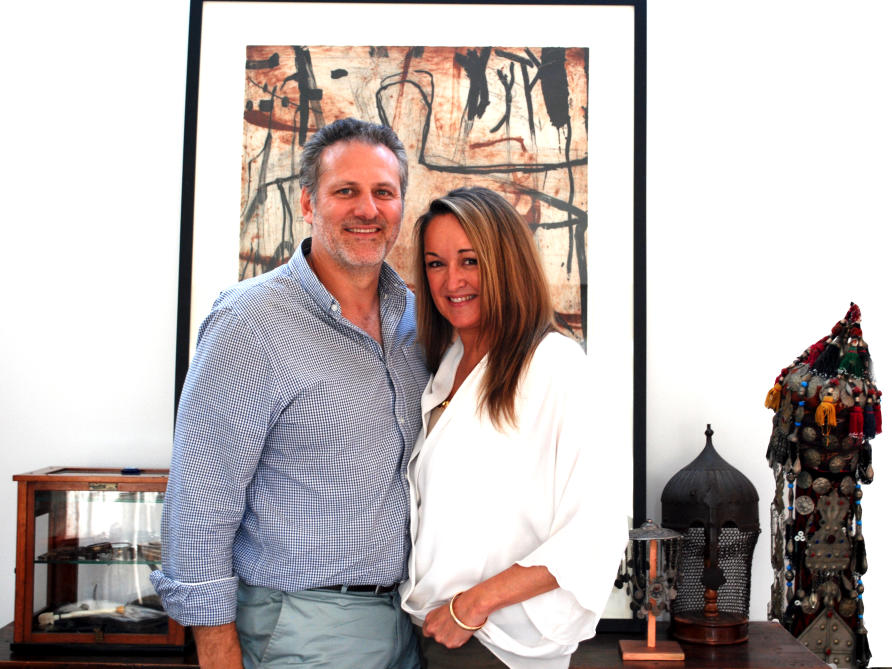 When asked to recount their first impressions of Turkey, they are visibly affected and profusely enthusiastic. "I can remember arriving in Istanbul for the first time and feeling this overwhelming sense of returning somewhere that I had been before. It's a just a place that's really special to us, not just because we met there, but because it reverberates inside us," says Andrew.
Meaghan agrees. When she arrived at the hotel that had been arranged for the team – "the Buyuk Londra, a really classic Miss Faversham-style, wacky faded Victorian glory hotel, at the heart of what really is the best area of Istanbul, 'hipster central' these days" – she took her first walk out into the streets to explore the Sultanahmet and the Blue Mosque, and was simply swept away.
I was so entranced by the city and by the people who were so friendly and so hospitable towards me.
Meaghan's love for Turkey has flourished since that day, with her work as an accomplished writer providing ample opportunities to return. In 2014 she co-wrote Shane Delia's Spice Journey: Turkey, a ten-part series for SBS.
To hear Meaghan describe the diverse range of regions and cuisines, the blend of Arab and Ottoman history, and the emerald green groves of hazelnut trees along the Black Sea coastline, it is easy to comprehend the passion that fuels her research.
I saw it as my love letter to Turkey because it gave me gave the opportunity to introduce people to parts of Turkey that they wouldn't be familiar with – beyond the well-worn tourist trails in Istanbul, Bodrum, Ephesus, and Gallipoli.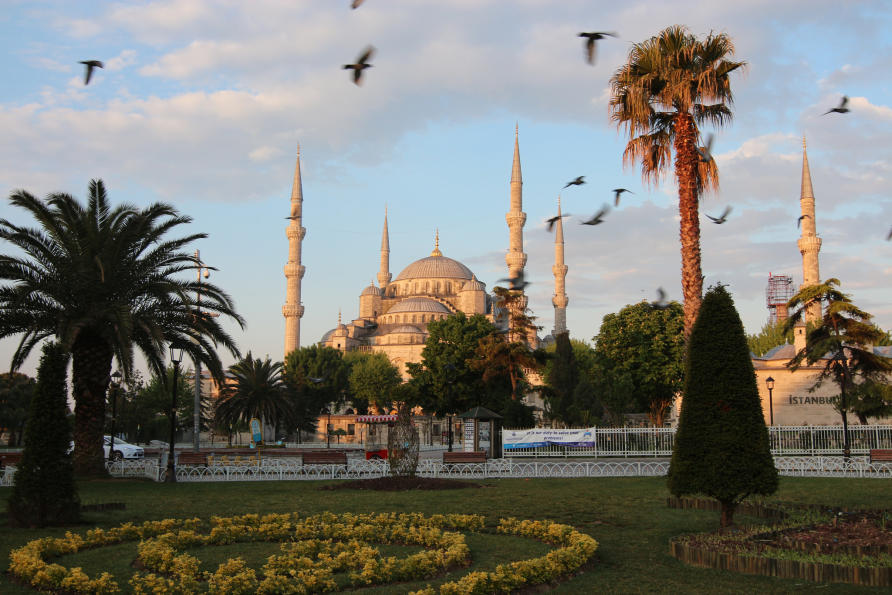 The Anastasios' epistolary romance with Turkey continued on the silver screen and in paperback with the release of The Water Diviner in 2014. According to director Russell Crowe, it is "an epic, brutal, romantic, heart-wrenching and inspiring adventure of discovery".
A chance encounter
Whilst conducting research on events at Gallipoli, Andrew discovered a line in a letter from Lieutenant-Colonel Cyril Hughes, a worker in the Imperial War Graves unit, who was trying to organise the graves and to recover the dead that were still missing in action after the war. An astounding 4,000 ANZACS remained unaccounted for at that time. The line in the letter, a footnote in a more detailed account, simply said,
One old chap managed to get here from Australia, looking for his son's grave.
Andrew recalls: "Lt Col Hughes was trying to identify the bodies, and here was this father who just turned up from Australia, out of nowhere.
"It was a huge commitment and a serious undertaking to visit a country of which you have no knowledge and would have been dealing with all the cultural and language issues, not to mention that all the news that they had received during the war had been filtered through the military censors, so there was no real understanding of what Turkey was, or could be.
"By that stage, the Ottoman Empire was being dismantled completely by the Allies, and so it was in disarray and the idea of just turning up in a country that is slowly being dismembered was really quite fascinating.
"I guess that line just jumped out at me. I'm sure thousands of people had read it, but that day, when I was reading it, it really just popped off the page."
When Andrew approached (screenplay co-writer) Andrew Knight about his discovery, he too was excited to learn more.
For 12 months they researched in and around Gallipoli trying to identify the man or to learn more about people who had similar experiences.
Their search was fruitless. This unknown man was obviously the only one who had made the formidable journey.
Once they had concluded that they would be unable to find the real person, it gave them licence to construct a story. They were insistent, however, that if it was not going to be a true story, then it would at least be based on other people's experiences, and so Andrew and Andrew, and later Andrew and Meaghan, would draw on their research and be inspired by real life stories to develop a framework for The Water Diviner.
A fresh perspective on Gallipoli
For all the focus on Gallipoli as the pinnacle of Australia's participation in World War One, in creating The Water Diviner Andrew Anastasios and Andrew Knight were eager to paint a more detailed picture of the Ottoman Empire at the time, to try to put the Gallipoli skirmish in the context of a much larger World War. They wanted to show the consequences of what happened afterwards, and the fallout for the Ottoman Empire, a deeply traumatic and transformative time for Turkey.
The repercussions of Turkey's loss in the First World War continue to reverberate for the country. The arbitrary borders that were drawn up by the Allies after WWI are the source of a lot of the conflicts the region endures today.
During the course of their research, investigating both the Australian and Turkish war experience, the writers explored Gallipoli and the major Turkish graves and memorial sites. They discovered diaries of Turkish soldiers and officers written on the front line, trying to observe the ANZACs through Turkish eyes.
"It's not surprising, but we came to the conclusion that the experiences of the rank-and-file Turks was probably not that much different to the experiences of the rank-and-file Australians, which is why you have those days where the two camps of soldiers would meet, on armistice days, where they would bury the dead, and after that, there was a real empathy and respect between them, which meant they never quite go at each other in the same way. They resumed fighting, but there was a grudging respect that had developed between them," Andrew reflects.
Officers at the time did everything they could to keep their soldiers away from each other, careful not to allow their troops to put a face to the enemy, because as soon as they did so, they began to realise that there was not that much difference between them.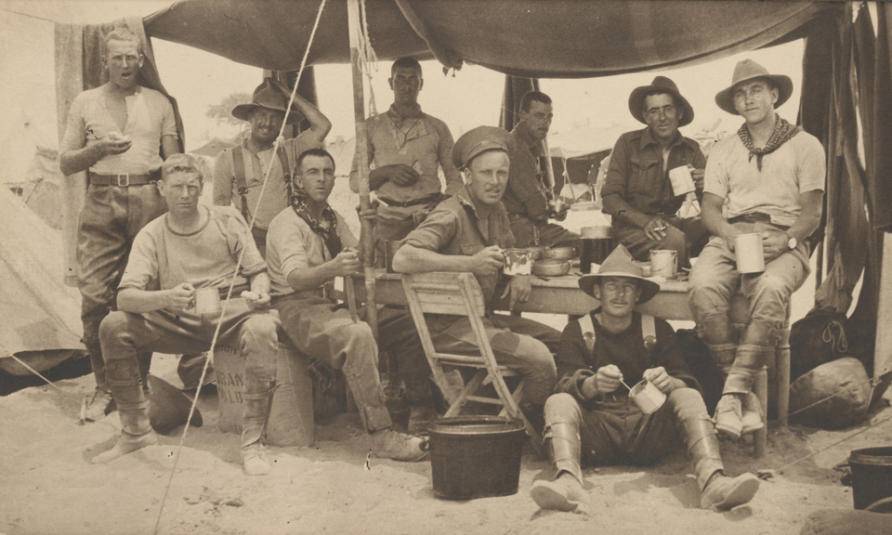 On the subject of Turks as 'the enemy', Andrew is eager to highlight that they were defending their homeland, and that Australians had a more active role than is sometimes portrayed.
He recalls how he and Andrew Knight wanted to make the point that "when the Allies arrived in Turkey there was this sense that they would land on Gallipoli and would be in Constantinople within a couple of days. It was almost a fait accompli. But when the ANZACs met this massive resistance from the Turks, it was quite a shock, and the reports coming back to Australia were 'Oh yes, minor setback but a couple more days and we'll be okay'. The reality on the ground, however, was that it would develop into a stalemate.
"It was very important for us to demonstrate the opposite view in the film – the idea that the Turks were defending their country and we were invading it.
No matter what the historic reasons for that were, the reality is that if you are defending your country, you do it fiercely.
To depict the Australians as aggressors was a new perspective on the Gallipoli story. The film has been described as 'anti-war but not anti-warrior', a balance which Andrew believes remains respectful to the ANZAC experience and to the individuals that fought.
During the writing process, they were careful not to devalue the role that the Australian soldiers played and were mindful of the importance of the ANZAC legend and of the sacrifices that were made by the individuals and their families.
"Yes", Andrew agrees, "we were very careful not to denigrate that, but we also thought that it was time, now that we are active in Iraq and active in Afghanistan, to start thinking about Australian forces as something other than a passive entity that went off to this place that no one could have imagined."
Meaghan draws upon her academic background to support this view, explaining how "as students of history, if we were to read an historical account of Gallipoli in a thousand years' time, there would be no question about it. We would see these troops as invaders who wanted to overrun the capital of what was then an empire.
Our national psyche is so connected to the ANZAC legend and to the legend of Gallipoli, that it has really only been recently that we have been able to accept the idea that ANZAC troops under the direction of the British invaded a sovereign country.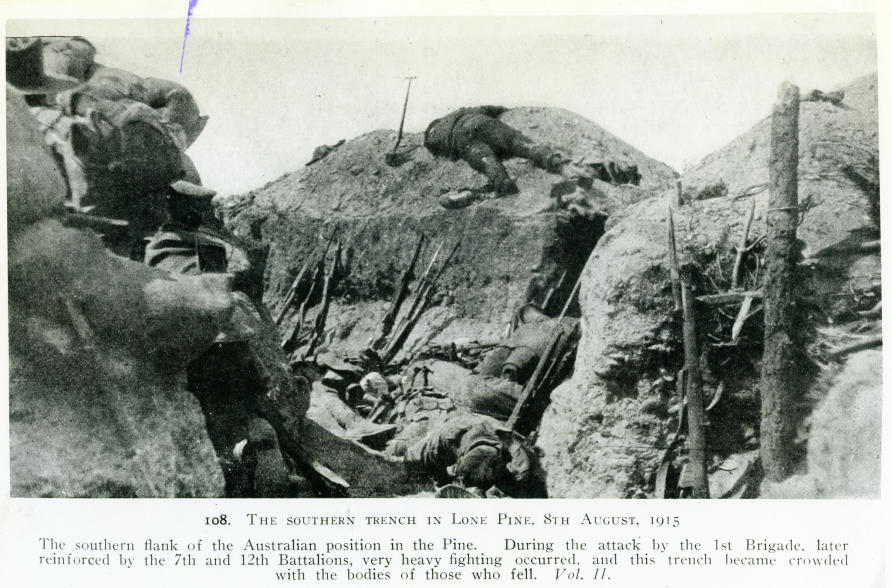 Responses to The Water Diviner
Written as a "romantic, historical novel that people read to be swept away by", Andrew and Meaghan were eager for the novel to have broad appeal and are pleased that the story and its characters are now out in the world.
"To hear from people out there who have really enjoyed it and are engaged with it and thinking about it, just as I know how I feel when I see a film or read a book, that really moves me," Meaghan says.
The couple are equally excited by the academic impact of their work and the fact that all the research and acquired knowledge contained within their writing is now sparking conversations.
"I don't think at any point we held the view that it wouldn't be controversial," says Andrew. "There are elements that people like, and that people don't like, and depending on what country you're from, your political viewpoints or what your view of Gallipoli is, there are conversations to be had about what we have presented and our interpretation of the history. But it's really rewarding to see those conversations taking place."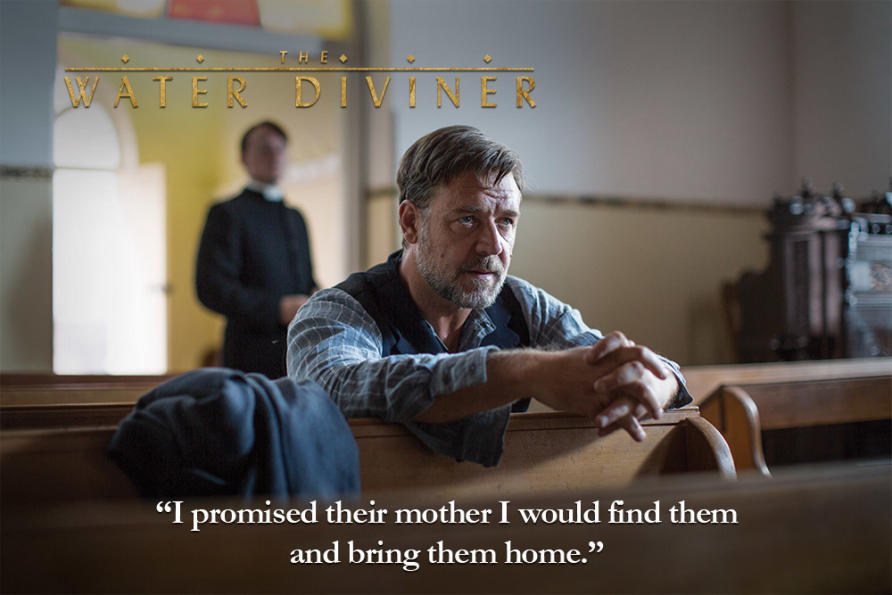 The film was released to American markets on April 24, to coincide with the ANZAC Centenary in Australia and New Zealand on April 25. This was another test for the universal nature of the story, in a market where the Gallipoli landings, the ANZAC spirit, or the Turkish victory are relatively unknown.
Meaghan explains how "Gallipoli is not an aspect of WWI that many Americans would understand – they might understand the American involvement in the war but they would have no concept of Gallipoli, Turkey, or the Ottoman Empire, far less what it is to be an ANZAC. The Water Diviner is a universal story, and that is why it got international interest in the first place.
"The original script shows a wonderful trajectory for Connor, because he goes from being an isolated and constrained Australian man with a limited cultural horizon living in the outback to a man in this ancient culture engaging with completely unfamiliar things. That is what American audiences will respond to."
"In a sense, I envy the Americans for being able to watch the film without the shadow of the Gallipoli legend hanging over it," admits Andrew.
"Whilst that is very important to an Australian audience, it means nothing to an American audience, and so they will be able to watch the story just as a war film or an anti-war film, whichever way you want to look at it. It will be interesting to see how the Americans judge it based just on the story, as opposed to the scrutiny that it has had here about its historical veracity, and how it may or may not represent the Gallipoli legend."