How hands-on art can make a difference
Getting our hands dirty to help make art rather than just looking at it could spur people to get more active in tackling social problems
Images of environmental destruction, war, suffering and injustice flash by every day on our news screens, Facebook and Twitter feeds, prodding us to do something to help. But all too often this tsunami of information does the opposite – it leaves us feeling powerless.
Watching from the comfort of our homes we can easily become distant and passive in the face of real problems demanding action.
How can we spur ourselves to become more involved and realise we can all take action? Part of the answer may be in creating art that engages people in social and political issues not by simply viewing the art, but by participating in it.
The power of people coming together to make art was brought home to me in 2016 in my project Refugium, at Federation Square in Melbourne. Inspired by the City of Melbourne's Draft Urban Ecology and Biodiversity Strategy, Refugium explored biodiversity in the city through participatory art using native plants. I wanted to use people's own creativity to facilitate a connection to nature and foster a concern for the environment and sustainability. But I hadn't anticipated how emotionally involved people would become.
The project involved the public creating their own native plant-sculptures, or kokedamas – an ancient Japanese technique of wrapping plants in moss and string. The idea was to create a 'bush refuge' in the heart of the city using 250 plant-sculptures made in free workshops as part of The Light in Winter festival.
Workshop participants were encouraged to get their hands dirty and embrace the textures of the plant, soil and moss. As they wrapped their kokedamas people's postures relaxed and a sense of ease and contentment washed over their faces. There was a general feeling of participants becoming focused and engaged.
When it came to handing over their plant-sculptures for the exhibition, people expressed an enormous sense of pride and achievement in their work. What was created was a diverse assortment of kokedamas in all sizes, shapes and wrapping techniques.
Emotional Attachment
On the final day of the exhibition, we invited the participants to return to the site to collect their kokedamas. To our surprise, crowds of people turned up at the end of the night determined to take their own plant sculpture home, no matter how small or roughly wrapped. A small chaos erupted as people scrambled to get into the tiny exhibit with some people almost in tears as they struggled to find their plant in the bulging canopy of greenery.
It was then that I realised that I had totally underestimated the level of attachment that is created when we make something with our own hands. Luckily, almost all of the 'makers' were reunited with their kokedamas.
But Refugium had highlighted the potential power of 'making' in facilitating connection to issues and things. The work had prompted greater questions about how facilitating a sense of ownership over what we create can perhaps foster notions of civic responsibility, especially when it comes to taking ownership of social problems and challenges like sustainability.
Various studies have demonstrated the value of hands-on activities – such as community gardening and crafting – in making meaningful connections and shared identities. In his influential book, Flow: The Psychology of Optimal Experience, psychologist Professor Mihaly Csikszentmihalyi describes how these activities can be an opportunity to engage with what he called flow – a highly focused mental state that increases awareness, connectivity and well-being. I am interested in how enabling 'flow' – especially in the context of making or crafting together – can lead to a greater participation in society, which in turn may assist communities in tackling social and political problems more collaboratively.
Going with the 'flow'
Professor Csikszentmihalyi explains how doing activities that enable a heightened immersion in creative activities, such as art and play, enables us to live more present and fulfilling lives. Finding pleasure and lasting satisfaction in practical activities that bring about a state of 'flow' with others also allows us to engage with life more fully, becoming more aware of connections that we may not have considered before.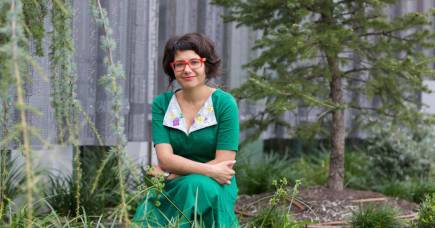 When 'flow' is enabled, our sense of time disappears, we forget our inhibitions, and ourselves, and feel as though we are part of something larger. I believe that this state of being has the potential to help overcome the sense of powerlessness that so often bedevils us.
Ecological issues are intrinsically social and any hope of changing people's hearts and minds requires breaking down cultural and social boundaries.
As an artist investigating new forms of environmental science communication this involves engaging with people from all walks of life, including people who might not immediately identify themselves as being devoted to ecological issues. But perhaps by having people participate in the art process, artists can better engage and persuade a wider audience to take notice and action in the face of what can often appear to be intractable or overwhelming problems.
My hope is that Refugium provided an act of 'performing resilience' – a tangible example of how artistic public engagement tools and strategies can sow the seeds of awareness, dissolve perceptions of powerless and help us take action.
Refugium was produced by Federation Square (The Light in Winter) and the City of Melbourne in collaboration with SKINC Nursery and Museum Victoria (Hugh Williamson Foundation), Melbourne School of Design and Victorian College of the Arts, with sound design by Nick Roux. Refugium was created on the traditional lands of the Kulin Nations. We respectfully acknowledge the people of the Boon Wurrung and the Woi Wurrung who have lived their culture on this land for tens of thousands of years.
Tanja Beer will be bringing Refugium to Perth this Autumn, 3 – 9 April 2017, as part of Propel Youth Arts WA. Perth kokedama workshops will take place 2 April, bookings and details available at Bio + Steam = Botanical Crafting.
Banner Image: A kokedama made by a workshop participant at Refugium, Federation Square, Melbourne. Picture: Linus Tan