I'm dreaming of a...
Christmas songs and films are ripe with a festive nostalgia. In this edited extract of her book, Analyzing Christmas in Film: Santa to the Supernatural, Dr Lauren Rosewarne looks at some of the reasons for our hankering for yesteryear, real or imagined
Nostalgia is everywhere at Christmas.
From the songs pining for an idealised past—perfectly encapsulated by Irving Berlin's White Christmas and the film Holiday Inn, both from 1942 - through to liberal use of sentimental, bygone-era Norman Rockwell and Thomas Kinkade paintings on cards, these calls to long-gone celebrations are repeatedly made.
Pleas to bring back the meaning of the season, along with lamentations that Christmas has somehow lost its heart, are driven by the belief that there was once a celebration that was perfect and which we long to return to.
In discussing nostalgia, cultural theorist Professor John Storey from the University of Sunderland cautions: "Not only did the new middle class invent the English Christmas in the nineteenth century, they also invented the 'tradition' which they claimed to only be reviving," and that "the invention of Christmas was driven by a utopian nostalgia; an attempt to recreate an imaginary past."
Theologian Max Myers takes this further contending that, "A major aspect of the Christmas complex is that it carries a nostalgia for old times that is historically bogus."
While theologian Professor Leigh Schmidt of Washington University similarly identified the stranglehold that an imagined Christmas past has on the enjoyment of Christmas present:
"This concern plays upon an essential nostalgia of modern industrialised society for the genuine, the hand-crafted, the authentic, or real. Hence modern holidays . . . are never as good or genuine as they used to be. The widespread ambivalence about Christmas epitomizes this unease; in comparison with the joys and comforts of Christmas Past, Christmas Present always pales."
The 1987 British film, A Child's Christmas in Wales, provides a perfect illustration of such nostalgia when grandpa Geraint (Denholm Elliott) fondly reflects on his past Christmases, in the process recalling family members fondly reflecting on their past Christmases:
"And I remember that on the afternoon of Christmas Day, when the others sat round the fire and told each other that this was nothing, no, nothing, to the great snow-bound and turkey-proud yule-log-cracking holly-berry-bedizened and kissing-under-the-mistletoe Christmas when they were children."
Key in scholarly discussions of nostalgia is the reminder that we're not really yearning for a factual past.
Literary theorist Associate Professor Aaron Santesso with Georgia Tech notes that "nostalgia is a practice of forgetting." While musicologist Ellen Koskoff similarly spotlights that nostalgia "allows for a blurring, or even erasure, of unpleasant or painful memories and a resulting re- construction of a rosier past."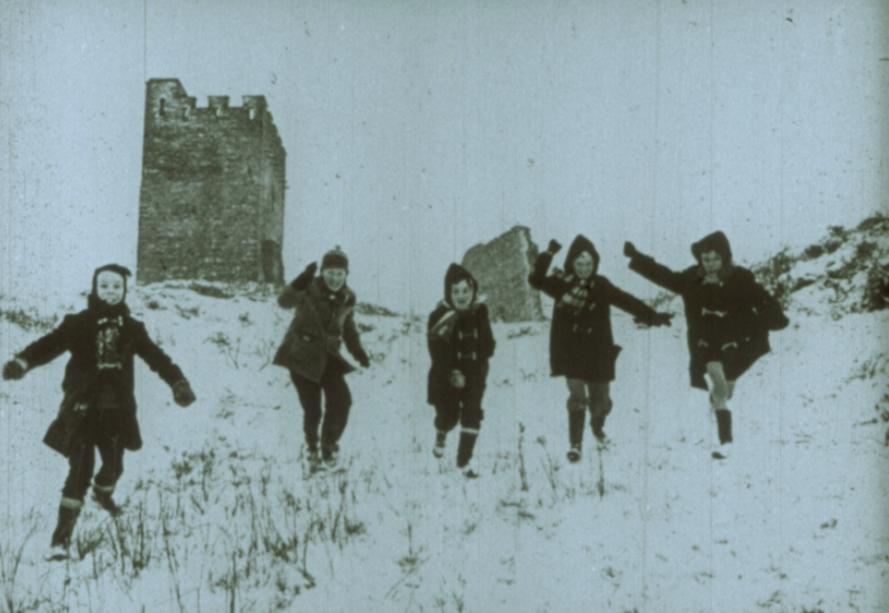 Instead of history, we yearn for a past as imagined. Nostalgia invariably is about fetishizing the good bits—or even, the imagined bits—and crafting a past that is sepia-hued and perfect, even if it bears no semblance to reality: as literary critic Theodore Solotaroff remarked in a 1967 review, nostalgia "reactivates the past, but it also sentimentalizes it, gives it an unearned increment of significance merely because it was once possessed."
Like the season of Christmas, cinema also has an intimate connection with nostalgia, with its deployment of faux-history extensively examined.
Dr Christina Lee, a communications theorist at Curtin University, for example, writes that cinema is in fact the perfect vehicle for nostalgia given its time-travel machine ability to collapse time, stretch time and manipulate it.
Thus, when Christmas—a season inextricably bound to nostalgia—is depicted within a medium similarly fixated with it, it's unsurprising that seasonal depictions often hark to an imagined past. Mr Myers goes so far as to contend, in fact, that "'Christmas' as an American tradition was an invention of the very films that celebrated it."
Cinema uses nostalgia in a range of ways - through the strategic deployment of music, the fonts used in titles, idealised portrayals of home and small towns, and even, as alluded in the famous song, presentations of weather. In his research into the 1944 movie Meet me in St Louis, film historian Frank Thompson observes, "with its nostalgic celebration of family values, along with a heaping helping of Mom and apple pie, the material was custom-made for MGM chieftain Louis B. Mayer."
Here, Mr Thompson nods to devices common in film where nostalgic appeals are made through mom and apple pie clichés that reference a rose-tinted past that may be completely artifice.
Just as fonts and snowscapes contribute to nostalgia, so too does the temper of a film: Dr Christine Sprengler, a film theorist at Western University, notes that nostalgia in movies is commonly "a mood or feeling."
Dr Sprengler highlights that reminding audiences of not merely a past, but rather a specifically sentimental and idealised history, is achieved through aesthetics, soundtrack and storyline.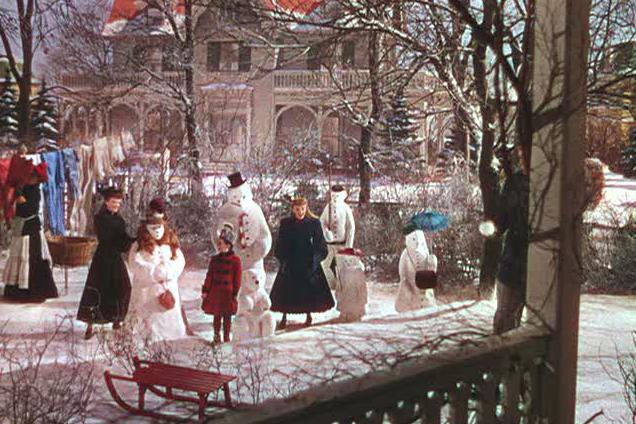 Dr Lee presents the idea of cinema as a time-travel machine. The many riffs on Charles Dickens' 1843 novel A Christmas Carol are highly reliant on characters revisiting their past.
This however, also transpires elsewhere.
In 2011's Christmas Lodge, Jack (Michael Shanks) describes the titular lodge as "a time machine" in its ability to take inhabitants back to celebrations past.
And so Christmas becomes a season that enables characters, and audiences, to visit their past: literally, metaphorically or exclusively in their own imaginings.
Dr Lauren Rosewarne's book, Analyzing Christmas in Film: Santa to the Supernatural is published by Lexington Books and is available to order online.
Banner image: iStock