If these walls could talk
The Digital Bricks at Science Gallery Melbourne fuse technology and architecture with Australia's Indigenous culture using the world's highest resolution interactive display
As buildings become increasingly animated and interactive through lights and screens, they are able to reflect the nature of humanity in dynamic and engaging ways.
This evolution also presents an opportunity for an architecture of storytelling. One where public spaces can share local histories; one where a building can interact with the people who experience it.
Our new project, The Digital Bricks at Science Gallery Melbourne, aims to do just that.
Two hundred and twenty six screens embedded into the ground floor brickwork of Melbourne Connect collectively create the world's highest resolution interactive display.
Touch responsive and at a resolution of over 800 megapixels, the screens are protected by transparent glass bricks that sit in front of them, creating unique views and experiences.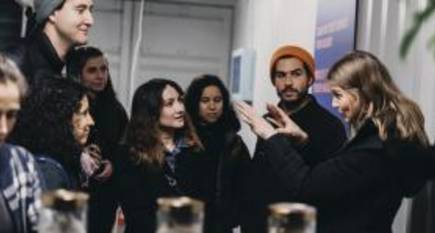 Transparent technology
The technology behind The Digital Bricks is specifically designed for the building and is a result of design research led by Science Gallery Melbourne and Melbourne Connect, in partnership with the School of Computing and Information Systems.
Research and development for the project took three years and brought together an interdisciplinary collective including construction professionals, electronics engineers, graphic designers, and lighting design teams.
The collaboration was truly global, with glass bricks hand-casted in Venice, and the screens and enclosures manufactured in Singapore.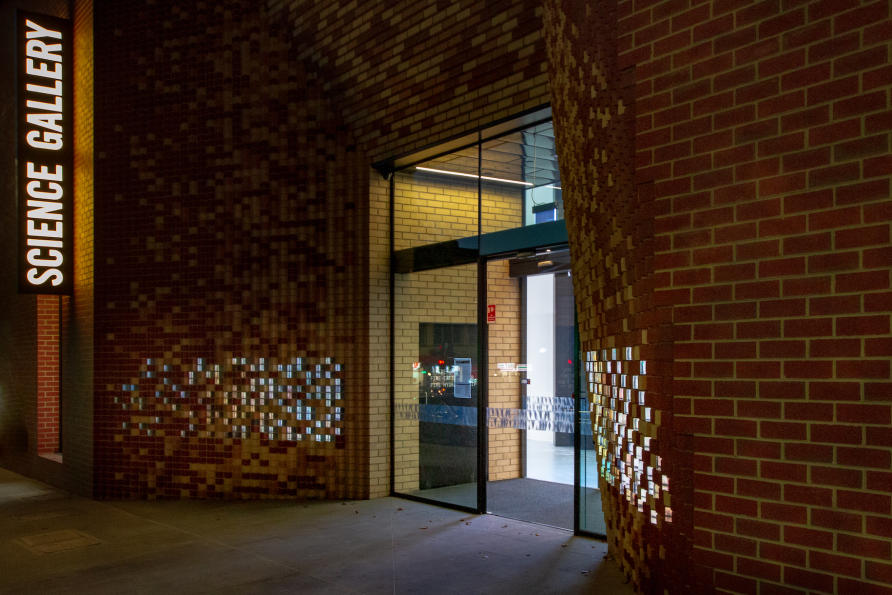 But the project was brought to life here in Melbourne.
Building teams invented new ways to bond clay and glass bricks, electronics engineers ensured finger taps were detected through solid glass, while graphic designers seized the project's unprecedented demand on computer graphics cards.
The group of collaborators created a cutting-edge response to a groundbreaking technology initiative with genuine excitement to deliver a project that pushed boundaries and told a unique story.
Now, after years of research and development, The Digital Bricks are a permanent, built-in media architecture exhibit at Melbourne Connect and Science Gallery.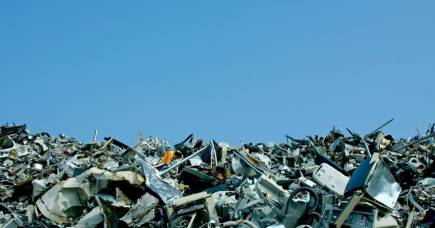 A Canvas of Innovation
Media architecture is an emerging field in design and technology that transforms any public space through embedding digital media into our built environment. Think of the iconic Morgan Stanley Headquarters in New York with its LED stock prices ticker display on the building's exterior.
Although increasingly sophisticated, most current examples of media architecture around the world include screens and lights installed in accessible locations, often leading to billboards that scream for attention.
But this tends to be detrimental to the architectural appeal of buildings.
Dispersed among the clay bricks, The Digital Bricks create a radically different canvas, expanding beyond a portrait or landscape screen. The quality of the glass creates optical distortions like refraction, blur and reflection contributing to the unique aesthetic quality of the facade and encouraging a close-up look of each screen's content.
It's a design that lets the architecture speak for itself – even when screens are switched off.
The Digital Birthing Tree
The inaugural content piece features images and photographs that aim to connect Australia's First Peoples' knowledge and the local area's colonial history, telling an important story called The Digital Birthing Tree.
Melbourne Connect stands on the former site of The Royal Women's Hospital, a place that contributed significantly to the city's history and innovation. But in pre-colonial history, the local area was home to the Wurundjeri people.
As Melbourne grew, much of the local Indigenous knowledge and culture was destroyed.
The images visitors can see on The Digital Bricks today have come to life as a result of intercultural co-production. Consultation with Traditional Owners and discussion with various Indigenous Advisory groups influenced the content curation. Only after foregrounding local Aboriginal voices could the project confidently move forward.
Content development, led by Susie Anderson, a Wergaia/Wemba Wemba digital producer, enabled collaborations with partners from University of Melbourne's Map collection, Herbarium Collection, Faculty of Engineering and Information Technology, Medical History Museum and The Russell & Mab Grimwade 'Miegunyah' Collection.
The story takes viewers on a journey from pre-colonial knowledge to Western colonisation and occupation of Country over a 24-minute video featuring photographs from the University's collections.
An animated smoking ceremony begins the sequence and machine-learned aesthetics connect the different movements of the video.
Aboriginal women's contributions to the health system, including at The Royal Women's Hospital, are honoured through the story and embedded into the fabric of the building.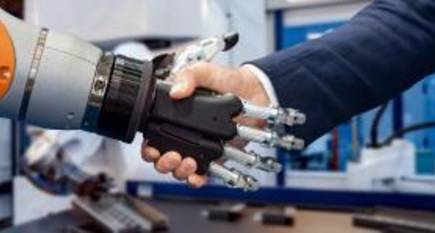 These stories amplify Aboriginal and female perspectives, but also reflect upon lost and threatened ecosystems from the impact of colonisation and Western innovation, and unpack the site's recent history as a hospital.
Using artificial intelligence to recolour and reimagine images, The Digital Birthing Tree is a visualisation of an imagined world where colonialism has not interrupted First Peoples' culture, a world where more Indigenous plants may be flourishing and customs continuing.
Storytelling and Activism
The typical function of media architecture is to communicate a message to audiences. But the ethos of The Digital Bricks – of collaboration, innovation and intervention – aims to bring a progressive agenda into the public realm.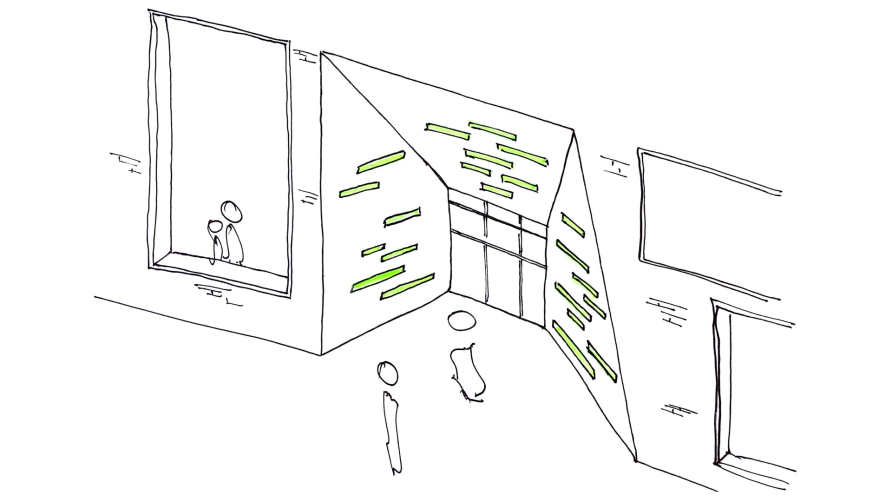 The Digital Birthing Tree encourages reflection on untold stories, unheard knowledge and unknown culture. It gives voice to First Peoples knowledge and practice in ways that challenge colonial culture and recognise First Peoples contributions to contemporary life.
The Digital Bricks fuse technology, architecture, innovation and design with Australia's Indigenous culture –offering a new medium to tell important stories.
The Digital Birthing Tree is currently on display between 8am-8pm at The Digital Bricks, Science Gallery Melbourne, Grattan Street.
For a full list of the collaborators on The Digital Bricks project, visit: https://melbourne.sciencegallery.com/digital-bricks
Banner: The Digital Bricks/Niels Wouters