Instrumental reward of the harpsichord
Dr Erin Helyard has been praised as a virtuosic soloist as well as an inspired and versatile conductor, but his passion for performance goes way beyond the self
My conducting style has been described as "full-bodied" – a bit like a good shiraz. I do occasionally conduct from the pit, but the bulk of what I do is conducting from the harpsichord as they did in the seventeenth and eighteenth centuries, which means I'm playing often with my left hand and beating with my right if needed. My violinist colleagues help too. Nowadays we tend to outsource all that direction to one person who beats and doesn't make any sound with his or her hands or voice. I find that approach doesn't work so well for opera from before 1800, which is what I'm fascinated by.
I'm deeply interested in how people can best live examined lives as musicians, and what we're trying to teach our students. If you study piano, it's good to learn harpsichord and electric piano and improvisation – not only eighteenth-century music but modern and many other styles besides. Rather than specialising we should be giving people a multiplicity of different skills.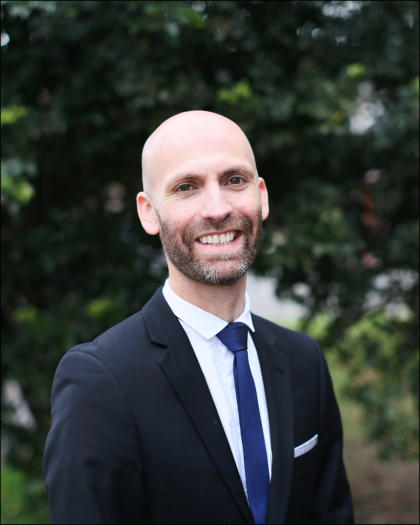 Currently, we're rehearsing for a student opera, Marc-Antione Charpentier's La Descente D'orphée Aux Enfers, to be performed in late September. It's a baroque work that involves many vocalists, which is great because we've so many here at the University. The student opera is hopefully going to be an annual event from now on, which is really exciting.
At one stage I thought that, if I didn't get into academia, I would join the diplomatic corps. A lot of institutions and branches of government look for musicians to employ, because we're trained to be receptive to other people, we work well in groups and intuit how to subsume ourselves or alternatively make ourselves heard.
Even as a teenager I was fascinated by music of the past and how people played it. I've also always loved literature, so it made sense for me to fall in love with opera.
The verb for playing an instrument is also "play" in German and French. If playing ever became odious to me I'd do something else, but I don't think that would ever happen. Playing music was a great solace to me as a kid because I didn't have an enormous amount of friends – music was a constant companion.
Pinchgut Opera was started up by me and another colleague in 2002, after we realised there was no baroque opera in Australia. A lot of Australians leave our shores and don't come back. But at that point some were returning and we had a critical mass. We're presenting stuff that's new in that it's rarely performed, but it's also old – it's a lovely postmodern mix.
I recently restored a vintage bike, an Apollo II, from the early 1980s. I wanted to be able to take care of an object that wasn't a harpsichord. I took a course and found a vintage bell: I'm hoping my hipster cred is good.
French music of the eighteenth century is really beautiful and very precise. [Jean-Philippe] Rameau (1683-1764) is one of my go-to composers. The music is colourful, with interesting orchestration. You'll have very bright, distinctive, unusual colours from the two piccolos and the bassoon – a really odd ensemble – and then something much more full-voiced, like a five-part string accompaniment. And with Rameau there's lots of beautiful dance music as well.
Opera is not a cheap art form, and nowadays we invest the big money in cinema. I'm really excited to be conducting next year's Adelaide Festival production of Handel's Saul – it's a $2 million production, which is an extraordinary investment.
I think the arts funding model will increasingly turn away from government towards private donorship, like the patronage system of old, and there'll be big winners and big losers when that happens. I try to donate a portion of my salary to "good works", as it were, and I think the more people who can afford to do that the better.
It's intensely moving to watch a whole bunch of other human beings trying to enact human drama, to do human "stuff". I love computer-generated imagery and all that because it's been created by human beings, but there's something to be said about a whole bunch of people performing live, warts and all. It's a great symbol of community, of art. It ennobles us somehow, and I think that's what gives me hope in dark times.
These days we expect our performances to sound like recordings. But I actually love when people take risks. A perfect performance that doesn't move me is worse than a less-than-perfect performance that does move me by virtue of the performer's absolute commitment to the role or to their instrument.
– As told to Paul Dalgarno
Banner image: A Private Performance, by Pio Ricci (1850–1919)/Wikimedia Commons
La Descente d'Orphée aux Enfers by Marc-Antoine Charpentier will be presented in a fully-staged version by students and staff of the Early Music Studio and Vocal Area of the Melbourne Conservatorium of Music on 28 and 29 September. Details here.