Looking for a break in La La Land
A group of University of Melbourne graduates are chasing their dreams in Hollywood
They share an address, an accent and an ambition to make it big in the world epicentre of entertainment – while also ensuring the pantry is well stocked with Milo and Vegemite.

These four housemates in Los Angeles – Joe Brukner, Charles Hopkins, Brigitte Wise and Robert Chislett – have something else in common: they are University of Melbourne alumni.
Happenstance and connections forged through University social and career networks have led these ambitious twentysomethings to living together in a Spanish-style, two-level abode on a leafy street in Beverly Grove, bisecting West Hollywood and Beverly Hills, in the heart of the American film industry.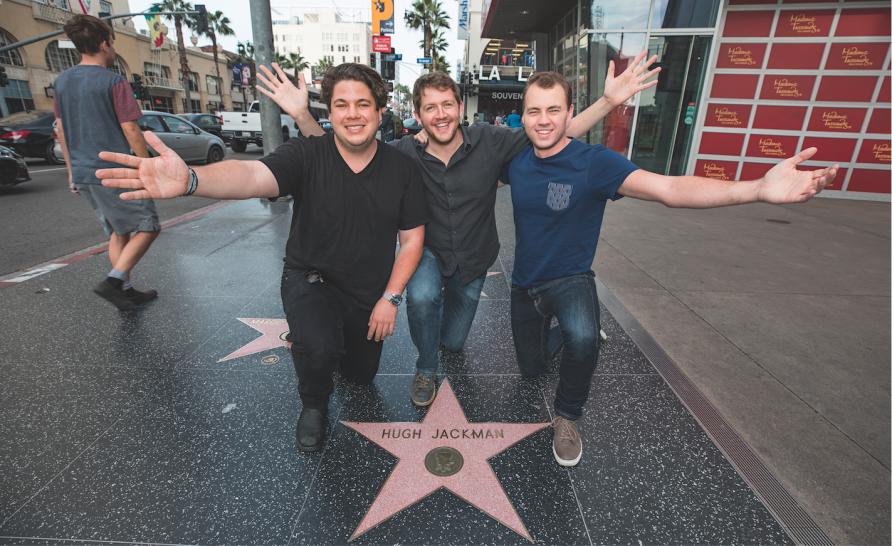 Of course, there is nothing unusual about Australians relocating overseas. According to the Australian Bureau of Statistics, more than 92,000 did so last year. And sun-soaked Los Angeles has long held an allure for Australians, particularly those enticed by its film and television production studios. Yet the strike rate for success here is predictably low.
"I simply hoped someone would employ me and I wouldn't be homeless," says Wise (BA 2011, JD 2014), who worked as an associate producer on Robert De Niro's recent release, ­The Comedian. "I didn't know what to expect."
Wise and her alumni housemates have been able to carve out their own slice of home in LA and make headway in the entertainment industry. They share the spacious house with Tilly, a chocolate Labrador mix. It's where they can commiserate with each other on bad days, or toast their successes on good ones. It's a sanctuary in which to speak one's mind, collaborate, solicit ideas, trade gossip and unwind.
Wise's time there is dictated by her work. She can o­ften be found shooting a film on location. So far, she has travelled to Canada, Morocco and Manhattan, as well as film markets and festivals. When a film is in post-production, she may be holed up for days in an editing suite, or in a recording studio working on audio replacement with actors.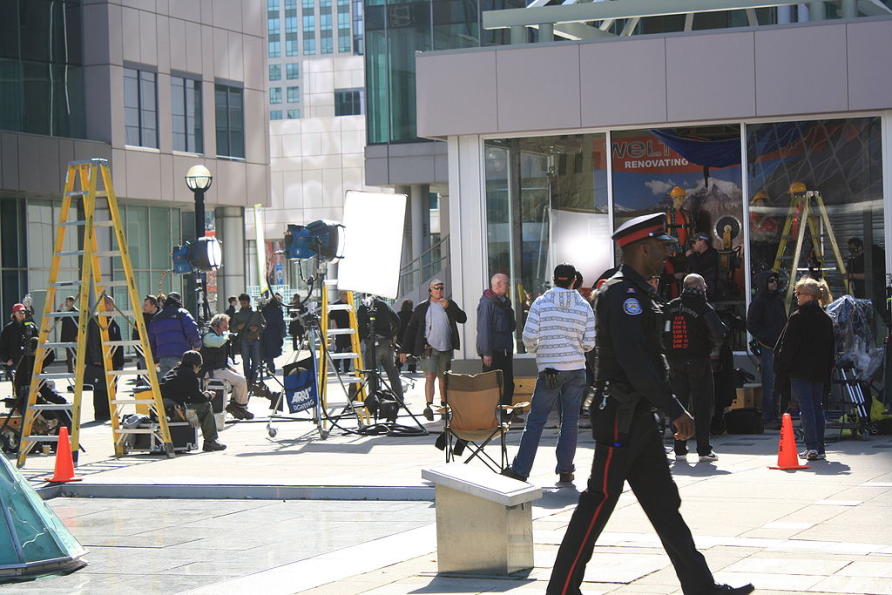 "O­ften I'm engaged in all of those stages at once on multiple projects," she says. "Being out on set is generally my favourite time as we get to meet a multitude of talented people, from actors to costume designers to sound mixers and the countless army it takes to make a movie."
She learns from them by osmosis, she says, simply by being around them and observing their work. "I like having people at home whose opinions I trust and who I can bounce ideas off," she says.
"We have intellectual discussions – and sometimes respectful arguments – about industry issues, and the guys are informed and working in the thick of it, so it's an invaluable resource for each other. It helps keep me motivated."
Charles Hopkins (BA Media&Comm 2010, JD 2013) moved to LA to pursue screenwriting and was the first to snare a spot in Beverly Grove, in mid-2014. "People here think it's hilarious that we've rustled up four Melburnians to fill out a share house," he says.
His screenwriting ambitions are on hold as he works as a junior executive at Shoreline Entertainment, a film sales, production and management company.
"I review script submissions, collaborate with clients and producers on projects in development and negotiate deals," he says. "It's really a practical education in independent film production. I chose to stay here for my professional aspirations and I've learned to love the city, the lifestyle and the people."
Joe Brukner (BA 2012) is a prolific writer and producer, having written and produced music videos for pop artists such as The Fratellis and Jack Ü. He played key roles in supporting the production of blockbuster films such as Sony's Ghostbusters (2016) reboot.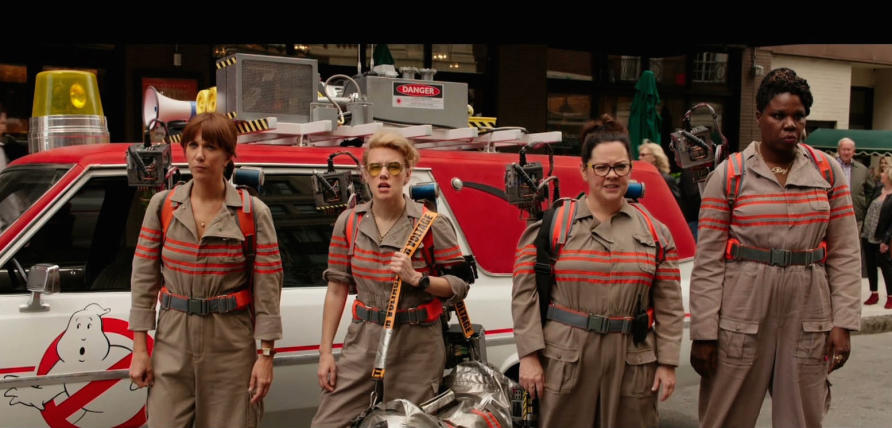 "Charles keeps us all on track," says Brukner. "He makes sure the house is running, unstacks the dishwasher a lot. We all work long hours or travel but it always feels like coming home. It's interesting hearing how other parts of the industry work. It's especially helpful if our roles ever overlap or we need guidance: an accomplished producer is literally down the hall."
Robert Chislett (BA 2010, JD 2013) runs several restaurants for an Australian restaurateur, including the well-known West Hollywood hangout Goldies, while developing comedies, including one with Hopkins.
"Charles and I lived together in Melbourne and Joe and myself were neighbours in New York, so I love coming home and feeling like I'm with family," Chislett says. "My friends think it's weird we only have Australians living there, but that's just the way it's evolved. This is a space where we're all comfortable being ourselves, for better or worse."
The diversity of their work has ensured no one in the house has been in the awkward position of angling for the same jobs.
"I don't think there's jealousy in the house because our aspirations don't overlap in a significant way," Hopkins says.
"We're not cannibalising each other's opportunities. Especially as the business is so big here."
Wise is similarly pragmatic.
"We don't really seem to get jealous of what the others are doing," she says. "If there is any jealousy or competitiveness, I've somehow remained fairly oblivious to it. I like to see them succeed because I love and care about them."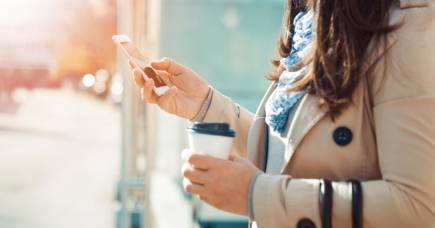 Although Brukner was the last to arrive at Beverly Grove, the 27-year-old was in fact the first to move to the United States, leaving Melbourne in 2012.
"You have to start by saying, 'I'm starting everything from scratch and am willing to take a full zero on this'," he says. "We all gave up a lot to get here, but we have also seen what one another has done and that makes us feel more secure."
A screenwriter by trade, Brukner went on to complete a Master of Fine Arts at New York University a­fter he left­ Melbourne. A­fter NYU, he landed an internship on the long-running TV series, Blue Bloods.
"There is a culture of apprenticeship in the writing world here," he says. "Working in that writing room for two months, I shadowed one episode from inception to final edit, an amazing opportunity."
Brukner had known Hopkins in Melbourne for many years: they attended kindergarten together. Their paths first crossed again via the Melbourne University Law Revue, a seminal incubator of talent, in which all four of the LA housemates had participated. Chislett and Hopkins write comedy together; it was through the latter's connections that Wise landed her first LA internship – and her place in the house.
Several months ago, Brukner noticed a "For Rent" sign fixed to the hedge next door. He quickly messaged a friend from Melbourne; within a month the house was filled with Melbourne expats. "We're now slowly growing a compound of Melburnians in Beverly Grove," he says.
The housemates are optimistic their success thus far is merely the beginning. Still, there is one thing they need to work on. "We can't be trusted with Milo," Hopkins says. "It goes way too quick."
This article originally appeared in 3010 magazine.
Banner image: Wikimedia