Music fit for an Empress: Catherine the Great's playlist
Musicologist Rachel Orzech reveals the musical life of Catherine's court
Catherine the Great was known for being exceedingly unmusical, yet she put a great deal of effort into attracting European composers and musicians to the imperial court under her reign. Why would Catherine have considered music to be such an integral aspect of court life, if she had little interest in the art herself?
As Empress of Russia, staging operatic performances in the court theatre was a way of demonstrating her power and status. It would have been unimaginable for an empress not to promote and encourage musical composition, performance and activity within the court, and so she employed musicians and composers from Italy and Spain to stimulate the court's musical life.
Like her art collections, the quality of the music performed was a direct reflection of her leadership.
My interest in the links between music and power led to me being commissioned to curate a playlist to accompany the National Gallery of Victoria's 2015 Melbourne Winter Masterpieces exhibition, Masterpieces from the Hermitage: The Legacy of Catherine the Great. The exhibition showcases Catherine's astounding art collection.
My task was to put together a selection of music connected to the artworks displayed in the exhibition, and to musical life in Catherine's court.
To begin with, I chose a number of pieces by 18th-century Italian opera composers, some of whom were brought to St Petersburg by Catherine to compose for her court. Giuseppe Sarti was invited by Catherine to act as music director of the imperial chapel, and his very successful opera Almida e Rinaldo was composed during this time.
The playlist includes a duet from this work, as well as an aria from Vincenzo Manfredini's opera Carlo Magno, also composed at the court in St Petersburg.
A number of the works in the selection were chosen to complement specific parts of the exhibition itself: for instance, I included some music by Spaniard Matheo Romero from a recording entitled Velázquez and the Music of his Time, to complement a painting by Spanish artist Diego Velázquez in the exhibition's section 'Catherine and the World'.
Similarly, the Divertissements chinois by 18th-century French scholar of Chinese music Joseph Amiot make reference to Catherine's Chinoiserie collection.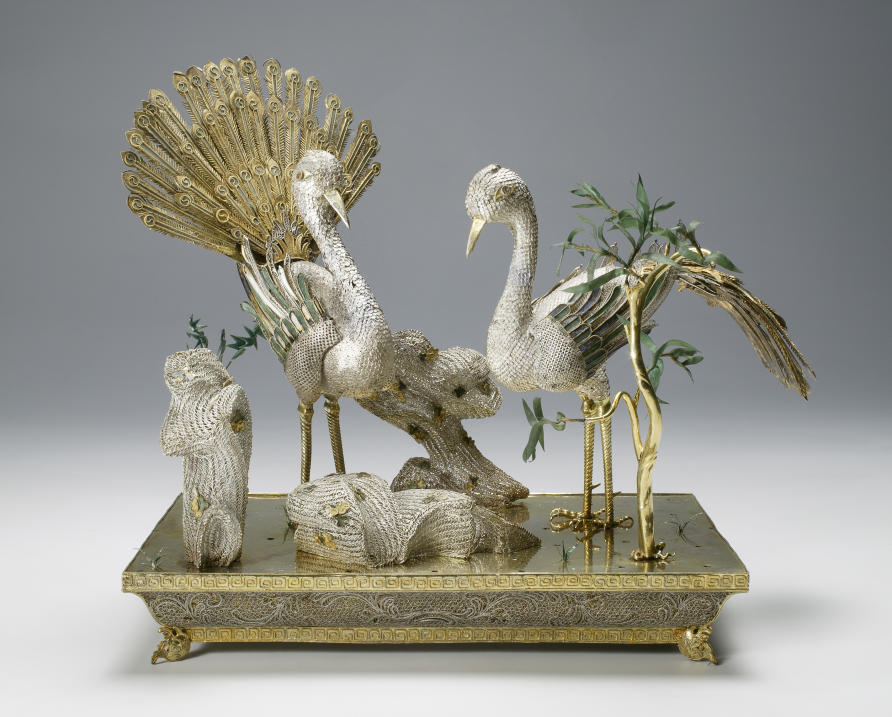 Also on the playlist are two charming folksongs composed by Russian princesses of the court - this is music that would likely have remained unknown today if not for a recording by the Russian early music ensemble Talisman.
Although most of the music on this album is heavily influenced by the Italian and French sounds that were being performed at the court, the two songs that I chose for this playlist are both sung in Russian and have more of a folk sound, providing a flavour of St Petersburg to the exhibition: Maria Zubova's 'I am Banished to the Desert', and Maria Naryshkina's 'On the Hills', both accompanied by guitar and Baroque violin.
The fact that these are both works by women made them an excellent choice for my selection, and suggests that Catherine encouraged the women at her court to participate in its musical life.
Lastly, and perhaps most importantly, the opening and closing pieces of the selection are numbers from Vasily Pashkevich's opera Fevey, composed to a libretto written by the Empress herself. Although Catherine famously and curiously lacked an interest in music – surprising given her passion for visual art – she did write opera libretti for enjoyment and relaxation, and she had five of these set to music by her court composers.
Based on fairy tales and sung in Russian, they are little known today and few recordings exist.
Luckily for us as listeners, two numbers from Fevey - the Overture and the Tsaritsa's aria - have been recorded and are included in the Hermitage playlist, giving us the opportunity to hear Catherine's own operas realised in sound as we contemplate her extraordinary artistic legacy at the National Gallery of Victoria.
Public recordings are limited on YouTube – we've only been able to give readers a taste here. To hear the music from the playlist you'll need to visit the exhibition. Masterpieces from the Hermitage: The Legacy of Catherine the Great continues until 8 November 2015.
Banner image: Frans SNYDERS, Flemish 1579–1657, Concert of birds (1630–40), oil on canvas, 136.5 х 240.0 cm, The State Hermitage Museum, St Petersburg (Inv. no. ГЭ-607), Acquired from the collection of Sir Robert Walpole, Houghton Hall, 1779.