Music for change
How music is striking chords of change in global indigenous communities
"The music here beats to the heart of the land and its people."
Kutcha Edwards, a prominent indigenous musician, interrupts a strumming tune to tell Balinese rockers Navicula about the indigenous communities in Lakes Entrance and Lake Tyers.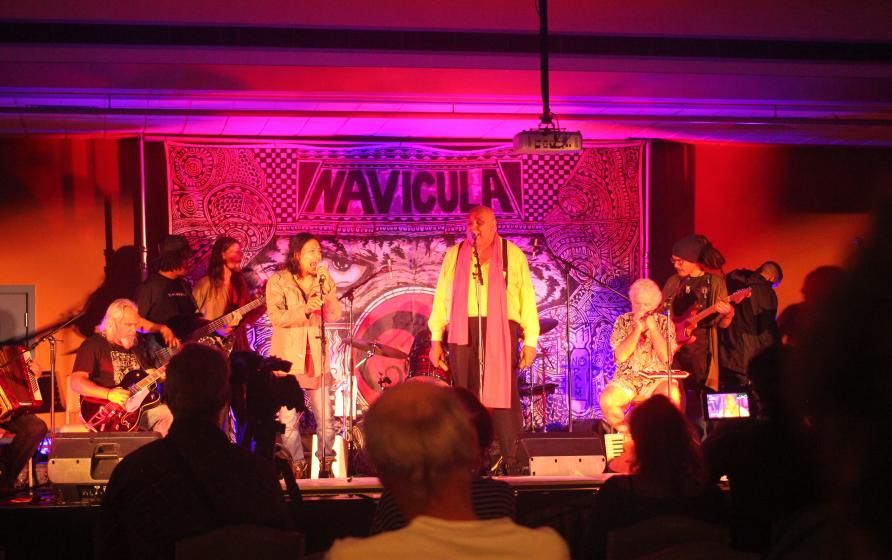 Navicula are an Indonesian rock band here in Australia meeting the local Gippsland community including Kutcha and fellow Indigenous musician Robbie Bundle as part of a cross-cultural exchange. It's been organised by University of Melbourne development studies expert Dr Rachael Diprose and Kirsty Ellem from Artistic Merit to bring together indigenous communities in Indonesia and Australia, with support from local organisations Wurinbeena and FLOAT.
These meet-ups are happening more and more globally - where indigenous groups get together to exchange knowledge and cultures to tackle community issues.
"Hear the spirit of the mob here. It is strong, but there are deep scars yet to heal," continues Kutcha Edwards.
Mr Edwards' comments strike a chord of familiarity with Navicula's own experiences educating their local Balinese community through their rock music about the impact of local palm oil plantations and the resulting deforestation.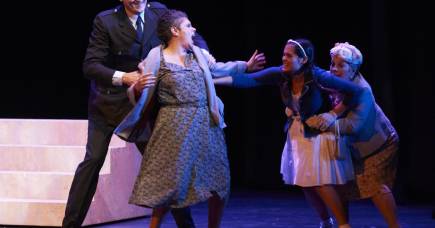 "By having the Balinese boys, Kutcha and Robbie down, we're learning from other cultures and creating opportunities for people to interact positively with each other," says Lennie Hayes, a Gunai man in the Lakes Entrance community.
The groups find common ground over their deep-rooted connection to their land and heritage, and of their hopes for the future.
According to Dr Diprose, meetings like this can lead to real change.
"It is about finding solutions to problems which affect the hardest to reach groups in society," says Dr Diprose. "This cross-cultural tour has a particular focus on the transformational power of music and technology in creating social and environmental change."
Historically, Lake Tyers, also known as Bung Yarnda, was an Aboriginal mission established in 1863 by the Church of England. In 1970, the Victorian state government handed the land back to the Aboriginal people of East Gippsland and it is still home to about 150 Gunaikurnai people.
"My people and I were excluded from the wider community growing up, so now I always strive to create environments where everyone has a voice, where everyone feels welcome and included," says Mr Edwards.
And according to Mr Edwards, key to raising that voice is music.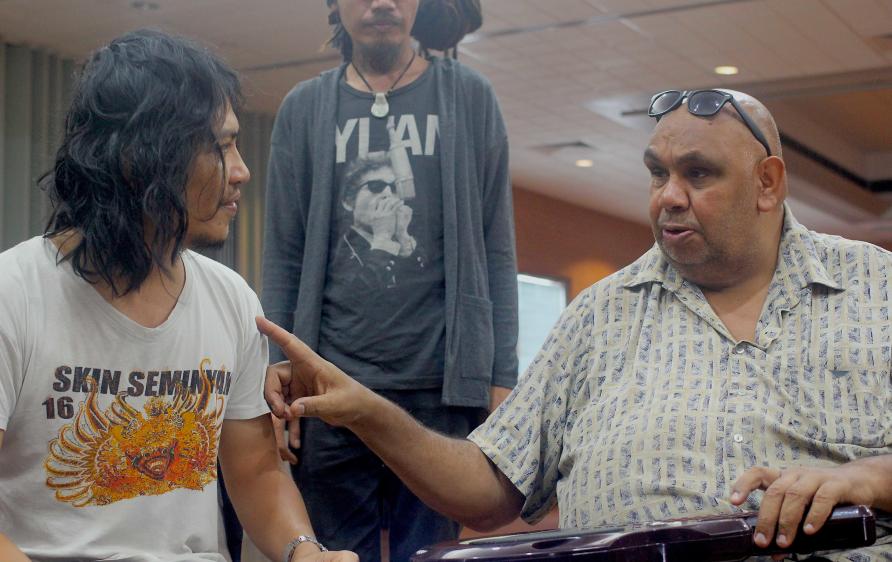 "Our music is about the human essence, creating something which recognises and celebrates both our common ground and our differences."
And this is where Navicula come in. The two cultures are collaborating musically.
"The collaboration had to be gentle and soft to work, like nurturing a small fragile bird in your hands until it is ready to fly," says Navicula's frontman Robi.
In Indonesia, Navicula combines activism and music as tools for social change. Formed in 1996 in Bali, the band have collaborated with organisations like Greenpeace and the Rainforest Action Network to campaign against the country's palm oil industry which is responsible for the widespread destruction of Indonesia's rainforests.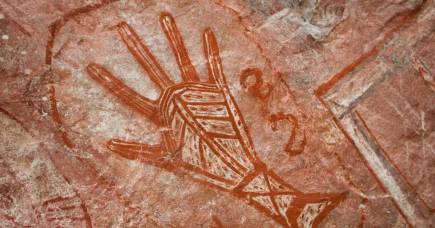 The band have used their shows and run workshops in affected areas to spread awareness of environmental devastation while also lobbying government and corporations. They have also developed a suite of palm-oil free products for merchandise.
Bringing these two groups together isn't just about addressing the future, but also the past.
"Traumatic pasts take time to heal. But my research sees marginalised communities coming together to create alternatives to solve problems which have plagued them for generations," says Dr Diprose.
Navicula and the Indigenous community at Lake Tyers spent three days making music, meeting with community and having a yarn together at forums. The culmination was a joint performance where new songs were performed to a diverse audience of indigenous and non-indigenous community members.
"There was a connection of spirit. For the local community, there was an understanding of how sharing people's struggles can heal and how music can communicate across cultures and facilitate the healing process quicker," continues Dr Diprose.
As they finish the song, the room is quiet and focused.
"I am smiling but I am crying inside," Kutcha says.
"We have to let the feeling sink in. These are our spirits communicating," Robi says.
For Dr Diprose, the more communities can learn from each other, the better the world will become.
"Community to community connection in an increasingly globalised world will create an inter-connected movement of people in social and environmental justice willing to collaborate on local and global issues."
For Kutcha, the weekend with Navicula sparked a new, positive conversation to build bridges across historically divided communities.
"This was a pebble drop in the water, and the ripples are there for us to all take on our own meaning to share this experience far and wide."
Navicula will be performing live and free at the University of Melbourne on Tuesday 28 November, 2017 in the Arts West Building, Level 1 Forum Theatre hosted by the Indonesia Forum and the Faculty of Arts in collaboration with the Herb Feith Foundation. There will be a discussion on the power of music in creating change beforehand featuring Navicula, Dr Rachael Diprose and Indonesian-NGO Kopernik. RSVP here.

Banner image: Navicula/Erick Est