On a positive note: Songwriting as a therapy method
Music is a powerful tool that can shape moods, define moments and ignite memories. In creating music we can share something of our experiences and ourselves – a notion explored in therapeutic songwriting
"Therapeutic songwriting is the process of creating, notating and/or recording lyrics and music by a client or group of clients and therapist within a therapeutic relationship to address psychosocial, emotional, cognitive and communication needs of the client or clients," explains Professor Felicity Baker, co-director of the Melbourne Conservatorium of Music's National Music Therapy Research Unit.
It's also the subject of her recently published book Therapeutic Songwriting: Developments in Theory, Methods, and Practice, published by Palgrave Macmillan, the culmination of four years of research funded by an Australian Research Council Future Fellowship.
"In therapeutic songwriting, a therapist purposefully engages the songwriters in a creative process whereby they craft a song that has personal meaning and simultaneously leads them through a journal of personal discovery. The songs that people create become a tangible record of their journey or a representation of their transformed state."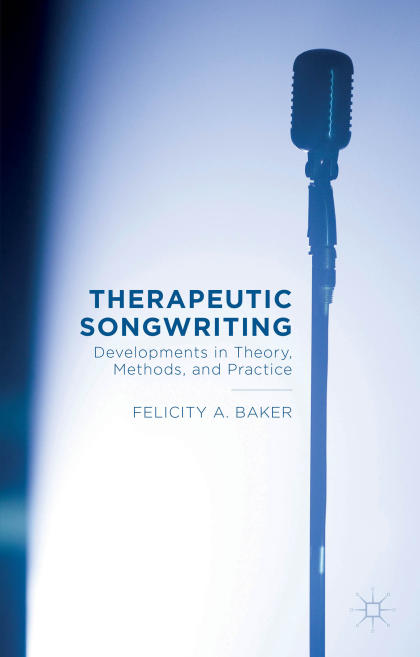 Sharing through songwriting
Professor Baker notes that lyric creation helps people to share their stories in ways that are socially appropriate: "For example, it is more socially acceptable to share your story of abuse in a song than in a conversation, and [therefore] maybe easier for the person to share the story in that form, and for the audience to receive it. Importantly, the music creation process helps people to express the intensity of the emotions experienced in their stories, to express ambivalent feelings, and to create climax and resolutions."
A broad practice
Therapeutic songwriting can be used across the lifespan, says Professor Baker. In clinical practice it is used with children and adolescents with special needs; children in hospital (including those being treated for cancer); refugees who have been traumatised prior to their arrival in Australia; and children, adolescents and adults who are in palliative care or who are bereaved. There is extensive use of songwriting in rehabilitation – "including my own specialised field of rehabilitation following acquired brain injury" – and also with older adults with mild to moderate forms of dementia.
Songs may be created by rewriting the words to an existing song (song parody). For example the words of the song I Will Survive have been recreated to express an adolescent with cancer's fight for survival.
"Young people may create rap songs by either freestyle rapping their story over an original or pre-existing rap beat, or they may craft a rap song that tells their story of adversity or the adversity of their community. Another popular songwriting technique is the use of the blues form, which typically expresses a sad theme (first two lines of a verse) with a resolution or solving of a problem. Other songwriting techniques include sampling and combining existing music to create something new, meaningful and expressive of the person's process."
In the field of mental health, songwriting has been used with those who are in acute psychiatric wards, those with mental health diagnoses but living in the community, and with those who have drug and alcohol addiction. Professor Baker adds that there is also growing use of songwriting for those people at risk of offending or who have offended and are in prison.
Communicating change lyrically
"Therapeutic songwriting can be practiced according to a range of psychological and health-oriented ways of thinking. It can focus on outcomes such as changing something tangible and visible – for instance, behaviours and ways of thinking. It can focus on the experience of creating a song whereby the process unfolds as people tell their stories, get in touch with their authentic expressions, and gain insight into their past and how it impacts on their present lives," says Professor Baker.
"Within contemporary theories, songwriting can be a process that engages the person in creating a song whereby it impacts people beyond the songwriting process," she continues. "For example, the songs created can be a medium for communicating their experiences with family, their community, or with politicians and policy makers."
Learn more about therapeutic songwriting in Professor Felicity Baker's book, (Palgrave Macmillan).