Part 2: 2018 Summer reading
Reading a good book on holiday is one of life's indulgences, but getting a gem of a recommendation can be a true gift
Looking for a good book to get your teeth into for the lazy days of summer?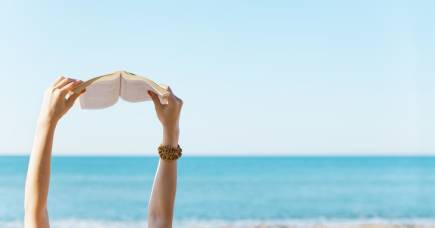 Here's Part 2 of our recommended reading list from a range of University of Melbourne academics – from weighty tomes to page turners, non-fiction works and novels.
Dr Andrea Carson, Lecturer, Political Science; academic co-ordinator Pathways to Politics program, School of Government
The Last Painting of Sara De Vos by Dominic Smith.
One benefit of being a disorganised book club member is that you get excellent reviews from accomplished readers of books you were meant to have read. As my book club friend says: Life is too short for a bad book.
So, my summer list includes Dominic Smith's New York Times best seller 'The Last Painting of Sara De Vos'.
I am halfway through this beautifully written book about a forgery of a stolen 17th century Dutch painting. Time and place move about from 1950s New York to 21st century Sydney, giving you an insider's view of the key characters. We get to know the victim, villain and the long-dead talented artist Sara De Vos, who fell on hard times. The Sydney-born author is a master at keeping you guessing how it will end.
Professor Rob Moodie, Melbourne School of Population and Global Health
The Merchants of Doubt, by Naomi Oreskes and Erik Conway.
The 'merchants of doubt' are a small band of ideologically driven scientists who "deliberately distorted public debate, running effective campaigns to mislead the public and deny well established scientific knowledge".
The book is a highly engaging-yet-chilling, non-fiction thriller that exposes four decades of corporate malfeasance. In seven compelling chapters the authors, doubling as forensic historians and artful storytellers, take us through the strategies and tactics these scientists used to undermine national and international responses to the harm of tobacco smoking, the Strategic Defence Initiative, the production of acid rain, depletion of the ozone layer, harm from second-hand smoke, anthropogenic climate change and the use of DDT.
In magnificent detail, the authors reveal the relentless, unethical, deceitful, cold-blooded, yet often highly innovative tactics these merchants have employed.
Professor Marcia Langton, Associate Provost, Foundation Chair of Australian Indigenous Studies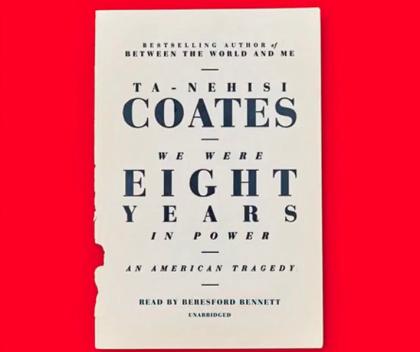 We Were Eight Years in Power, by Ta-Nehisi Coates.
After watching I Am Not Your Negro, the multi-awarding winning 2016 documentary film directed by Raoul Peck and based on James Baldwin's unfinished manuscript Remember This House, I started thinking about the big shift that is happening globally in black thinking.
The power and the beauty of Baldwin's writing has rarely been matched. Only Toni Morrison comes close, but there is an intergenerational mutation, one that honours the civil rights movement and also departs from it in interesting ways. This month, a debate broke out in the US when Cornel West dissed Ta-Nehisi Coates' book We Were Eight Years in Power.
Readers of the book responded angrily, demanding that West actually read the book. So, I will be bunkering down with one author during the coming season – Ta-Nehisi Coates – and to think about the shift from Baldwin to Obama, and from West to Coates.
Associate Professor John Fitzgerald, School of Social and Political Sciences
S., by JJ Abrams and Doug Dorst (Mulholland Books).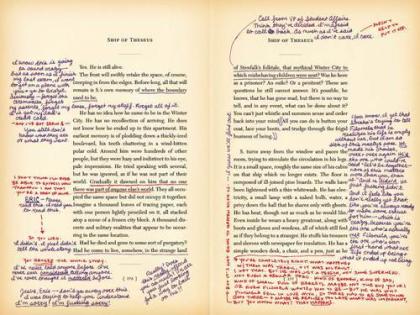 Over the course of 51 summers, I have only ever deliberately not finished two books – Delillo's Underworld and Solzhenitsyn's Cancer Ward. Even on my Year 9 summer holiday, finishing Tolkien's disastrous Silmarillion trumped everything else.
This year, I will finish a book I had to put down halfway only because it blew my head off first time around. The book is S., by JJ Abrams and Doug Dorst, published in 2013.
But the book is also authored by someone called V.M. Straka. Open it up and it is fashioned like an old library book with distressed paper, library stamps and lots of handwritten notes. The story is that the book is shared by two university students, who in the margins write notes in different coloured pens about the book and about each other.
They insert maps, letters, postcards, napkins – all sorts of things – into the book as they swap it back and forth and a mystery develops about the book itself. The reader is reading multiple stories, and it tends to cause brain injury for those used to reading linear narratives. It is a beautiful object and highly recommended for those who want to experiment. And, yes, Abrams is the guy who directed the last Star Wars film.
Dr Suelette Dreyfus, Lecturer in the Department of Computing and Information Systems
Democracy and Salvador, by Joan Didion.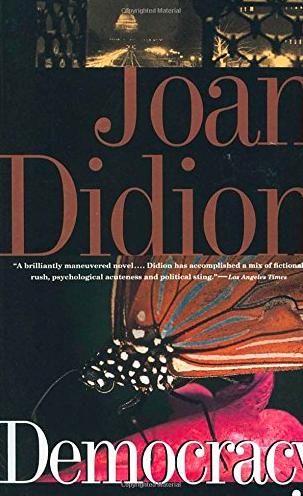 Joan Didion has recently been the subject of a Netflix documentary, The Centre will not Hold, which focuses on her life in San Francisco in the late 60s when things fell apart.
Her writing is stark, minimalist and very fact-based. She doesn't drown the data with data: rather, she carefully curates only a few facts and then explains why these represent the human story of that place. Almost all her books are about things disintegrating.
Her novel Democracy offers a window into the upright families of American politics, whose children have gone awry as peace protesters or adventurers to Vietnam in the final days of the war. It illustrates the facade of the powerful Congressman and his dutiful wife, and how both are actually in a marriage of many, with political minders, donors and throbbing motives of expediency and game-playing.
Salvador is a slender non-fiction work about the 1980s in El Salvador, a time of death squads and the dark hand of CIA involvement in overthrowing democratically-elected leaders. Reading Didion is like viewing an exquisite piece of modern art in the Guggenheim: the beauty is not just in the brushstrokes or the colours. It is in the white spaces left in between.
Professor Malcolm Hopwood, Head of the Department of Psychiatry
Canaletto and the Art of Venice, Royal Trust Exhibition.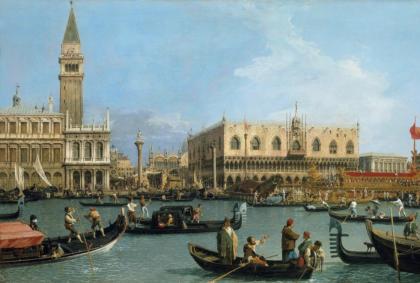 Sometimes, holiday reading far away from the usual path is a delight.
Canaletto and the Art of Venice is a volume accompanying a Royal Trust exhibition. The work reflected in the volume is from the collection created by Joseph Smith, a British Consul in Venice for a decade in the mid-1700s.
The water, the city and the culture highlighted in the extraordinary colours of late Venetian art make for a sumptuous escape. In case I begin to drift, the story of the collection is equally littered with commercial realities of art and the production line from a now less-powerful nation – Venice, to the world's current superpower.
Somehow, a stray January email doesn't seem a good enough reason to put it down.
Professor Robyn Sloggett, Director, The Grimwade Centre for Cultural Materials Conservation
Ngarrindjeri Wurruwarrin, by Professor Dianne Bell.
The Hindmarsh Island Bridge Royal Commission cleaved the Ngarrindjeri community, and demonstrated the inadequacies of Australian law for the protection of Indigenous heritage.
In Ngarrindjeri Wurruwarrin, anthropologist Dianne Bell, who worked closely with Ngarrindjeri women, delivers a richly contextualised and compelling defence of the evidence of women that was dismissed as 'fabricated' by the court.
Professor Bell explores the complexity of the case, the ontologies that the court rejected and the nature of the construction of senior knowledge.
Professor Cassandra Szoeke, Director of the Women's Healthy Ageing Project
Harry Potter books, by J.K. Rowling.
For summer, if I wasn't planning to write three major government funding proposals, I would love to finally read the Harry Potter series.
Not only because reading the first few pages of book one demonstrated the author's writing is, indeed, talented and engaging but because, as we watched the news throughout the year, my 6-just-turned-7 year-old Harry Potter fan, constantly raised analogies between the Potter world and ours.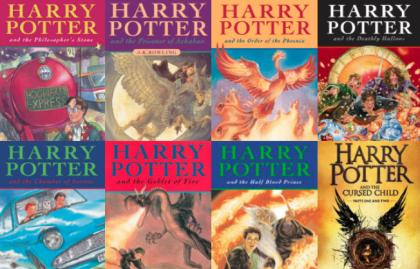 She likened many of the threats and challenges we face to those tackled in the series.
A book report she wrote for her exceptional primary school teachers ended with: "I think Donald Trump should read Harry Potter Book 5– he needs to be more careful to avoid the ending Professor Umbridge suffered [dragged off into the Forbidden Forest by a group of centaurs]."
If we don't follow the recommendations from our youth, we are lost. So, Harry Potter is top of my 'to do' summer reads.
Banner image: iStock