People in prison still in COVID-19 lockdown
Sustained COVID-19 lockdowns in prisons weigh on the mental health of people in custody. Are we doing enough to protect them?
Millions of Australians now have a much deeper understanding of how isolation and loss of freedom can undermine our mental health having spent many months in lockdown to combat COVID-19.
But while life for most of us is going back to normal, for the more than 40,000 people detained in Australian prisons, many of whom suffer from pre-existing mental illness, COVID-19 lockdown restrictions remain in place. And we still don't know if we're doing enough to protect their mental health.
Close living quarters, overcrowding, poor sanitation and ventilation, and substandard access to (and quality of) health care mean prison settings are a perfect environment for the transmission of infectious diseases. Many people in prison are also among the most medically vulnerable people in our society.
However, the same restrictions that are designed to protect people in prison also bring with them new hardships.
WHAT IS IT LIKE TO BE IN PRISON LOCKDOWN?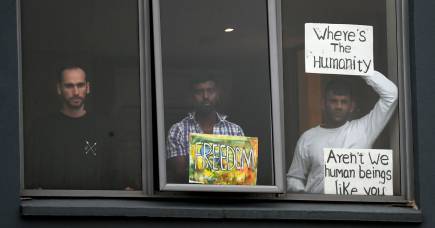 To counteract the high risk of COVID-19 infection in these settings, strict prevention measures have remained in place in Australian prisons since the beginning of the pandemic. For example, restrictions preventing family and loved ones from visiting in person intensifies the isolation of people in prison during an exceptionally distressing time.

Many social, educational, and employment programs that engage those in prison in meaningful activities and reduce their risk of re-incarceration have also been suspended.
Limited space and reduced staffing numbers in prison facilities means that people in prisons spend more time confined to their cells. And people in custody are often subjected to routine quarantine upon prison entry, transfer, or after other possible exposure incidents.
In Australia, these measures have reduced COVID-19 infections in prisons and detention settings, but at the same time they have had detrimental impacts on the mental health of people in custody and pose an ongoing risk to their mental health.
According to data from the Australian Institute of Health and Welfare, in 2018, 40 per cent of people in Australian prisons had a pre-existing mental illness and 25 per cent had a history of self-harm. More than a third of deaths in Australian prisons in 2020-21 were self-inflicted.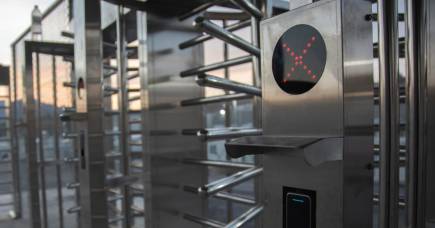 These vulnerabilities have amplified the impacts of COVID-19 lockdowns for people in custody.
Throughout the pandemic, prison lockdowns have been likened to solitary confinement, with people spending up to 24 hours per day confined to cells. Parallels drawn by people in custody between their experiences of medical isolation and solitary confinement – whether perceived or in practice – can exacerbate trauma for incarcerated people at risk of mental health harm, and raise human rights concerns.
Aboriginal and Torres Strait Islander people – who are almost 13 times more likely to be in adult prison and 18 times more likely to be in youth detention – expressed distress over the potential for contracting COVID-19 behind bars and regarding limited access to appropriate health care. Similar fears have been expressed by those held in Australian immigration detention facilities.
What can we do to protect them?
A delicate balance needs be to be struck between between infectious disease control and mental health protection. There are things that we can and must do to uphold the broader social, emotional, and mental health of people in custody.
Our recent global review of guidance for managing the COVID-19 pandemic in prisons and detention settings identified a series of recommendations for protecting mental health:
Grant early release to people who don't pose a risk to society, who are medically vulnerable, and/or those who are awaiting sentencing, to reduce pressure on overcrowded prison systems and protect people from undue mental health harm

Ensure that access to fresh air doesn't fall below an hour per day in accordance with international human rights standards
Ensure that conditions of medical isolation are distinct from those of punitive solitary confinement

Ensure individuals in medical isolation have meaningful human contact every day

Increase free access to virtual communications including e-mail, telephone, and video conferencing to maintain links with loved ones on the outside

Enhance mental health supports for all people in custody, including online counselling and psychological services, especially when in medical isolation

Replace suspended social, education, work programs, and other activities with virtual alternatives

Improve access to culturally appropriate supports for Aboriginal and Torres Strait Islander and other First Nations peoples in custody

Provide people in custody with regular, timely, and transparent information on COVID-19 including measures implemented, their rationale, and supports available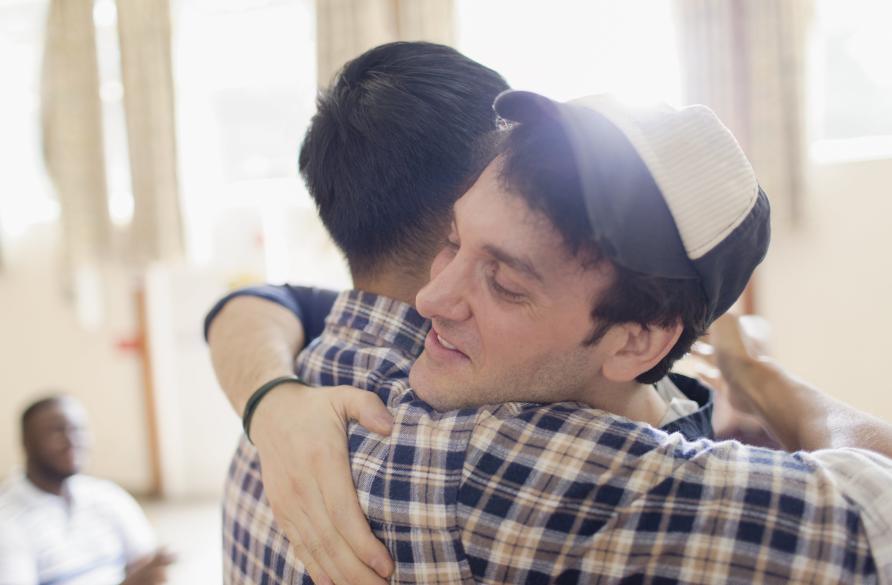 Are we doing enough to protect the mental health of people in custody?
The short answer is that it's impossible to tell because we so far lack sufficiently detailed, publicly available information on COVID-19 responses implemented and the associated mental health outcomes.
What is clear though, is that better information sharing is needed to learn for the future.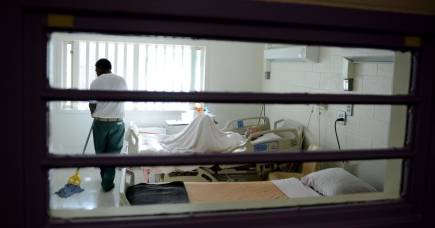 In Australia, most prisons and other detention settings are managed by State and Territory governments, which provide varied levels of information on COVID-19 responses.
For example, corrections departments in New South Wales and Victoria, the most COVID-impacted jurisdictions, provide broad information on what is being done to support the mental health of people in custody.
According to their websites, people in custody have increased access to video and telephone calls and some additional supports during routine 10-14 day quarantine and medical isolation.
In Victoria, people held in quarantine have some degree of access to phone and video calls, books, televisions, and printed exercise instructions. Aboriginal Liaison Officers and specialist mental health services regularly check-in with people in isolation, yet it isn't specified how often this occurs or whether this involves in-person contact.
In NSW, legislative changes were made for early release of low-risk and vulnerable sentenced people in custody. However, at the time of writing, nobody has been released under this arrangement.
To date, the mental health impact of COVID-19 and associated responses on people in custody remains hidden from view.
What more can we do?
We must improve the timely disclosure of information on measures implemented, how they were implemented, how long they will remain in place, and aggregate health data for people in Australian prisons. This information is important for both maximising the effectiveness of COVID-19 responses, and protecting the mental health and human rights of people in custody now and in future health crises.
We also need to hear directly from people in custody about their experiences of COVID-19 and related lockdowns. We need to know, from their perspective, which interventions were helpful, what they found unhelpful, and how to do things better in the future.
Increased collaboration between justice, health, and research sectors to use this data for evaluation, research, and ongoing policy development would facilitate effective decision making.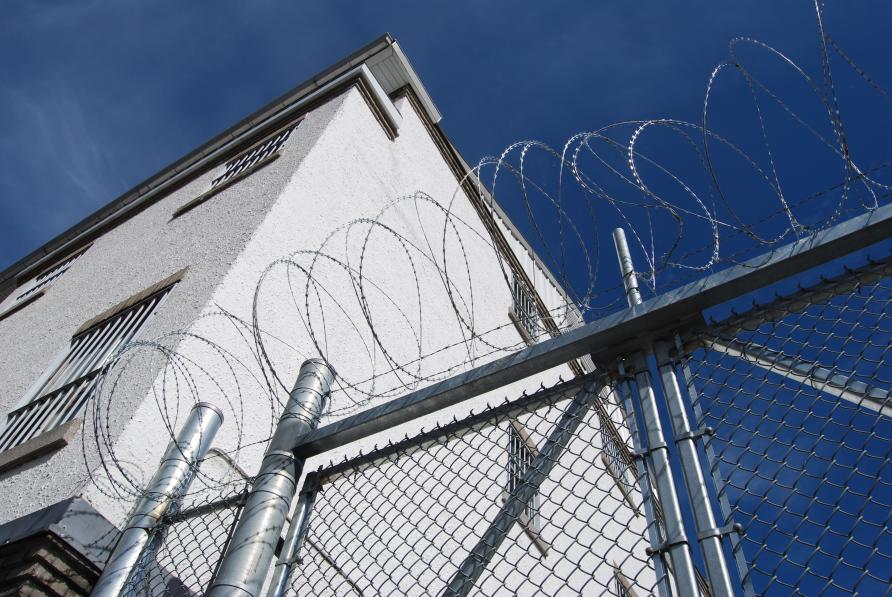 Finally, the United Nations Optional Protocol to the Convention Against Torture (OPCAT), provides a mechanism for monitoring and protecting the health and human rights of people in custody. However, despite an official commitment to OPCAT dating back to 2009, Australia recently missed its latest deadline to implement the protocol.
This raises several unanswered questions, including if - and when - an overarching national framework will be developed for the States and Territories that are tasked with implementing COVID-19 responses. More than ever, mechanisms such as these are essential to protecting the mental health and human rights of people in custody.
While a light has been shone on the broader societal impacts of COVID-19 lockdowns, the impacts on people in Australia's prisons and detention settings remain in the shadows. We need to illuminate it.
The co-authors of this research include Professor Stuart Kinner, Associate Professor Rohan Borschmann, Dr Lucas Calais-Ferreira and Dr Jesse Young of the University of Melbourne and Murdoch Children's Research Institute; and Associate Professor James Foulds of the University of Otago.
Banner: Getty Images