Rebuilding cultural heritage after disaster
After an earthquake devastated the Philippines, conservators went beyond conventional cultural conservation practices and involved the local community in the restoration of their churches
In 2013, the Philippines was struck by its deadliest earthquake in 23 years.

More than 200 people died. Across the country, around 73,000 buildings and structures were damaged and more than 14,500 were totally destroyed.
The island province of Bohol, which sits near the centre of the Philippines, was one of the hardest hit areas. And at the time, authorities estimated that the entire population of the province was affected by the quake.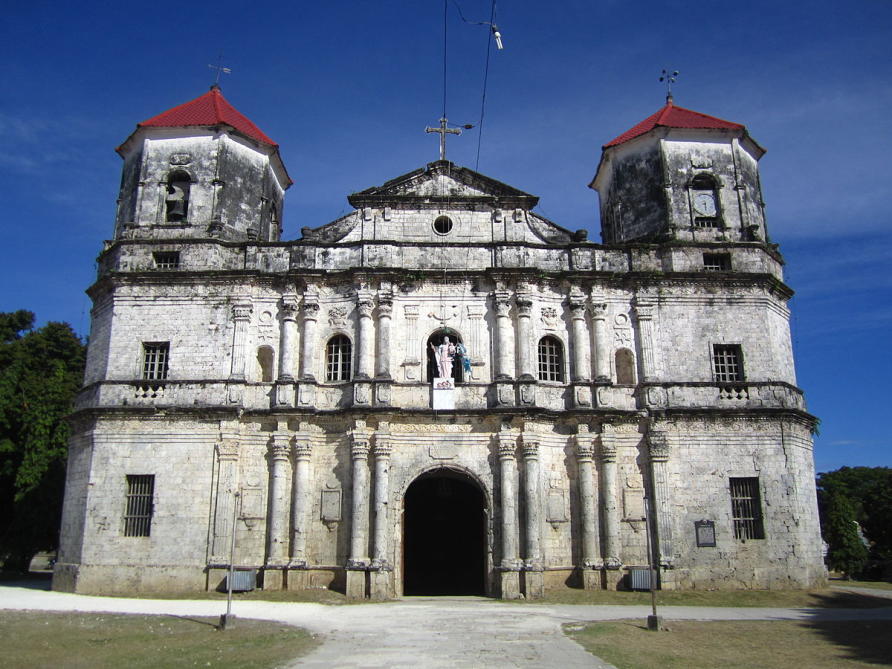 But it was the damage, and in some cases destruction, of more than ten heritage-listed churches in the region that came at significant cultural and economic cost for a population where 83 per cent of people identify as Catholic. The cost of restoring the churches was estimated at almost $29 million. But their significance to the local community was priceless.
Dr Nicole Tse, an expert in conservation at the University of Melbourne, investigated the damage to the churches following the earthquake, working alongside the Philippines' National Museum recovery team. Just gaining access to the sites through the devastation was challenging.
"The roads were blocked; there were no aeroplanes. Everyone was just so numb and struck by this terrible disaster," says Dr Tse, who is based at the Grimwade Centre for Cultural Materials Conservation.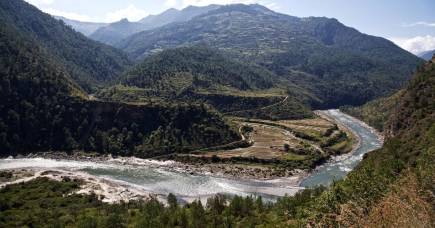 "We're dealing with human survival: Where does culture count in that?"
The team was initially concerned about the priority of the work amid so much destruction, but it quickly became apparent that the local community not only wanted their churches back, they wanted to be involved in the repair work itself.
"The situation with rebuilding cultural heritage after disasters is: What do you do? When do you do it? And how do you do it? Particularly the 'when': When does cultural heritage become important to people?" Dr Tse says.
"It's hard to encapsulate in words the feeling when the tangible evidence of what you believe, which is central to your community and your way of life, is destroyed."
She says this led to the strong community impulse to rebuild.
"The rebuilding of the church structures cements historical and familial links that go back centuries and move it in to the future."
The people had a choice to make between rebuilding the existing churches or building brand new places to worship in. They elected to rebuild and repair the churches; a job which is expected to take between 10 and 20 years.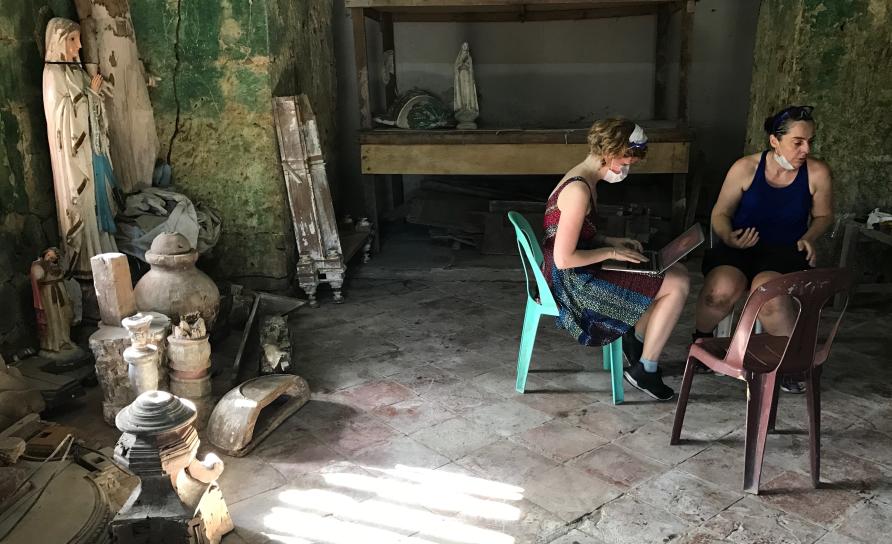 "This is an opportunity for skills development in Bohol too and that means conservation isn't seen as just this hierarchical, professional sort of thing but it can be everyone's responsibility," she says.
Dr Tse, who regularly returns to Bohol to work with Father Ted Torralba of the Catholic Bishops' permanent heritage committee to treat and document church paintings, says part of the challenge of this project is to honour the community's request to keep all the objects within the church.
"The idea of an object being moved to somewhere half an hour away to another place was not an option," she says.
"There is huge ownership of these collections. If I approach it from a professional point of view, it's good to have a centralised lab where you can put these things together. But the challenges of keeping the objects in the church also mean that there's a lot more community investment into what's being done."
This collaboration between conservators and local people in response to a disaster was the subject of a study at the most recent Asia Pacific Tropical Climate Conservation and Research Network (APTCCARN) conference.

The APTCCARN conferences are the ongoing outcome of two earlier research projects at the University of Melbourne — The Behaviour of Western Artists' Materials in Tropical Climates and The 20th Century in Paint project - that Dr. Tse says attempt to challenge traditional, Eurocentric views of cultural material conservation.

"A lot of conservation knowledge has been derived from a North American and European infrastructure, but there is a lot of technical knowledge in South East Asia and among the APTCCARN membership that needs to be shared amongst us," says Dr Tse who founded the research network with the University of Melbourne's Professor Robyn Sloggett in 2009.

She also says it was crucial to recognise that established cultural conservation practices faced unique challenges in Bohol because the buildings were so central to people's faith.

Dr Tse says that the Grimwade Centre has a strong relationship with Bohol with ongoing research, internships and other dialogue. Rosie Cook, Amy Heffernan, Karen Wilcox and Elizabeth Long, four graduates of the Master of Cultural Materials Conservation, continued work with church communities after the APTCCARN conference.
One of Dr Tse's current students, Pam Soriano, who is Filippino herself, returned to the country to complete a placement with the National Museum of Philippines.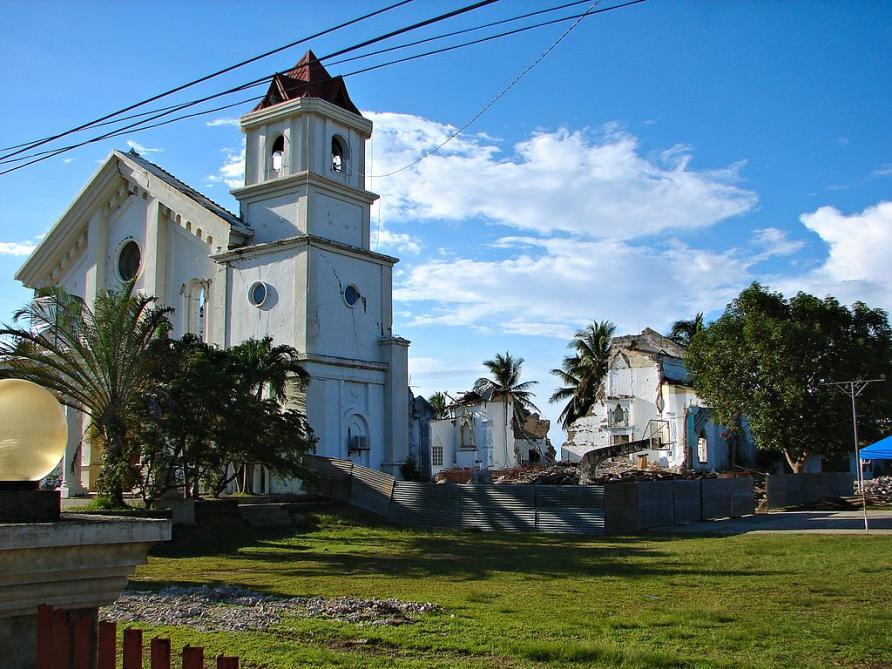 "Everything I thought I knew about conservation was primarily working with conservators but going to my home country, conservators are only a small part of the conservation picture," said Ms Soriano, who worked in the region for four weeks and plans to return in the future.
Dr Tse says learning about regional practices and strengths was crucial for developing opportunities and a sustainable cultural materials practice not just in Bohol, but across the Asia Pacific.
"I know from my time working in South East Asia, there's a really big space for creating things. There's an appetite for having discussions that aren't in your space but which create things that work across a whole lot of disciplines.
"You feel ethically stronger about what you're doing and the decisions you're making. The thing about conservation is that you can make changes to the material culture and what changes you make are based on what you think it should be", says Dr Tse.
"If you can think of what it should be in terms of your discussions with a much broader community and represent their values, that creates sustainability."
Dr Tse would like to acknowledge the assistance of: Director Jeremy Barnes and Assistant Director Ana Labrador of the National Museum of the Philippines, Father Ted Milan Torralba, and Dr Rujaya Abhakorn from Southeast Asian Ministers of Education Organization Regional Centre for Archaeology and Fine Arts (SEAMEO SPAFA), who were partners of the project. Funds were also provided by the Australian Government through the Australia-ASEAN Council of the Department of Foreign Affairs and Trade. This year's APTCCARN summit was held in Bohol in April with the National Museum of the Philippines and SEAMEO SPAFA.

Banner: The rubble of the Nuestra Señora de la Luz Parish Church following the 2013 earthquake in Bohol/Wikimedia