Specialised skills key to helping deaf students thrive
The rise of inclusive education shows the need for qualified Teachers of the Deaf to support hearing impaired students, their teachers and the school community
In recent years we've seen a shift to remove segregation between mainstream and special schools, and encourage inclusive education – an environment where students with disabilities and additional needs learn alongside those without, promoting that all children should learn together, regardless of their differences.
It's becoming increasingly important for teachers to be equipped with the skills required to support the learning needs of children and young people with a range of disabilities and learning difficulties, including those students that are deaf or hard of hearing.
Deafness is a low incidence disability, with three in every 1000 children being fitted with hearing aids or receiving cochlear implants for a permanent hearing loss by the time they start school.
In Australia, between nine and 12 children per 10,000 live births are born with a hearing loss in both ears.

A further 23 children per 10,000 will acquire a hearing impairment that requires hearing aids by the age of 17 through accident, illness or other causes.
Research in the 1980s by Field Rickards, the University of Melbourne's Professor of Education of the Hearing Impaired, and now Dean of Education, led to the development of a computer-based brain wave audiometer to accurately measure hearing in newborn babies, and the subsequent advent of early newborn screening for hearing, ensuring many more babies are being diagnosed shortly after birth.

While currently there is no indication that there will be a change or decrease in the incidence of deafness by 2020, Professor Rickards says this early detection, diagnosis, early audiological intervention and early quality education is vital when it comes to learning outcomes for hearing-impaired children.

"Early exposure to language, and in particular spoken language, is critical to ensure that children with hearing loss have the same educational opportunities as their hearing peers," he says.

A growing need FOR skills
Sharon Klieve, Master of Learning Interventions (Hearing Impairment) Coordinator at the University's Melbourne Graduate School of Education, says although deafness is a low incidence disability, the need for qualified Teachers of the Deaf is becoming more prevalent.
"Because of its low incidence, mainstream teachers are unlikely to have the experience, knowledge and skills to support deaf children to access the curriculum in a way that will optimise their experience and outcomes," says Ms Klieve.
Following the invention of the cochlear implant, or 'bionic ear', in 1978 by Professor Graeme Clark, further advances in technology, coupled with a wide range of educational and communication choices, has led to the needs of deaf children becoming increasingly diverse.
"Like with everything, we are all different. The levels and types of hearing loss range from mild to profound and also include temporary and unilateral (one-sided) deafness," says Ms Klieve.
"And when it comes to the types of technologies used, there's no one size fits all. There are hearing aids, cochlear implants, FM aids and sound field systems, and communication approaches can be mixed too with oral, Australian Sign Language (Auslan), and combined communication (oral and manual)."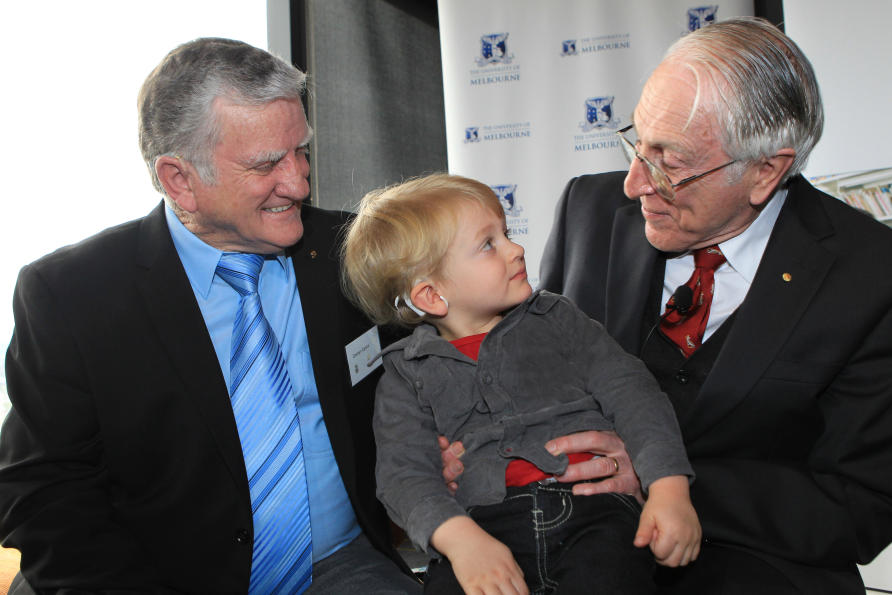 Currently approximately 83 per cent of deaf students in Australia attend mainstream schools and are placed in regular classes.

Ms Klieve, a qualified speech pathologist and Teacher of the Deaf, says that while there are countless benefits of inclusive education to all children, research shows the learning styles and needs of deaf and hard-of-hearing students can differ greatly from those of their hearing peers.
"The fast-paced nature, listening and language demands of mainstream classes can often leave those who are deaf or hard of hearing falling behind, highlighting the need for individualised programming and teaching methods or strategies if children are to achieve their full potential," she says.

"Teachers of the Deaf have specialised training and knowledge in the areas of language and literacy development, assessment and intervention for children who are deaf or hard of hearing.
"Experience with audiology and audiological devices, ways of managing listening environments and deaf awareness, and understanding the social and emotional wellbeing of students who are hearing impaired, ensures they can offer the best support."
With teacher quality widely recognised by policymakers, practitioners and researchers as the most powerful in-school influence on students' academic performance, Ms Klieve believes qualified Teachers of the Deaf are the missing piece of the puzzle.

"To ensure we have not just inclusive, but effective schools, we need to equip teachers with the right skills and support for the job."

The Melbourne Graduate School of Education is currently offering the Beth Maclaren Smallwood Foundation Scholarship to six teachers working in Victoria who are interested in undertaking the Hearing Impairment specialisation as part of the Master of Learning Intervention (Stream A) to become a qualified Teacher of the Deaf. This scholarship comes in response to the high demand for qualified Teachers of the Deaf in Victoria. Applications close Monday 31 October 2016.
Banner Image: Abbey Anstey, Master of Learning (Hearing Impairment) graduate and Teacher of the Deaf at Charles La Trobe P-12 College, Melbourne. Picture: University of Melbourne