Stephanie Lake: How to choreograph a CRUSH
Her work as a dancer and choreographer is feted internationally, but that won't stop Lake suffering opening night nerves
Stephanie Lake has a problem. Me too. I'm meeting with the multi award-winning choreographer, dancer and director of Stephanie Lake Company to discuss her latest work, CRUSH.
It will be presented by third-year dancers and undergraduate production students at the University of Melbourne's Victorian College of the Arts and Melbourne Conservatorium of Music, from May 4-7.
The promotional material describes the show's first half as having "the beauty of patterns, the hum of unison, the satisfaction of geometric clarity"; while the second half showcases "the collision of physical intentions, the crack and crumble of bodies under pressure". It sounds exciting, but I don't know what it means.
Lake laughs. "It's incredibly hard to articulate dance," she says. "But that's part of the beauty of the form – it expresses things that are beyond language."
Lake and the 21 student dancers who will perform CRUSH are coming to the end of rehearsals, and are now at "the pointy end" of turning those ideas into reality. At 60 minutes, it's Lake's first full-length work with the VCA, although she has been a regular choreographer at the institution since graduating in 2000.
An accomplished dancer, Lake's choreographed works, such as Double Blind (2016) and DUAL (2013), have been performed internationally to great acclaim.
In 2011 she won the Green Room Award for her show Mix Tape (2010). In 2014, she won the Helpmann Award for A Small Prometheus (2013) and the Australian Dance Award for Outstanding Choreography for Aorta (2013).
I suggest the students she works with must be intimidated, but Lake laughs this off. "It's an interesting dynamic," she says. "My expectations are incredibly high for the performers because I work with the best dancers around. I don't treat the VCA dancers like students. I treat them as if they are the cast for my new work, and hopefully that's good for them."
Critics have described Lake's choreographed works as "sharply honed and brilliantly polished", as "intricate and endlessly fascinating", with moments of "sheer heart-stopping beauty". I'm curious to know what Lake thinks she brings as a choreographer.
"One thing that comes up repeatedly about my work is that it operates on quite a visceral level," she says. "I like to push the physicality of the dancers to a point where the speed and complexity is almost impossible, where it tips over into almost an emotional place."
Do audiences need to be fluent in contemporary dance to appreciate what she does? "Not at all," she says. "The best feedback for me is when someone says 'I've never seen any dance before but I loved that, it made sense to me'. I'm thrilled with that kind of response. It's never my intention to be esoteric or inaccessible."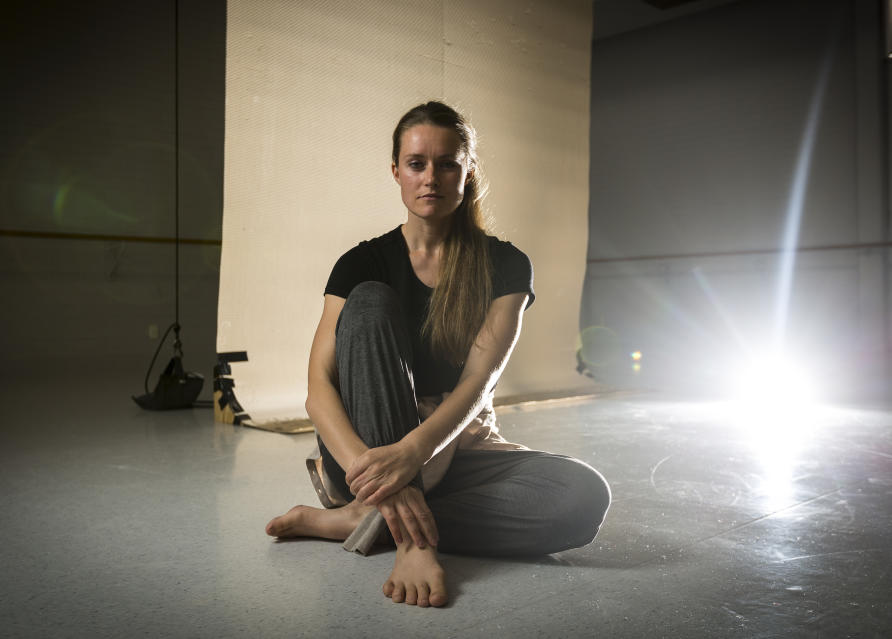 In the case of CRUSH, coming towards the end of students' time at the VCA, she knows what's at stake. She got her break after working with visiting choreographer Phillip Adams, who choreographed Lake in her second and third years at the VCA before hiring her, post-graduation, to dance in his work Amplification.
Shortly afterwards, she started working with Gideon Obarzanek at Chunky Move and Lucy Guerin at Lucy Guerin Inc. Though talent was key, Lake is quick to describe herself as fortunate.
Right place at the right time
"The reality is that there's not a lot of work for dancers," she says. "I was lucky enough to pretty much always have work, but that's because I was in the right place at the right time and able to work across a number of companies. The landscape has really changed. I worry about those just starting out because it's going to be tough. They're going to have to be really motivated."
"Drive" is another word that crops up during our discussion and it clearly applies to Lake, who started choreographing in her early teens.
Following CRUSH, she'll be working on a commission from Dancenorth in Queensland, then with a group of Singaporean dancers from Frontier Danceland, then as a dancer in Lucy Guerin's forthcoming work.
"Pretty much every four to six weeks I'm working with different people and in different contexts," she says. "That keeps it interesting but it has its downsides. There's not a lot of stability. Sometimes I wish I had a core of dancers that I could work with consistently."
There comes a moment in every work, Lake says, when she has to back off and let the dancers take ownership of what they're doing. But that doesn't make watching them any easier.
"I get really nervous watching my own work," she says. "Far more than I do as a performer. It's kind of torturous because I get consumed by whatever I'm working on. If a show goes well and gets a reaction the reward is really big, it's a great feeling. But yeah, I tend to be there in the audience watching on, biting my nails."
She knows from experience how much the VCA dancers are giving of themselves. They have technique classes in the mornings, followed by four/five-hour rehearsals for CRUSH in the afternoons, often followed by more rehearsals for other projects in the evenings.
"I remember that bone-deep exhaustion," she says. "The hardest I've ever worked was during second and third year at VCA.
working hard
"In some ways, going and working for companies was a snooze after that. It's harder in other ways, obviously, but just physically, you never work harder than you do at VCA. It's so intense, but it's got to be, it's boot camp."
It's clear from Lake's changing posture that she has to head back into the studio for the day's rehearsal. In closing, I ask her what audiences can expect from CRUSH when it hits the stage.
"For me it's about the energy of youth, which is really infectious and beautiful," she says. "The thing I love most about working with this group is the optimism that emanates. There are some exceptional dancers that are really worth checking out, and the set design is really striking.
"I don't think people will have seen the space we're performing in this way before. It's quite a radical show."
CRUSH, a new dance work by Stephanie Lake, will be performed at the University of Melbourne's Southbank campus between 4-7 May. See details here.
Banner image: Promotional shot for AORTA by Stephanie Lake. Picture: Jeff Busby