Storm in a petri dish
The Storm exhibition and symposium explores the connection between art, nature and science to generate new enquiries into the human condition, health and wellbeing
Victorian College of the Arts alumnus and international artist Cameron Robbins makes drawings with the wind. In various blustery locations around the country, he has constructed wind turbines connected to pinpoint LED and incandescent lights on a wire arm. Long-exposure photography reveals the light's passage.
In another iteration of the concept, the wind turbine is connected via a mechanical drive-train to a wire arm holding a pen, and on a heavy drawing board which rotates with wind direction, the wind draws itself.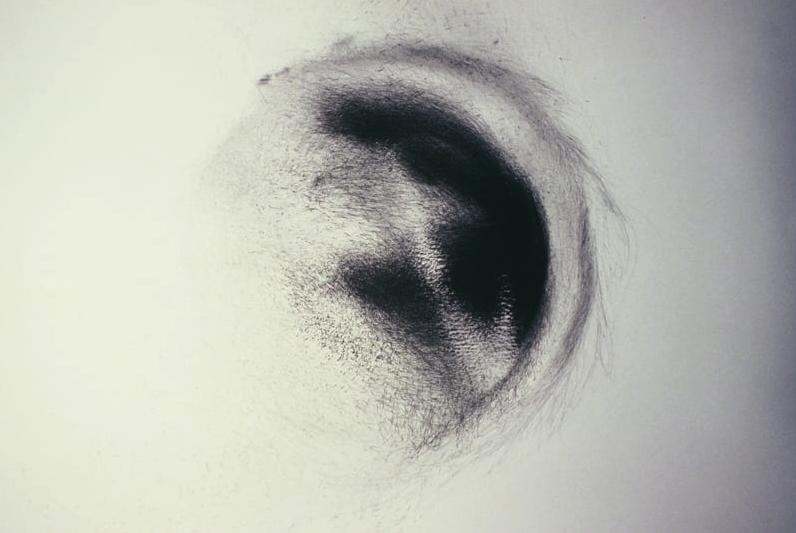 The intrigue of the resulting drawings is as much meteorological as artistic.
"I actually took one of my wind drawings to the Bureau of Meteorology," says Mr Robbins.
"The head physicist who was doing modelling for weather prediction looked at my drawing and said, 'This is really interesting. You can describe this mathematically.'"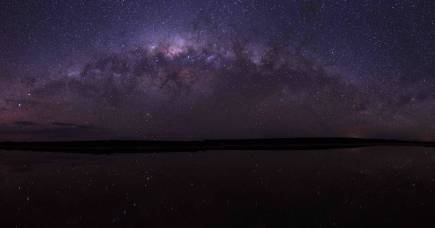 The BoM physicist proceeded to write an entire page of equations based on Mr Robbins' drawing using chaos theory, fractal geometry and phase-space diagrams.
One of Mr Robbins' wind-drawing instruments, Anemograph, is currently being exhibited as part of the Storm exhibition, alongside works by Gabriella Hirst and Gary Anderson.
Whipping up a storm
Now in its second year, Storm was conceived as the University's response to Melbourne's major asthma storm event in November 2016, which claimed nine lives and resulted in a flooding of the city's emergency rooms.
The Faculty of Fine Arts and Music partnered with the Faculty of Biomedical Sciences with the aim of generating public awareness and meaningful collaborative research on the topic.
"I guess science is more about unravelling mysteries and art, in my case, is about communicating the mysteries," said Mr Robbins, who has suffered from asthma since childhood.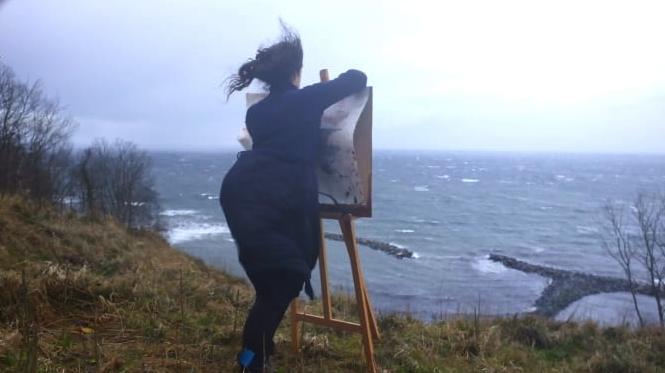 Alongside the Storm Exhibition is a symposium featuring keynote speakers from a range of pioneering scientists and artists.
Head of Immunology and Allergy at the Royal Melbourne Hospital and Honorary Clinical Professor at the University of Melbourne, Professor Jo Douglass says that the tragic storm which inundated Victorian hospitals two years ago is likely to be the first of many.
"Unfortunately, it's matter of 'when', not 'if'," says Professor Douglass.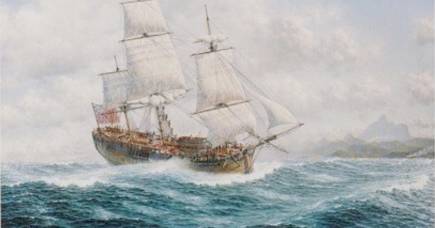 The epidemic, which affected a huge number of both known and previously undiagnosed asthma sufferers, was caused by strong winds from the west carrying ryegrass pollens. Ryegrass is a popular non-native pasture grass and bad news for asthma sufferers.
"Tiny ryegrass pollen fragments are able to travel down the small airways of the lung where they can activate allergic pathways and can trigger severe asthma attacks," says Professor Douglass.
One of the key challenges for preventing future fatalities during asthma storms lies in awareness-raising and education. This is something Professor Douglass hopes could develop within the Storm collaborative effort.
"I think art has a very important role to play in communicating the work we do," she says.
Weathering the storm
Of all the speakers at the Symposium, Professor Douglass is most eager to hear University of Melbourne's Professor of Indigenous Studies Marcia Langton, who will be speaking about how storms are variously conceptualised among Aboriginal peoples.
As a complement, meteorologist and ABC News Breakfast weather presenter Nate Byrne will share his knowledge of storms from a meteorological perspective.
Speaking to me between "live cross" weather reports at the ABC Melbourne news room, he says that, like people, all storms are individuals.
"But if you're talking about a storm that creates lightning, essentially what you need is a cloud that extends from the bottom of the troposphere [the lowest layer of the atmosphere], almost to the stratosphere," he says.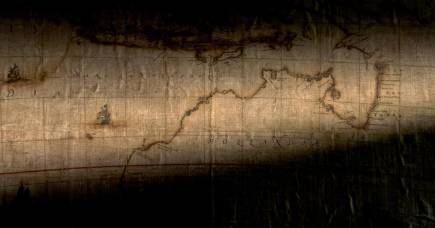 "You get ice crystals high in the atmosphere because it's so cold. The water droplets freeze, then they bump into each other and knock off electrons that then start to form a charge separation between the surface and the top of the cloud. When the difference between the electrical charges gets big enough, it can be neutralised by a huge electrical discharge – that's lightning."
The perfect storm
Further down in the earth's atmosphere, Drew Berry is exploring cataclysmic events of a completely different scale – those that occur inside the cells of the human body.
Contributing to Storm's polyphony of artistic and scientific perspectives, Dr Berry's work as a biomolecular animator fits comfortably in both categories.
"My work is definitely a combination of art and science but for me, it all starts with science," says Dr Berry.
"It's all about the reality of what we're discovering, the mind-blowing nature of it. My work is about trying to, as authentically and realistically as possible, reconstruct the landscapes we see at a microscopic level inside the human body," he says.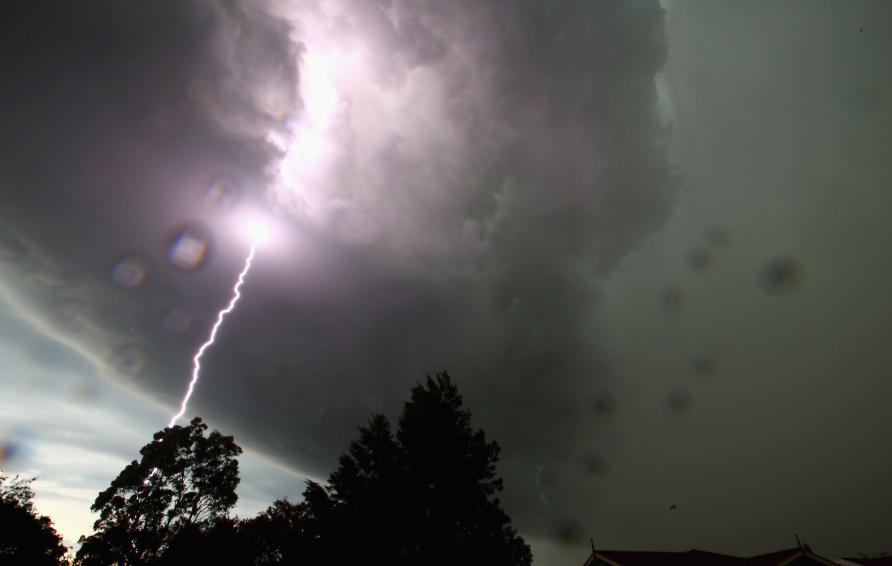 In the 90s Mr Berry had a hobby "playing around" with video-game graphics. Combining this later with scientific knowledge gained in a biological science degree, he became a pioneer of biomolecular animation.
"I realised that animations were a way that people could almost intuitively understand some pretty complicated science. That's the power of art," he says.
As a biomedical/artistic collaboration, Storm recognises that complex themes require cross-disciplinary approaches. The goal to exploration is not always finding definitive answers, but in posing questions from many angles.
Storm is an interdisciplinary project between the Victorian College of the Arts and the School of Biomedical Sciences that provides a platform for dialogue and collaboration between the arts and sciences, and is presented in partnership with Royal Botanic Gardens Victoria. This project has been supported by the University of Melbourne, GSK (with an unrestricted educational grant) and Frank Green.
A version of this article first appeared on Precinct.
Banner image: Cameron Robbins, Anemograph Crux, 2016, pigment inkjet on cotton rag paper, edition 6 + 2AP. Courtesy of the Artist and MARS Gallery.