The art confronting a global crisis with reality and hope
EXIT puts the displacement of peoples, and Australia's own refugee policies, into a daunting global context. But the installation's 'thunderous' data on loss and climate is empowering.
In a darkened room surrounded by a high-tech 360-degree projection, your ears filled with a whirring and staccato ticking that almost drowns out a competing cacophony of human voices, you sit as the earth circles into view.

The planet fills the screen, imprinting the outline of continents as it passes, leaving in its wake a moving fusion of data, graphics and sound showing the vast and perpetual movement of people around the globe. At each passing of the relentlessly circling Earth, new data and graphics are imprinted - population data; conflict zones; refugee numbers; the flows of money from migrants to the rich world back to their families in the poorer world; deforestation rates; and forecast temperature and sea level rises. Cities at risk of inundation float on the screen below a forecast sea level rise of up to 1 metre by 2100. Sitting in the dark the problems are suddenly very real.
This is EXIT, an artwork that is the centrepiece of Melbourne's ART+CLIMATE=CHANGE festival that brings home the huge and increasing scale of population movements across the world, confronting us with the stark realities of what is a political, economic and environmental crisis. Like all the pieces in this festival, it is art that in different ways seeks to confront the crisis and push for action.
Refugees world wide number 19.5 million and there are over 38 million internally displaced people - the highest level of population disruption since Word War II - EXIT
"It is a wake up call," says Erika Feller, a former Assistant High Commissioner (Protection) at the United Nations refugee agency, the UNHCR, and now a Vice Chancellor's Fellow at the University of Melbourne.
Speaking at recent public lecture on EXIT hosted by the University of Melbourne's School of Geography and The Ian Potter Museum of Art where the work is on display, Ms Feller says it's an important reminder that the challenge of addressing forced displacement and refugees can only be solved by global cooperation and shared responsibility.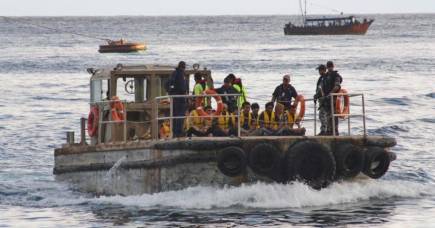 "With nativism and identity politics on the rise in many countries, accompanied by unprecedented national security measures, increasing normalisation of hate speech, and a retreat from global norms of international responsibility sharing, the messages of EXIT are very timely," says Ms Feller.
And she criticises Australia's own policy of deterrence on the refugees, pointing out that EXIT highlights how Australia's refugee challenge is dwarfed by the larger global challenge.
One of the most powerful images in EXIT is the flow of refugees around the world. This vast movement of people is represented as streams of green pixels flowing out from often conflict-ridden countries already full of red pixels representing the numbers of internally displaced people within those countries. It evokes a sense of biology. It is as if the world were one body in which fluids are constantly moving between organs. It is visceral in its power. But the flow of green into Australia is barely a trickle.
"Australia has taken a very tough stand in recent years based around deterrence in the form of remote and sparsely provisioned holding centres, children in detention, delayed processing of asylum applications and so on. This has very long-term negative consequences for the individuals affected, but it also doesn't solve the problem or make a contribution to the broader solution in a responsibility sharing context."
"It doesn't solve the push factors that are the reason why people leave in the first place, it just deflect the flows somewhere else, and the deaths at sea will continue, but just on someone else's watch," says Ms Feller.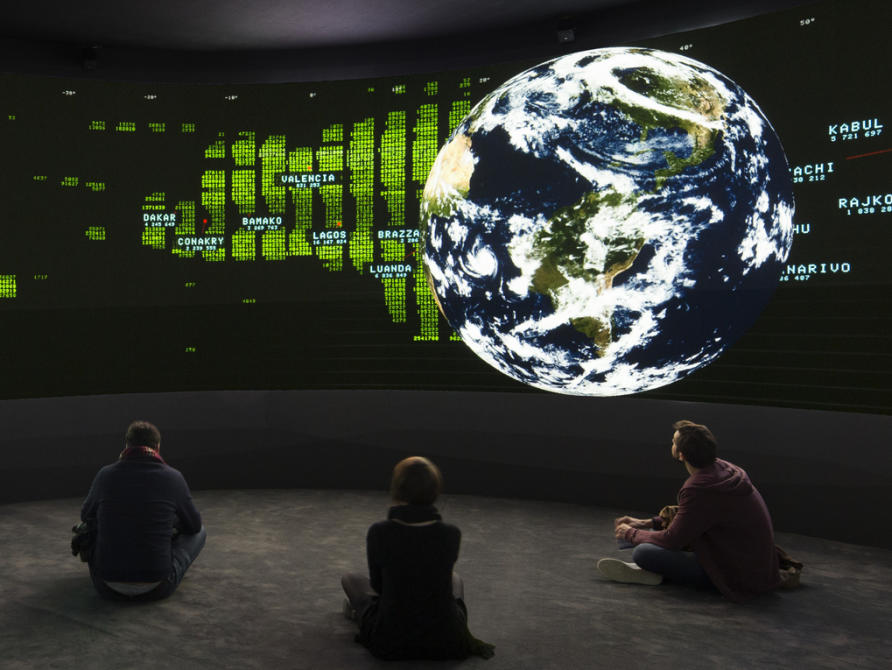 "What EXIT does is very seriously put into contention the adequacy of a political system built around autonomy and built around sovereignty in a world that is being radically impacted today by global patterns of migration, forced displacement and environmental disasters," says Ms Feller.
EXIT highlights the growing importance of cities as our population rises. For the first time in history more people now live in cities than in rural areas, and the EXIT exhibition describes cities as "key battlegrounds" in the fight against climate change. Cities now account for about 70 per cent of global greenhouse gas emissions.
How the world deals with the social and environmental issues confronting our fast urbanising population will be central to the upcoming ECOCITY 2017 world summit in Melbourne 12-14 July, at which former US Vice President and climate action campaigner Al Gore will be speaking.
EXIT was inspired by the ideas of French philosopher and urbanist Paul Virilio and commissioned by the Cartier Foundation. Created by designers Diller Scofidio + Renfro, with Laura Kurgan, Mark Hansen and Ben Rubin, and in collaboration with Robert Gerard Pietrusko and Stewart Smith, EXIT was first displayed at the 2008 Copenhagen climate change negotiations. It was updated and displayed at the later 2015 Paris talks. It has only been shown in a few public forums around the world and is on display at The Potter Gallery until 16 July.
Taking EXIT on tour is a complex undertaking, requiring sophisticated computing and projection technology. But when CLIMARTE CEO Guy Abrahams first saw EXIT in Paris during the climate change talks he immediately knew it was something he wanted to bring to Australia.
"It was inspiring. It clearly embodied that notion that we are all in this together and that this is a multifaceted global issue," he says.
As an experience, watching EXIT can be overwhelming. At the public lecture, School of Geography climate politics and policy expert Associated Professor Peter Christoff described EXIT as a "thundering juggernaut" of data. But the sheer scale of the problems EXIT presents raises the question of whether EXIT can be paralysing for the viewer. The same issue is at the heart of efforts to galvanise public action to address climate change and take action to reduce emissions.
But Mr Abrahams said the message of EXIT is one of hope because it puts human action at the centre of what is happening. And that means we can act to change things.
"EXIT confronts us with some disturbing truths about the world, but because we can see that these are things in motion, that all of these things have a cause and effect, and that the human influence on very many of them is very great, that should give us room to hope because if we change what we are doing it means it can affect all these other things."
"The antidote to despair and paralysis is action and a determination to do something."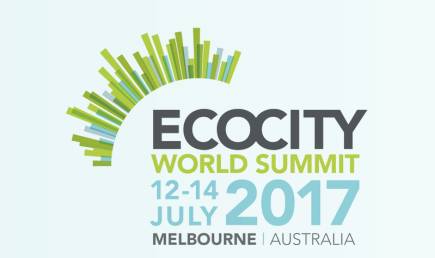 You can register to attend ECOCITY 2017 here.
Banner Image: EXIT at the Ian Potter Museum of Art - University of Melbourne. Multimedia: Diller Scofidio + Renfro, Mark Hansen, Laura Kurgan and Ben Rubin. In collaboration with Robert Gerard Pietrusko and Stewart Smith, and the Cartier Foundation. Filmed by Sarah Fisher