These five films are a 'must see' at MIFF 2023
There's no need to be overwhelmed by the movie schedule at the Melbourne International Film Festival with these hot tips
The Melbourne International Film Festival (MIFF) has long-been Victoria's primo hotspot to see new and old films from around the world. Though scaled back from last year, 2023's program is packed with cinema of all kinds – with some especially intriguing retrospective selections.
The restorations include Portuguese director Pedro Costa's shadowy and dream-like 1989 debut Blood, Hou Hsiao-hsien's melancholy dance-club romance Millenium Mambo and Béla Tarr's 2000 mysterious revolutionary fable Werckmeister Harmonies.
Contemporary films range from honest but hopeful meditations on domestic violence (Shayda) or a documentary on an enclave for 1950s and 60s transgender women in the US's Catskill Mountains (Casa Susanna), to slow cinema maverick James Benning's latest contemplation of the lingering marks of history (Allensworth).
Here are five of my most anticipated screenings to help you make the most out of MIFF.
Lord Shango
This film opens with a shock. A young man with ties to the West African religion of Yoruba attempts to stop his girlfriend, Billie, from being baptised, but the church members accidentally (or maybe not?) drown him in the river.
A traumatised Billie runs away from home, so her mother (played by the amazing Marlene Clark, star of Ganja and Hess) turns to the mysterious and powerful Yoruba congregation for help.
Also starring Lawrence Cook (of 1973's radical The Spook Who Sat by the Door), Lord Shango mixes elements of supernatural horror, melodrama and social commentary to grapple with the difficulties of African American assimilation.
The film is playing as part of the Critical Condition retrospective program, showcasing a diverse range of strange, wonderful and underappreciated movies that have been reclaimed by critics.
All of them are worth seeing, but Lord Shango stands out as a slippery, hard-to-define but deeply moving whatsit.
A rare and guaranteed fascinating theatrical screening.
The Sweet East
Directed by acclaimed cinematographer Sean Price Williams (Good Time, Zeroes and Ones, Listen Up Phillip and many other beautifully grimy looking movies) and written by iconoclastic critic Nick Pinkerton, The Sweet East is a vibes-based journey through an increasingly surreal American hellscape.
The film's cast includes Talia Ryder (Never Rarely Sometimes Always), Simon Rex (Red Rocket) and Jacob Elordi (The Kissing Booth).
This film is a must-see based on the talent alone.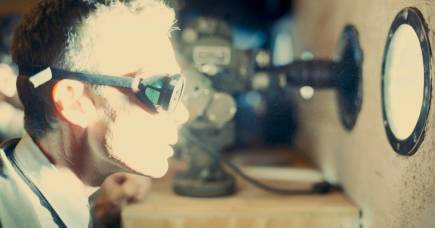 Nick Pinkerton is also speaking at Eyes on America: From Documentary to Satire & In Between, a free panel discussion at The Wheeler Centre on Saturday 5 August at 11.00am.
Director in Focus: Safi Faye
The recently departed Safi Faye was a female Senegalese director and actor focused on rural African communities, with a keen eye on the specific struggles of women.
Faye first entered the cinematic landscape as an actress in French director Jean Rouch's 1970 colonial critique Little by Little, where she learned about the cinéma verité style she would later incorporate into her own work.
In 1972, she directed her first short The Passerby. Her work crosses between fiction and documentary, usually with an ethnographic lens on her chosen subject.
This pick is a bit of a cheat because it comprises six films – Little by Little; Letter from My Village; Come and Work; I, Your Mother; Selbé: One Among Many and Mossane – but they all seem interesting and have rarely screened anywhere.
I've booked in to see all of them.
LAST SUMMER
The latest from the fearless French auteur Catherine Breillat (Fat Girl, Abuse of Weakness, Romance) centres on a family lawyer confronted by her attraction to her troublesome new stepson.
Though a remake of the 2019 Danish film Queen of Hearts, such a salacious premise seems perfect for Breillat, who tackles complicated gender dynamics and sexual relationships with unashamed brio and a clear eye.
In her films, emotional violence and physical violence are sometimes one and the same, and characters make decisions for reasons known fully only to themselves.
Last Summer will assuredly be as provocative as it is well-crafted.
Master Gardener
Legendary writer and director Paul Schrader who wrote 70s and 80s classics including Taxi Driver, Raging Bull and The Last temptation of Christ, and directed American Gigolo and Cat People, has been on a late-career roll.
Ever since he experimented with the low-budget, lo-fi, distinctly modern fable The Canyons in 2013, Schrader has tackled the current moment with a series of darkly funny and spiritual character studies.
First was 2017's First Reformed, starring Ethan Hawke as a minister struggling to find hope in the face of encroaching climate disaster; next was 2021's The Card Counter, starring Oscar Isaac as a former Abu Ghraib guard and torturer trying to lay low on the casino circuit.
His latest is Master Gardener, starring Joel Edgerton as a former white supremacist working as a horticulturalist for a wealthy southern patron played by Sigourney Weaver.
Schrader's obsession with his archetypal 'man in a room' protagonists often leads to familiar stories and character beats, but few directors are so willing to confront the horror of contemporary society straight on.
Strong performances, striking digital images and moral ambiguities are guaranteed.
The Melbourne International Film Festival is in cinemas 3-20 August and online 18-27 August. The University of Melbourne is proud to be the official learning partner of the Melbourne International Film Festival.
Banner: Last Summer / SBS Productions