Visions of Eurovision
The famous song contest is as serious as it is fun - and it's also a great way of learning about Europe
Lights, camera, ACTION!
2015 marks the 60th anniversary of the Eurovision Song Contest and the only year Australia has been invited to compete. Wild card entry Guy Sebastian took to the stage in Vienna with the musical hopes of the nation resting on his shoulders.
And in a twist of fate, act of foresight or fortuitous accident, 2015 also marked the start of a new European Studies subject at the University of Melbourne, Eurovisions.
The coincidences didn't stop there. Rumour had it there was an ex-competitor in the University of Melbourne's midst.
Eurovisions co-ordinators Professor John Hajek and Professor Alison Lewis initially devised the subject to use the Eurovision Song Contest as an accessible lens through which undergraduate students could appreciate broader concepts of European politics and history.
They certainly didn't foresee the unprecedented level of local interest in the 2015 song contest, (and by association their new subject) as Guy Sebastian set off to Vienna to compete for Eurovision glory.
Professor Hajek explains that the subject was developed as a way of engaging first year European Studies students in a new way.
"We use the Eurovision song contest as a way of exploring important issues in Europe, such as history, politics, language, relations between nations and with Europe, for example Britain and its somewhat ambiguous relationship with Europe, the fall of the Iron Curtain and the rise of new nations," he says.
We might be on the other side of the world but this hasn't stopped Eurovision from resonating with Australians. The level of local media interest and online coverage and commentary generated by Australia's 2015 entry proves there is a broad cultural appetite for the song contest.
Professor Hajek believes our surprise inclusion in the competition gives people the opportunity to reflect on Australia's relationship with Europe.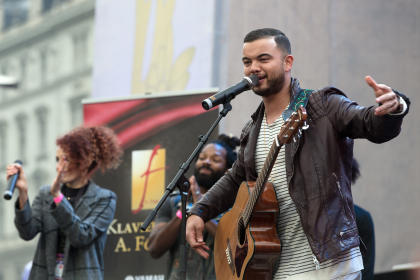 After Australia's wild card entry was announced and Guy Sebastian selected to be Australia's Eurovision champion, Professors Hajek and Lewis saw an opportunity to harness the increased interest in Eurovision in Australia, promote Eurovisions the subject and join the broader cultural conversation in the months and weeks leading up to the song contest.
Social media was a natural choice. "We had little or no experience with social media before we started using it for Eurovisions," says Professor Hajek.
"Our purpose in running a Twitter campaign was not only to let people know about the course but also to follow news and trends online about Eurovision.
Twitter is not just about expressing your view, it is in particular a very effective way of gathering up-to-date information that can be useful for teaching.
"In return, news of the course certainly generated large interest online – from around the globe – something we didn't anticipate."
The unwieldy and unpredictable nature of social media, specifically Twitter, was a surprise. "The unpredictability of reach and impact was perhaps the most surprising thing," says Professor Hajek.
Things we thought would interest Twitter often barely made a splash, while on other occasions the level of interest was unexpected.
"Of course we were also fascinated to see how social media works, particularly Twitter which allows for such immediate response on any topic. Millions of tweets circulate at any moment in time."
Activity from the Eurovisions Twitter account peaked during the competition with both Professors Hajek and Lewis forgoing sleep to tweet feverishly with the most up-to-date information about voting, politics, contestants and performances.
Whilst both course coordinators are now focused on teaching, rather than tweeting, Professor Lewis has continued to use Twitter to network with other Eurovision scholars from around the world and to stay in touch with their loyal followers who remain thirsty for Eurovision news.
During the competition and prior to the start of the subject social media activity was focused on engaging students. Now the flurry of activity is over, Alison sees Twitter as an opportunity for outreach and engagement with the wider community.
"We now have a lot of international followers in the music scene, or music fans, who are always interested in what we tweet about a particular country," she says.
So our audience is a curious mixture.
Conchita Wurst, winner of the Eurovision Song Contest imparted some wisdom especially for students studying Eurovisions at the University of Melbourne.
And what of the whispers that Eurovision was closer to Melbourne than anyone could have predicted? Rumours of an ex-competitor ensconced in the University of Melbourne community? After some sleuthing from a Eurovison superfan the truth was uncovered.

Despite growing up in country Victoria with no access to SBS, Eurovision was love at first sight for Master of Journalism student Liam Clark.
Liamhas been to the Eurovision Song Contest several times and will be a guest speaker in the Eurovisions program, discussing his experience of the 2015 competition in Austria, where he was reporting on the ground for the fan site escXtra.com.
With his investigative sensibilities on high alert, Liam discovered there was a Eurovision competitor enrolled at the University of Melbourne. Danica 'Nina' Radojcic, a PhD Candidate in Pharmacology represented Serbia in 2011 with the song Caroban (Magical in Serbian).
Nina will also appear as a special guest speaker on Eurovisions, sharing her experience as a Eurovision competitor and bringing students full circle, from the history and origins of the competition right through to a first hand perspective on the Eurovision Song Contest today.
For Liam there is no question on the contest's cultural validity.
"It's still a niche interest in Australia. I feel like it started to become more mainstream in the last five years, and this year for obvious reasons even more so," he says.
It's the thing I love more than anything in the world.
Liam and his love of all things Eurovision in no longer an anomaly in Australia. The Eurovision Song Contest was once considered a daggy throw back or a sparkly cliche but is slowly becoming recognised as an important cultural event with historical and political significance.
Banner image: 'eurovision'. Photographer Vugar Ibadov via Wikimedia commons