What is the best urban design to reduce road injuries?
City designs that can reduce reliance on cars, without reducing population mobility, are critical for mitigating many of our most pressing environmental and public health concerns
Most of us think almost nothing of driving – and we certainly don't think of it as a global health issue. But road crashes kill 1.35 million people each year and injure a further 50 million people.

Rather than reducing, road trauma is now the world's fifth leading cause of death and disability.
Beyond the costs associated with deaths and injuries, the costs of managing car-dominated transport systems are also substantial. They include habitat destruction, managing legal and injury insurance systems, air and noise pollution, policing costs, and the significant costs of building and maintaining road infrastructure.
City designs that can reduce reliance on cars, without reducing population mobility, are therefore critical for mitigating many of this century's most pressing environmental and public health concerns.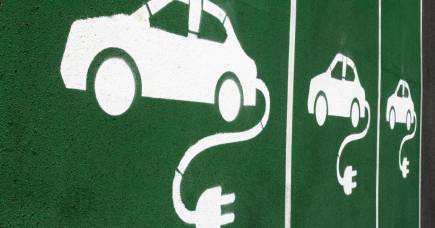 To understand more about the best-practice in city design, our team at the Transport, Health and Urban Design (THUD) Research Hub looked at the connection between urban design and road traffic injury at a global scale.
In a new paper just published in The Lancet Planetary Health, using expertise across psychology, medicine, computer science, earth sciences, and urban planning, our latest research has identified key city design types that either exacerbate or lessen the rate of road traffic injuries.
We first gathered nearly 1.7 million map images from a complete list of every city in the world with a population of more than 300,000. This list included 1,692 cities and over 2.1 billion people.
Next, our team trained a computer to identify the actual location of each map. Just like a computer can be trained to recognise pictures of a dog or a cat, we taught it to distinguish between maps of Melbourne from those of, say, Paris, or any other city.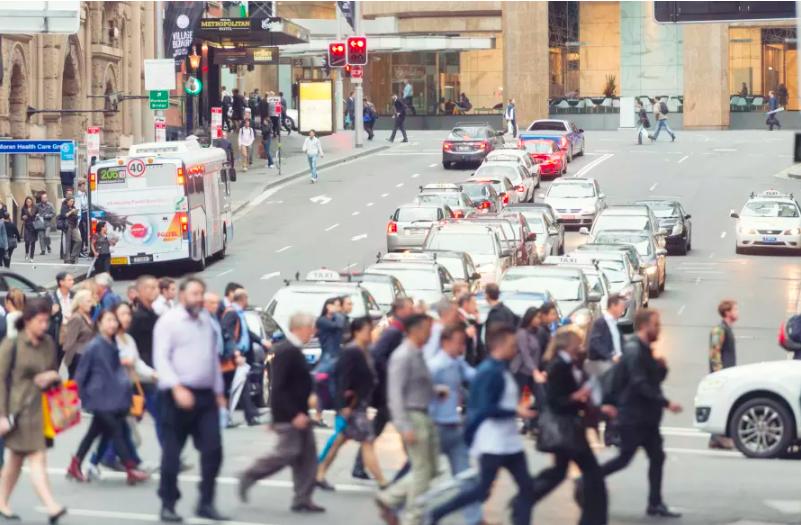 However, while most image recognition applications like this try to make the most accurate predictions possible, our team purposefully stopped the model at an accuracy of around 85 per cent.
Why? Because we were more interested in times when the computer became confused. For example, if it couldn't tell the difference between a map of Paris and Prague, it told us that these two cities might contain similar shaped roads, rail networks, coastal features or parks.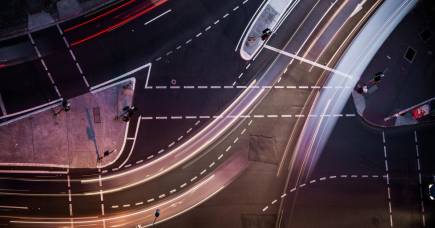 Using the number of times each city was confused for another, we could identify nine major city types from our original list that shared similar urban form.
There are a couple of striking things about the location of these city types on the world map. Firstly, some types are located in distinct geographic areas.
For example, 'High Transit' cities featuring extensive rail networks and small blocks dominate Western Europe and form a hard border with 'Large Block' cities in Eastern Europe and Russia.
US, Argentinian, and Australasian cities share similar features that include rectangular blocks suitable for cars and typical of the 'Motor city' category.
Similarly, Japanese cities are almost exclusively contained within the 'Intense' city type featuring extremely dense road networks. Chinese cities tended to form a mix of 'Irregular'-ly shaped and 'Sparse' city types.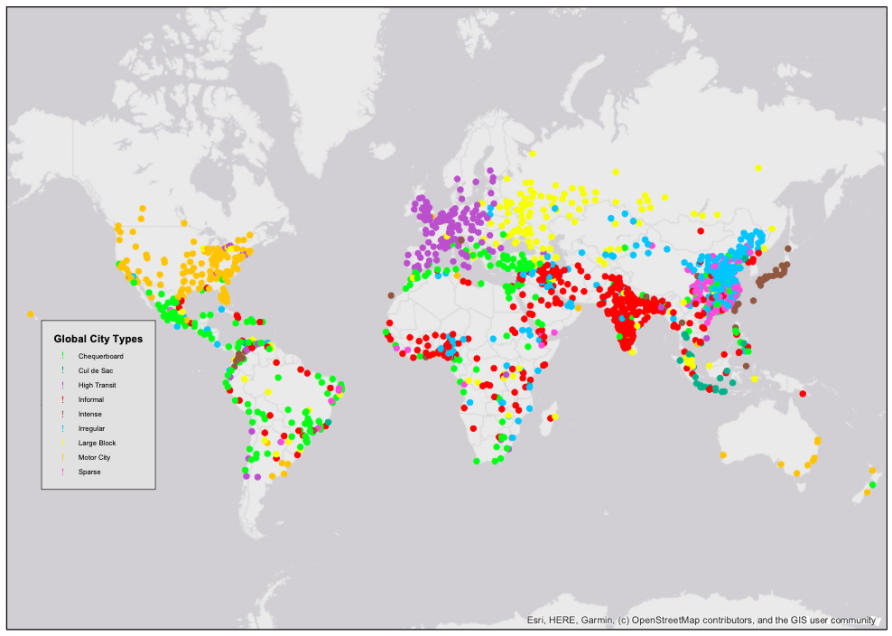 Cities from India and the sub-continent were primarily in the 'Informal' type, showing no clear top-down pattern of development.
However, perhaps the most interesting geographic aspect was noted among the 'Chequerboard' city types. These followed a path from Greece and Italy, through the Mediterranean to Latin America, reflecting a mandated gridiron design originally set out in the 16th century by Spain's King Phillip II and known as the 'Laws of the Indies'.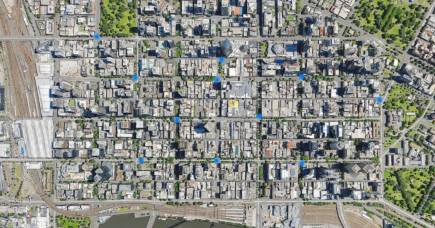 This showed that the sensitivity of the method was also able to identify patterns of global, historical and ethnographic movement.
But what about road injuries?
Our analysis showed that High Transit and Intense cities – those with small, tight, low-speed road networks, small blocks, and considerable rail infrastructure have the lowest overall rates of road traffic injury. Quite simply, more public transit and less speed, less injury.
Motor cities, typical of Australian examples where per-capita motor-vehicle use is high, rank third but show high rates of driver and passenger injuries. The worst performing cities are those with sparse road networks and very little rail infrastructure. These place drivers, passengers, pedestrians, cyclists and motorcyclists at risk.
The research estimates that, each year, nearly nine billion disability-adjusted life-years caused by road injury are due to poor urban design. These effects are robust to levels of economic activity, challenging the typical view that road traffic crashes are simply a low-income country issue.
Our work highlights the important role that city and urban design can play in generating, and reducing, road transport injury rates at a global scale.
The next steps for this project are to look at how these identified city types are linked to a range of other health and social outcomes and how we can then build healthier cities and transport systems for everyone into the future.
Banner: Getty Images