Womin Jeka: A choir with the desire to inspire
For sopranos Deborah Cheetham AO and Shauntai Batzke, the Reconciliation Choir goes beyond a one-off performance
It's lunchtime and we're on stage at Melba Hall on the University of Melbourne's Parkville campus. I'm one of 50 staff and students sitting and periodically standing at the behest of Yorta Yorta soprano Deborah Cheetham AO. We are, simply by implication of being here, the Reconciliation Choir.
Womin Jeka Elements 2, composed by Cheetham and her cousin James Henry, will be performed by the 50 of us, barring atonal disasters, during Naidoc Week (3–10 July), following this, our one and only rehearsal.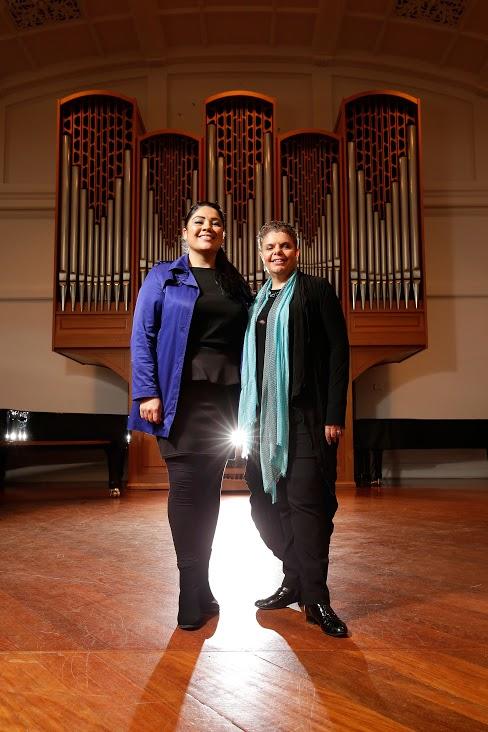 We parrot Cheetham's lip trills, repeating, as we contort and touch our corresponding body parts, "toe, knees, chest, nut …". To the non-chorist – i.e. me – it feels a bit embarrassing, but Cheetham puts things in perspective.
"Music has been happening where we are today for more than 1000 generations," she says. "Now we have the opportunity as Australians to celebrate something that we've been really slow to celebrate."
Later in the rehearsal she will describe the choir project as one of the highlights of her time as Associate Dean (Indigenous) at the Faculty of the Victorian College of the Arts and Melbourne Conservatorium of Music – good praise given she headed the Wilin Centre for four years, founded the Short Black Opera Company in 2009, wrote Australia's first Indigenous opera, Pecan Summer, and has been a fixture in the Australian arts landscape for more than 25 years.
Standing next to Cheetham and the Steinway and Sons piano on stage is Wiradjuri soprano and University of Melbourne graduate Shauntai Batzke, for whom Womin Jeka Elements 2 was written specifically. Batzke has performed it publicly already in the Boon Wurrung language but today, reflecting the place of performance, we are singing in the local Woi Wurrung language.
"When I first heard the song I absolutely fell in love with it," she says. "Singing in an Indigenous language is very special because in the past we weren't even allowed to speak our languages. It's spiritual experience and I feel very blessed."
When we talk before the rehearsal, Batzke's talent and potential is championed by Cheetham. She upped sticks from Sydney to Melbourne to join the Short Black Opera Company, through which she prepared to audition for a foundation course at the University, which in turn led to her enrolling in and completing a Bachelor of Music.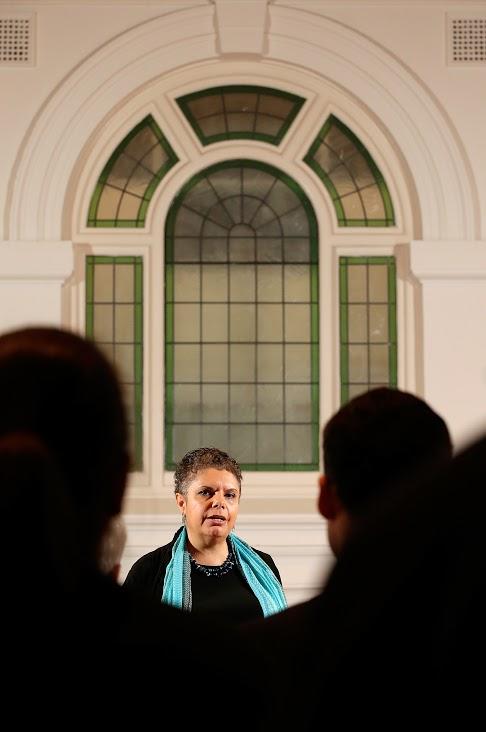 The pair first met during the intermission of a concert both were attending in Sydney in early 2009. Batzke's husband thought he recognised Cheetham, the pair went over to introduce themselves, and Batzke mentioned that, in addition to working at FlexiRent, she did some singing.
She showed Cheetham a YouTube clip of her performing a gospel song and they talked further. Seven years layer, she's seen by Cheetham as her natural successor.
"I often think about the great tenor from Cherbourg Mission in Queensland, Harold Blair," says Cheetham. "In the 50s and 60s, when he was performing overseas, he must have thought it was the start of a sustained Indigenous voice in the classical music scene."
"But I spent 20 years of my life performing classical music and never once shared the stage with another Indigenous opera singer."
That changed in 2010 when Cheetham brought together a company of 35 Indigenous opera singers to perform Pecan Summer, based on the 1939 Cummeragunja walk-off.
"I don't think Deborah is acknowledged and recognised enough for what she does," says Batzke. "She's now Deborah Cheetham AO, at least, which I remember as 'Aboriginal Opera'.
"She's provided a bridge for Indigenous singers who may never even have throught about pursuing careers in opera or being the very best they could possibly be. I'm very grateful."
I feel gratitude during the choir rehearsal too, mainly because the gusto with which everyone else is belting out the song masks my own questionable attempts to reproduce phrases such as Gamaguen Bundjil and Gamaguen Waa.
"Pronounce the W as if you're kissing," Cheetham advises. And we try, we kiss. It's fun, of course, but the choir project is not just for laughs.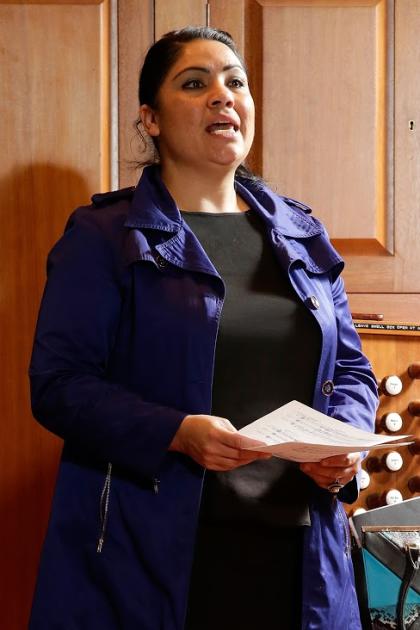 "We're living through such a fearful culture of compliance," says Cheetham. "Often it's a case of, 'Let's say we're going to engage with Indigenous people but let's not worry about the quality of that engagement, as long as we can represent it on a graph.
"That's where an Aboriginal-led creative process will always win out ­– we ask the hard questions because it doesn't serve us well to do otherwise.
"The University of Melbourne is the number one university in Australia, and that brings a weight of responsibility to forge new pathways, stronger relationships, deeper meaning. This is the place where the culture of compliance has to end first."
I can't help wondering if it's a drag for both women to constantly have their indigeneity brought to the fore by people like me, to not be recognised simply for what they are: two incredibly talented musicians and performers.
"I'm a soprano who's Indigenous, but at the same time I'm an Indigenous soprano," says Batzke. "I don't even see the colour I am a lot of the time, and wonder why I get treated a certain way. And then I'm like, 'Oh, that's right, it's because I look like this'.
"Sometimes people can be derogatory, saying things like, 'Oh, you get to do this or that just because you're Indigenous.' Well, no, that's not true. We have to work extra hard. But thankfully I'm a very hopeful person, and very proud of my heritage, so I try not to let it affect me."
Looking around at Melba Hall, as we work our way bar by bar through the song, I'm reminded of Cheetham's point, made earlier, that we're not singing in a "foreign" language but an Australian one, available to anyone and everyone who would want to experience it.
"Womin Jeka Elements 2 is not just a song," says Cheetham. "It's a way of connecting that, I hope, people will have in their hearts as they go forward, whether or not they sing in next week's performance."
Batzke's words underscore that sentiment, and seem to sum up the mood in Melba Hall as we applaud ourselves at the end of our practice. "I am moved every time I sing it," she says. "And I'm sure everyone else will be as well. It's absolutely beautiful."
Banner image: Darrian Traynor
The Reconciliation Staff and Students Choir will perform on 4 July, 12:30pm–1:30pm, at Melba Hall, in Parkville. There will be a final rehearsal prior to the performance and recording of the song on Monday – newcomers welcome. See event details.