Disabling ableism
How rethinking our understanding of disability could improve lives
Eavesdrop on experts, a podcast about stories of inspiration and insights. It's where expert types obsess, confess, and profess. You'll meet people you wouldn't normally meet, but will be glad you did. I'm Chris Hatzis, lets eavesdrop on experts and see how these 21st century explorers are changing the world, one lecture, one experiment, one interview at a time.
Chris Hatzis
I'm here at a farmers market, it's a busy day, individuals and groups navigate what is on offer. It's all very nice. Most appear to be having a good time. But all is not completely equal, we still encounter elements of racism, sexism, ageism and homophobia that take a toll on individuals. Added to this list is ableism. Many Australians with disabilities, and that's 1 in 5 of us, experience a consistently low quality of life and have poorer mental and physical health because of it. They experience social exclusion more than any other group in society, resulting in that society making people with disabilities disadvantaged and sick.
Our expert today knows this first hand. She acquired a disability as an adult.
Anne Kavanagh
One of the major misconceptions, I think, is that people with disabilities kind of by definition, have poorer health which is kind of rubbish really. Because most of the time their disability doesn't affect lots of other things, like whether they get diabetes, whether they have a heart attack, they're just kind of like the rest of us.
Chris Hatzis
That is Professor Anne Kavanagh from the Centre of Health Equity, Melbourne School of Population and Global Health at the University of Melbourne. She's meeting up with reporter Dr. Andi Horvath for a chat, over an organic fair trade coffee, about this human rights issue.
Andi Horvath
Anne, when people ask you at a barbeque what you do, what do you say to them?
Anne Kavanagh
I say, well first of all I say 'I'm an epidemiologist' and I say 'do you know what that is?' and they say 'Oh I think it's something to do with skin' and I say 'Off the mark, that's a dermatologist' and so then I say 'well actually I'm interested in things that make particular groups of people less well than other groups of people and I'm interested in some of the statistics about that and that's kind of what an epidemiologist is'.
Andi Horvath
So Anne, what is it that you explore? When you apply for a research grant, what is your major research question?
Anne Kavanagh
Mainly, at the moment, in my current phase of my career, I'm kind of interested in the health of people with disabilities, and I'm interested in how social factors affect the health of people with disabilities. So things like are they employed, what kind of housing do people live in, and those kinds of things.
So, what drives me with that though is to say that disability does not necessarily equal poor health, which is kind of trying to actually challenge the view in society that people with disabilities have poor health by definition. That having a disability means you're unhealthy. But actually we do know that people with disabilities poor health is not just due to things that are wrong with, or because they have a spinal cord injury or because they have autism or whatever. Part of it is driven by the fact that they actually live, you know, they're poorer, often they live in poor quality housing, they're less likely to be employed, if they are employed, they have poorer quality jobs, those kinds of things.
So I'm interested to kind of work out what we could do at a government level, in the community to enable people to at least be less disadvantaged and hence improve their health and wellbeing.
Andi Horvath
So what misconceptions do people have about disability in society?
Anne Kavanagh
Where do you start? First of all the word itself brings up questions about people not being able to do certain kinds of things. So the first thing that people come to mind is 'oh disability, it means they can't do something or it means that they're unhealthy'. But actually, those things are false really and have consequences for the way in which people with disabilities experience their own lives and their own health.
Andi Horvath
So how does it affect them?
Anne Kavanagh
I guess it comes down to people's attitudes. A lot of the time it's the way in which society thinks, puts up barriers, both physical in terms of attitudes as well, so that people with disabilities will often not have the kind of jobs that they might be able to do. But there's assumptions about what they're able to do that means they don't get those kinds of jobs or they don't get promoted in those kind of jobs. And that has consequences, I guess, for the kind of income that they earn, the amount of money they earn, so their choices about where they can be housed. What it would mean to be in a relationship with someone with a disability for instance, so all of those kind of preconceptions.
Andi Horvath
So it all cascades.
Anne Kavanagh
Yes exactly. So they often live in quite poor conditions, which then has ongoing effects for the health. And one of the things, I guess in terms of health, is that one of the major misconceptions, I think, is that people with disabilities, kind of by definition, have poorer health, which is kind of rubbish really. Because most of the time their disability doesn't affect lots of other things, like whether they get diabetes, whether they have a heart attack, they're just kind of like the rest of us. Or, we are kind of like the rest of you or whatever.
Andi Horvath
Yeah, it's all a spectrum and a blur. In fact, name anyone without a disability.
Anne Kavanagh
That's true, although I do want to highlight that, and some people talk about that, but some people in the disability sector get quite angry about that.
Andi Horvath
Apologies to my disability brothers and sisters.
Anne Kavanagh
Well I guess what they are trying to say is, we do have a different experience of life when we have disabilities that do have kind of major impacts.
Chris Hatzis
Look, I don't know about you, but just listening to Anne Kavanagh speak for not even 5 minutes and I'm already educated and enlightened.
Andi Horvath
Actually, lets talk about the definition of disability, I mean there's disability and disability. I've gone and embarrassed myself by begin so not 21st century and saying, I have a disability too. We all have disabilities, it's a spectrum, but however there are some disabilities that do prevent us from being in that, perhaps, mainstream of society, in terms of opportunities, in terms of all sorts of cultural and social activities.
Anne Kavanagh
Well, ok so we can go back to kind of formal definitions of disability. So we would talk about, and we make here the distinction between what we might call an impairment, which might be a vision impairment. People might have been born with a congenital abnormality that caused a visual impairment. And then we can talk about disability, which is, that impairment plus the way in which society is, which affects how someone with that impairment can participate in society. So that relates to attitudes, physical barriers to access, lots and lots of other kinds of things. Off the top of my head, we can kind of think they all really do come back to attitudes in some ways, because they're about the way in which society organises itself to enable people to participate fully. And that is what disability is.
Andi Horvath
I was reading about you, and I saw you use terms like heterosexism, racism, classism, but you also used a term ableism. What is ableism?
Anne Kavanagh
Ableism, I think, is the most misunderstood, or under-recognised maybe is a better way of putting it, ism. And it really is viewing the world through the eyes of the able-bodied, and so what you don't see then is the ways in which society has set itself up or we work together or whatever, so that it excludes certain groups of people. And there it comes with heterosexism, assumptions around what relationships should be, that the heterosexual is the norm, that the able-bodied is the norm. You know, that's an example of that. So we don't organise society to enable participation of people with disabilities in the same ways as we do the so called able-bodied.
Chris Hatzis
Ableism, ah yes, a lot of us would be guilty of it I reckon. Of all the discriminatory isms out there that exist, it's the ones that aren't as upfront and obvious that can be most damaging.
Andi Horvath
Anne, tell me about why you do this particular type of research. What inspired you to get into this area?
Anne Kavanagh
My son was my inspiration I would say. So I've always been driven by social justice, why I came into public health, why I moved out of being a doctor, a clinical doctor into public health.
I was a late mum, I'd already had quite an established career, I was here at the university as a professor and it became obvious within the first few years after he was born that he had quite a significant developmental delay and subsequently had a diagnosis of autism and an intellectual disability and a variety of other things. That just brought me in to contact with a whole different world. Absolutely different world of parenting differently that what most of my colleagues had experienced, but also an activist world that I didn't even really know was there.
It was exciting and it was invigorating and I always say the best thing and the best committee I ever went on was my son's school council, because I could see practical implications of my involvement in that. So I guess, and also through his school, recognised that there was often multiple disadvantages in kids with disability and their families. So I became interested then, and then I got really inspired by a lot of the activists in this space, and recognised that in public health there was just no one doing disability research from the positive view of disability does not mean poor health. They were always, in public health, thinking about disability as a kind of deficit, a failure of public health if you like. So I kind of thought, I've got a lot of expertise here, I've been around for awhile, and shifting this focus is kind of inspiring.
And then about several years later, five or six years later, I myself was diagnosed with multiple sclerosis and was quite unwell. I took some time out of work, and I was just starting to get interested in disability research at that point, I was just sort of moving into it, in relation to having been inspired by my son. I thought, I think I'm meant to do this, you know, what am I going to do for the rest of my career I thought. I've been in academia a long time, you know, maybe I'm going to go some place else. But then I realised the best set of skills I had was as an academic, I was a respected public health researcher. So here was something I could really do and from my own lived experiences, both a parent and someone who'd experienced quite significant symptoms from my MS.
Andi Horvath
Talking about this rather ugly notion of burden of society and reframing that to contributors to society, I've heard you quote some astronomical figure that the labour force of working aged disabled Australians actually is being under-utilised and that we could probably follow a New Zealand model. Can you explain that?
Anne Kavanagh
Ok, Australia has one of the lowest labour force participation rates, one of the highest unemployment rates in the OECD, which means we compare it to other comparable countries. It hasn't improved; it hasn't improved for 20 years, it's been about the same.
Andi Horvath
If we got our act together, how much money could it generate?
Anne Kavanagh
It's something like $40 billion extra.
Andi Horvath
So there's economic reasons.
Anne Kavanagh
Absolutely. And that's what I think that society needs to get, you know, and people with disabilities want to work, they want to work. You talk to some really, you talk about Graham Innes, the ex disability discrimination commissioner, when he graduated from law, he could not get a job as a lawyer, could not get a job as a lawyer, went in as a very junior clerk in the public service to work his way up. Many people with disabilities tell those stories.
Andi Horvath
I'm just wondering about gender and disability, are there issues there that emerge?
Anne Kavanagh
This is now a really interesting space, because we are now talking about the intersection of two different kinds of identities slash social categories, social groups.
Certainly the view in the disability sector has very much been around that women may experience a double disadvantage because they're disadvantaged because they're women and they're disadvantaged because they have a disability. Well it depends what you're talking about when you talk about that.
Ok, so the fairly obvious one which we start talking about is violence. Women with disabilities have very high levels of violence, you know, double that of other women in society. So they experience high levels of inter-partner violence, sexual assault, all kinds of violence.
Men with disabilities also experience higher violence than men without disabilities.
Andi Horvath
Did you say it's double the likelihood? That is just extraordinary.
Anne Kavanagh
Yeah, and depressing isn't it? And I don't even know, I suspect it's a bit higher than that because there's some problems with the way the statistics have been collected. Why? If you think about because it's something to do with inequities in relation to control and power and so forth and you often see that, that you've got that kind of elevated power differential for women with disabilities they may be relying on their partner for support in some ways so it changes the nature of that relationship. And it's not surprising that men with disabilities also experience higher levels of domestic violence than men without disabilities partly for those reasons as well. Interestingly when you start to look at gender and I haven't done this research myself, but some very good scholars internationally have looked and how do we think about gender and disability and often women with disabilities are kind of asexualised and infantalised as if they don't have a sexuality. And men with disabilities often describe a similar experience of being feminised and not being 'real men'. It really throws on its head how we understand gender. It intersects with those things.
Andi Horvath
We're all getting older, it's not just me, it's all of you. But as an adult, we can acquire a disability as we age.
Anne Kavanagh
Yeah and that's what happened to me really isn't it? I got a diagnosis of Multiple Scleroisis when I was in my late forties you know. And that disrupts your whole questions about who you are. It changes how you think about yourself if you acquire a disability. Suddenly you're not the person that you were before, you're unable to do the things you were unable to do before. So, for instance, about a year after I was diagnosed I couldn't ride my bike and I've always thought of myself as a bike rider and that was really annoying, you know, I really wanted to be a bike rider and that sounds really small, and it is really small, but it disrupts that and it disrupts, potentially, your career. It potentially disrupts a whole lot of things you planned ot do or to be and you have to shift that. Certainly our work with people who have acquired a disability in adulthood shows that there are quite profound mental health effects. And the kinds of things that make them worse are living in disadvantaged circumstances before they actually acquired the disability. So someone who is living in housing and can't afford their housing, or they have a low level job or they have the kind of job that it's not easy to accommodate the changes in their capacity, potentially. That has major effects on their – and the kind of social support they have in their networks. So we're trying to work out ways if someone does acquire a disability in adulthood, what are the kind of social policy things we could do to improve their health outcomes. So that's the kind of work we're doing on adulthood.
Andi Horvath
What would you like us to think next time we see something out there in society to make us rethink ablism, disability in society?
Anne Kavanagh
One is, the next time you go to a restaurant, and you recognise that there are only stairs into the restaurant, think about who can't get in. That's everyday, every day of people's lives, they experience that. Second, next time you're in an area where people are talking really loudly, where there's multiple talking, and you're at the same time trying to communicate with someone, who, perhaps has autism, or some other communication problem, and there is just too much going on, think about that as not enabling someone to participate, think about all of those spaces, how do public and private spaces prevent or enable people with disabilities to be part of them?
Chris Hatzis
What an extremely eye and ear-opening chat. I think from now on the more we look around the little world each of us inhabit, we'll have a better understanding of what others are going through each time they do, what seem to us, like simple things, because sometimes they aren't and after listening to Anne Kavanagh I think society really needs to have a better think about it and then, hopefully, change. Thanks to our reporter Doctor Andi Horvath, and thanks to our guest Professor Anne Kavanagh, head of gender and women's health centre of equity, Melbourne School of Population and Global Health, at the University of Melbourne. Eavesdrop on Experts stories of inspiration and insights is a production of the University of Melbourne, Australia. This episode was recorded on the 15th of March 2017, you can find a transcript on our website. Audio recording by Gavin Nebauer, production assistance by Claudia Hooper and Cecilia Robinson, co-produced by Dr Andi Horvath. Don't forget you can listen to us on iTunes, Sticher and SoundCloud as well as on our website. I'm Chris Hatzis, join us again next time for another Eavesdrop on Experts.
Professor Anne Kavanagh from the Melbourne School of Population and Global Health shares how changes in her own life led her to question our understanding of the health of those living with a disability. A proud activist, Professor Kavanagh says having a disability need not equal poor health.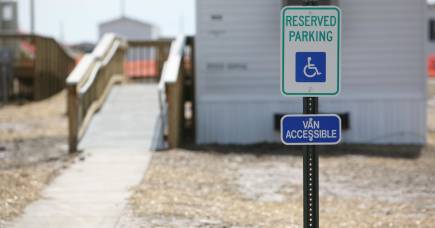 Episode recorded: 15 March 2017
Producers: Dr Andi Horvath and Chris Hatzis
Editor: Chris Hatzis
Audio engineer: Gavin Nebauer
Production assistant: Claudia Hooper

Banner image: Pixabay
Subscribe to Eavesdrop on Experts through iTunes, SoundCloud or RSS.