Five things about ... The Germaine Greer audio archive
What is it like to have one of the greatest feminists of the 20th century in your ear?
CLAUDIA HOOPER
Hi I'm Claudia Hooper, production assistant on Eavesdrop on Experts. You're listening to a special bonus episode of eavesdrop, this time we're joined by two of the curators from
The Germaine Greer archive, who have their hands on 150 hours of audio material recorded by Greer herself. You'll get to hear Germaine Greer in Ethiopia and on the road in country Australia. I'll
let Chris walk you through it.
CHRIS HATZIS 
Welcome to Five Things About. I'm Chris Hatzis. Five Things About is for you and your inner curious cat, the part of you that just loves to know what others know about inventions, ideas, people and places. You've heard the proverb "curiosity killed the cat"; the rest of the proverb is "but satisfaction brought it back". So go on, knock yourself out and bring yourself back.
In 2013, the University of Melbourne bought The Germaine Greer Archive. In this podcast, we hear from Greer Archive curator Rachel Buchanan and archivist Kate Hodgetts about the archiving process and the delights in hearing over 150 hours of audio material recorded by Greer herself.
Welcome to Five Things About Germaine Greer's Audio Recordings.
RACHEL BUCHANAN
Greer Town, as I call The Germaine Greer Archive, is an interesting postcode. Each Greer archivist has got to know a different version of Germaine. One's met the letter writer; another's met the author. I met the student and the reporter. We all learned about Germaine via her words, but audio archivist Kate Hodgetts has got to know Germaine by her voice.
Kate was hired to listen to Germaine. She was in her own little world, sealed off behind her headphones. We'd often hear Kate giggling at something or other. Kate even started to dream about Germaine. Today, we're going to find out what it's like to have one the greatest feminists of the 20th century in your ear.
Okay, Kate. So I first met you when you started as the time-coder on the Greer Archive. Can you tell me what you had to do?
KATE HODGETTS
With the Greer Archive, the University of Melbourne Archives acquired 150 hours of audio material that was on cassette tapes, digital audio tapes and minidiscs. So I was employed to come in and create time-coded summaries for each of those recordings. I had to listen to 150 hours and basically summarise every couple of minutes in a sentence or two.
It actually took about six months to complete the job. I had to listen to the recordings, create the time-coded summaries, but then also do some access examinations and redact some information as well.
RACHEL BUCHANAN
So tell me what it was like, that intimate experience of listening to Germaine. What was life like inside that bubble between the headphones?
KATE HODGETTS
When I first started, my contract started a little bit later than everybody else's so I was unaware of the discoveries that my colleagues had already made. I'd read The Female Eunuch, I knew a little bit of Greer's public persona, but not much else. So I'd come in each day with a fresh mind, put my headphones on and I'd be shut off from the outside world, including the conversations between my colleagues about the very person whose voice I was listening to.
Most of the audio I listened to at the beginning were audio diaries, so the Greer I knew walked her dogs, drove long distance, ate meat pies and discussed the landscape roadside vegetation and her immediate surroundings.
GERMAINE GREER
Nothing like a brisk walk on a cool, grey felt morning like this to fill one with longing for a cup of tea [laughs].
KATE HODGETTS
So the Greer that I got to know was very different to that of my colleagues.
RACHEL BUCHANAN
It really was. I mean, I was - at the same time was getting to know the Germaine Greer who was a scholar, who was a journalist for the underground press, who then wrote The Female Eunuch and then Greer as the reporter. I often got to know someone who was really quite serious and focused on - you know, ambitious, focused on achievement. But I'd like to hear more about I guess that person, that private, domestic person that you got to know.
KATE HODGETTS
Well, one thing that really stood out about Germaine was how funny she is. She's very witty and very candid. It wasn't as if she was telling jokes; the way that she speaks is really funny. Like for instance, she'd be talking about last night's chicken tasting like a wet plastic bag, or her idea that Canberra is not a village but it's more a housing estate, or when she'd just have cheeky ciggie while she's driving cross-country in Australia.
RACHEL BUCHANAN
One of the features is these audio diaries, and I'm interested to hear more about those, 'cause I think our experience as drivers in general is something we don't really talk about. But Germaine had her audio recorder in the car almost as a companion; she was driving on her own. So can you tell us something about the sorts of things she did to amuse herself as she was driving long distances in Australia?
KATE HODGETTS
Most of what she would be talking about while she was driving around Australia was really the roadside vegetation and the landscape. She would really paint the visuals, the colours of the sky quite literally, like speaking of Rembrandt browns. Her description of the landscape and the sky were really quite beautiful.
GERMAINE GREER
It's so beautiful. It's not as vivid as it was last year when I drove up and down here, but it's beautiful just the same. It's sort of dull and burnished, and as rich as can be, all covered with a sort of Rembrandt brown varnish.
KATE HODGETTS
But also she played a game that she made up with herself called The Creek Game. While driving, she would mention the names of every single creek that she passed. At least one cassette is entirely basically The Creek Game, so that can get a little bit tedious just hearing the names of creeks for an hour.
GERMAINE GREER
[Doctor's Creek. Oaky Creek. Gowrie Creek. West Creek. Murphy's Creek. Lockyer Creek. Sandy Creek].
RACHEL BUCHANAN
It might be interesting for listeners to know that one of the reasons that Germaine was driving around Australia looking so carefully is that she was recording these audio diaries as she was looking to buy some land, and she did eventually buy some land at Cave Creek, which is in southern Queensland, just inland from the south coast. And I think there's recordings where she talks about being at Cave Creek and being in the forest. I mean it's one of the things that's not widely known about Germaine is her passion really for the environment, for eco-feminism, for the Australian landscape. Can you tell us something about the Cave Creek material?
KATE HODGETTS
Definitely. Within the audio diaries, it is very clear that Germaine Greer has a connection to the landscape. Just the way that she paints the images of the landscape and is so concerned about the degradation of the forest. With Cave Creek, my most favourite recording out of all of the recordings was something I listened to towards the end of my time-coding position, and that was Greer returning to Cave Creek from a drive from Melbourne up to Cave Creek, a long drive and returning to a thunderstorm. And the recording is Greer sitting on her verandah observing this thunderstorm and really describing the sheets of lightning in the sky and the sounds of the crickets and the frogs, and just how happy she is in that moment. She's so connected to what's happening around her and you can hear the rain on the rooftop, and she just cackles with laughter. I think it's the happiest that I've ever heard her and that is my favourite recording.
GERMAINE GREER
Now, I suppose you spoilt little machine, you want to hear what the storm really sounds like. Can you hear? [Storm sounds] [Laughs] Now, it's not yet at its full ferocity but we are now underneath it instead of being beside it. [Storm sounds] And I just think it's wonderful. This is the best welcome I could possibly have is this outrageous thunderstorm.
RACHEL BUCHANAN
That's a wonderful answer, Kate, and it really links in with my response to the audio that I've listened to and how these audio records really reveal Germaine's skill at observing what's happening around her and her ability to immerse herself in each moment. I think the Ethiopia recordings that Germaine made while she was there as a reporter for The Observer newspaper in fact, in 1984 and 1985, while poor quality, are so transporting.
KATE HODGETTS
The Ethiopia recordings are a real intimate experience. She was sleeping in a mortuary in Ethiopia during the famine in a resettlement camp, and so she's whispering into the handheld recording device and talking about her experiences there at the camp. They're really beautiful recordings, and quite sad. She's discussing seeing a woman actually passing away and that moment between life and death when you can't actually tell whether the person is still living, whether they're breathing or if they've passed on.
GERMAINE GREER
In the last stages of starvation, people lie still. The flies crawl all over their faces unchecked. Shelter came too late for the children whose eyes are falling out through vitamin A deficiency. You see their mothers carrying [slow] on their backs to and fro from the intensive feeding centres. They will be blind. Many more children will be blind for the same reason.
KATE HODGETTS
Again, it was a different side of Germaine that you're used to from other research and other things that would be available in the archive.
RACHEL BUCHANAN
I agree with that, and there's something about listening to the sound rather than the words. It's the sound that really takes you to that place, and I suppose it's a good time now to ask about Germaine's various tussles with her recording devices. So one of the charming aspects of the series is the way it reveals Greer being all too human struggling with machines. So can you tell me something about the records that demonstrate the difficulties?
KATE HODGETTS
Most of the recordings are recorded by Greer using a handheld Dictaphone. In these recordings you are constantly reminded that she is walking along holding a Dictaphone, or in the car, sometimes driving with it sitting on her lap. You can hear the recording stop and record, and she plays back to [listen] areas and then comments on them, runs out of tape or records over an existing recording. And there's also areas of tape that are sped up due to a malfunction of the recording device.
GERMAINE GREER
[Speed-up recording]
There's something wrong with this [unclear]. Does this make it any different, I wonder? That was apparently on double, but I don't know what it means.
RACHEL BUCHANAN
Yes, the chipmunk effect is quite amusing, isn't it? So Kate, I suppose one point I would like to make is that we've done all this work with this archive and that we've brought our own personalities to our job. I know that in your other life outside of work you're an artist, and Germaine Greer has a strong interest in women's art. I'd like to hear something about how listening to all these records has influenced your own practice.
KATE HODGETTS
Listening to Germaine speak Monday to Friday for several hours each day for six months, it's hard not to be influenced. The recordings that were based around art definitely did inspire me. There's a Susan Hiller interview, Cornelia Parker interview, and Rose Wylie interview where Germaine actually purchases a painting.
The one that really stuck out for me was the Susan Hiller, which took place in 2002. The two women primarily discuss gendered influence in artmaking and the theory that feminine artmaking is more open, ephemeral, more connected to the real world and that masculine artmaking is more monolithic and monumental and it has defined edges.

This really kind of inspired me. They spoke about women trying to tuck themselves away into small corners and not be seen or not be heard. I was curated into an exhibition and I made a work specifically that related to this conversation. It was titled Take Little Space and it was created by folding up a piece of tracing paper into about the size of a five-cent piece and carrying it around with me for a couple of months, and opening it up every now and then and then folding it back up again. And then eventually I scanned the piece of tracing paper and monumentalised it by printing it quite large.
[SUSAN HILLER]
Women have been squeezing themselves into corners in art. Everybody that I know, including myself, has done tiny work, invisible work, subtle work. I used to take apart paintings. All of that is a huge area that women artists have worked in.
RACHEL BUCHANAN
I love the title Take Little Space and it's a really beautiful work as well, Kate, but what I love most about it is that Greer herself has occupied confidently an enormous amount of space in this archival repository.
It's rare to have a personal collection of papers that occupies quite this amount of space. It's only Malcolm Fraser that slightly outdoes Greer in the repository itself, so it's like her archive is a monument to her as a writer and an artist. And I know that one of the reasons it's great to have this conversation today is to capture some of the ambient knowledge that the Greer team has really gained about not just Germaine Greer, but about ourselves and about what it's like to work as archivists and artists and writers with this extraordinary collection of records.
I'd like to just address what you think researchers can learn by working with sound. We've touched on that, but what it is about sound and Germaine Greer's voice and the voices of others and other sounds that are captured that make the audio series so compelling?
KATE HODGETTS
Listening to the audio series, you do get to experience the more human, candid side of Germaine Greer, which I think could be a useful experience to have before encountering other documents within the archive, because it does set you up to realise that she is a person and she does have a normal, everyday kind of life like everybody does.
And you do also hear a difference in her voice between when she's having professional engagements, using proper English, and then driving along using Aussie colloquialism and slang and stuff like that. Yeah, there is definitely this switch, as there would be with anybody, but yeah, it is interesting to see that side of her through the audio.
RACHEL BUCHANAN
The Greer Archive is a restricted-access collection. This means that researchers who want to use the archive need to meet the university archivist first and sign an access deed. Everyone who works with these records, including the audio, has to work with them in a supervised reading room at the Baillieu Library.
The collection is restricted because we've got an ethical obligation to protect third-party privacy as well as ensuring that the records themselves, the paper records, are handled carefully. If you want to listen to the audio, you just need to search for records via the University of Melbourne Archives website. Just type 20140040 into the search box. The audio records are MP3 files. They will be copied to a USB and delivered to the reading room at the Baillieu. We've set up a special computer there so you can listen quietly to the many voices of Germaine Greer.
[Music]
CHRIS HATZIS
So that was Five Things About Germaine Greer's Audio Recordings; maybe a little more than five things, actually. This podcast was made possible by the University of Melbourne.
This episode was recorded on 21 June 2017.
Producers were Dr Rachel Buchanan, curator of The Germaine Greer Archive, and Kate Hodgetts. Editing by Kate Hodgetts and Gavin Nebauer. Audio engineering by Gavin Nebauer and production assistance from Claudia Hooper.
The Five Things About podcast is a University of Melbourne training program created by Dr Andi Horvath.
Still curious? Nip over to our other podcasts Up Close and Eavesdrop on Experts for more. I'm Chris Hatzis. Join us again next time for another Five Things About.
CLAUDIA HOOPER
You've been listening to a bonus episode of Eavesdrop on Experts. Your regular Eavesdrop episodes will back soon.
In 2013 the University of Melbourne bought the Germaine Greer Archive, which includes over 150 hours of audio. Archivist Kate Hodgetts has listened to the audio collection in full. She talks us through some of its most notable moments, and how it reveals Greer's more "human, candid side".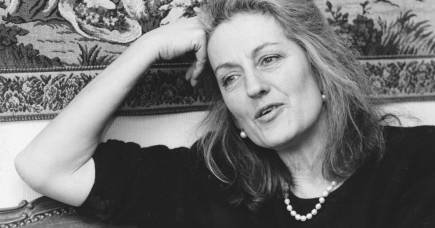 Much of the content comes from Greer's solo travels around Australia in search of a plot to land to buy, with her audio recorder for company. The recordings reveal a witty person with a deep appreciation for the beauty of the Australian landscape. Other records document her time reporting on the Ethiopian famine, and interviews with prominent female artists.
Find out about how you can access the archive here.
Producers: Dr Rachel Buchanan and Kate Hodgetts
Consulting producer: Dr Andi Horvath
Audio engineer: Gavin Nebauer
Editing: Kate Hodgetts, Gavin Nebauer and Arch Cuthbertson
Voiceover: Chris Hatzis and Claudia Hooper
Production assistant: Claudia Hooper
5 Things About... is a creation of Dr Andi Horvath
Banner image: Kate Hodgetts/the University of Melbourne
Subscribe to Eavesdrop on Experts through iTunes, SoundCloud or RSS.